F1: Hamilton wins pole for Qatar GP
Lewis Hamilton won pole easily for the Qatar GP with a time of 1m20.827s and even though the caution flag came out to ruin Max Verstappen's and Valtteri Bottas' lap, there was no way he was going to beat Hamilton's time.
The gap to Verstappen in 2nd was 0.455s and there is almost no way he is going to beat Hamilton's 'rocket' engine on Sunday.
"Yesterday was a really difficult day for me, I really struggled throughout practice," said Hamilton.
"I was here until midnight working with the engineers. Found a lot of areas I could improve. Made some changes which seemed to work, I'm so grateful for the timings that put us out without traffic. That last lap was just beautiful."
Valtteri Bottas was third quickest in the 2nd Mercedes 0.651s, and he can help Hamilton on Sunday while Sergio Perez did not make it into Q3 and will not be able to help his teammate tomorrow.
"Lacking pace," said Verstappen. "Checo isn't even in Q3 so shows we are struggling a bit more than normal. Still second, so still all to play for. There's a lot of unknowns, we just need to work on our start and see where we end up."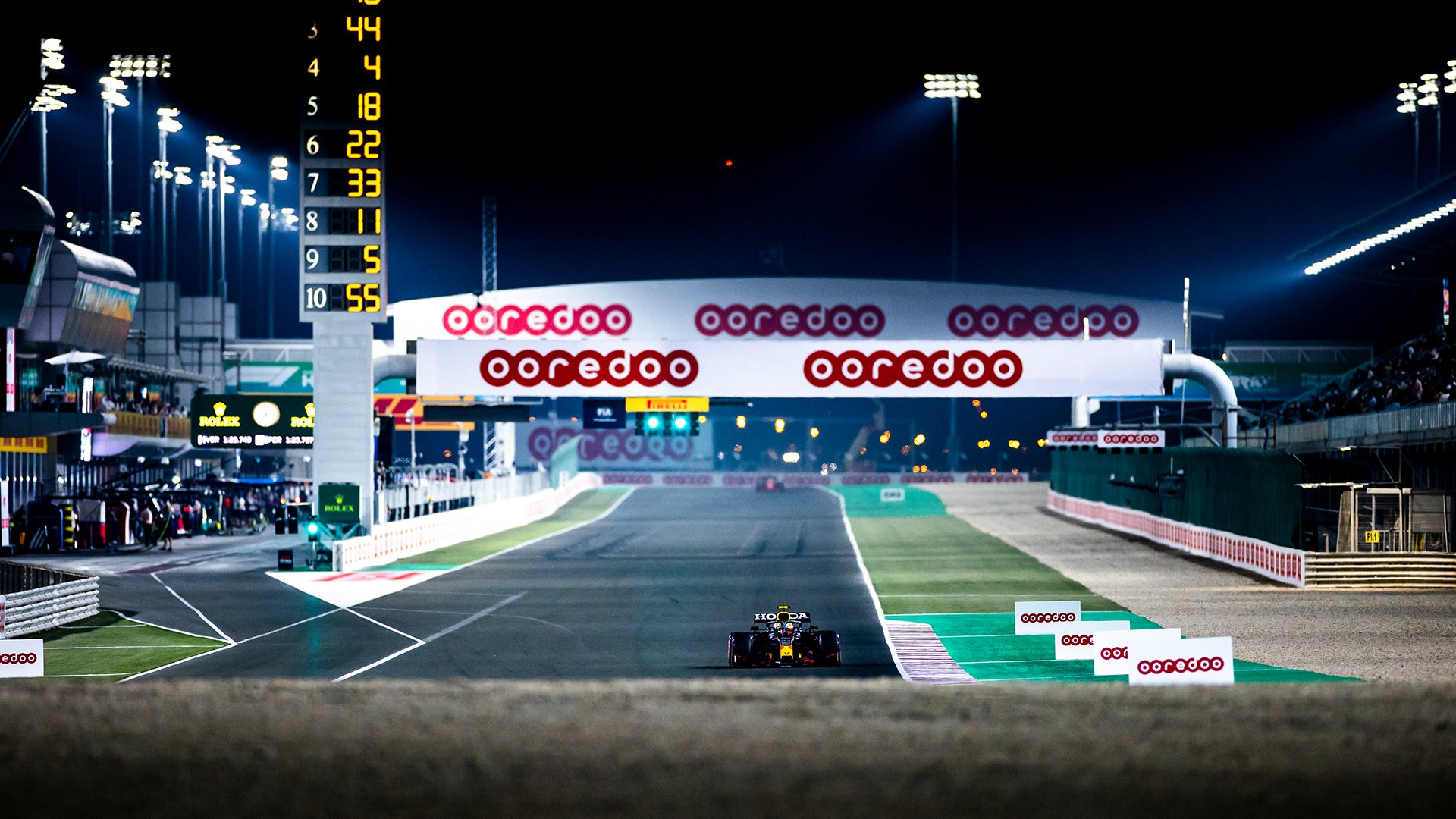 "It's been a good weekend so far until qualifying for me," said Bottas.
"In FP3 the wind was different, I really had to push a lot. In quali I struggled in Turn 1, struggled to get the tires ready. I tried my best, have to have a look. I hope the grip is going to be good on the clean side for me and Lewis. We've got two cars against Max, so hopefully we can do something.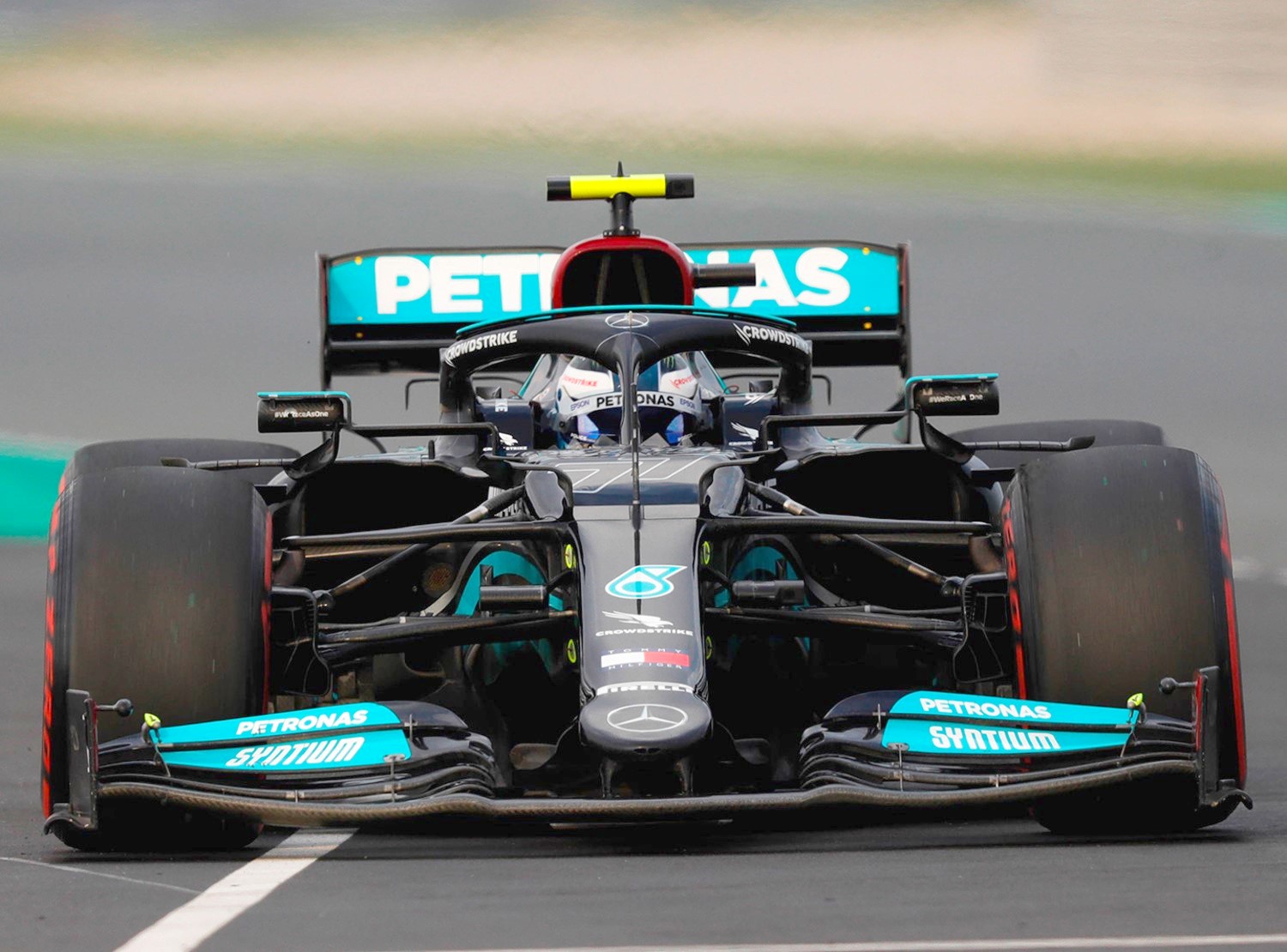 "We've got an opportunity down on the run to Turn 1 tomorrow. But that last lap of Lewis' was phenomenally quick," said Red Bull Boss Horner. "Their straight line speed has come down a bit, it looks more similar to ours now, which is good to see. Lewis made all his time in Turns 6 and 7. It was a very strong lap by Lewis."
Pierre Gasly and Fernando Alonso rounded out the top-5. Gasly picked up a puncture – and stopped on the start finish straight, with yellow flags definitely catching out Vettel and Norris as well.  Replays showed that Gasly ran wide, seemingly damaging his front wing which led to the puncture.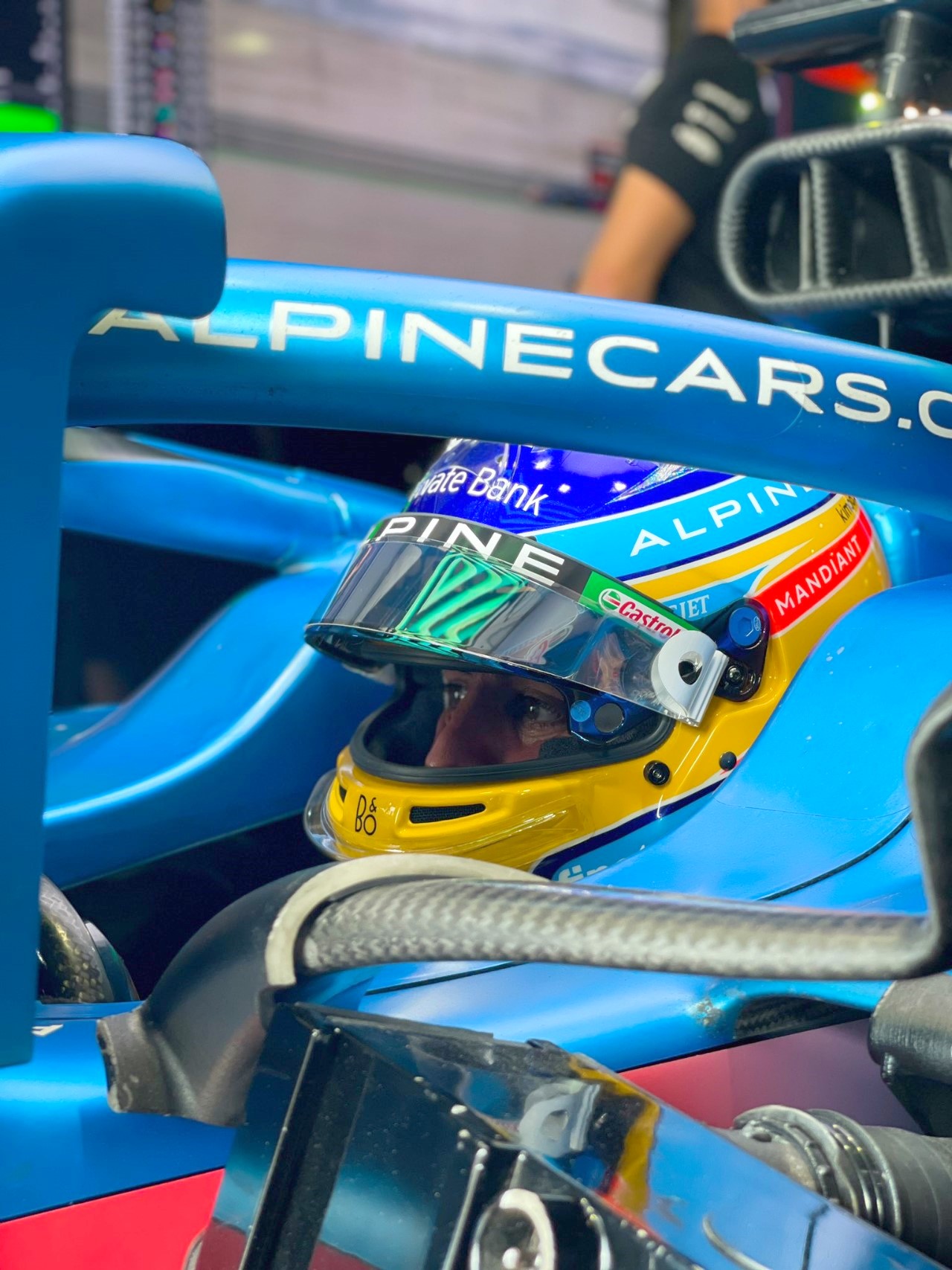 5th was the best qualifying result for Alonso all year and given he said it was his one lap pace that was coming back slower than his race craft, a testament to how hard he's worked and the fact he can consider himself fully back up to speed on his F1 return.
Notably, Charles Leclerc also did not make it into Q3 in the #16 Ferrari.
And just like that, the momentum is back in the Mercedes camp. They have both drivers on the clean side of the grid, and have a two versus one scenario up front with Perez down in P11.
There are 14 points between them in the championship, but while it is advantage Verstappen on paper, on pace here it has been very much about Hamilton today.
Hamilton looks set to win out and with 7 points to be earned between 1st and 2nd in all three races, Hamilton looks set to beat Verstappen for the title by 7 points and there is nothing Verstappen can do about it given he has the inferior car now.
Select Quotes
Lewis Hamilton
I'm very happy with that qualifying session. Yesterday was difficult for me, I wasn't feeling well on Thursday or Friday and then struggled in practice. So, I had to dig deep, I was here late last night working with the engineers, and we found a lot of areas to improve. I felt fantastic today and slept very well last night, which made a big difference. We made some changes for FP3 and it seemed to work, and I was able to carry that into qualifying. That last lap was just beautiful, this track is amazing to drive and very fast, all medium and high-speed corners. In terms of the race, we don't have much experience at this track, but I don't think it will be the easiest of circuits to follow. It's also not massively degrading the tires, so it could be a one or a two stop, we'll find out tomorrow. It's a decent run down to Turn 1, and it's nice and wide, so we'll be giving it everything.
Valtteri Bottas
It's been a strong weekend for us but of course, I'm a bit disappointed about qualifying. I felt comfortable in the car yesterday, but I'm a bit confused what happened overnight because I was missing some speed. I struggled quite a bit in qualifying, particularly in Turn 1, where I wasn't managing to get the tires ready. We need to have a look into it, but I tried my best and squeezed everything out of the car. Still, it puts me on the clean side of the grid for tomorrow, and we have both cars at the front of the pack. I don't have much to lose, and we have options, with two cars against one Red Bull, so normally that's a good situation to be in. I'm sure it's going to be a close day tomorrow.
Toto Wolff
That was a spectacular qualifying session and what a lap by Lewis to take pole. This is the result of the hard work both in the build-up and during the weekend on understanding the car and finding the right set-up at this new track. Lewis found it today, he wasn't particularly satisfied yesterday, but he had a great car in qualifying to put it on pole and he did so in dominant style. Valtteri was happier with the car yesterday, and it wasn't quite in the sweet spot for him, but nevertheless, we can be satisfied with P1 and P3 on the grid, both on the clean side, for tomorrow. Hopefully, we'll take this momentum into the race, we've got both of our cars starting at the front, which is a useful result for us, but I'm sure it's going to be another close one.
Andrew Shovlin
A very impressive lap by Lewis to take pole, we felt that this was within our reach today but a margin of over 0.45s was beyond our expectations. It's also great to have Valtteri up there in P3. Lewis has had a really solid day, and he's been much happier with the car. Valtteri's session wasn't as clean, we really struggled to find him clear track for his out laps and that was the case on each run. However, it's a close call between whether you'd rather be second on the dirty side or third on the clean side, and we'll not find out which is best until tomorrow. It's hard to know what to expect for the race having not been here before, the tires seem to be behaving quite well, although they are no doubt going to be running hot and overtaking is likely to be difficult. If we can retain the lead, then we're in a strong position, but we've seen a lot of cars breaking over the curbs here, so there's a reasonable chance we'll get some safety cars or VSCs to mix things up a little.
Max Verstappen
"It's been a bit of an up and down weekend so far, I was happy in quali but just not quick enough. I thought I had quite a decent lap but then heard the gap difference and I was a bit shocked, it's been really difficult to match them. In a way I'm happy to be second but the gap to Lewis is very big. Qualifying has been more of a struggle for us over the past few races so we definitely need to have a look into it. I don't expect miracles tomorrow but we are on a new track and a lot of things can happen, we never give up. It's very quick around here so it will be difficult to follow, it also depends on what tires we will be on and those around us. I'll try to do the best I can, as always."
Sergio Perez
"It was a crazy qualifying for me, I think we have been there all weekend and after FP3 we were really confident with the changes we were making. We had everything in hand to really have a strong qualifying, but we didn't put it together when it mattered. We changed our approach with the tire prep going into the evening conditions and we were not able to do the laps we wanted to, I hit a lot of traffic and going out in Q2 is the price we paid, we didn't put it together when it mattered. We are a Team so we are all in it together, it is a shame we didn't make it but we are looking forward to tomorrow now. I think without that issue the pace was in the car, we have been up there all weekend, so I see no reason why we shouldn't have been there today and therefore can't fight tomorrow. It has been a disappointing day, but Sunday is what matters, and hopefully, we are able to recover and minimize the damage. We will try to make overtaking possibly here, I really hope that come race day we can be strong and come through the field to be in the mix for big points."
Christian Horner
"It's great to be on the front row with Max, he got the maximum performance out of the car today and has an opportunity down into turn one tomorrow, but it's going to be very difficult to follow closely after that with the speed of these corners and mount an overtake. So, the first 500m are going to be crucial, and then it will come down to strategy, pit stops and reliability, all of those factors, and the tires are under constant load at this track, so it's going to be fascinating to see how they last tomorrow. It's a shame not to have Checo in the top ten, but it's a long Grand Prix, and he can still be a very important factor for us in the race tomorrow. With both title contenders starting next to each other it should be a great race."
Qualifying Results
| | | | | | | | |
| --- | --- | --- | --- | --- | --- | --- | --- |
| POS. | DRIVER | NAT. | TEAM | Q1 | Q2 | Q3 | BEHIND |
| 1 | Lewis Hamilton | GBR | Mercedes AMG Petronas | 1m21.901s | 1m21.682s | 1m20.827s | +0.000s |
| 2 | Max Verstappen | NED | Red Bull Racing | 1m21.996s | 1m21.984s | 1m21.282s | +0.455s |
| 3 | Valtteri Bottas | FIN | Mercedes AMG Petronas | 1m22.016s | 1m21.991s | 1m21.478s | +0.651s |
| 4 | Pierre Gasly | FRA | Scuderia AlphaTauri Honda | 1m22.535s | 1m21.728s | 1m21.640s | +0.813s |
| 5 | Fernando Alonso | ESP | Alpine F1 Team | 1m22.422s | 1m21.894s | 1m21.670s | +0.843s |
| 6 | Lando Norris | GBR | McLaren F1 Team | 1m22.839s | 1m22.216s | 1m21.731s | +0.904s |
| 7 | Carlos Sainz | ESP | Scuderia Ferrari | 1m22.304s | 1m22.241s | 1m21.840s | +1.013s |
| 8 | Yuki Tsunoda | JPN | Scuderia AlphaTauri Honda | 1m22.458s | 1m22.058s | 1m21.881s | +1.054s |
| 9 | Esteban Ocon | FRA | Alpine F1 Team | 1m22.565s | 1m22.012s | 1m22.028s | +1.201s |
| 10 | Sebastian Vettel | GER | Aston Martin Cognizant | 1m22.548s | 1m22.146s | 1m22.785s | +1.958s |
| 11 | Sergio Perez | MEX | Red Bull Racing | 1m22.398s | 1m22.346s | – | – |
| 12 | Lance Stroll | CAN | Aston Martin Cognizant | 1m22.551s | 1m22.460s | – | – |
| 13 | Charles Leclerc | MON | Scuderia Ferrari | 1m22.742s | 1m22.463s | – | – |
| 14 | Daniel Ricciardo | AUS | McLaren F1 Team | 1m22.688s | 1m22.597s | – | – |
| 15 | George Russell | GBR | Williams Racing | 1m22.863s | 1m22.756s | – | – |
| 16 | Kimi Raikkonen | FIN | Alfa Romeo Racing Orlen | 1m23.156s | – | – | – |
| 17 | Nicholas Latifi | CAN | Williams Racing | 1m23.213s | – | – | – |
| 18 | Antonio Giovinazzi | ITA | Alfa Romeo Racing Orlen | 1m23.262s | – | – | – |
| 19 | Mick Schumacher | GER | Uralkali Haas F1 Team | 1m23.407s | – | – | – |
| 20 | Nikita Mazepin | RUS | Uralkali Haas F1 Team | 1m25.859s | – | – | – |