SCORE Baja 1000: MacCachren/L. McMillin Overall winners (Not Rossi team)
(Update)
A reader writes, I read elsewhere that IndyCar driver Alexander Rossi won the Baja 1000.  That is not what your story shows. Was him winning Fake News? Dan Pedrino
Dear Dan, Yes and No.  Be careful what you read from other news outlets, as there is a good chance you won't get the full story.
Rossi's team finished way down in 34th overall, but first in Class 7 with only 3 trucks….6 Hours and 20 minutes behind the overall winners – shown in our original story below (See Full Results)
Competing in Class 7 for unlimited V6-powered race trucks, the #709 Honda Ridgeline driving lineup of team owner Jeff Proctor, 2016 Indianapolis 500 winner Alexander Rossi, Richard Glaszczak and Baja legend Steve Hengeveld – paired with navigator Evan Weller – faced a challenging course starting in the coastal city of Ensenada and finishing 1,226 miles south in La Paz.  A total of 302 entries took part in this year's 54th running of the event, but only a handful of Trucks competed in Class 7.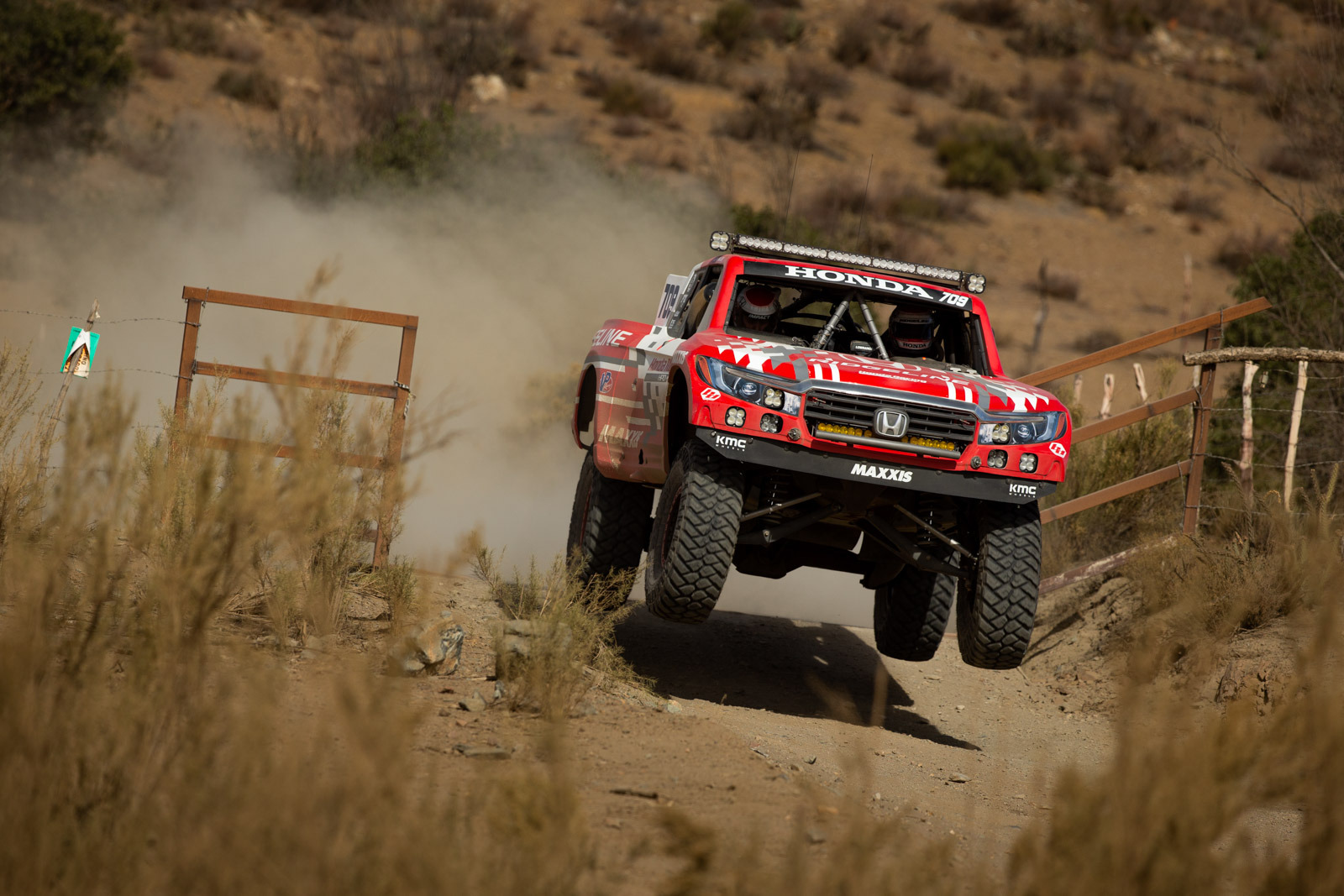 The Ridgeline started off strong, with Proctor battling for the class lead with the #700 Ford of Dan Chamlee for the first 300 miles before the Honda team established an advantage they would hold – and increase – all the way to the finish.
Starting driver Proctor handed off to Glaszcak at the 350-mile mark, then handed off to Rossi at the 632-mile pit stop as both began to build an ever-larger advantage for the Ridgeline.  Rossi successfully completed his overnight stint to turn driving duties over to Hegeveld during the pit stop at Mile Marker 883, with the lead for the Ridgeline now more than 100 miles over Chamlee and the rest of the Class 7 field.
Proctor returned to the cockpit for the final hours, taking the finish with a time of 23 hours, four minutes and 59 seconds to claim the Class 7 win by just over three hours.  It marked the fourth consecutive win for the Honda Off-Road Ridgeline in 2021, following victories earlier this year at the San Felipe 250, Baja 500 and Vegas to Reno off-road races.
The impressive result was the fourth consecutive class win for the Ridgeline Off-Road Race Truck this season, the fifth victory for the Ridgeline in Baja, but the first in a "point-to-point" Baja 1000, running the length of the peninsula from Ensenada to La Paz.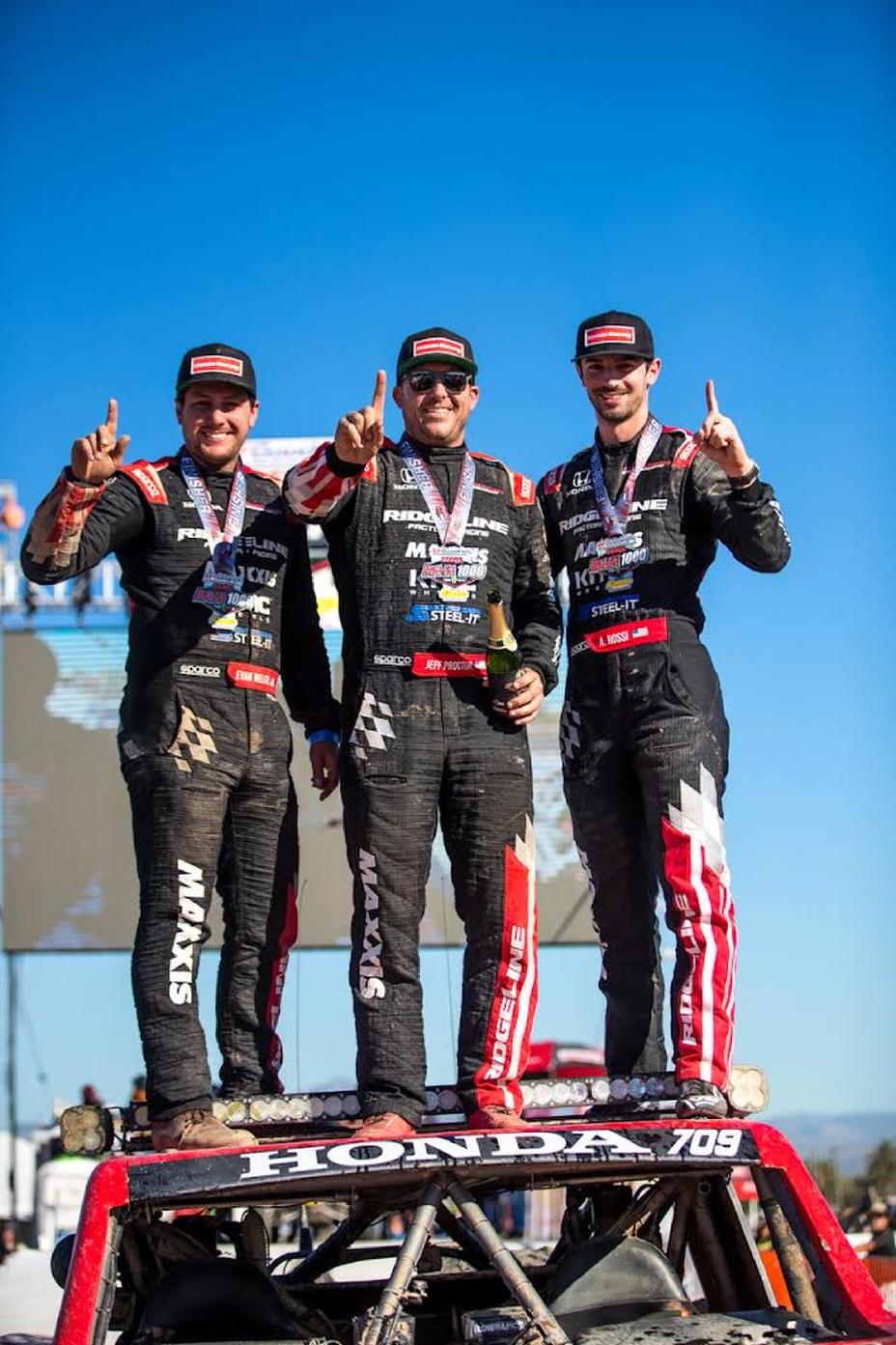 ---
November 20, 2021
In a race full of 'SCORE Super Teams', admired as the G.O.A.T. in desert racing, Las Vegas' Rob MacCachren was driver of record for San Diego's budding youthful super star Luke McMillin rose above the rest in a field of 299 starters Friday to win the overall and SCORE Trophy Truck title in the legendary season-ending BFGoodrich Tires 54th SCORE Baja 1000, presented by 4 Wheel Parts.
Starting second physically on the road in the elapsed time race and splitting the driving in McMillin's Big Blue M racing machine all-wheel drive 4 Wheel Parts/BFGoodrich Tires No. 11 Chevy Silverado, the dynamic duo patiently worked their way to the front of the pack and finished the beautifully bodacious 1,226.35-mile race down Mexico's majestic Baja peninsula in a stunning time of 20 hours, 45 minutes and 59 seconds with an astonishing average speed of 59.05 miles per hour.
The SCORE Baja 1000 is at the pinnacle of motorsports as the oldest, most iconic, most prestigious, toughest and longest continuously held desert race in the world.
SCORE International is well known around the globe as the 'World's Foremost Desert Racing Organization.' Celebrating its 48th season in 2021, this race is the flagship event of the SCORE World Desert Championship.
SHOWDOWN
This year's Granddaddy of All Desert Races was a peninsula run of 1226.35 masterful miles down Mexico's majestic Baja California peninsula, starting in Ensenada, Baja California and finishing in La Paz, Baja California Sur. It started and finished under strict BioSecurity health and safety protocols in both Mexican states.
ROB MAC & THE BIG BLUE M MACHINE
One of several 'Super Teams' competing in this race primarily because of the length of the course, Off-Road Motorsports Hall of Fame inductee MacCachren, 56, stabled his aging two-wheel drive thoroughbred when invited to join the Big Blue M race team for this historic race and drive Luke McMillin's AWD Chevy Silverado built by Mason Motorsports.
Using Luke McMillin's No. 1 SCORE Trophy Truck, the McMillin family decided to give the popular Mac Attack a shot at winning another SCORE Trophy Truck season point championship. MacCachren entered the race just two points behind Larry Roeseler so the McMillins graciously allowed MacCachren to be the driver of record and run MacCachren's No. 11 on the No. 1 truck of the McMillins.
A third-generation desert racer, Luke McMillin, 28, and venerable veteran 'Rob Mac' started second behind another 'Super Team' of Las Vegas' Bryce Menzies and Luke McMillin's cousin Andy McMillin, also of San Diego.
With A. McMillin at the wheel, the motor let go over just before race mile 700 in the grueling race in the No. 7 AWD SCORE Trophy Truck. The No. 7 started first and was being following closely by the No. 11 truck of MacCachren/L. McMillin.
Stalking their prey like a hungry jaguar, MacCachren stayed the course, with L. McMillin taking over the wheel around race mile 700, quickly taking the lead from A.McMillin/Menzies, and never looking back the rest of the way to La Paz.
Luke's brother Daniel, who won the 2019 SCORE Baja, 500 fell out of the race as the result of damage from a significant rollover in the first 175 miles with Las Vegas' Justin B. Smith at the wheel.
FAMILY LEGACY
With an enduring legacy started by the late family patriarch Corky McMillin, Luke McMillin added to the Big Blue M rich history with his second career victory in the marquee SCORE Trophy Truck division.
With his victory, McMillin also earned a US$40,000 contingency bonus from long-time SCORE sponsor and race title sponsor BFGoodrich Tires offered to the winner of this year's race. The victory also marked the 32nd overall victory in this race for vehicles equipped with BFGoodrich Tires.
Besides his late grandfather Corky, Luke McMillin's champion family members include his brother Daniel McMillin, his dad Mark McMillin, his uncle Scott McMillin, and his cousins Andy McMillin and Jessica McMillin. As a family, the McMillins now have earned a race-record 14 overall victories in the SCORE Baja 1000.
While Luke McMillin earned his second (straight) SCORE Baja 1000 overall, his father Mark has five as does his cousin Andy and his uncle Scott has two overalls in this storied race.
DIRTTRAX
When the final checkered flag fell, a total of 299 vehicles left the starting line early Thursday morning in Ensenada in the elapsed time race. When the course officially closed at 3:13:35 p.m. MT on Saturday there were 205 official finishers for a very strong 68.6 percent finishing rate on the very long, extremely challenging race course.
The legend grows. In the 22 years that this treasure race has finished in La Paz, the 299 starters are the fourth-most in race history and the 205 finishers are the third most finishers when this race finishes in La Paz.
Overall, in the 54-year history of this race, the 299 starters are the 12th most in the all-time history of this race and the 205 finishers are the fifth-most finishers out over five decades of this monstrous event.
The results were made official following complete data tracking review of the devices on each vehicle in the event early on Saturday evening.
MEDALISTS
Following the Mac Attack/Cool Hand Luke talented tandem onto the podium where Mexico's legendary Vildosola Racing family and Hall of Fame SCORE champion/Action Sports Television announcer Cameron Steele of San Clemente, Calif.
Two more 'SCORE Super Teams' completed the podium.
Gustavo 'Tavo' Vildosola Jr, 39, of Mexicali, Mexico, finished second while split the driving with his champion father Gustavo Vildosola, 68, Mexicali, and Hall of Famer Ricky Johnson, 57, Trabuco Canyon, Calif. They drove in their sparkling new Mason AWD No. 21 Ford Raptor to a time of 21:18:47 (57.54mph).
Third on the podium was another 'SCORE Super Team' of Steele, 53, Ryan Arciero, 48, Foothill Ranch, Calif. and Rhys Millen, 48, San Juan Capistrano, Calif. (New Zealand). Their finishing time in the No. 16 Desert Assassins Monster Energy Ford Raptor (built by Geiser Brothers) was 21:27:00 (57.17mph).
BIO SECURITY UPDATE
While pre-race activities along with the start of the race had no spectators allowed in the in the SCORE compound located in a new site alongside the Marina in Ensenada (just across from the Riviera del Pacifico Cultural Center) tourism officials estimated as many as 200,000 spectators were spread out down the peninsula enjoying the race alongside of the course. It finished along side the Fidepaz Marina in La Paz.
SLR M/C SAGA CONTINUES
Continuing their winning ways individually and as a team, Mark Samuels, 32, Yucca Valley, Calif. and his teammates Justin Morgan, 31, El Cajon, Calif./Kendall Norman, 37, Santa Barbara, Calif. and Brandon Prieto, 30, Ensenada, Mexico who won their 12th consecutive overall motorcycle title in a SCORE race on their No. 1x Slam Life Racing Honda CRF450X.
Winning their 12th consecutive SCORE race (that they entered) as a team in the SCORE World Desert Championship, the super team finished the grueling course in a time of 23:07:18 with an average speed of 53.04mph.
Morgan won the SCORE Baja 1000 last year with Samuels and Justin Jones, Murrieta, Calif.
Morgan has 15 consecutive SCORE race wins over the last five years. Individually this was the sixth SCORE Baja 1000 overall victory for Samuels, fifth overall for Morgan, seventh for Norman and first for Prieto.
Morgan started the race and rode the first 444 miles. Samuels took over from there to rocket to race mile 816. At the point, Norman took over and rode the motorcycle to race mile 1000 where Prieto jumped on and cruised it to the finish line and a victory margin of over one hour, 15 minutes.
The victory also earned Honda motorcycles its race-record 31st overall motorcycle victory in the SCORE Baja 1000.
SEVEN OF TOP 10 OVERALL SCORE TROPHY TRUCKS
Besides podium finishers MacCachren/L. McMillin, Vidosola Jr/Vildosola Sr/Ricky Johnson and Steele/Arciero/Millen seven of 10 the top 10 overall four-wheel vehicles were SCORE Trophy Trucks. SCORE Trophy Truck is the marquee racing division in the sports for high-tech, 1000-horsepower unlimited custom trucks. The class was created by Sal Fish, who owned SCORE for 38 years, created the 'Monsters of the Desert' in 1994.
Fourth Overall and in SCORE Trophy Truck was another 'SCORE Super Team' of Alan Ampudia, 30,  Ensenada, Mexico/Jax Redline, 16, Amarillo, Texas/Ken Block, 53, Park City, Utah in the No. 16 Chevy G-6 truck built by Geiser Brothers.
Finishing fifth overall and in SCORE Trophy Truck Las Vegas' Tim Herbst, 58/Pat Dean, 51, Las Vegas/Troy Herbst, 56. Las Vegas (No. 19 Ford F-150-Herbst/Smith).
Sixth overall and a surprise first-time winner of the Trophy Truck Spec class was Pennsylvania's Elijah Kiger, 22, of Kirby, Pa./Sean Bogdan, 28, Kirby, Pa./Christopher King, 26, Kirby, Pa and Jason Coleman, 37, Huntington Beach, Calif. in the No. 238 TSCO-Chevy, prepped by Collins Motorsports of Las Vegas.
A solid seventh overall and sixth in SCORE Trophy Truck was Justin Matney, 36, Bristol, Tenn. In his No. 4 RPM Racing Chevy R-6 built by Geiser Brothers. Sharing the driving were Josh Daniel, 46, Vista, Calif. and C.J. Hutchins of Henderson, Nev.
Brothers Justin, 28 and Jeremy Davis, of Chino Hills, Calif., and third driver Dustin Grabowski, Upland, Calif., finished eighth overall and second in Trophy Truck Spec in their No. 258 Green Army Brenthel-Chevy.
Winning the SCORE TT Legend class, seventh among SCORE Trophy Trucks while finishing ninth overall was the team led by driver of record Rolf Helland, 62, Morris, Ill. in his Ford Raptor built by Mason Motorsports. Sharing the time behind the wheel with Helland were Rick D. Johnson, 55, Barstow, Calif. and Jon Walker, 55, of Guam.
Finishing 10th overall and third in Trophy Truck Spec was defending series class point champion Jorge Sampietro, 30, Ensenada, Mexico in the No. 200 Mason-Chevy. Also driving part of the race were Mexico City's Santiago Creel, 34, Mexico City.
CLASS 1 SUPERLATIVE
After post-race penalty review, Brad Wilson, 32, Long Beach, Calif. were declared winner in the unlimited Class 1. He was behind the wheel of the Wilson Motorsports No. 153 Jimco-Chevy in a time of 24:10:15. Driving also were Kyle Quinn, 30, Lakewood, Calif. and his father Rony Wilson, 59, Long Beach, Calif.
OVERALL UTV, ETC.
Finish his rookie season in SCORE racing, multi-time UTV World Champion Phil Blurton, 35, Auburn, Calif., was the driver of record in winning his first SCORE Baja 1000 title and his first overall UTV title over 62 starters in four classes while winning the Pro UTV FI (Forced Induction) class. He was timed in 26:58: in his No. 2944 Can-Am X3. Also driving with Blurton were Beau Judge, 44, Rockland, Calif. and Wayne Israelson. Blurton had a victory margin in his class that had 29 starters of just 33 minutes over Branden Sims, Prescott Valley  who was DOR for the No. 2989 Polaris RZRXP4 Turbo.
Winning the Pro UTV NA (Naturally Aspirated) class was Ensenada's Elias Hanna, 39, in his No. 1920 Proctor Racing Honda Talon 1000R. Hanna led a five-driver team in this fabled SCORE Baja race.
ROB REPORT
With over 300 career race wins in desert, short-course and stadium racing, MacCachren earned his fifth SCORE Baja 1000 overall victory in this race. Joining Luke McMillin at the finish line, MacCachren, as always, had plenty to say…
"The race was incredible" commented MacCachren. "It's an honor to be asked by Luke McMillin and the McMillin Race team to drive with them. I didn't have any issues at all, just wanted to take care of the truck and give Luke a good truck.  Luke did a heck of a job. Everything went as planned.  When the previous SCORE Baja 1000 ends you started planning for the next one.  This is the one we all want to win."
"I came down on three separate occasions to pre-run. Luke came down a couple times doing his section. He is a lot like me. We want to win this one bad. He was down here pre-running when the race started.  It's also beautiful. The whole course. Pre-running, the scenery, the sunrises, the sunsets, the beautiful cactus, the food, the people, fans that come out even for pre-running was pretty incredible. It is definitely great to be down here in La Paz again. And every more enjoyable with the overall and SCORE Trophy Truck win."
COOL HAND LUKE
Luke McMillin reflected on the race as well, saying "It was a great day. Rob (MacCachren) brought me a great truck in second place. He got on the radio and told me it was a perfect truck so that put the pressure on me that it's go time. We did our homework, we did our pre-running. We hit our marks. Zero flat tires, zero close calls. The BFGoodrich Tires were unbelievable. We just stayed on the course and did our thing. That made it fun."
"Especially when you hear you are picking up time and closing the time gap. We knew if we could just keep it up we would be in pretty good shape. And that is what happened today. We just kept going and going and got our lead up to 41 minutes, but we weren't doing anything crazy. The spectators were good. The silt wasn't bad with our AWD. We just cruised."
SLR'S SAMUELS SAYS
With this being his sixth overall motorcycle victory in this glorious race, Samuels said "We had a good battle. Justin had a lot of dust to deal with at the start. He made some passes and put it into second place when he handed it to me.   I had some dust to deal with over the whole Bay of LA; I sat in dust for over one hundred miles. Then I was finally able to get a pass, made a little bit of a ground, then handed it over and let the boys finish it off."
AMAZING RACE
While every year for the Granddaddy of All Desert Races is mesmerizing, a peninsula run down Mexico's magnificent Baja California peninsula is, for lack of a better term, hypnotizing.
Most of the world's best desert racers were in action at this year's massive BFGoodrich Tires 54th SCORE Baja 1000, presented by 4 Wheel Parts. The 2021 season-finale will be televised on a delayed basis as a one-hour special on ESPN2's World of X Games programming. First scheduled air date in January 9, 2022. Rat Sult, who has been the lead announcer for SCORE Live streaming for six years
Pro and Sportsman classes for cars, trucks, UTVs, motorcycles and quads competed in the Granddaddy of All Desert Races.
Ensenada, "The Off-Road Capital of the World" is a coastal city on the Bahia de Todos Santos area of the Pacific Ocean, 80 miles south of the U.S. border at San Diego.
La Paz, the capital of Baja California Sur, is the gateway to the Sea of Cortez and 1,000 miles south of the U.S. Border at San Diego.
This iconic race started for the 47th time in Ensenada, finished for the 22nd time in La Paz, 24th time overall to run down the peninsula as 2000 and 2007 finished in Cabo San Lucas. It will be the first peninsula run since the 50th SCORE Baja 1000 in 2017. The course was also the second longest in the history of a peninsula run to La Paz.
This race is annually the grand finale of the SCORE World Desert Championship, which was held exclusively for the past six years in Baja California.
THE UNDEFEATED
With their class wins in this SCORE Baja 1000 to finish the 2021 SCORE World Championship season remain undefeated are five racers in four rugged SCORE races: Rolf Helland, 61, Morris, Ill./Rick D. Johnson, 55, Barstow, Calif. (SCORE TT Legend, No. 37L Ford Raptor), Mike Cafro, 51, Fallbrook, Calif. (Pro UTV Stock, No. 3956 Polaris RZR Turbo S), Justin Elenburg, Mesa, Ariz. (Pro UTV Open, No. 1870 Can-Am X3), Ryan Liebelt, Reedley, Calif. (Pro Moto 40, No. 408x, Yamaha WR450F), Giovanni Spinali, El Cajon, Calif. (Pro Moto 50, No. 510x Yamaha YZ450FX).
TRIPLE TIMERS
Winning for the third time out of 2021 SCORE Baja races to end the season are six additional racers: Jeff Proctor, 43, Glendora, Calif. (Class 7, No. 709, Honda Ridgeline), Justin Park, 45, Encinitas, Calif. (Class 7F, No. 714F, Ford Ranger), Armando Duron, 58, Mexicali, Mexico (Class 7SX, No. 758, Ford Ranger), Greg Bardonnex, Vista, Calif. (Pro Moto 30, No. 308x, Yamaha WR450F) and Juan Carlos Salvatiera, 40, Bolivia (Pro Moto Ironman, No. 725x KTM 450XC-F).
MORE CLASS WINNERS
     Among the other class winners in this year's epic SCORE Baja 1000 were: Ethan Hagle, 29, Somis, Calif. (Class 10, No. 1046 Alumi Craft-Chevy), Doug Satterfield, 44, San Diego (SCORE Lites, No. 1229 Mirage-VW), Eli Yee, 47, Tijuana, Mexico (Class 1/2-1600, No. 1600 Kreger-VW), Don Chase, 53, La Crescenta, Calif. (Class 5, No. 523 Jakes Fab-Chevy), Jorge Gutierrez, 44, El Cajon, Calif. (Class 5-1600, No. 598 1600cc VW Baja Bug), John Williams, 44, Murray, Utah (Baja Challenge, No. BC1 BTC-Subaru) and Hector Martinez, 20, Ensenada, Mexico (Class 11, No. 1145 VW Baja Bug).
Among the other motorcycle and quad class winners are: Christopher Gill, 27, Buelton, Calif. (Pro Moto Limited, No. 109x Honda CRF450X), Craig Wear, 63, Carson City, Nev. (Pro Moto 60, No. 625x Honda CRF450X) and Miguel Arran, Spain (Pro Quad Ironman, No. 99a Honda TRX450R).
LR DID IT
As always, the SCORE Baja 1000 is filled with heroic tales of the extreme adventure but one that stands out is Larry 'Mr. Baja' Roeseler, who at 64 years young accomplished a feat that few others in the history of the world's desert race have done before. He was the solo driver in his truck, and he is 64 years young from Imperial, Calif. And he finished all 1,226.35 miles with a tremendous effort and a huge assist from fellow-racer Robby Gordon. He drove every blistering mile and finished in a time of 24:23:31 in the No. 43 Baja Jerky Cantina Racing Toyota Tundra.
Roeseler, of Imperial, Calif., has 14 overall victories in this race (10 on a motorcycle, two in a race car and two in SCORE Trophy Truck) including last year with this year's co-winner Luke McMillin.  In none of his overall wins did he attempt to drive solo in a four-wheel vehicle or ride ironman-style on a motorcycle.
This year after running in third place physically for, the inimitable LR finished eighth out of 29 starters in the marquee racing division.
An obviously exhausted yet definitely thrilled Roeseler said at the finish line after completing the demanding and excruciating pace of the race down Baja's dynamic peninsula, "I have some stories. It was an amazing day. We started really good, we got by Cameron (Steele) and was running with the lead pack.  On the beach, Dan (McMillin) crashed, Tavo (Vildosola) got by me in the pits. I settled in and we were running a good pace. I pulled back the pace a little since it was only 200 miles in."
"By the middle of the night, I was fourth physically and was hoping for a podium finish. A podium is like winning the race to me. But then the transmission let go at race mile 980. We were lucky to get it to the BFGoodrich Tires pits at race-mile 1000 and put in a couple gallons of oil. We kept filling it with oil but it would pour out as fast as we added it. We literally had gallons in Eric's (Brandt, navigator) lap and on the floorboard and between us. He was just pouring oil in and we were just trying to make it to the finish. At the top of the hill with 10 miles to go to the finish line, the truck just stopped."
"Robby (Gordon) came up behind us and stopped and offered to pull us in. He pulled us all the way to the pavement. I have all the respect for him.  Really cool that he gave us a few positions to help us. I would still be out there sitting if it weren't for him."
"During pre-running, I flew back in a helicopter and just took it all in, looking at Baja and the terrain and what we are so blessed to be able to race through, all the cities, we race by missions built in the 1700's. It is just amazing. The countryside, the people, the fans everywhere. And to share with the Baja Jerky team and Eric Brandt rode the whole way with me. He gets a lot of credit too. I think it is easier to drive than to sit in the right seat. He did a great job for me. The whole team. Of course, we would have liked to finish better. But I feel like this was a win."
"I've done some amazing events throughout my career. This one rates right up there near the top. This is one I will never forget, the highs and the lows. My family was here waving the checkered flag for me. That was really, really special."
"My hat goes off to SCORE and Jose G (SCORE President Abalardo Grijalva) and the amazing SCORE race staff. This has to give them headaches but they pull it off and they did a spectacular job."
HERBIE'S BACK
Just like their Big Screen idol, an unusually-high 12 Class 11 for sublime stock VW Sedans, at the foundation of desert racing, competed in this year's race and eight of those ever-so-cute 'Love Bugs' officially finished the race of over 1200 miles, but nowhere as fast as the other classes.
As a matter of fact, winning this race in the ever-so-slow, but preserving 11-driver team led by Hector M. Martinez, 20, of Ensenada. His team's winning time of 42 hours, 01 minutes and 32 seconds.
Following each other in caravan-style down the peninsula, the last of the eight official finishers in the lovable stock Baja Bug class was the team led by Nico Samaras, 33, Scottsdale, Ariz. in a time of 48:36:41.
VIVA BAJA!!!
The race featured a course, designed and plotted by SCORE President/Race Director Jose A. Grijalva, of 1226.35 miles of raucously rugged Baja California terrain.
It ran east from Ensenada to Ojos Negros, south to Valle de Trinidad, back southwest to Colonet, south to San Quintin. The course starts heading inland to Catavina then south to Coco's Corner to Bahia de Los Angeles. From there it heads inland to San Ignacio and back to the Pacific Ocean at race mile 750.
At about race mile 825 it headed east to the Sea of Cortez at race mile 880 and down along the Sea of Cortez past Loreto. After Loreto it ran southwest and back along the Pacific past Villa Insurgentes and Ciudad Constitucion until race mile 1180 were it turned southeast and finally into the finish in La Paz.
The historic race course featured three physical checkpoints, 236 virtual checkpoints, including 23 speed zones (37 or 60 miles per hour) for a total of 196.18 miles.
The three physical (full stop) checkpoints were: Checkpoint No. 1 at Chapala (race mile 421.30), Checkpoint No. 2 at the Vizcaino road crossing (race mile 633.31) and at Insurgentes (race mile 999.91).
All Sportsman classes, Class 3, Class 7SX, Class 11, Vintage Trailblazer and Baja Challenge ran reduced course of 1,214.01 miles.
BFGOODRICH TIRES UNMATCHED
BFGoodrich Tires, the official tire of SCORE for 45 years, received two awards for the 2020 SCORE World Desert Championship. BFGoodrich Tires was honored after the 2020 season as the SCORE Contingency Company of the year for the 30th time as well as being voted the SCORE Pit Support Team of the Year for the 32nd time.
BFGoodrich Tires has been the choice of 33 of the 53 overall winners of the popular SCORE Baja 500 and 32 of the 54 overall winners of the legendary SCORE Baja 1000. BFGoodrich Tires was also the title sponsor of both of the iconic races again in 2021 and will be again in 2022.
BFGoodrich Tires also has been the choice of 28 of the 34 overall winners of the SCORE San Felipe 250, all three SCORE Desert Challenge races, the lone SCORE Challenge of Champions in San Felipe, the one SCORE Baja Sur 500 and the first SCORE Baja 400.
BFG BIG BONUS
SCORE major sponsor BFGoodrich Tires posted a US$40,000 contingency bonus for the overall 4-wheel race winner to help commemorate the Granddaddy of All Desert Races. The bonus obviously went to the MacCachren/L. McMillin team.
PRESENTING SPONSOR
Presenting sponsor for this year's BFGoodrich Tires 53rd SCORE Baja 500 and BFGoodrich Tires 54th SCORE Baja 1000 was 4 Wheel Parts, the official Off-Road Retailer and Race Presenting Partner of SCORE and the SCORE World Desert Championship. 4WP will also be the presenting sponsor of the same two races in 2022.
SCORE Baja 1000 All-Time Overall Champions
(4-wheel and 2-wheel vehicles–1967 through 2020)
YEAR DRIVERS/RIDERS VEHICLE TIME
1967 Vic Wilson/Ted Mangels Meyers Manx-VW 27:38
J.N. Roberts/Malcolm Smith Husqvarna 28:48
1968 Larry Berquist/Gary Preston Honda 20:38:28
Larry Minor/Jack Bayer Ford Bronco 21:11:32
1969 Larry Minor/Rod Hall Ford Bronco 20:48:10
Gunnar Nilsson/J.N. Roberts Husqvarna 21:35:52
1970 Drino Miller/Vic Wilson Miller-VW 16:07
Mike Patrick/Bill Bowers Yamaha 18:31
1971 Parnelli Jones/Bill Stroppe Ford Bronco 14:59
Malcolm Smith/Gunnar Nilsson Husqvarna 16:51
1972 Parnelli Jones/Bill Stroppe Ford Bronco 16:47
Gunnar Nilsson/Rolf Tibblin Husqvarna 19:19
1973 Bobby Ferro/Johnny Johnson Funco-VW 16:50:25
Mitch Mayes/A.C. Bakken Husqvarna 18:42:51
1974 NO RACE
1975 Al Baker/ Gene Cannady Honda 18:22:55
Malcolm Smith/Dr. Bud Feldkamp Hi-Jumper-VW 18:55:49
1976 Larry Roeseler/Mitch Mayes Husqvarna 11:30:47
Ivan Stewart Chenowth-VW 12:17:28
1977 Brent Wallingsford/Scot Harden Husqvarna 14:37:07
Malcolm Smith/Dr. Bud Feldkamp Funco-VW 15:10:42
1978 Larry Roeseler/Jack Johnson Husqvarna 10:23:47
Mark Stahl Chenowth-VW 12:55:42
1979 Larry Roeseler/Jack Johnson Husqvarna 19:48:04
Walker Evans/Bruce Florio Dodge pickup 20:48:27
1980 Larry Roeseler/Jack Johnson Yamaha 12:45:13
Mark Stahl Chenowth-VW 13:33:55
1981 Scot Harden/Brent Wallingsford Husqvarna 17:14:05
Mark McMillin/Thomas Hoke Chenowth-VW 20:29:14
1982 Al Baker/Jack Johnson Honda 17:25:27
Mickey Thompson/Terry Smith Raceco-VW 19:40:23
1983 Dan Smith/Dan Ashcraft Husqvarna 14:48:10
Mark McMillin/Ralph Paxton Chenowth-VW 17:35:06
1984 Chuck Miller/Randy Morales Honda 14:34:34
Mark McMillin/Ralph Paxton Chenowth-VW 16:27:09
1985 Randy Morales/Derrick Paiement Honda 17:44:42
Steve Sourapas/Dave Richardson Raceco-VW 17:54:55
1986 Bruce Ogilvie/Chuck Miller Honda 18:05:52
Mark McMillin/Ralph Paxton Chenowth-Porsche 18:26:28
1987 Dan Ashcraft/Bruce Ogilvie Honda 12:02:14
Bob Gordon/Malcolm Smith Chenowth-Porsche 13:15:04
1988 Paul Krause/Larry Roeseler/Danny LaPorte Kawasaki 11:33:45
Mark McMillin Chenowth-Porsche 13:07:09
1989 Larry Roeseler/Danny LaPorte/Ted Hunnicutt Jr. Kawasaki 17:53:16
Robby Gordon Ford Truck 18:04:07
1990 Larry Roeseler/Ted Hunnicutt Jr./Danny LaPorte Kawasaki 11:11:45
Bob Gordon/Robyn Gordon/Robby Gordon Chenowth-Chevy 12:30:45
1991 Larry Roeseler/Ted Hunnicutt Jr./Marty Smith Kawasaki 13:35:25
Larry Ragland Chevrolet pickup 16:37:35
1992 Danny Hamel/Garth Sweetland/Paul Ostbo Kawasaki 16:50:12
Paul & Dave Simon Ford truck 16:53:02
1993 Ivan Stewart Toyota SR5 13:29:11
Danny Hamel/Larry Roeseler/Ty Davis Kawasaki 13:57:23
1994 Danny Hamel/Larry Roeseler/Ty Davis Kawasaki 10:20:47
Jim Smith (SCORE Trophy Truck) Ford 10:28:56
Dave Ashley/Dan Smith Ford truck 10:43:43
1995 Paul Krause/Ty Davis/Ted Hunnicutt Jr. Kawasaki 19:31:19
Larry Ragland (SCORE Trophy Truck) Chevy 20:14:12
Dale White Chevy Truck 21:57:03
1996 Paul Krause/Ty Davis/Greg Zitterkopf Kawasaki 14:11:02
Larry Ragland (SCORE Trophy Truck) Chevy 14:38:59
Ryan Thomas Chenowth-VW 15:53:56
1997 Johnny Campbell/Tim Staab/Greg Bringle Honda 13:19:59
Larry Ragland (SCORE Trophy Truck) Chevy 13:53:46
Doug Fortin Chenowth-VW 14:31:02
1998 Johnny Campbell/Jimmy Lewis Honda 18:58:48
Ivan Stewart Toyota truck 19:08:20
1999 Johnny Campbell/Tim Staab Honda 14:15:42
Larry Ragland Chevy truck 14:26:36
2000 Johnny Campbell/Tim Staab/Craig Smith, Steve Hengeveld Honda 30:54:12
Dan Smith/Dave Ashley Ford truck 32:15:39
2001 Johnny Campbell/Tim Staab Honda 13:51:40
Doug Fortin/Charlie Townsley Jimco Chevy truck 14:35:42
2002 Steve Hengeveld/Johnny Campbell/Andy Grider Honda 16:17:28
Dan Smith/Dave Ashley, Ford truck 16:19:03
2003 Steve Hengeveld/Johnny Campbell/Bruce Ogilvie Honda 15:39:52
Doug Fortin/Charlie Townsley Jimco-Chevy 16:24:02
2004 Steve Hengeveld/Johnny Campbell/Kendall Norman, Honda 15:57:37
Troy Herbst/Larry Roeseler, Smithbuilt-Ford 16:18:14
2005 Steve Hengeveld/Johnny Campbell/Mike Childress, Honda 14:20:30
Larry Roeseler/Troy Herbst, Smithbuilt-Ford 15:06:19
2006 Steve Hengeveld/ Mike Childress/Quinn Cody, Honda 18:17:50
Andy McMillin/Robby Gordon, Chevy truck 19:15:17
2007 Robby Bell/Steve Hengeveld/Johnny Campbell/Kendall Norman, Honda 24:15:50
Mark Post/Rob MacCachren/Carl Renezeder, Ford truck 25:21:25
2008 Robby Bell/Kendall Norman/Johnny Campbell, Honda 12:29:18
Roger Norman/Larry Roeseler, Ford truck 12:40:33
2009 Kendall Norman/Timmy Weigand/Quinn Cody, Honda 13:27:50
Andy McMillin/Scott McMillin, Chevy truck 14:19:50
2010 Gus Vildosola Jr./Gus Vildosola Sr., Ford truck 19:00:04
Kendall Norman/Quinn Cody, Honda 19:20:52
2011 Kendall Norman/Quinn Cody/Logan Holladay, Honda 14:14:25
Andy McMillin/Scott McMillin, Ford truck 14:51:36
2012 B.J. Baldwin, Chevy truck 20:00:59
Colton Udall/Timmy Weigand/David Kamo, Honda 20:09:30
2013-Tim Weigand/Colton Udall/David Kamo/Mark Samuels, Honda 18:29:14
B.J. Baldwin, Chevy Truck, 18:36:30
2014-Rob MacCachren/Andy McMillin/Jason Voss, Ford truck 22:31:28
Ricky Brabec/Robby Bell/Steve Hengeveld/Max Eddy Jr., Kawasaki 24:24:01
2015-Rob MacCachren/Andy McMillin, Ford truck 15:58:32
Colton Udall/Mark Samuels/Justin Jones, Honda 16:29:08
2016- Rob MacCachren/Jason Voss, Ford truck 17:12:58
Colton Udall/Mark Samuels/Justin Jones/Daymon Stokie/David Kamo, Honda 18:16:42
2017- Carlos 'Apdaly Lopez/Juan C. Lopez, Chevy truck 19:53:36
Francisco Arredondo/Shane Esposito/Justin Morgan/Max Eddy Jr/Ty Davis, Honda 21:07:17
2018- Justin Morgan/Mark Samuels/Justin Jones, Honda 16:23:26
Cameron Steele/Pat Dean, Ford truck 16:24:02
2019- Alan Ampudia/Aaron Ampudia, Ford truck 16:10:36
Justin Morgan/David Kamo/Max Eddy Jr/Shane Esposito, Honda 17:34:28
2020-Luke McMillin/Larry Roeseler, Ford, 19:10:25
Mark Samuels/Justin Morgan/Justin Jones, Honda 20:50:30
2021-Rob MacCachren/Luke McMillin, Chevy, 20:45:59
Mark Samuels/Justin Morgan/Kendall Norman/Brandon Prieto, 23:07:18