Supercars: Sydney finale rained out, Van Gisbergen locks up title
Shane van Gisbergen will be awarded the Repco Supercars Championship Trophy at the Repco Bathurst 1000 after today's race in Sydney was declared a non-event due to heavy rain.
Inclement weather lashed Sydney Motorsport Park on Sunday, in what was scheduled to be Race 30 of the 2021 Repco Supercars Championship and the final race of Supercars' four-week stint in the Harbor City.
With no result declared, champion-elect van Gisbergen clinched his second drivers' championship, and first since 2016.
It puts him in the history books as just the 14th driver in ATCC/Supercars history to win two or more titles.
Just 25 drivers in over 60 years of championship seasons have won the drivers' title.
Today's 64-lap race start was delayed by 15 minutes and commenced behind the BP Ultimate Safety Car.
Cars circulated for five laps before the race was red-flagged, with the Safety Car leading the 24-car field into pit lane.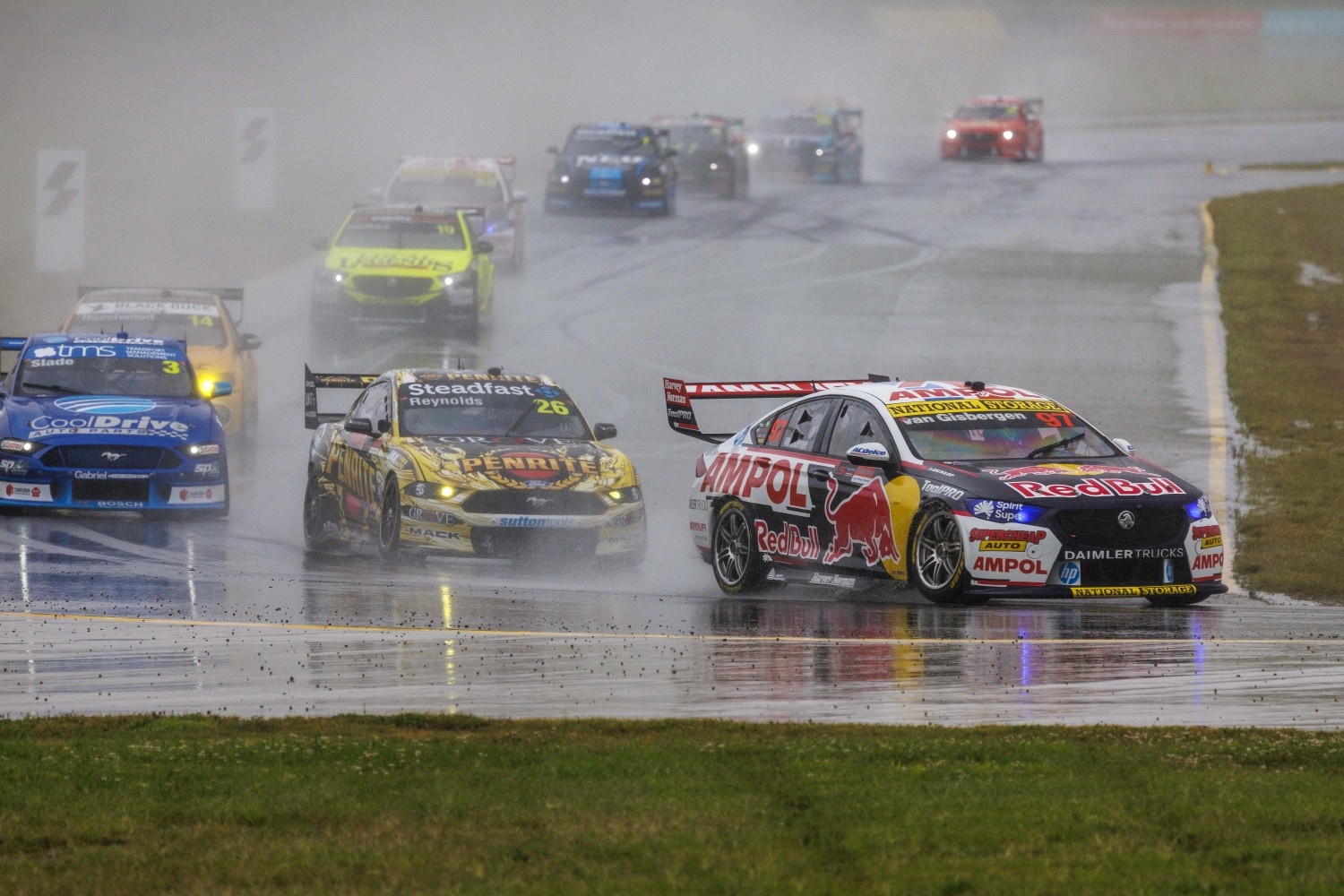 The race was suspended at 3:45pm local time as conditions further deteriorated.
Per the regulations, points could only be awarded after 50 percent of the race had been completed.
The race was ultimately abandoned at 4:25pm, with 5:13pm AEDT plus one lap having been the time certain finish, and declared a non-race with no points awarded.
As a result, van Gisbergen will carry an unassailable 349-point lead over Red Bull Ampol Racing teammate Jamie Whincup into the season-ending Repco Bathurst 1000.
"Yeah it sucks we couldn't put on a show but it's been an awesome time and super cool to win another championship, over the moon," said van Gisbergen.
"We haven't been fast enough, but we've got the results and been consistent. Less mistakes than others.
"We had one bad race, but the rest of them we were always up there. I can't thank the team enough.
"It's been an awesome season. Our cars have been really strong almost everywhere. Just super stoked."
Van Gisbergen also secured the Beaurepaires Sydney Cup and the $25,000 cash prize.
All attention now turns to the Great Race at Mount Panorama on December 5.
The 2021 Repco Supercars Championship and Dunlop Series seasons will conclude at the Repco Bathurst 1000.