F1: Hamilton races to easy win in Qatar GP
Starting from pole, Lewis Hamilton took the lead at the start and led every lap to win the inaugural Qatar GP over Max Verstappen and close the point gap to just 8 with two races to remain in the 2021 F1 driver championship.
Verstappen, starting 7th after a grid penalty for ignoring yellow flags in qualifying, moved through the field and up to 2nd early but had nothing for Hamilton and Mercedes. Verstappen did get the fastest lap bonus point to limit the championship damage.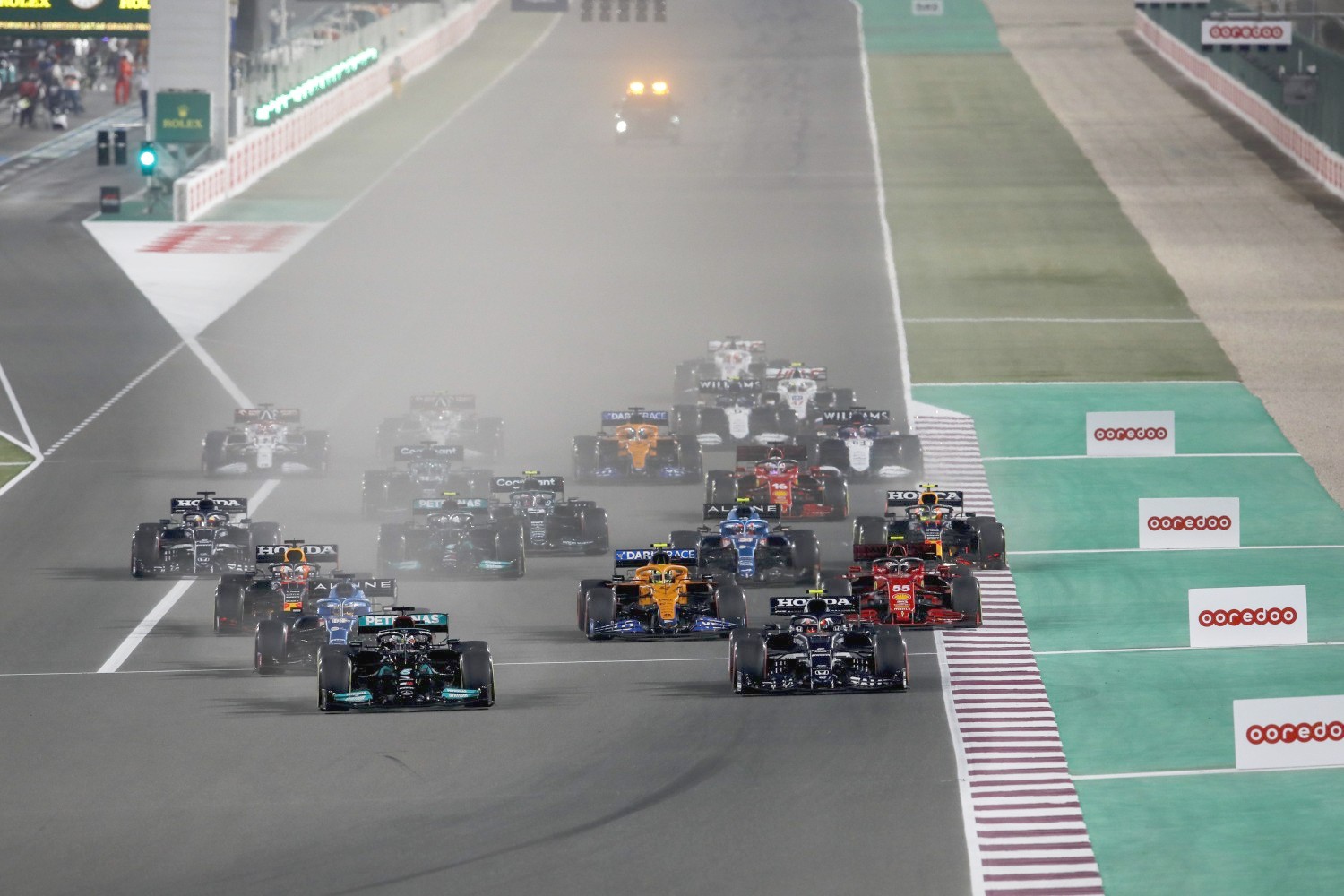 Hamilton and Verstappen were in another class, both finishing well ahead of Fernando Alonso who got his first podium in a long time for him and his #14 Alpine team using a 1-stop strategy.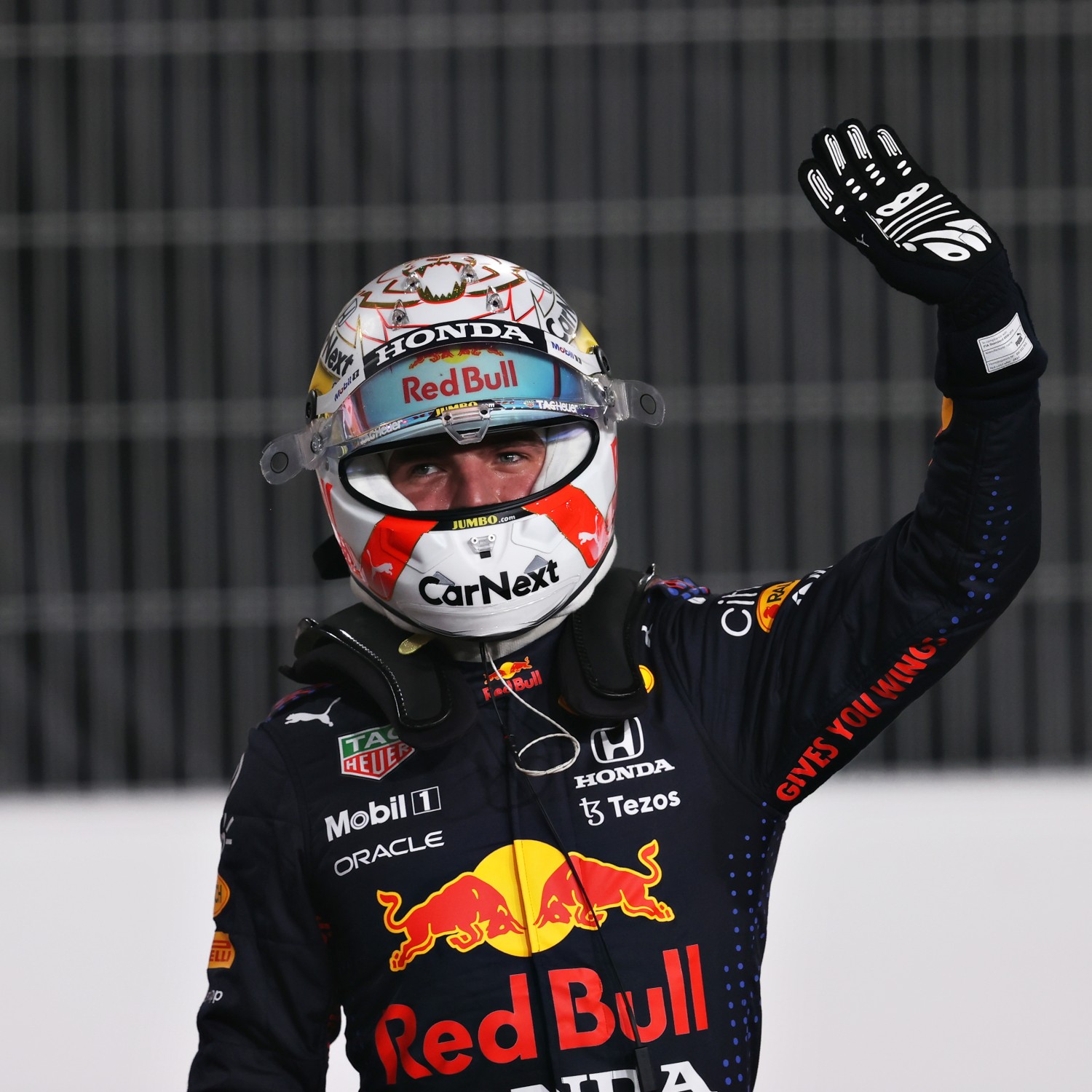 "We needed those points today," said Hamilton. "I can't wait to watch the race replay to find out what happened behind me. I'm really grateful for these points, it's been a hell of a year. Back to back wins here, feel good, I feel fit, fitter than I've ever felt. Bring on the next two!"
"Our starting position was compromised, but luckily, we had a really good start," said Verstappen. "Of course, I know it's going to be difficult to the end, but it keeps it nice, keeps it exciting. This track was fun to drive as well. I feel good, but it's going to be a tight battle to the end."
"Unbelievable, seven years! Finally, we got it (podium), honestly I thought to be leading after Lap 1, on the red tire I wanted to have a go at Lewis," said a happy Alonso.
"We tried one stop from the beginning, but we didn't know the [tire] wear at a new venue for everybody. The car was superb and [the team] deserve it. I've waited so long for this, so I'm very happy."
Alonso started from third on the grid following pre-race penalties for Max Verstappen and Valtteri Bottas, but a superb start and overtake on Pierre Gasly catapulted him into second. The Spaniard held onto second until a hard-charging Verstappen ultimately came through to take the position.
Alonso relinquished third to Sergio Perez before a second-stop for the Mexican propelled Fernando back into podium contention. A late Virtual Safety Car gave just the margin he needed to secure his maiden podium for Alpine F1 Team, the second for the Anglo-French team this season, and the 98th of his career.
Sergio Perez finished 4th in the 2nd Red Bull after a late virtual safety car to retrieve Nicholas Latifi's Williams prevented him from passing Alonso for third.
Esteban Ocon rounded out the top-5 in the Alpine.
Lance Stroll was sixth for Aston Martin ahead of the Ferrari pair of Carlos Sainz Jr. and Charles Leclerc.
Lando Norris was ninth, Sebastian Vettel P10 and 2nd starting Pierre Gasly was a disappointing P11.
Select Quotes
Lewis Hamilton
It's been a hell of a year so to be at this point of the season and have back-to-back wins is a great feeling. It was a pretty straight forward race for me, a little bit lonely but of course, we needed those points, so a really solid job by the team. A big thank you to everyone trackside and back at the factories for all their hard work. I'm really grateful for these points and it's amazing to be able to close the gap so much in the last two weeks. We've still got our work cut out, but we're loving such a close battle and the challenge that it brings. It was a real shame for Valtteri today, having to retire, but the pace was good this weekend and that puts us in good stead for the next two races. We'll be bringing our triple a-game for those.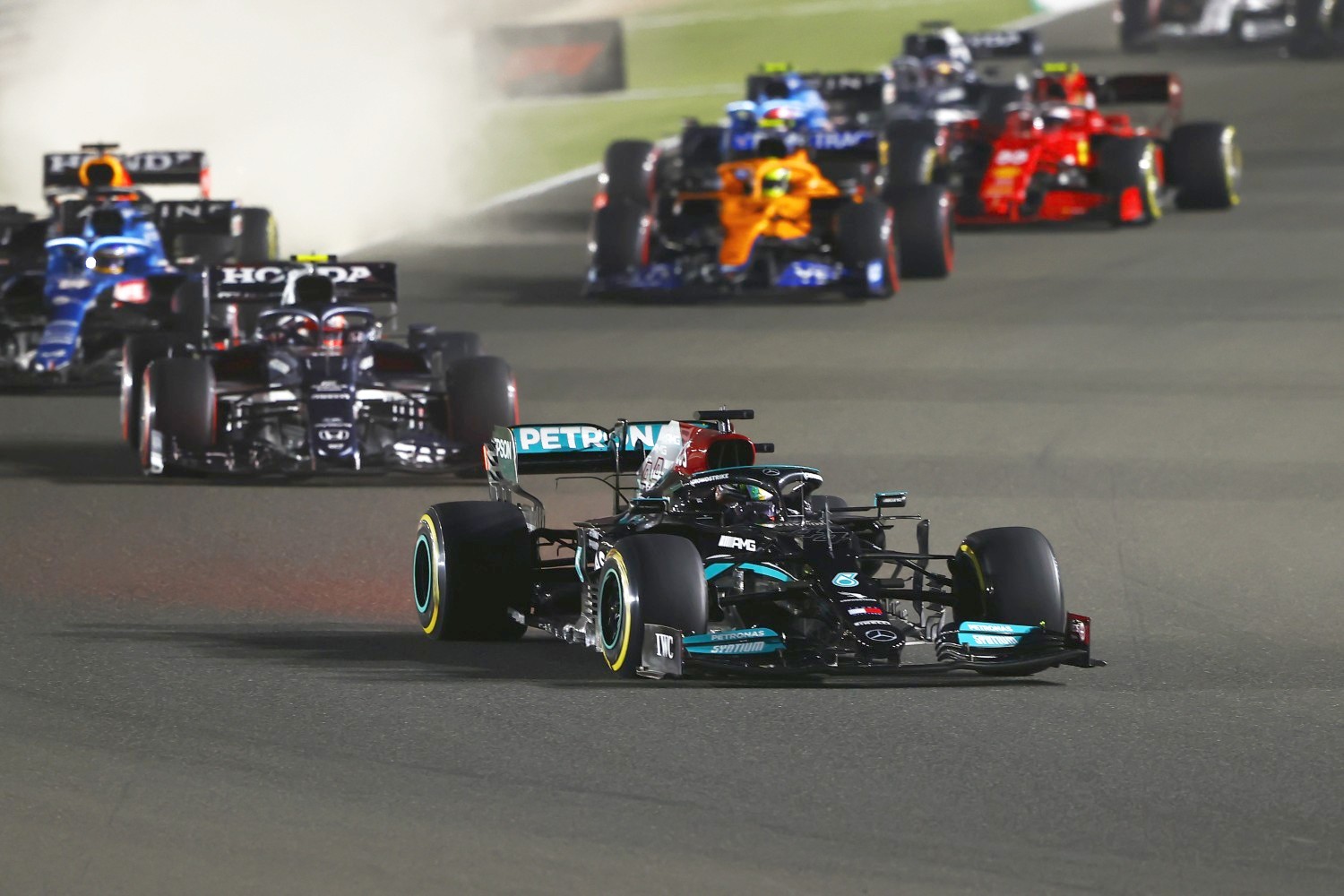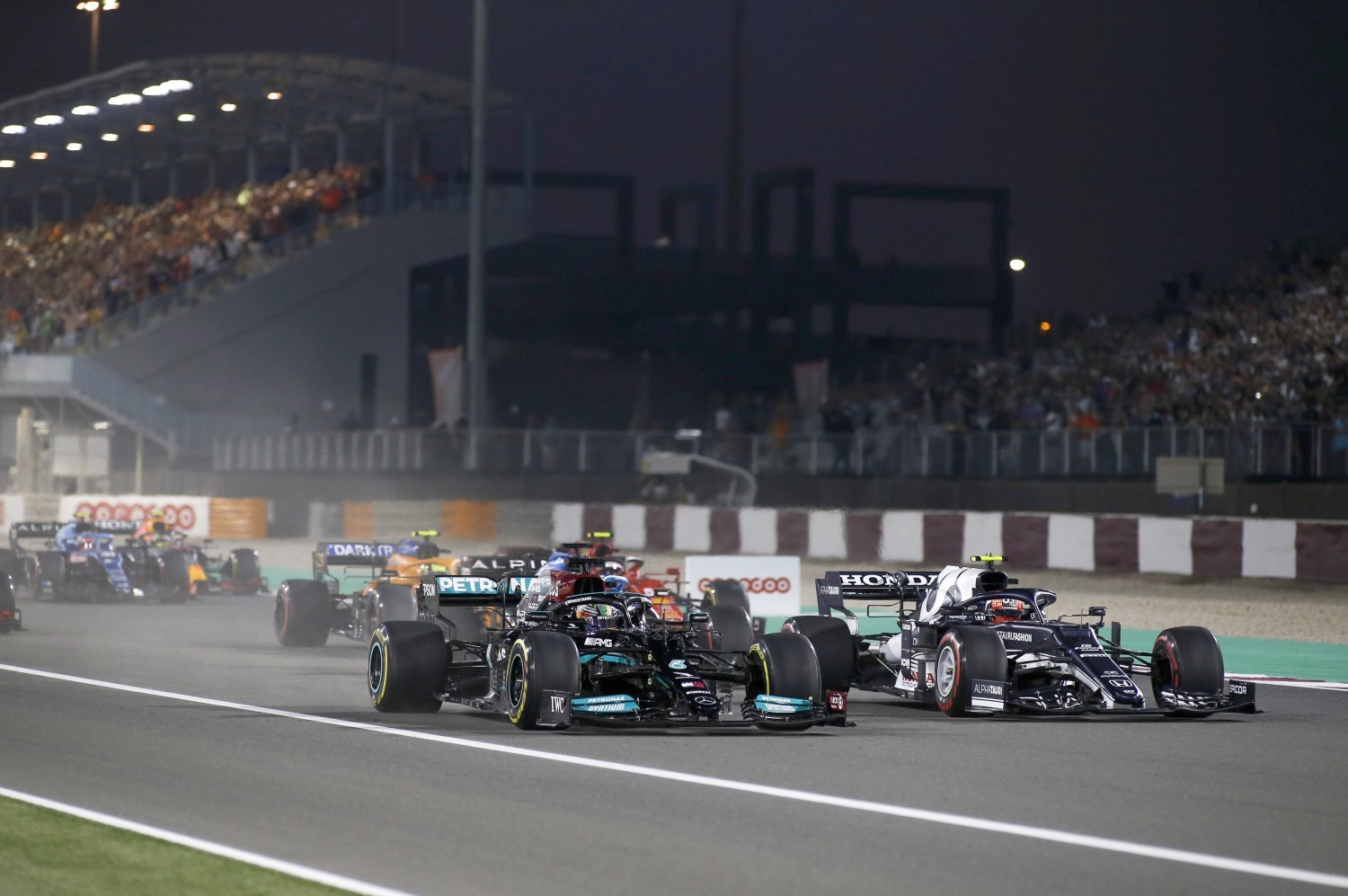 Valtteri Bottas
Obviously, that was a very disappointing day for me and a tough way to end the weekend, after it started so promisingly on Friday. I struggled on the formation lap to get temperature into the tires and then being on the dirty side of the grid, I had no grip for the start, so I was just wheel spinning, and was skating around on the first lap. Then I got into a bit of a DRS train but once the gaps opened up, I could make progress, the pace was good, and I could go long on the stint. But then, all of a sudden, I had the puncture without any vibration or warning. We knew we were pushing the limit of the tire, but I was still getting good grip, we still felt comfortable and staying out was our best shot at a podium. It failed just after the pit entry as well, so the most unlucky part of the track, and the car got so damaged on the lap back to the pits we felt it was safer to retire and save the mileage.
Toto Wolff
That was a commanding win for Lewis. He controlled the pace from the front and did everything he needed to do, completely in the zone. The lion got woken up in Interlagos and we saw that today in Qatar! For Valtteri, it was a difficult day, the puncture came out of nowhere, with literally no indication, and unfortunately, he was the first one to pick up the puncture. But while we come away from the race result with mixed emotions, the pace of the car this weekend has been encouraging for the last two races. We know there are still many challenges to come, but we're enjoying the ride, when it is so tough, this is exactly why we are in this sport. It's maximum attack for the last two rounds, we've got some points to make up, so this is what we're aiming to do and we're enjoying every minute of it.
Andrew Shovlin
A mixed bag today. On one hand, Lewis showed what he and the car can do over a Saturday and Sunday, his margin in qualifying was truly impressive and even in the race, he only had to do what was required to hold the gap. Valtteri on the other hand had a tough day; we thought he'd be P5 to start which meant the good side but as we were leaving to go to the grid, a second document came out that put us a place further back on the dirty side. That didn't help him get off the line but a poor Turn 1 and 2 dropped him further and by the end of the lap one he was down in P11. From there he mounted a very strong recovery and was getting back into a position where a podium was looking likely. We then had the puncture, that came without warning and at the worst place on track, just coming into the final corner, so he had to do the whole lap on three wheels. We couldn't make any headway once we were back out on track as the car had been quite badly damaged, so in the end we decided to retire. We move into the final two rounds with a small margin in the Constructors' and a small deficit in the Drivers'. It's going to be tight, but we've got a car that is capable of doing the job and that's giving us great encouragement. We'll likely need to win both races, but we've got good reason to think our strong form from here can carry into the next two. It's a big push to the finish from here, but we're looking forward to the fight and can't wait to get back on track in Saudi Arabia.
Max Verstappen
"I'm of course happy with the result today. This weekend has been quite difficult for us as a team, and we are still lacking pace, I tried everything I could after the five-place grid penalty so to finish in second and score the fastest lap is really good. I had an exciting start and I knew that the first few laps were really important, I had a good launch and I was fairly quickly back in to second place, from there I tried to keep the gap small and that worked out quite well. I had fun today, especially when going for the fastest lap. It's a shame that Checo didn't make it to the podium today, he scored good points for the Team. I'm also happy for Fernando, we all know how good he is, there's no doubt about that. For now, we need to stay focused, there are still two races left to go and a lot of things can happen, anything is possible."
Sergio Perez
"We managed to recover from qualifying and moved through the grid quickly from P11, we were in a very good position to be on the podium but unfortunately, it didn't work out. It was a very exhausting race, I was flat out the whole time, overtaking and pushing. We were changing our strategy throughout the race; at some stages we were going for one stop and at others two, but others' tires were exploding, so we had to protect ours to prevent getting a puncture and maximize our position in the Constructor's Championship. I think we had the podium in our pocket, but for the second week running a virtual safety car has potentially cost us. I don't know if without it we would have definitely caught up with Fernando, but we would have been close. It is a bit of a shame, but we managed to minimize the damage from Saturday and Valtteri didn't score any points which is a big benefit to us. Ultimately, I think from a Team point of view we had to play it safe with the constructors in mind. Where we have finished today is a good result for the Team and the longer-term picture, we just have to keep pushing hard and improve our performance in the next two races. Now I am looking forward to Saudi Arabia and Abu Dhabi because we are going to give it everything, we have a big chance to come on top of the Constructor's Championship, there is five points in it, it's all to play for and that is the target."
Christian Horner
"Today was a big day, I think Max's recovery on the first lap was stunning and his first two corners were sensational. Mercedes had a quicker car with Lewis today, but we were able to come back at them in the second and third stint. Whilst we haven't got quicker, our straight-line speed was competitive today, and the fact that Max was able to get the fastest lap before switching to softs was encouraging. Checo was unlucky not to finish on the podium today, I think without the VSC he would have been right with Alonso on that last lap, but he had a great drive and earned us some valuable team points. It's been a long time since Fernando was on the podium, so it was also nice to see him up there. We are now just five points behind in the constructors' championship and eight points in front in the drivers' championship, so there are two very big races to come, and it's all to play for. We are going to work hard next week and improve the car as much as we can and see what we can do in Jeddah. I'd like to make it clear that marshals do a wonderful job and our sport could not operate without them volunteering their time, so if any offense was caused I unreservedly apologize, my frustration was with the decision that had been made and not with any individual."
Race Results
| | | | | | |
| --- | --- | --- | --- | --- | --- |
| POS | NO | DRIVER | CAR | LAPS | BEHIND |
| 1 | 44 | Lewis Hamilton | Mercedes | 57 | +0.000s |
| 2 | 33 | Max Verstappen | Red Bull Racing Honda | 57 | +25.743s |
| 3 | 14 | Fernando Alonso | Alpine Renault | 57 | +59.457s |
| 4 | 11 | Sergio Perez | Red Bull Racing Honda | 57 | +62.306s |
| 5 | 31 | Esteban Ocon | Alpine Renault | 57 | +80.570s |
| 6 | 18 | Lance Stroll | Aston Martin Mercedes | 57 | +81.274s |
| 7 | 55 | Carlos Sainz Jr. | Ferrari | 57 | +81.911s |
| 8 | 16 | Charles Leclerc | Ferrari | 57 | +83.126s |
| 9 | 4 | Lando Norris | McLaren Mercedes | 56 | +1 lap |
| 10 | 5 | Sebastian Vettel | Aston Martin Mercedes | 56 | +1 lap |
| 11 | 10 | Pierre Gasly | AlphaTauri Honda | 56 | +1 lap |
| 12 | 3 | Daniel Ricciardo | McLaren Mercedes | 56 | +1 lap |
| 13 | 22 | Yuki Tsunoda | AlphaTauri Honda | 56 | +1 lap |
| 14 | 7 | Kimi Räikkönen | Alfa Romeo Racing Ferrari | 56 | +1 lap |
| 15 | 99 | Antonio Giovinazzi | Alfa Romeo Racing Ferrari | 56 | +1 lap |
| 16 | 47 | Mick Schumacher | Haas Ferrari | 56 | +1 lap |
| 17 | 63 | George Russell | Williams Mercedes | 55 | +2 laps |
| 18 | 9 | Nikita Mazepin | Haas Ferrari | 55 | +2 laps |
| NC | 6 | Nicholas Latifi | Williams Mercedes | 50 | DNF |
| NC | 77 | Valtteri Bottas | Mercedes | 48 | DNF |