Formula E: Vandoorne tops preseason test in Valencia
Mercedes-EQ's Stoffel Vandoorne led the way in testing on Tuesday at Valencia's Circuit Ricardo Tormo, with teams completing a race simulation, in-amongst their mileage across the morning and afternoon sessions.
The Belgian's 1m26.045s was some 0.7 seconds up on the morning's pace, set by Antonio Felix da Costa (DS TECHEETAH), with track conditions slightly warmer in the afternoon and the circuit a little more rubbered in. In fact, the top 15 in Session 4 ran inside the Portuguese driver's effort set earlier in the day.
Another Mercedes-powered car followed Vandoorne on the timesheets, with Edoardo Mortara (ROKiT Venturi Racing) second.
Jake Dennis (Avalanche Andretti) followed with Nyck de Vries in the sister Mercedes fourth. Pascal Wehrlein (TAG Heuer Porsche) wound up fifth, only 0.131 seconds back from Vandoorne, and Jaguar TCS Racing's Mitch Evans rounded out the top six fastest runners of the day.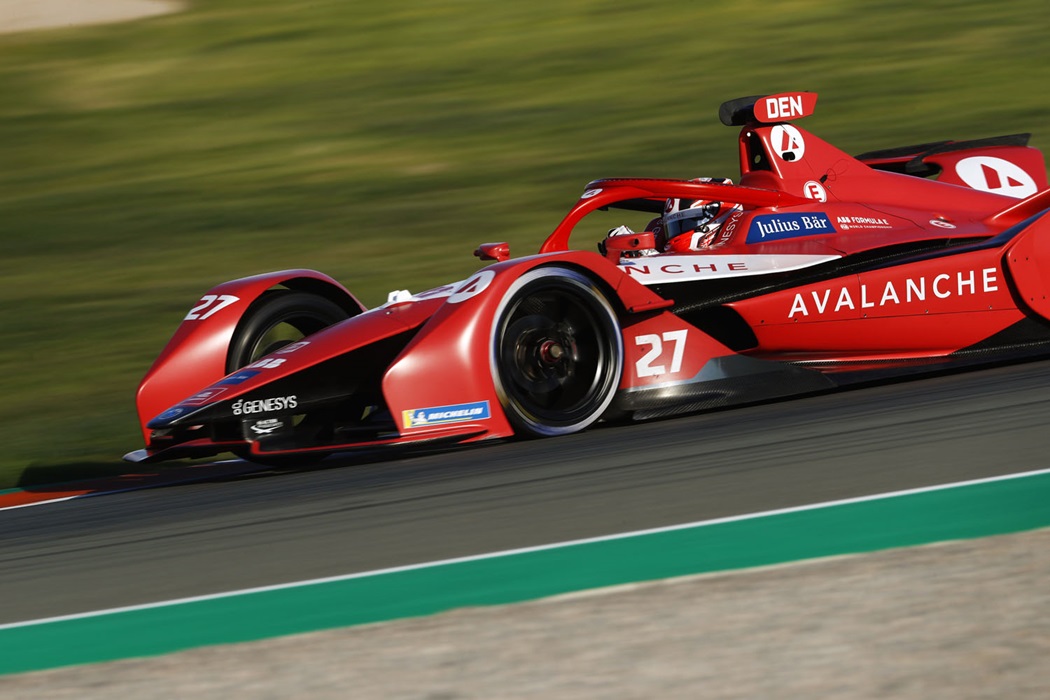 Alice Powell took the wheel at Envision Racing for both sessions as she stepped up from her role as simulator driver – the Brit finished the day in 21st.
The field racked up another 1,756 laps, including that simulated 45-minute plus one lap race run before lunch. On-track action will return on Thursday at 09:00 CET, with drivers set for media duties on Wednesday.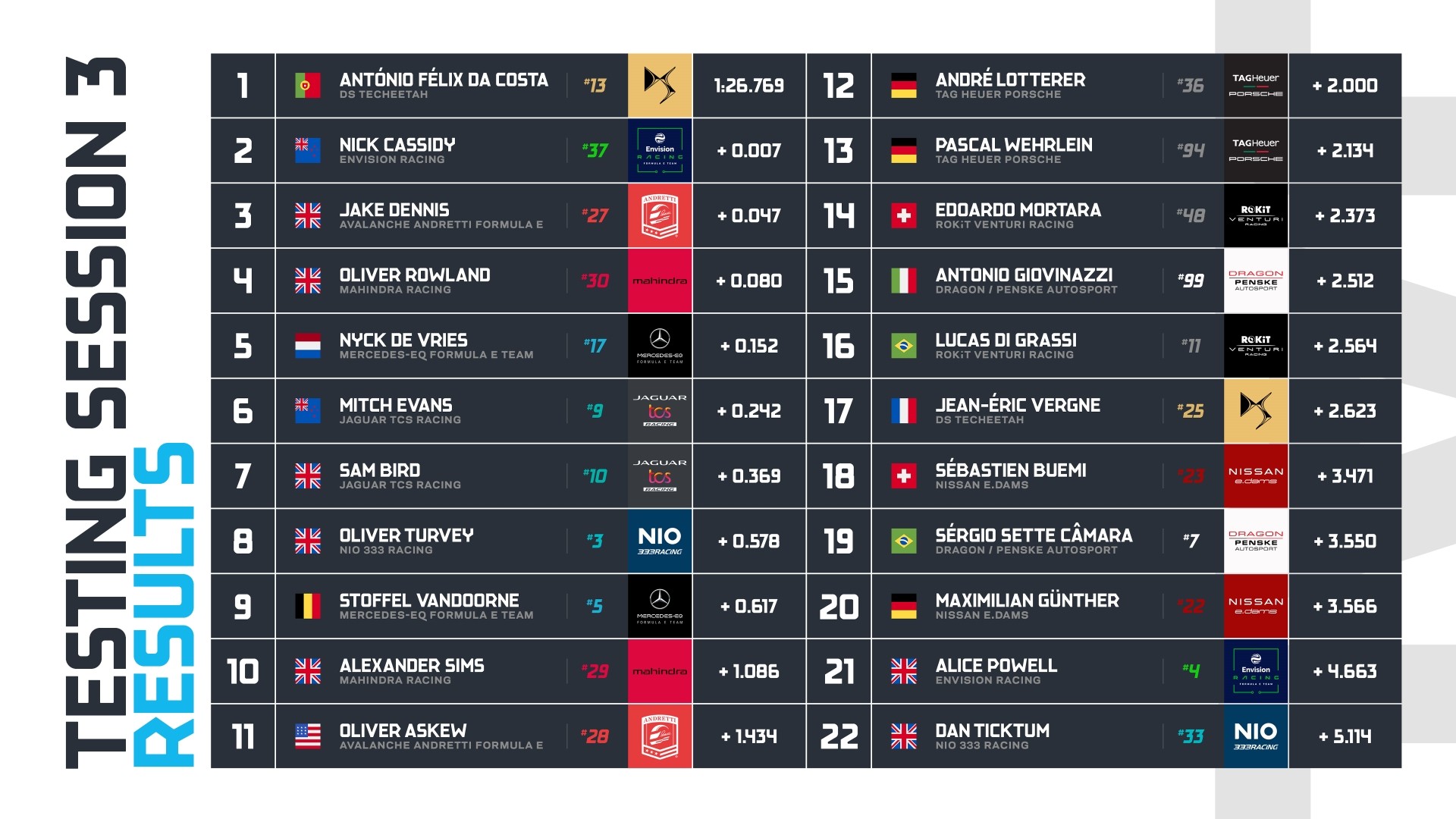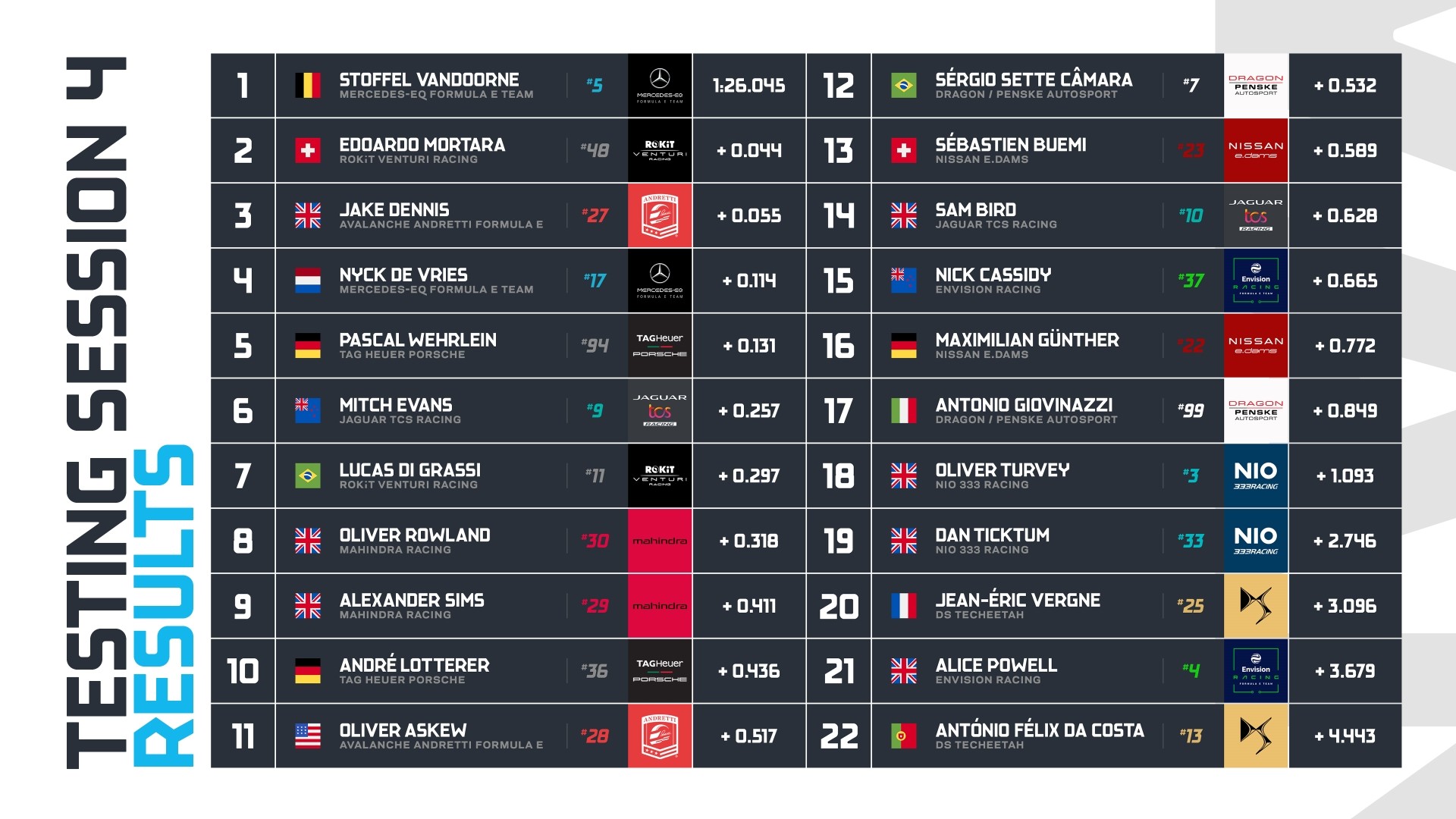 Five questions for Nyck de Vries
Nyck, you are going into Season 8 as the defending champion. Will that give you another bit of a boost?
Nyck de Vries: For sure! I'm really looking forward to Season 8. A new season is always a new challenge and being the reigning champion will make it really special, so I'm excited at the prospect of going racing again and being in a position to defend our championship titles.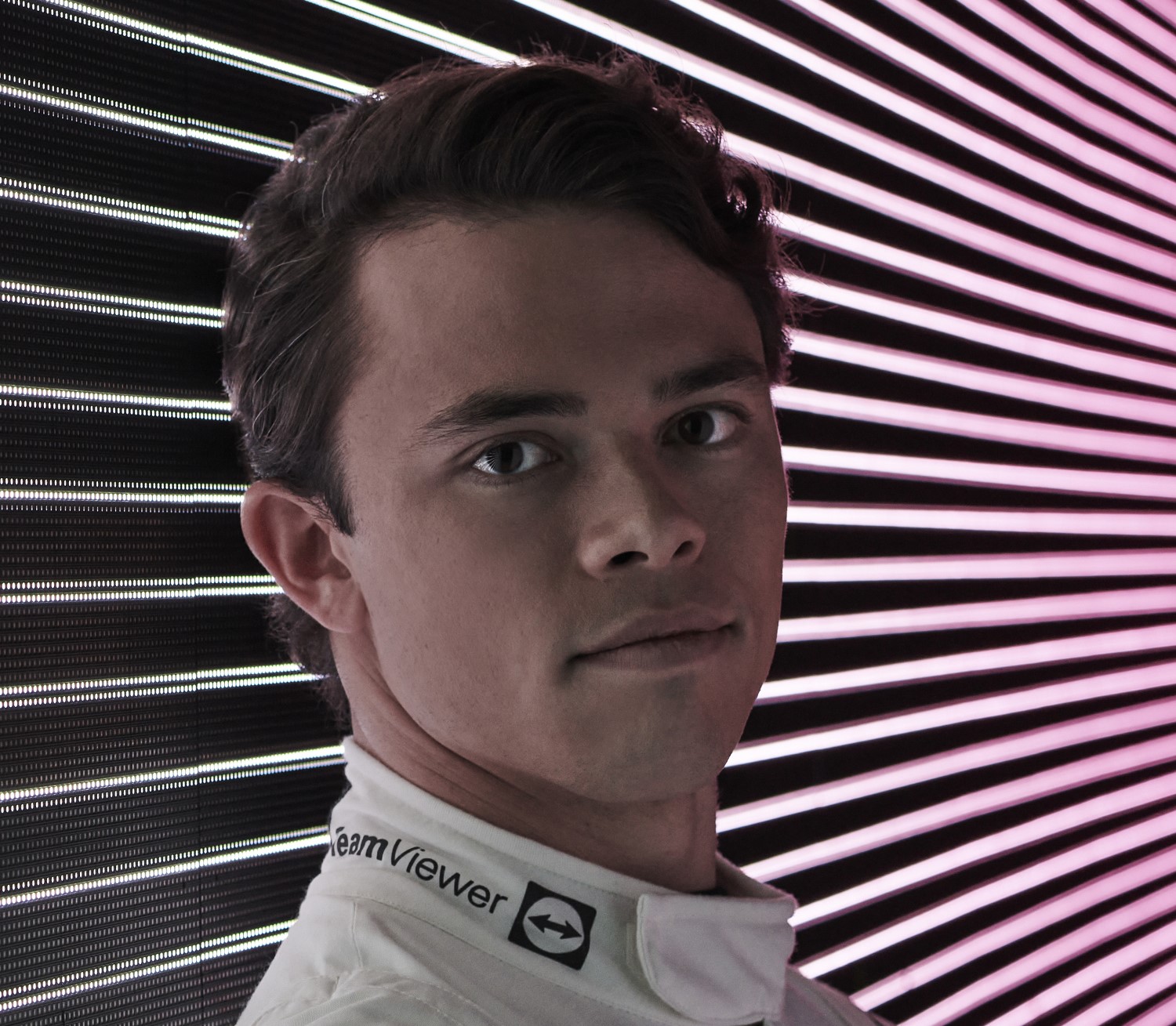 The format used previously in qualifying often made it tricky for top world championship contenders to qualify well up the field. What do you expect from the new format?
Nyck de Vries: The new qualifying format appears to be extremely promising. It definitely looks like it's going to be more equal and fairer for everyone, so I would certainly give it a big thumbs-up. We'll have to wait and see how things go in the end and find out for ourselves, but it definitely looks really good, and I welcome it wholeheartedly. I'm fairly certain that it will make for a more equal championship that everyone will enjoy following because in the final analysis, Formula E is close enough and doesn't need any unpredictable extra external factors to make it exciting.
The power available to Gen2 cars in the race and power in Attack Mode is being increased for Season 8. What effect do you think that will have on races?
Nyck de Vries: Power available in races is set to alter next season, but I don't think it will change our situation much. However, it will put more stress on the rear tires in particular, which could potentially lead to tire management in races being given a little extra importance alongside all the other things that need thinking about.
What's the secret behind getting the most out of Attack Mode in races?
Nyck de Vries: There's no secret to getting the best out of Attack Mode. I think it very much depends on the different scenarios, by which I mean where you are on the track, who you are battling for position, how much energy you have, how much energy your opponents have, where you are in the race and so on. Are you still at the start or is the end in sight? Is it a circuit where having plenty of energy is crucial or not? There are many variables that influence the thought processes behind strategy and whether to launch Attack Mode. It's not just about Attack Mode per se. To all intents and purposes, it can be compared to pit stops in other race series. It's an important strategic element that requires a great deal of careful thought. You have to be meticulous in your analysis and go through all the different scenarios and options before finally deciding on what's best at that particular moment in time.
Are you looking forward to, hopefully, having more races this season and to racing at new venues and getting to know different circuits all around the world?
Nyck de Vries: I'm most looking forward to Vancouver and Jakarta. They are both unique as venues; obviously Jakarta was already on the initial calendar for Season 7, but unfortunately, we couldn't go there due to circumstances. I'm really looking forward to both circuits and think it's mega exciting that our championship can continue to grow with racing in all these interesting cities. It's great to be back in the cities. I'm pretty certain that the championship will be good in many ways, on the sporting side with the new qualifying format but also with the excitement that these new venues will generate.