F2: Shwartzman's late lap tops opening session in Jeddah
PREMA Racing's Robert Shwartzman beat Campos Racing's Ralph Boschung to first place in the dying seconds of Free Practice at Jeddah, setting 1:42.623 to finish ahead of the Swiss driver and Carlin's Dan Ticktum.
After temporary operational delays, Marcus Armstrong led the grid out onto the Jeddah Corniche Circuit for the very first time in scorching 46-degree track temperatures.
Twenty of the 22 drivers opted to head back into the pits after their installation laps, but MP Motorsport debutants Clément Novalak and Jack Doohan took on a gentle flyer in an effort to get to grips with the step up.
Graduating from Formula 3, Novalak was fortunate to have a day of post-season testing under his belt with UNI-Virtuosi last year, but Doohan was getting his first taste of the more powerful machinery.
Boschung set the standard at 1:44.087 before the third of four debutants, Logan Sargeant, lost control of his HWA RACELAB in Sector 3 and collided with the wall, causing a Red Flag.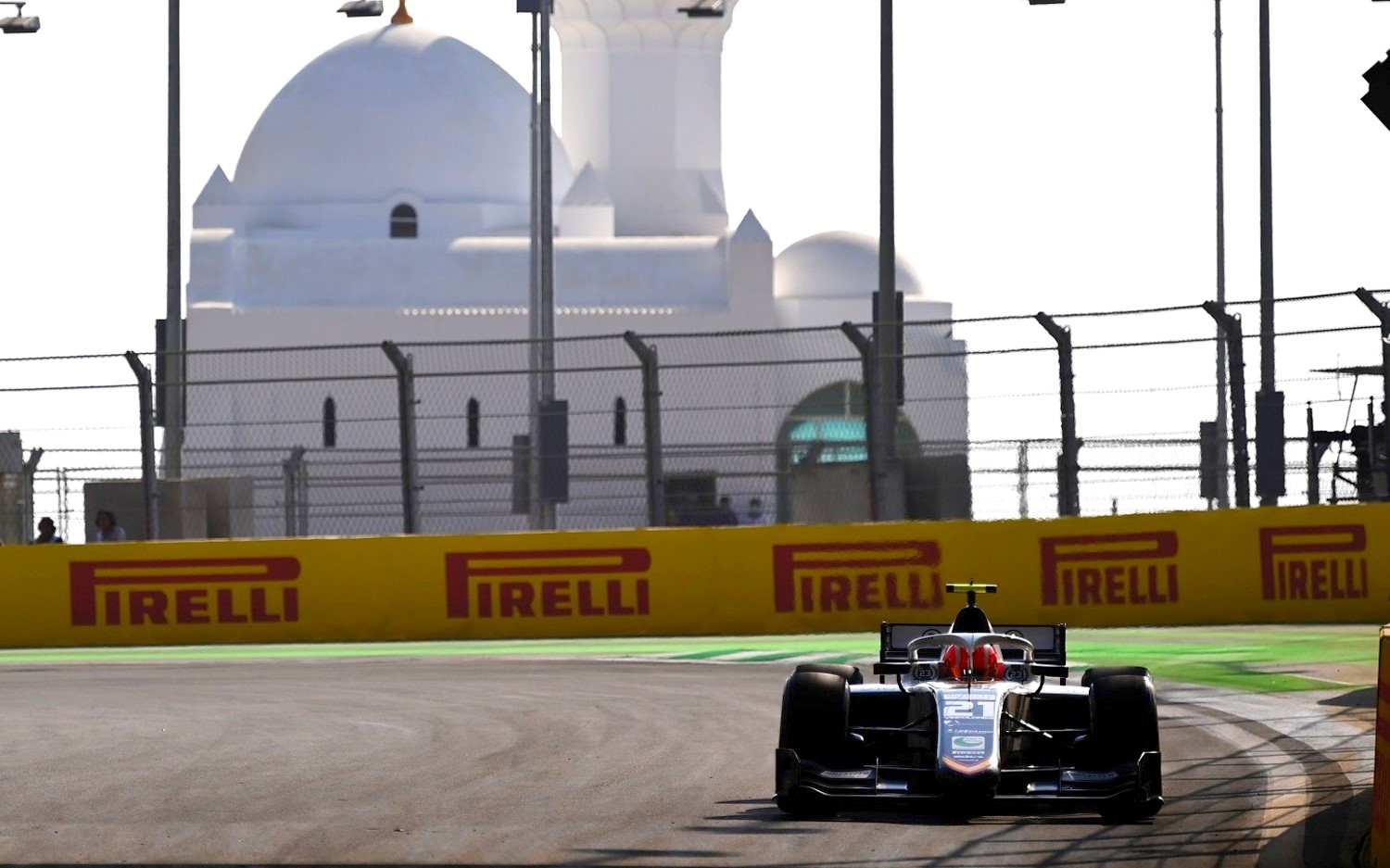 Boschung – who has already confirmed his seat on the grid with Campos Racing for 2022 – punched in an even quicker lap when the session resumed, touring at 1:42.807.
The majority of the field seemed focused on learning the new circuit during the 45-minute session, but Carlin boss Trevor Carlin had said ahead of the session that they wanted to improve on their Qualifying performances and Ticktum set a late flyer, going second with 1:42.954.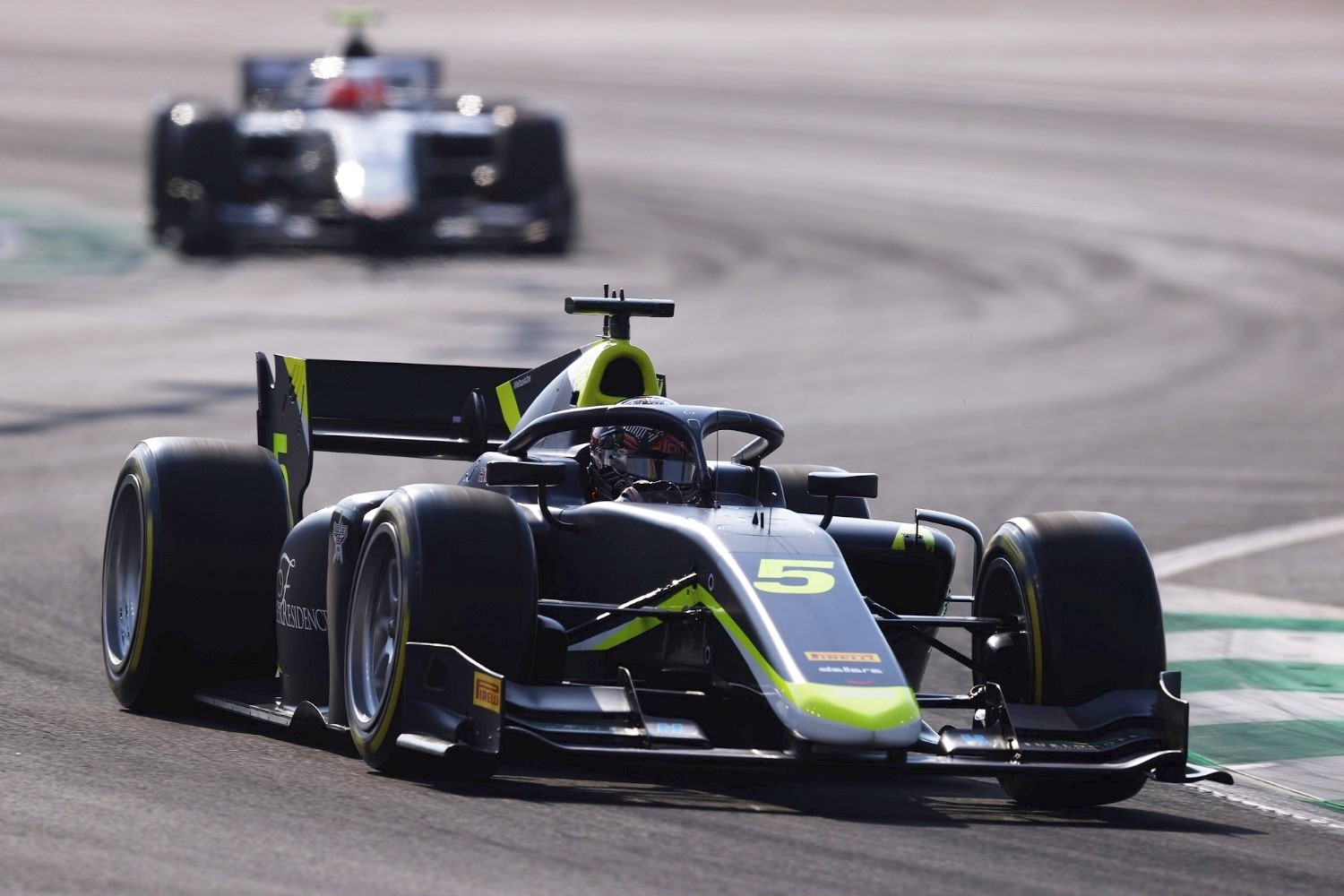 Robert Shwartzman bettered them both at the flag, though, jumping to P1 with 1:42.623. Felipe Drugovich and Marcus Armstrong went fourth and fifth fastest, six tenths off the Russian. They were followed by Jüri Vips and Guanyu Zhou.
Doohan was the highest of the four rookies, finishing in eighth, ahead of Christian Lundgaard and Championship leader Oscar Piastri. Olli Caldwell finished his first F2 session in 15th.
Shwartzman will look to carry his form over into Qualifying when the session begins at 6.20pm local time.
Practice 1 Results
| | | | | | |
| --- | --- | --- | --- | --- | --- |
| POS | NO. | NAME | TIME | GAP | LAPS |
| 1 | 1 | R.SHWARTZMAN | 1:42.623 | +0.0 | 15 |
| 2 | 21 | R.BOSCHUNG | 1:42.807 | +0.1 | 16 |
| 3 | 5 | D.TICKTUM | 1:42.954 | +0.3 | 17 |
| 4 | 4 | F.DRUGOVICH | 1:43.227 | +0.6 | 17 |
| 5 | 17 | M.ARMSTRONG | 1:43.249 | +0.6 | 16 |
| 6 | 8 | J.VIPS | 1:43.263 | +0.6 | 16 |
| 7 | 3 | G.ZHOU | 1:43.326 | +0.7 | 16 |
| 8 | 11 | J.DOOHAN | 1:43.340 | +0.7 | 17 |
| 9 | 9 | C.LUNDGAARD | 1:43.362 | +0.7 | 16 |
| 10 | 2 | O.PIASTRI | 1:43.456 | +0.8 | 15 |
| 11 | 7 | L.LAWSON | 1:43.493 | +0.8 | 16 |
| 12 | 6 | J.DARUVALA | 1:43.636 | +1.0 | 18 |
| 13 | 10 | T.POURCHAIRE | 1:43.804 | +1.1 | 16 |
| 14 | 24 | B.VISCAAL | 1:43.823 | +1.2 | 17 |
| 15 | 20 | O.CALDWELL | 1:43.985 | +1.3 | 17 |
| 16 | 12 | C.NOVALAK | 1:44.105 | +1.4 | 17 |
| 17 | 14 | E.FITTIPALDI | 1:44.472 | +1.8 | 17 |
| 18 | 16 | R.NISSANY | 1:44.485 | +1.8 | 16 |
| 19 | 15 | G.SAMAIA | 1:45.203 | +2.5 | 17 |
| 20 | 25 | M.SATO | 1:45.338 | +2.7 | 16 |
| 21 | 22 | L.SARGEANT | 1:48.387 | +5.7 | 6 |
| 22 | 23 | A.DELEDDA | 1:48.867 | +6.2 | 9 |