F1: Hamilton leads Bottas in Practice 2 in Saudi Arabia
In a session that ended early when Charles Leclerc ran out of talent and wadded up his #16 Ferrari at Turn 23, Lewis Hamilton, who always sandbags on Friday, turned the fastest lap of 1.29.018s in Practice 2 for the Saudi Arabian GP in Jeddah.
The fact that he was sandbagging and was still fastest, does not bode well for his title challenger Max Verstappen who was 4th quick, only 0.195s slower, but that gap will grow in qualifying and the race.
Hamilton's Mercedes teammate, Valtteri Bottas, with a slightly lower HP 'rocket' engine, was 2nd quick, 0.061s behind Hamilton as Mercedes looks to lock out the front row and block any chance Verstappen has of victory on Sunday.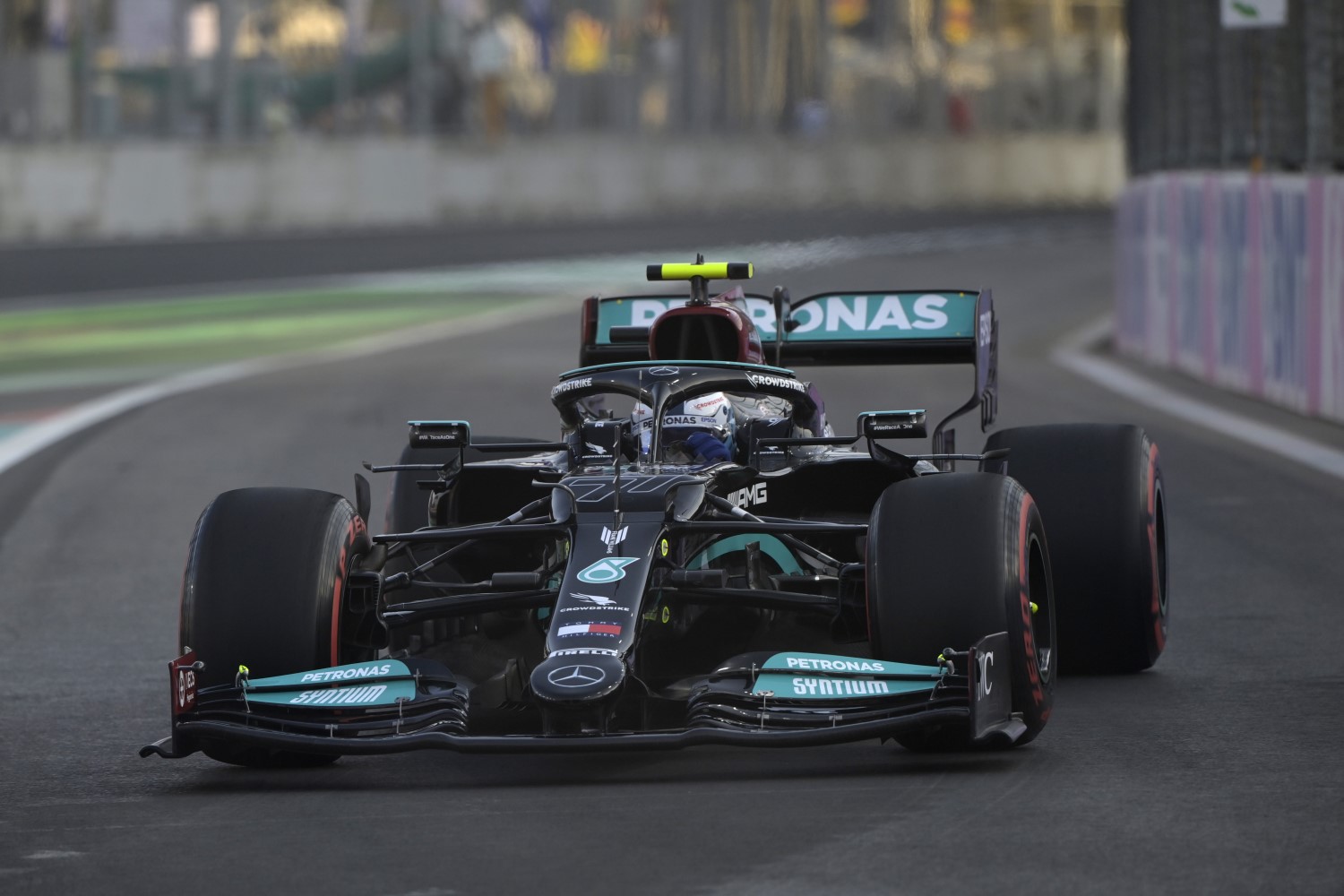 Pierre Gasly in the Alpha Tauri was a strong 3rd quick, 0.081s behind.
Hot off a podium finish last race, Fernando Alonso rounded out the top-5 in the #14 Alpine, 0.423s behind.
Street circuits are always treacherous, and so it proved late on when Leclerc became the first to have a big moment. Losing the rear of his SF21, he slid into the barriers with quite an impact – his Ferrari in pieces. Hopefully, he was running a 'Friday' gearbox, but nonetheless, that is quite a fix for Ferrari now.
It's a tricky circuit, high speed with walls. Qualifying will be crucial, like it always is at street tracks.
It is tight here, and traffic is always an issue at street circuits. But because Jeddah is so quick, the different closing speeds between someone on a hot lap and someone trying to get out of the way are huge, so there may well be some discussions tonight amongst the drivers as to how to approach Q1 tomorrow night.
Mercedes look stronger on the soft tire, Red Bull seem comfortable on the medium and hard rubber. Work to do for both tonight to iron out any little weaknesses, with only one practice session left before qualifying gets underway tomorrow night.
Practice 2 Results
| | | | | | | |
| --- | --- | --- | --- | --- | --- | --- |
| POS | NO | DRIVER | CAR | TIME | GAP | LAPS |
| 1 | 44 | Lewis Hamilton | Mercedes | 1:29.018 | +0.000s | 22 |
| 2 | 77 | Valtteri Bottas | Mercedes | 1:29.079 | +0.061s | 23 |
| 3 | 10 | Pierre Gasly | AlphaTauri Honda | 1:29.099 | +0.081s | 22 |
| 4 | 33 | Max Verstappen | Red Bull Racing Honda | 1:29.213 | +0.195s | 20 |
| 5 | 14 | Fernando Alonso | Alpine Renault | 1:29.441 | +0.423s | 21 |
| 6 | 31 | Esteban Ocon | Alpine Renault | 1:29.555 | +0.537s | 22 |
| 7 | 55 | Carlos Sainz | Ferrari | 1:29.589 | +0.571s | 24 |
| 8 | 22 | Yuki Tsunoda | AlphaTauri Honda | 1:29.597 | +0.579s | 20 |
| 9 | 11 | Sergio Perez | Red Bull Racing Honda | 1:29.768 | +0.750s | 22 |
| 10 | 16 | Charles Leclerc | Ferrari | 1:29.772 | +0.754s | 23 |
| 11 | 3 | Daniel Ricciardo | McLaren Mercedes | 1:29.968 | +0.950s | 22 |
| 12 | 4 | Lando Norris | McLaren Mercedes | 1:30.004 | +0.986s | 19 |
| 13 | 99 | Antonio Giovinazzi | Alfa Romeo Racing Ferrari | 1:30.110 | +1.092s | 23 |
| 14 | 7 | Kimi Räikkönen | Alfa Romeo Racing Ferrari | 1:30.276 | +1.258s | 24 |
| 15 | 18 | Lance Stroll | Aston Martin Mercedes | 1:30.442 | +1.424s | 22 |
| 16 | 5 | Sebastian Vettel | Aston Martin Mercedes | 1:30.502 | +1.484s | 22 |
| 17 | 63 | George Russell | Williams Mercedes | 1:30.506 | +1.488s | 24 |
| 18 | 47 | Mick Schumacher | Haas Ferrari | 1:30.652 | +1.634s | 20 |
| 19 | 6 | Nicholas Latifi | Williams Mercedes | 1:31.039 | +2.021s | 23 |
| 20 | 9 | Nikita Mazepin | Haas Ferrari | 1:31.629 | +2.611s | 20 |