Supercars: Chaz Mostert and Lee Holdsworth win Repco Bathurst 1000
Chaz Mostert and Lee Holdsworth are the new Kings of the Mountain.
The pair, in their first driver together combined to win an enthralling Repco Bathurst 1000.
Mostert, who scored pole with the fastest ever Supercar lap of Mount Panorama on Saturday, helped himself to a second Great race victory following on from his 2014 victory alongside Paul Morris.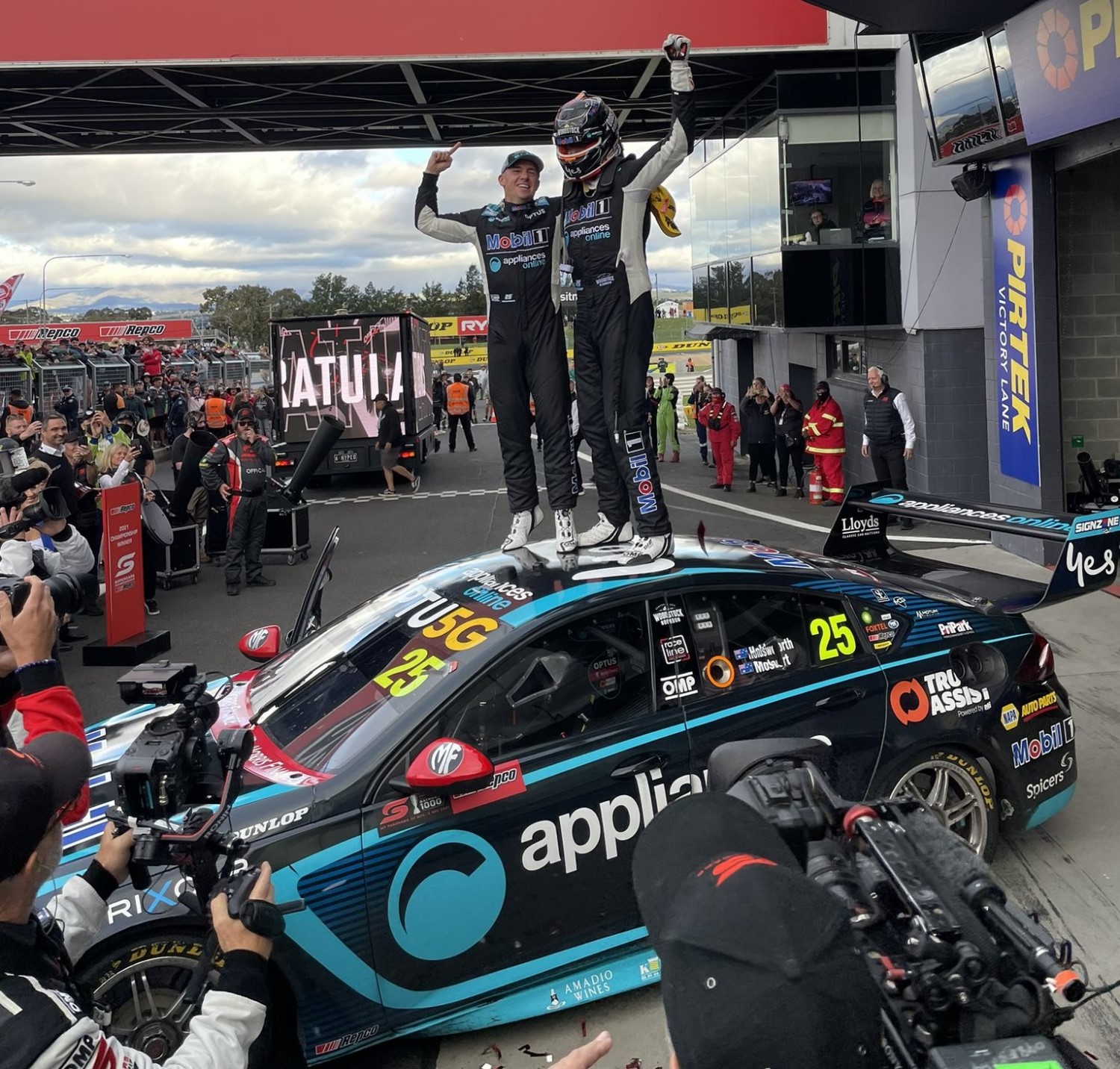 For Holdsworth, it was Bathurst victory No.1 in his 18th start, some 17 years after his Bathurst debut.
It was the 35th win in the Great Race for Holden and the first for Walkinshaw Andretti United under its current guise.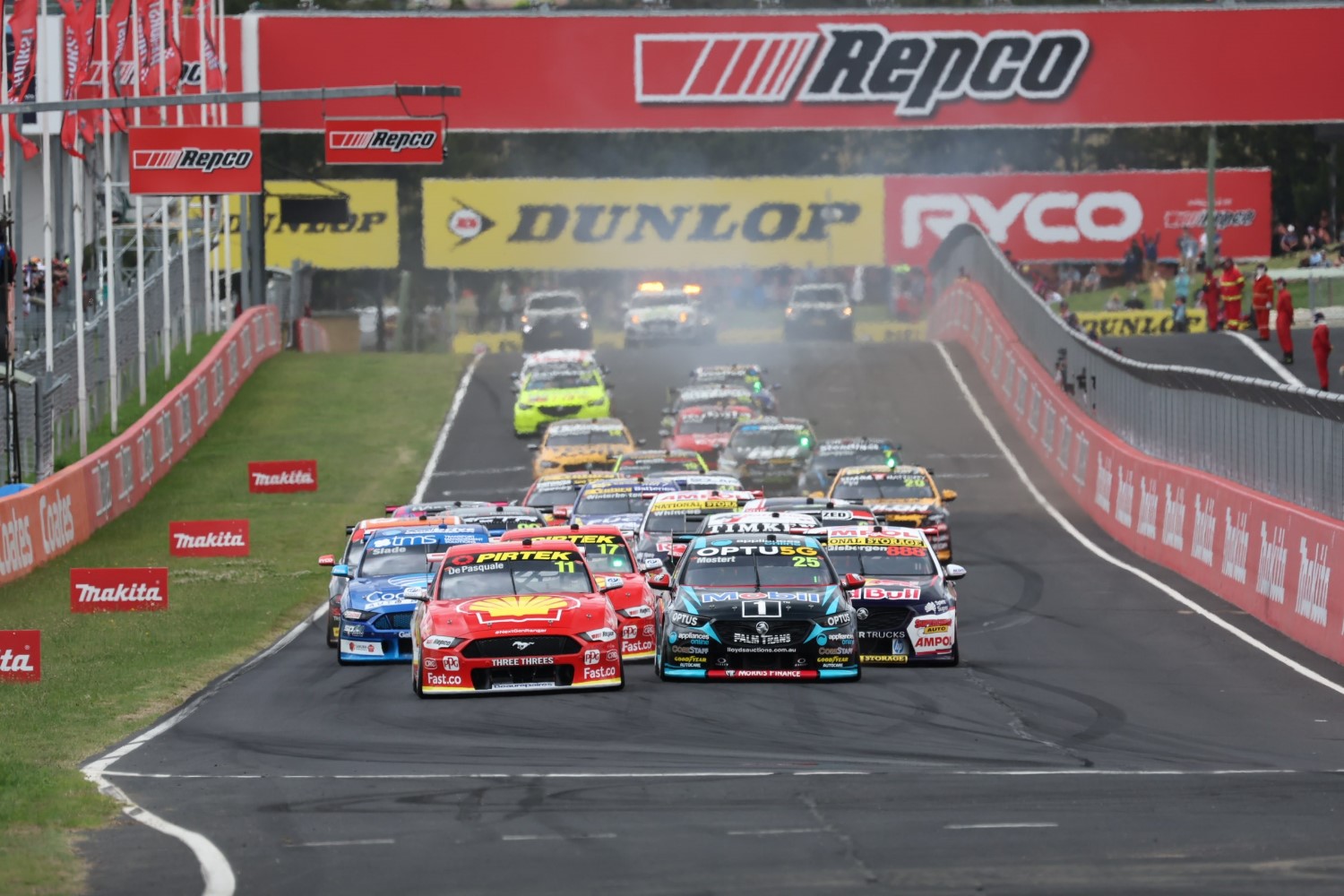 WAU, which previously competed under the the Holden Racing Team banner, scored its eighth Great Race win and first since 2011.
Mostert was forced to hold off champion-elect Shane van Gisbergen in the closing laps before the latter fell out of contention with a punctured tyre.
It helped Cameron Waters finish second for the second year running, with James Moffat clinching his second Great Race podium.
Rookie Brodie Kostecki, who started from 10th after a penalty in the shootout yesterday, claimed third – Kostecki joining an elite list of Supercars' rookies to stand on the famous Bathurst Podium.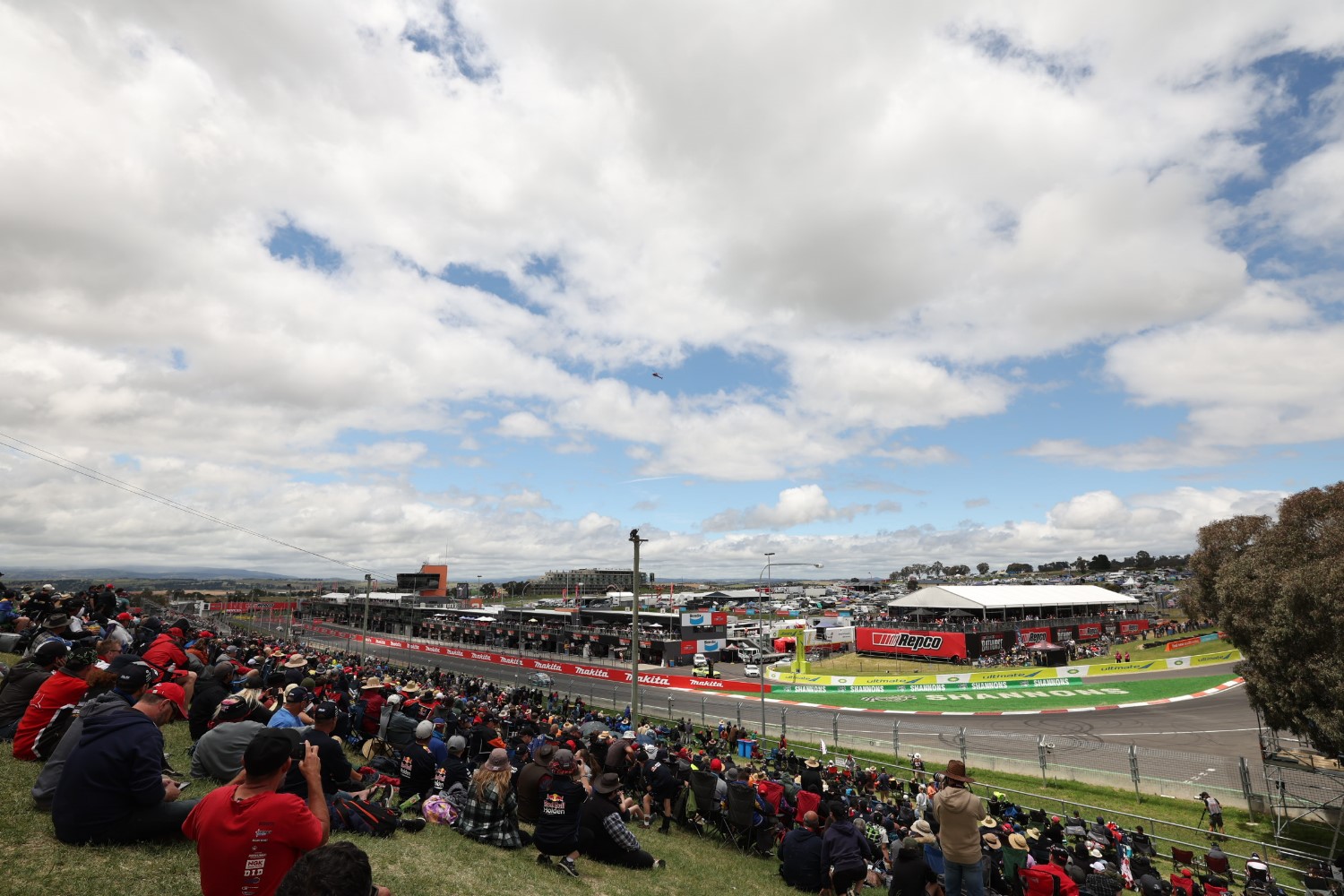 One of the unlikely stars of this year's race was a rogue echidna that made its way onto the track at the Cutting, triggering the second BP Ultimate Safety Car of the day on lap 105.
Not even the Aussie native could steal Mostert's thunder though.
Even when victory looked out of reach after a tire failure dumped the #25 Mobil 1 Appliances Online Commodore from a 12-second lead to outside the top 10 on Lap 49, Mostert and Holdsworth still found a way back to the front.
The newest member of Supercars' Hall of Fame – Jamie Whincup – finished fourth in his last race as a full-time Supercars driver while Bryce Fullwood and Warren Luff (#2 Mobil 1 Middy's ZB Commodore) made it both WAU cars in the top five.
The biggest crash of the day went to Whincup's 2022 replacement, Broc Feeney. The newly crowned Dunlop Super2 Series Champion crashing into a wall near Skyline and rolling into the sand.
One of the pre-race favorites, Anton De Pasquale didn't finish the race when his car lost power ending the youngsters chances.
The day belonged to Mostert and Holdsworth, who lapped up their victory in front of thousands of fans in pit lane.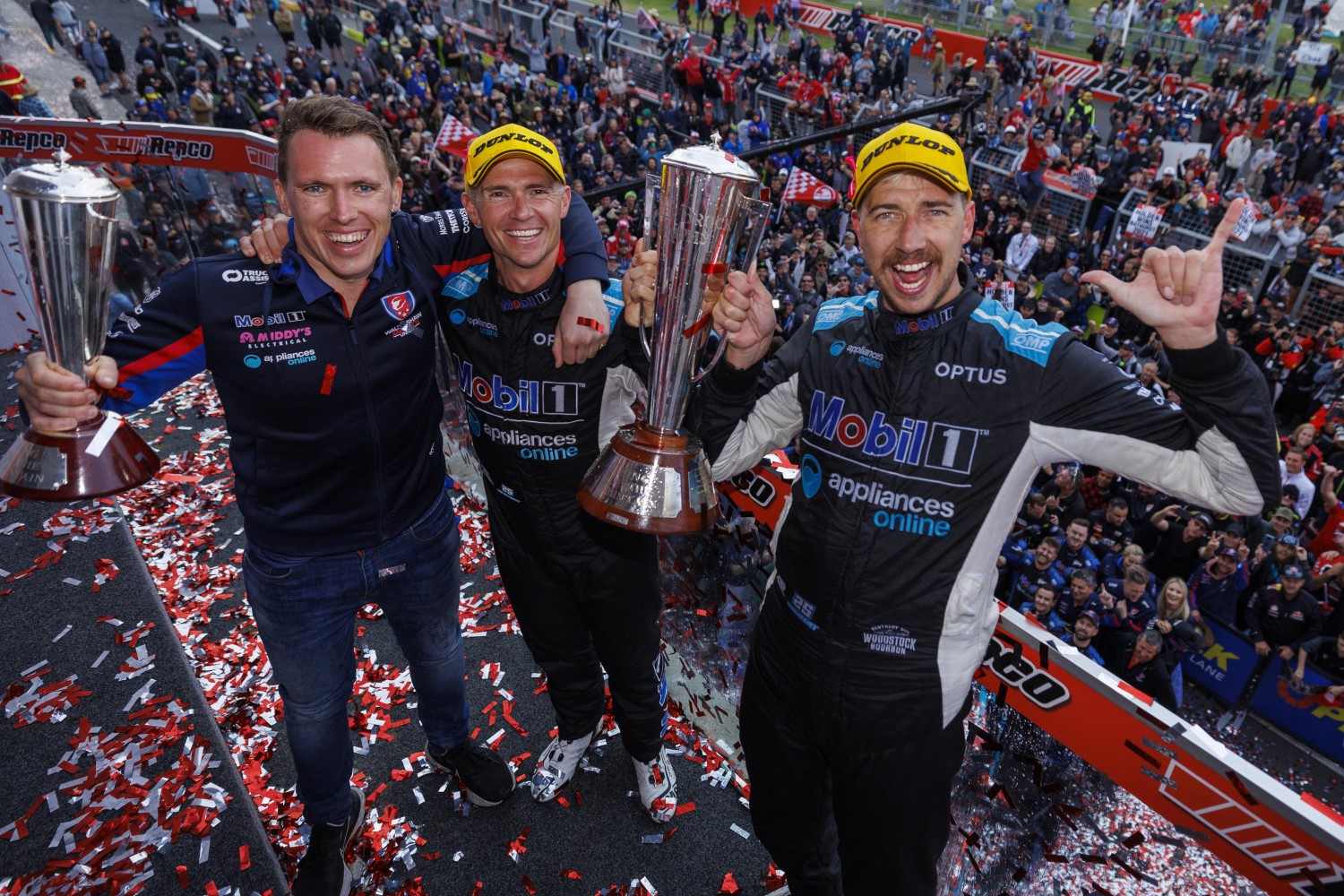 "It was a pretty tough race, when we did that [puncture] I knew it was going to be a tough slog, but credit to the guys, this car has been speedy all weekend," Mostert said.
"We started on pole and we won the race and every time you start on pole you never think you're going win it, credit to this car and credit to the team.
"To all the fans; it's so good to have punters back at the track, I'm out of breath."
Holdsworth added: "I don't know what to say, I don't know what to say. This is unbelievable. "This team is amazing.
"I wanted to jump on the bonnet and go with him, it was amazing."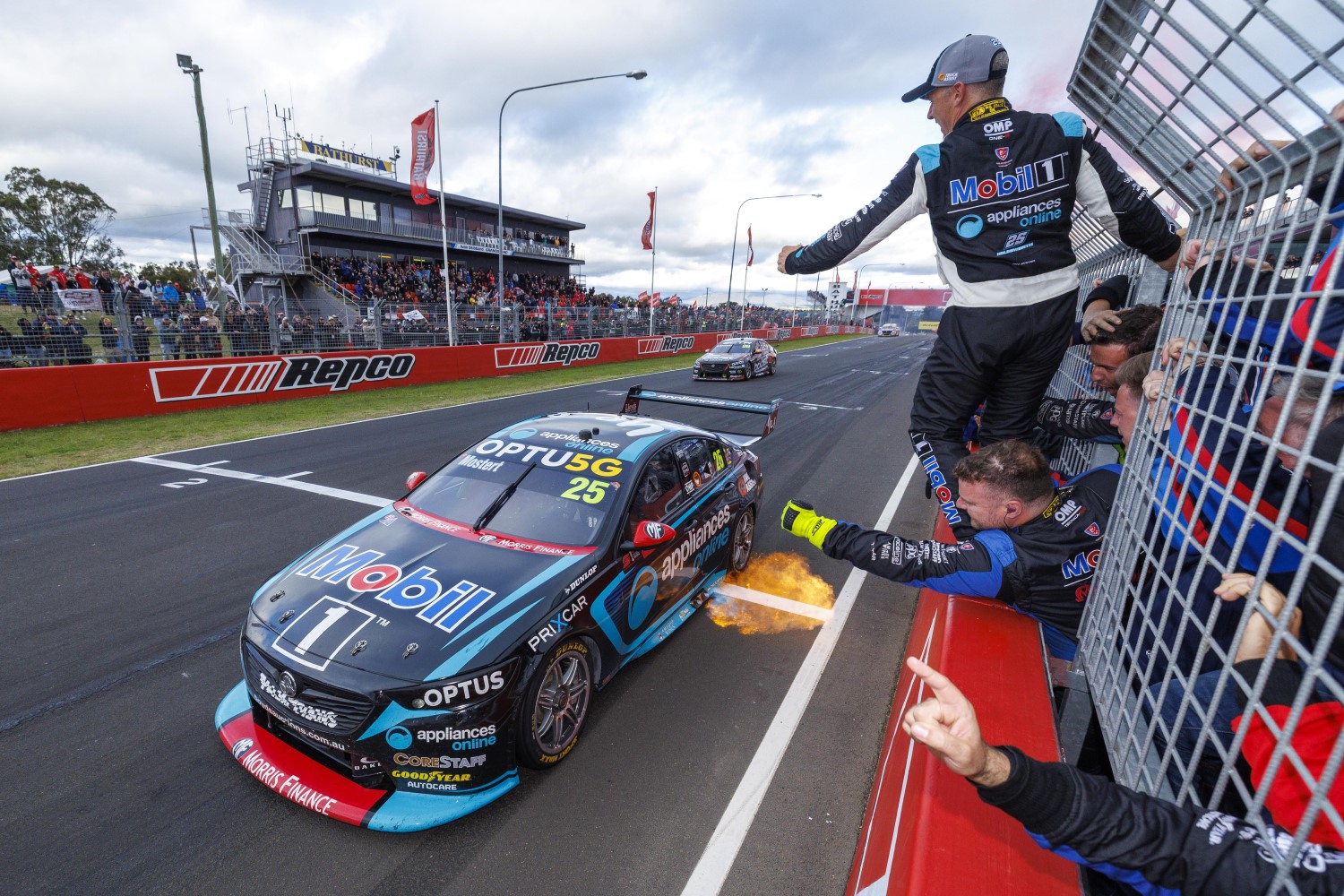 Once Mostert finished his celebrations with Holdsworth in pit lane, there was a special presentation for 2021 Repco Supercars Champion van Gisbergen, his second series crown.
"Bittersweet," said van Gisbergen of the championship win celebrations.
"I really tried to win that race. Congrats to Chaz and Lee and their team. They were super fast. Gave it everything and just couldn't quite hold it together.
"It's been an awesome year, otherwise. I've got to thank all these legends, it's been a really, really good year otherwise. We'll drink a few out of this [trophy] tonight."
Teams will now return home and begin preparations for the 2022 Repco Supercars Championship which begins on the streets of Newcastle from 4-6 March.
Race Results
| | | | | |
| --- | --- | --- | --- | --- |
| POS | NO. | DRIVERS | TEAM | TIME |
| 1 | 25 | Mostert Holdsworth | WAU Racing Pty Ltd | 6h15m06.195s |
| 2 | 6 | C. Waters Moffat | Monster Energy Racing | +3.740s |
| 3 | 99 | B. Kostecki D. Russell | Penrite Racing – Erebus | +6.145s |
| 4 | 88 | Whincup Lowndes | Red Bull Holden Racing Team | +7.345s |
| 5 | 2 | B. Fullwood W. Luff | WAU Racing Pty Ltd | +10.407s |
| 6 | 8 | Percat Wood | Brad Jones Racing | +13.274s |
| 7 | 44 | Courtney T. Randle | Boost Mobile Racing | +14.575s |
| 8 | 14 | T. Hazelwood D. Fiore | Brad Jones Racing | +16.418s |
| 9 | 3 | Slade Blanchard | CoolDrive Racing | +16.960s |
| 10 | 17 | Davison A. Davison | Shell V-Power Racing Team | +17.520s |
| 11 | 26 | Reynolds L. Youlden | Nissan Motorsport | +22.875s |
| 12 | 96 | M. Jones C. Pither | SCT Motor Sports | +24.913s |
| 13 | 34 | J. Kostecki K. Kostecki | Matt Stone Racing | +26.061s |
| 14 | 22 | G. Jacobson D. O'Keeffe | Team SYDNEY – Tekno | +27.368s |
| 15 | 5 | J. Le Brocq Z. Best | Truck Assist Racing | +31.808s |
| 16 | 18 | Winterbottom Caruso | Team 18 | +35.962s |
| 17 | 4 | J. Smith Wall | SCT Motor Sports | +39.895s |
| 18 | 888 | Van Gisbergen Tander | Red Bull Holden Racing Team | +1:06.167 |
| 19 | 19 | Coulthard J. Webb | Team SYDNEY – Tekno | +5 Laps |
| 20 | 9 | W. Brown J. Perkins | Erebus Motorsport | +11 Laps |
| NC | 7 | Heimgartner M. Campbell | Nissan Motorsport | +2 Laps |
| NC | 39 | B. Feeney R. Ingall | Team Vortex | +19 Laps |
| NC | 11 | A. de Pasquale T. D'Alberto | Shell V-Power Racing Team | +22 Laps |
| NC | 35 | Z. Goddard J. Ojeda | Matt Stone Racing | +49 Laps |
| NC | 20 | S. Pye J. Golding | Team 18 | +155 Laps |