F1: Hamilton wins 'chaotic' Saudi Arabian GP over Verstappen
Lewis Hamilton has won the Saudi Arabian GP that featured two accidents that required two red-flag stops, several yellow flags and crazy driving by Red Bull's Max Verstappen.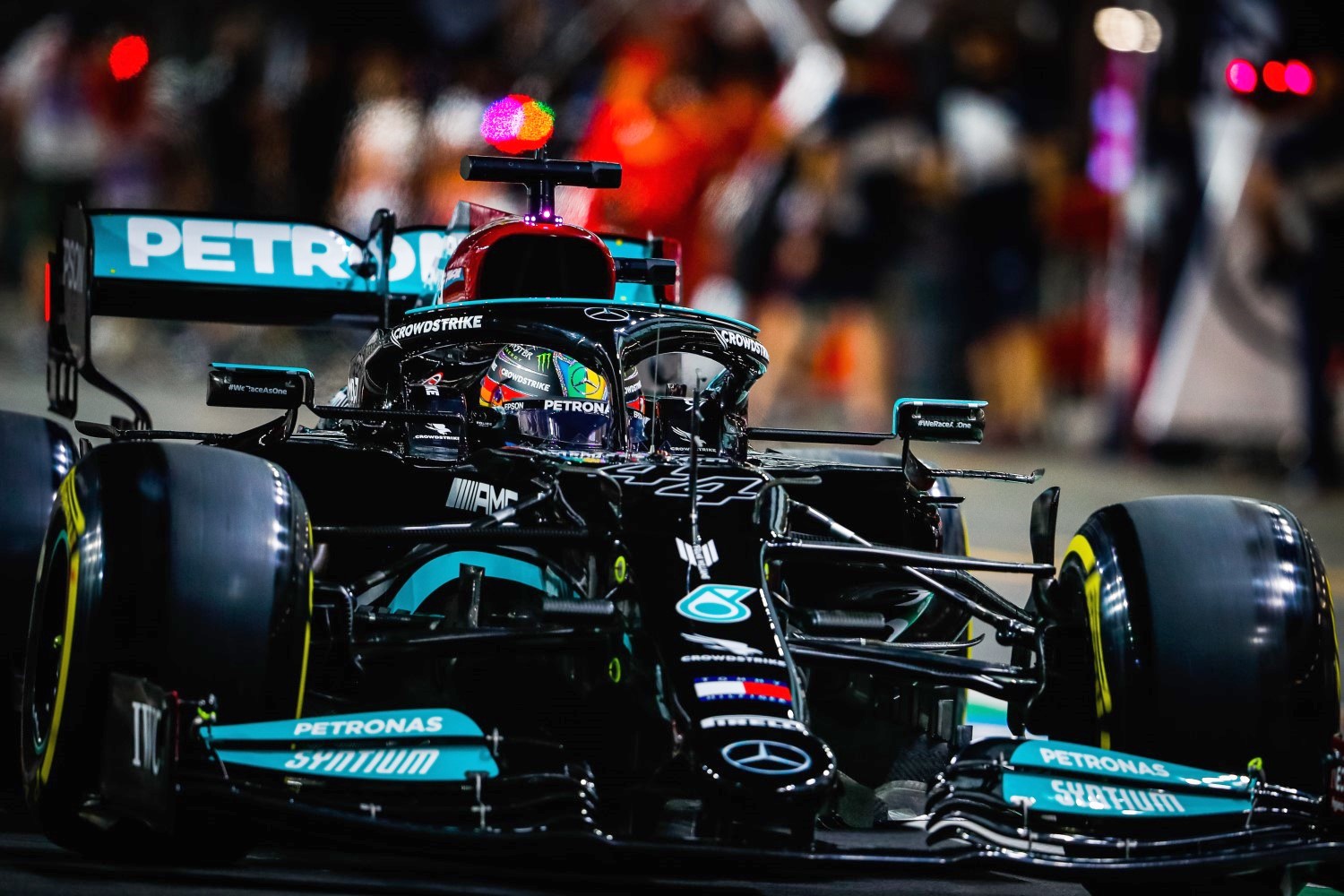 Verstappen nursed his badly worn medium tires home to finish 2nd 6.8 seconds (plus a 5-second penalty) behind Hamilton, but not before Hamilton ran into the back of Max Verstappen when Verstappen appeared to brake test the Mercedes after being told to give the place back to Hamilton for passing off track.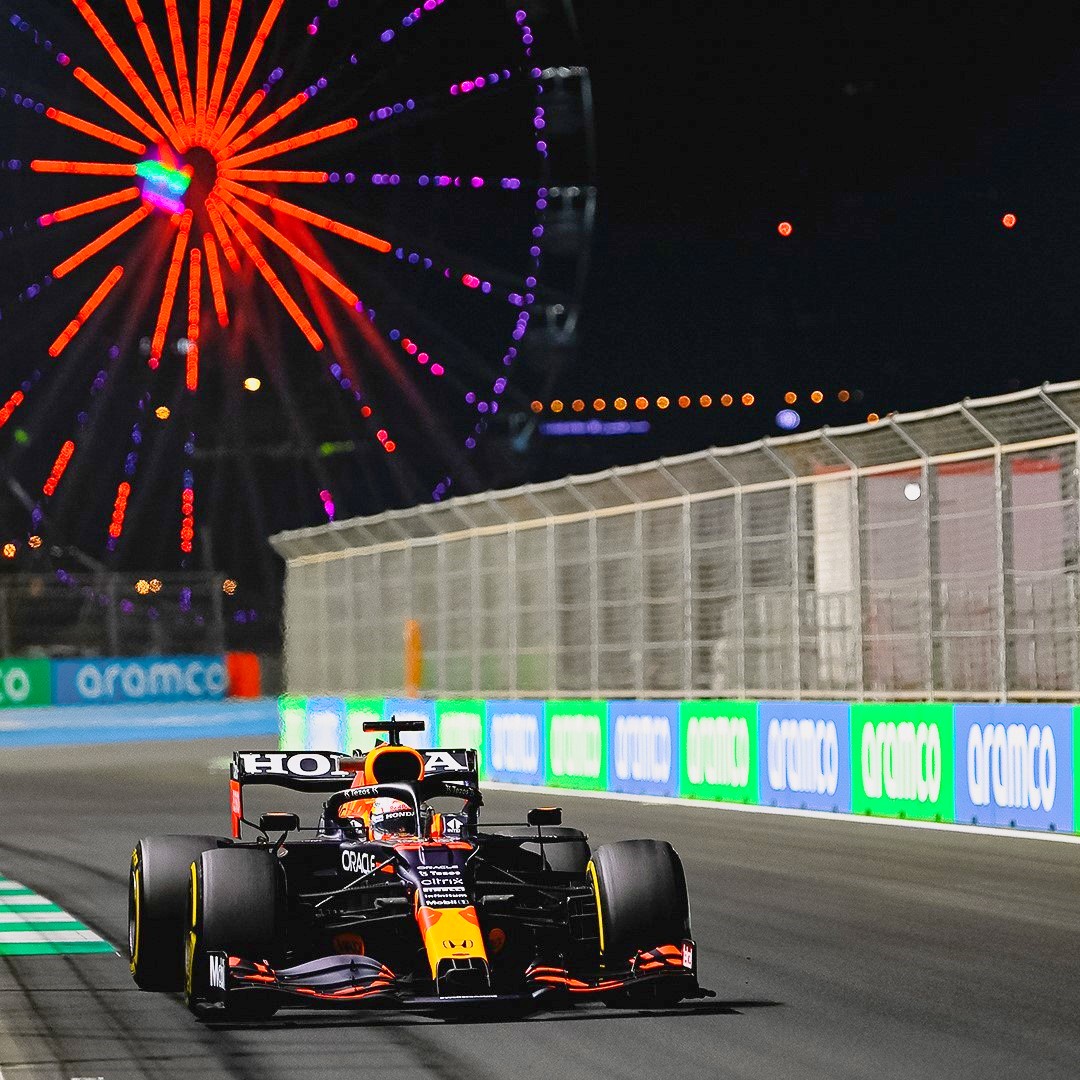 Both drivers go into the final race separated by 0 points.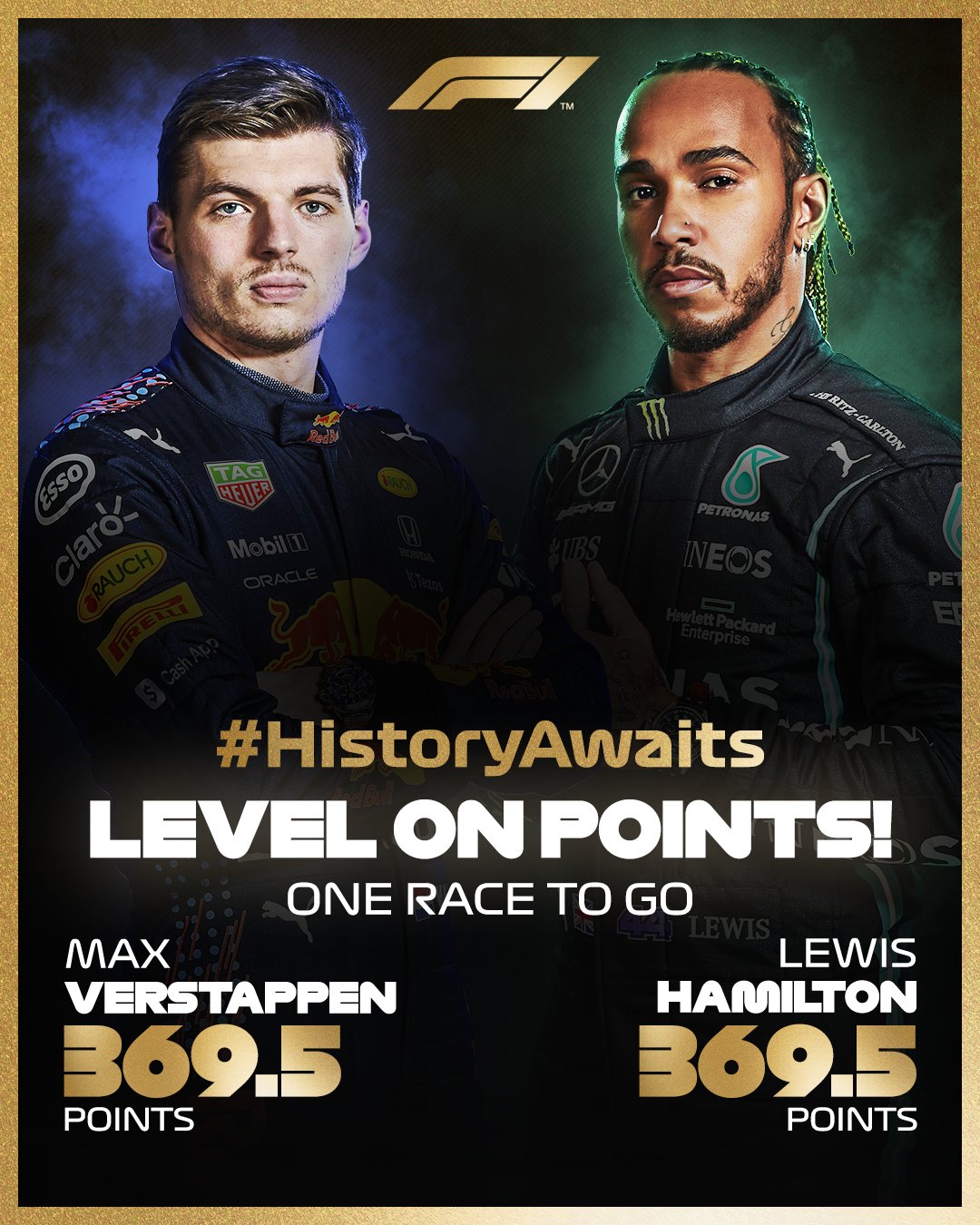 "That was incredibly tough. I tried to be as sensible as I could be, with all my race experience over the years, just keeping the car on track and staying clean," said Hamilton.
"I'm really proud of everyone and grateful for the car this weekend. I didn't quite understand why he hit the brakes so heavily, and then I ran into the back of him, and then he drove off so it was a bit confusing."
"Yeah, it was quite eventful," said Verstappen. "A lot of things happened that I don't fully agree with, but I gave it my all. It will be decided [in Abu Dhabi] so hopefully we'll have a good weekend, we'll see."
Valtteri Bottas passed Esteban Ocon at the line to steal third place, while Daniel Ricciardo rounded out the top-5 for McLaren.
"Not an easy day, the first red flag being on the hard tire [for the restart] was a mistake," said Bottas.  "It wasn't easy to overtake, but finally on the last lap I got third. It's a big challenge physically and mentally."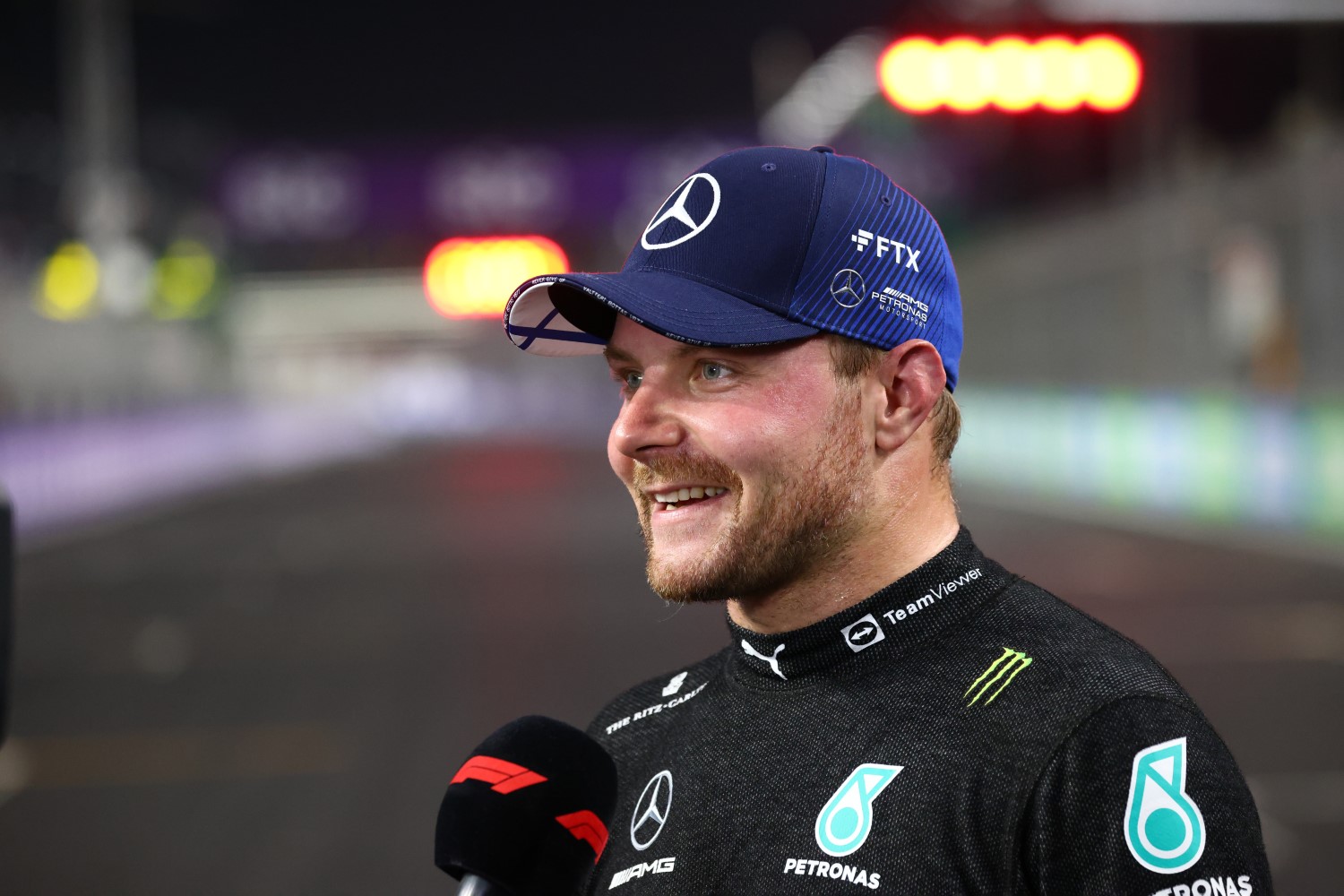 Pierre Gasly sixth was. Charles Leclerc and Carlos Sainz Jr. swapped back and came home together yet again in 7th and 8th, and Antonio Giovinazzi picked up two points for Alfa Romeo in 9th.
Rounding out the top-10, Lando Norris grabbed the last point for McLaren.
When Verstappen won in Austin and Mexico, it looked like a total mountain to climb for Hamilton.
Well, he's just won the last three races and has given the fans an absolute grandstand finish to this season.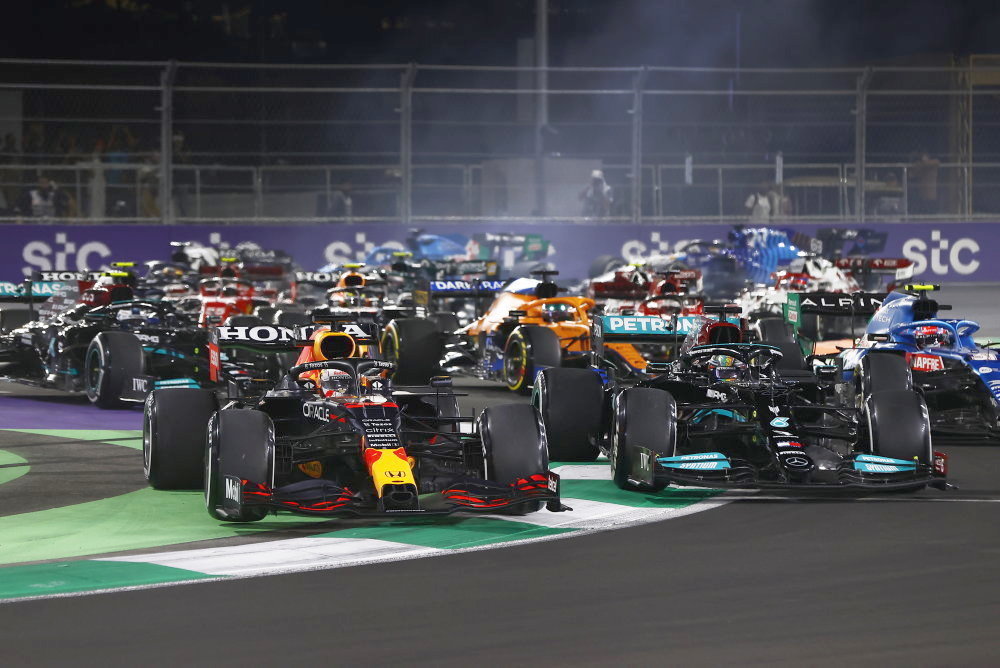 "That was a race that was very difficult to manage, with the number of debris, VSC [periods]. We feel hard done by with the five-second penalty," said Christian Horner.
"And then the incident when Lewis has driven up the back of Max – we informed Race Control we were given the place up. It was clear we were giving the place up. Very frustrating, very annoying.
"We didn't see how much damage we picked up at the back of the car, but it was a big whack up the diffuser," said Horner. "So we just wanted to bring the car home, there'd been enough action, and we didn't want another punch up.
"To be honest, Abu Dhabi they've changed again, so we go to Abu Dhabi tied on the championship, it's whoever finishes ahead. It's a straight fight, who's going to come out o top next weekend – I have no idea. The form is with Mercedes, but Max has fought like a lion this weekend, he gave it everything."
"The result at the end, winning the race, I think he deserved it," said Toto Wolff.  "I don't want to now have dirty laundry here, but what the telemetry shows is that [Verstappen] is slowing down and speeds off again. Hamilton didn't know [he was being given the place].
"Credit to Race Control, it's difficult to manage. I need to reserve judgement, I need to see the race more before I say anything that maybe isn't right. It's really the driving that needs to be assessed and looked at. It's hard, really hard, maybe too hard. We just want the best man to win and if it's Max at the end so be it.
"Everybody has had their fair share of bad luck, Max lost points at Silverstone, wasn't at all to blame in Hungary. Then we've had engine penalties…"
Race Recap
At the start of the race Verstappen made a good getaway from third place on the grid but ahead of him both Mercedes also made good starts and as the field headed towards Turn 1 Hamilton led ahead of Bottas and Verstappen. Behind them Sergio Pérez also got away well and almost made it past fourth-place starter Charles Leclerc but the Mexican locked up slightly into Turn 1 and that allowed Leclerc to pull back ahead and hold fourth as they exited Turn 2.
Having missed out on the opportunity to get past Leclerc at the start, Pérez then found himself lodged behind the Ferrari in the opening laps and losing time. And though he stayed in DRS range he couldn't find a way past and by lap six he was 6.4 seconds behind Hamilton who sat 2.7s ahead of third-placed Verstappen.
The status changed on lap 10 when Mick Schumacher hit the wall. The Haas driver lost control on entry and slid sideways into the TecPro barriers at Turn 22. As the Safety Car was deployed, Mercedes opted to pit Hamilton and the race leader took on hard tires in a 2.8-second stop. Red Bull also pitted Pérez on the same lap.
Bottas briefly took the lead before pitting, but Red Bull kept Verstappen on track and the Dutchman took the lead as Hamilton and Bottas slotted into second and third respectively. Behind the top three, Alpine's Esteban Ocon and McLaren's Daniel Ricciardo also stayed on track during the SC and they rose to fourth and fifth respectively with Leclerc, who pitted, dropping to sixth ahead of Pierre Gasly, who stayed out, and Pérez.
The race swung towards Verstappen on lap 14 when having examined the barriers damaged by Schumacher's Haas, Race Control waved the red flags and the race was halted.
The cars streamed back to the pit lane, where under red flag rules, the Team was permitted to change Verstappen's tires. He would take the re-start from pole and on fresh rubber.
A standing re-start was decreed and when the lights went out it was again Hamilton who made the best getaway, and he pulled ahead of Verstappen into Turn 1. Verstappen braked late and tried to hang on around the outside but he went off track as he took the lead. Verstappen's move also allowed Ocon to sneak past Hamilton and steal second place.
But behind them, chaos was unfolding. Starting from P8 Pérez got squeezed badly, though initially, he managed to avoid contact with the cars on either side. However, there was nothing he could do when Leclerc tagged him, spinning the Red Bull into the wall. And the chaos continued when Haas' Nikita Mazepin slammed into the rear of George Russell's Williams and the red flags were flown again.
After the incident at the first re-start, Race Control promoted Ocon to first place with Hamilton seconds and with Verstappen directed to start from third place ahead of Ricciardo and Bottas.
When the lights went out for a third standing start, it was Verstappen who made the best start. The Red Bull driver moved to the inside and as the Mercedes driver tussled with Ocon Verstappen dived to the inside and slipped past his title rival in Turn 1. And with momentum on his side he then powered past Ocon on the run to Turn 3 to brilliantly take the lead.
The front pair then rapidly pulled away from the Alpine and by lap 25 Verstappen and Hamilton were 12 seconds clear of the chasing pack and battling in an entirely different league than their rivals.
On lap 29, following an earlier collision between Yuki Tsunoda and Sebastian Vettel and then contact between Vettel and Räikkönen, the VSC was deployed to clear debris and Verstappen's medium tires were given a breather.
The drama continued on lap 37. Hamilton closed in and attacked on the pit straight. The rivals tangled in Turn 1 and Verstappen left the track as he held the lead. The Red Bull driver was told to cede the lead but when he slowed on track to do so, Hamilton, seemingly unaware that the instruction had been given, did not slow enough and slammed into the back of the Red Bull.
Verstappen powered away into the lead again, but once more handed the place back. And after being handed a five-second penalty for leaving the track and gaining an advantage, and with his tires fading, Verstappen settled for second place.
Race Results 50 Laps
| | | | | |
| --- | --- | --- | --- | --- |
| POS | DRIVER | NAT. | TEAM | BEHIND |
| 1 | Lewis Hamilton | GBR | Mercedes AMG | +0.000s |
| 2 | Max Verstappen | NED | Red Bull Racing | +11.825s |
| 3 | Valtteri Bottas | FIN | Mercedes AMG | +27.531s |
| 4 | Esteban Ocon | FRA | Alpine F1 Team | +27.633s |
| 5 | Daniel Ricciardo | AUS | McLaren F1 Team | +40.121s |
| 6 | Pierre Gasly | FRA | AlphaTauri Honda | +41.613s |
| 7 | Charles Leclerc | MON | Scuderia Ferrari | +44.475s |
| 8 | Carlos Sainz | ESP | Scuderia Ferrari | +46.606s |
| 9 | Antonio Giovinazzi | ITA | Alfa Romeo Racing | +58.505s |
| 10 | Lando Norris | GBR | McLaren F1 Team | +61.358s |
| 11 | Lance Stroll | CAN | Aston Martin | +77.212s |
| 12 | Nicholas Latifi | CAN | Williams Racing | +83.249s |
| 13 | Fernando Alonso | ESP | Alpine F1 Team | +1 Lap |
| 14 | Yuki Tsunoda | JPN | AlphaTauri Honda | +1 Lap |
| 15 | Kimi Raikkonen | FIN | Alfa Romeo Racing | +1 Lap |
| | Sebastian Vettel | GER | Aston Martin | DNF |
| | George Russell | GBR | Williams Racing | DNF |
| | Sergio Perez | MEX | Red Bull Racing | DNF |
| | Nikita Mazepin | RUS | Uralkali Haas F1 Team | DNF |
| | Mick Schumacher | GER | Uralkali Haas F1 Team | DNF |