F1: Hamilton buys and now sells Manhattan Penthouse
(Update)
 Lewis Hamilton made a hefty profit after reportedly finally selling his New York City penthouse.
Per TMZ Sports, the sale price for the 12,000-square foot property was $49.5 million.
The Briton originally bought the property in 2017 for almost $44 million.
According to TMZ, the apartment includes "a fully tricked-out kitchen, private elevator and 20-foot tall ceilings." There's also a 70-foot swimming pool, gym and a Turkish bath outside of the penthouse.
Even though the sale tag on the penthouse is steep, Hamilton was originally hoping to net an even bigger return when he first listed the property.
In February, Joyce Chen of Architectural Digest noted Hamilton's initial asking price was $57 million when it first went on the market in March 2019.
Per Jennifer Gould of the New York Post, the 36-year-old relisted the property for $52 million earlier this year.
Gould noted that Hamilton recently bought a $40.7 million property in an area close to where Tom Brady and Gisele Bundchen live.
---
December 8, 2019
Less than two years after snapping up a $43.991 million apartment in a celebrity-studded condo project in Manhattan's Tribeca district, 5-time F1 champion Lewis Hamilton has invested his winnings in Manhattan real estate again, this time buying a $40.7 million trophy penthouse in another big-name building a block away reports
Katherine Clarke of the Wall Street Journal
.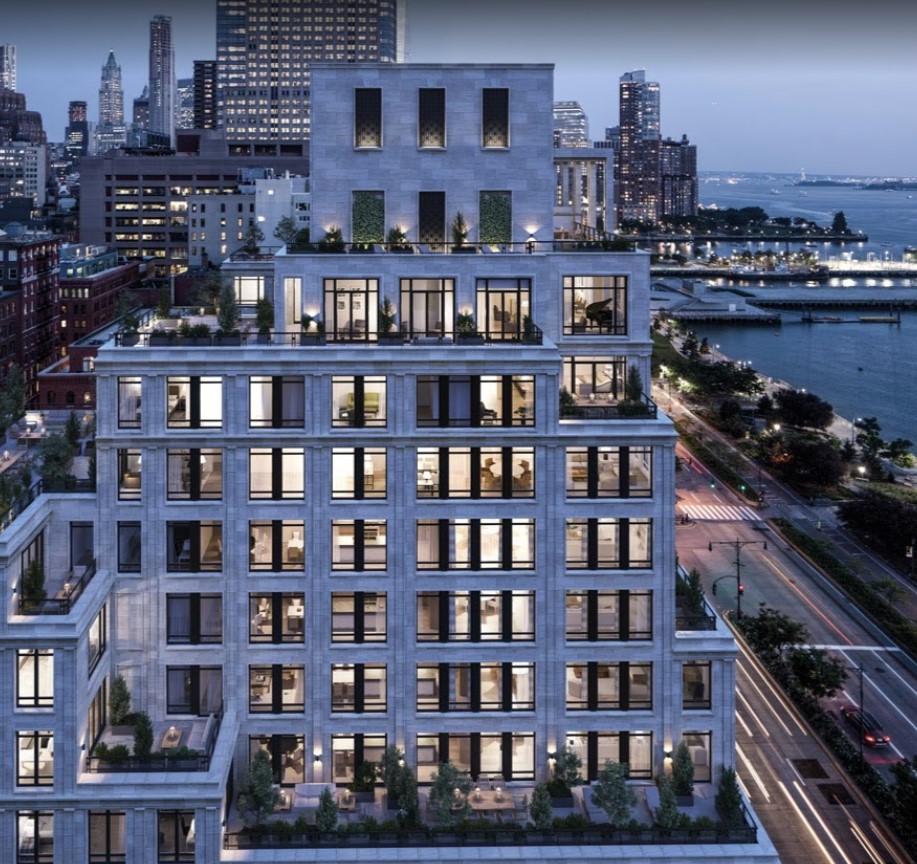 According to people familiar with both deals, Mr. Hamilton recently bought a penthouse at 70 Vestry Street, a limestone building developed by the Related Companies and designed by Robert A.M. Stern Architects. Its owners include quarterback Tom Brady and his wife, model Gisele Bundchen.
The penthouse has four bedrooms and spans about 6,547 square feet plus more than 3,000 square feet of outdoor space, according to marketing materials. The home has unobstructed views of the Hudson River. The building has a gated entry that leads into a courtyard to protect the privacy of its residents, as well as an 82-foot-long swimming pool, a fitness center, a squash court, a library and a lounge where residents can host seated dinners and cocktail parties.
Another home in 70 Vestry recently sold for $55 million to an Italian entrepreneur, setting a price record for a New York apartment south of 14th Street, The Wall Street Journal reported.
One block east is Mr. Hamilton's other apartment at 443 Greenwich Street, the people familiar with the transactions said. The loft-style apartment is located in a former book bindery, and the project's amenities include a 71-foot-long indoor swimming pool and a wine cellar. Other celebrities who have owned units at that building include actress Jennifer Lawrence and actor Mike Myers. Mr. Hamilton bought that unit in March 2017 through the same holding company, according to the people familiar with both deals.