F1: Twist of fate allows Verstappen to beat Hamilton for World Title
The Mercedes F1 team put a 'trick rocket' engine in Lewis Hamilton's car with 4 races to go, and it carried him to easy wins in the last three races, and he appeared headed to an easy 8th World Title in Abu Dhabi on Sunday.
That was until Nickolas Latifi crashed his Williams with 5 laps to go.  Under the caution, Red Bull pitted Max Verstappen for soft red tires and Mercedes left Hamilton out on worn hard tires.
With fans going wild in the grandstands, the race went green with one lap to go and Verstappen, on softer tires, passed Hamilton on the final lap, the only lap he led all day, to win the race and his first F1 World Title. Verstappen has entered the Formula 1 annals after becoming the Netherlands' first ever world champion – and claiming his team's first drivers' title since 2013 with Sebastian Vettel.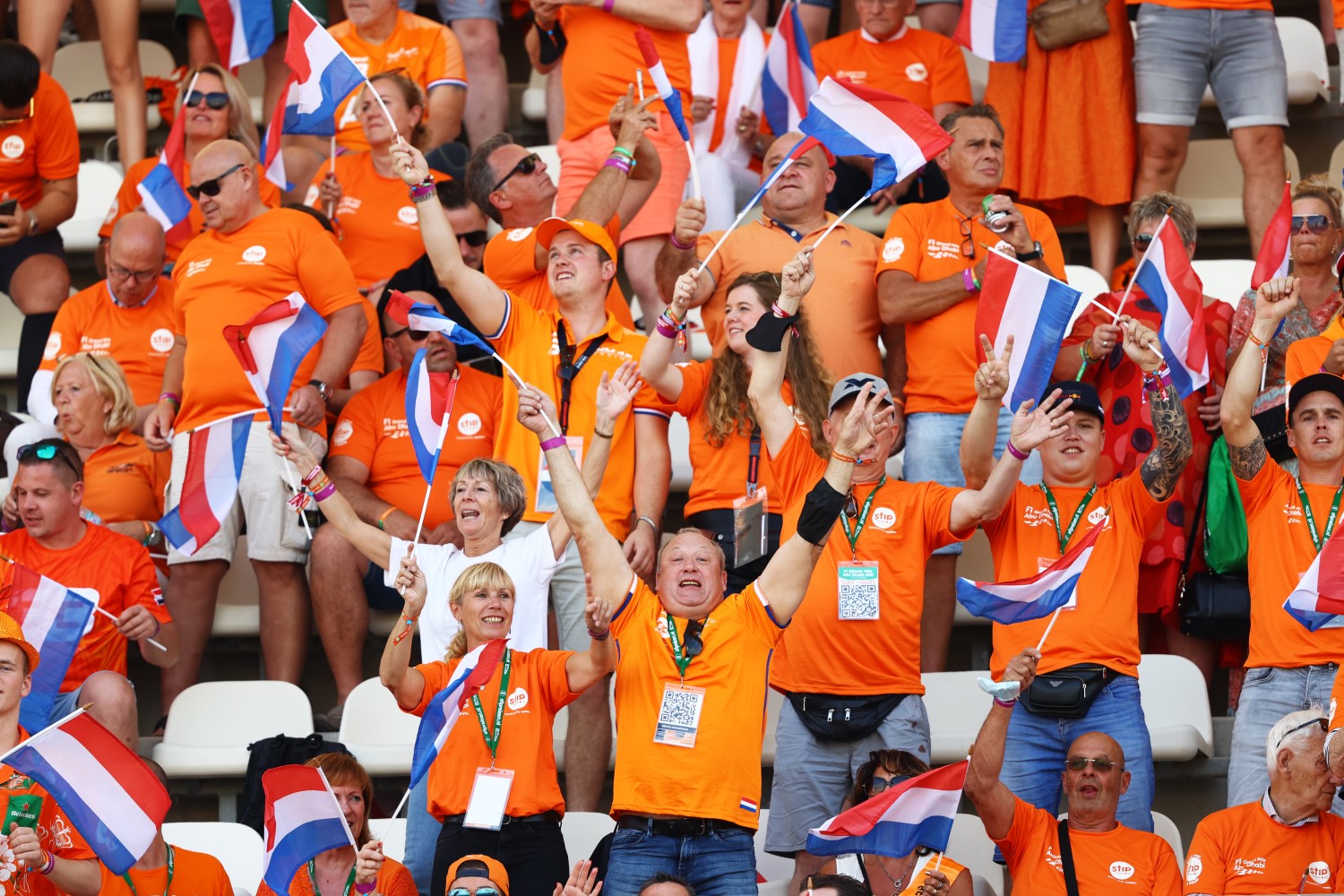 The race started and ended with a bang.
Medium-tired Hamilton jumped soft-shod Verstappen at the start, while the Dutchman came back in Turn 6, nudging him wide and over the run-off, but the Mercedes driver continued in the lead. The Stewards decided not to require Hamilton to give the spot back, saying Verstappen forced him off the track to avoid a collision.
But Verstappen never gave up, never lost his cool. He fought to the end until Lady Luck finally smiled down on him in the form of the late Safety Car.
That led to the dramatic last few laps, both Christian Horner and Toto Wolff desperate for different outcomes with regards Safety Car decisions, and ultimately that Safety Car let five lapped cars go, leaving Verstappen right on Hamilton's tail for one last frantic lap of a fantastic season between perhaps the two best F1 drivers of all time.
That Safety Car, during which Verstappen pitted for soft tires, left the race with just one lap of green flag racing remaining, producing another memorable moment in this epic season. Verstappen did make the pass on Hamilton into Turn 5, the decisive move, and while Hamilton attempted to come back towards Turn 9, Verstappen was not to be denied. History was made, as it was always going to be, and the trophy went to the Dutchman for the first time.
"It's insane. The guys at my team, at Honda, I love them so much. Finally, a bit of luck for me. And I have to say a big thank you to Checo, he drove his heart out today," said an emotional Verstappen.
"It's just insane. My goal when I was little was to become a Formula 1 driver. You hope for wins, podiums, to hear the Dutch National Anthem. And now to be here, as world champion, with my Dad here. My family, my friends, the one's who pushed me to be better – they are all here.
"To see all this orange here, all over the world, the way they have supported me is incredible, and I hope I can do this for them for a very long time."
Hamilton's pace on the straights was just too much for Max Verstappen and his inferior Honda engine and Verstappen needed a miracle to win.  And he got it when Latifi crashed.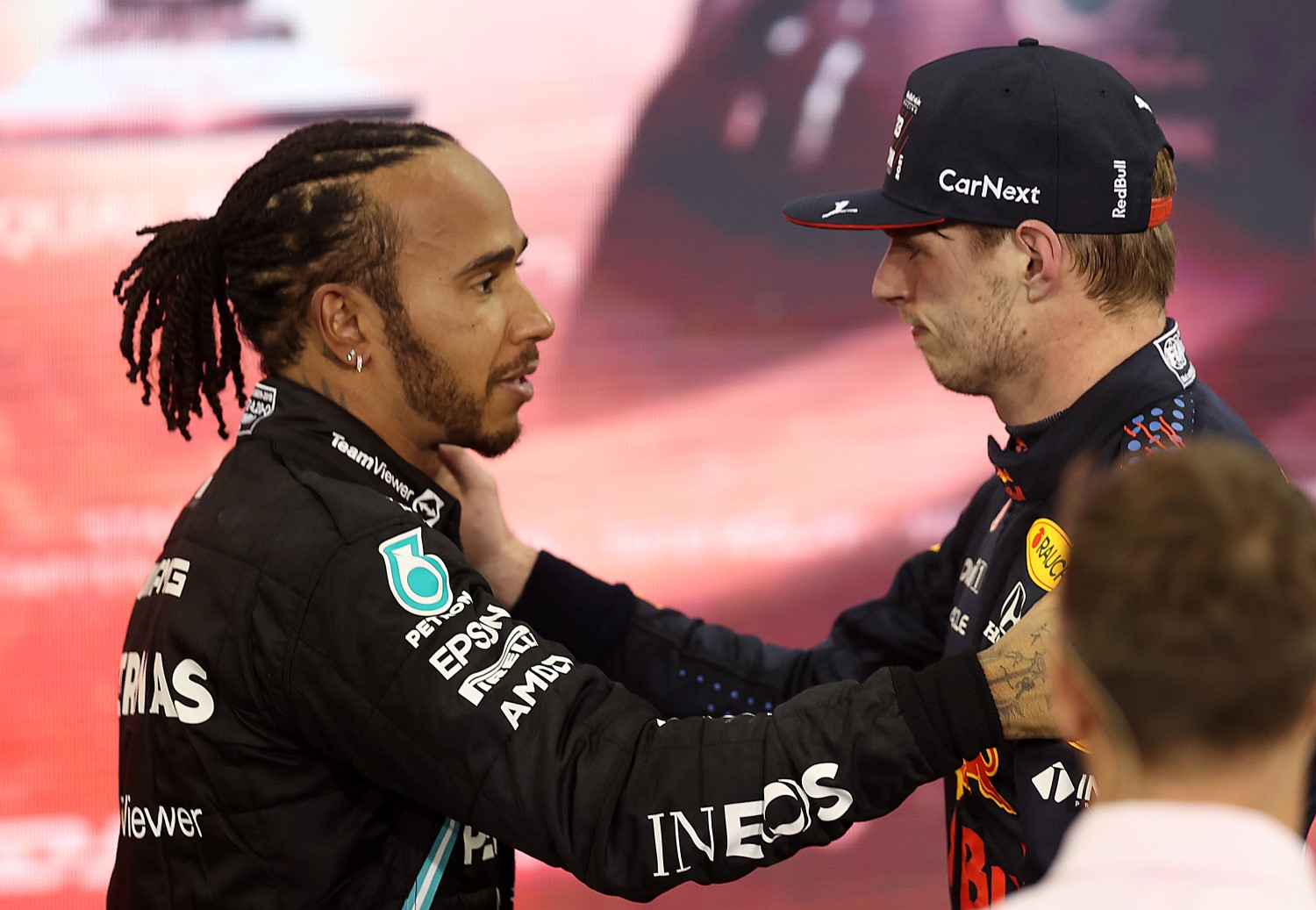 One has to feel for Lewis Hamilton who had the race won until Mercedes made a strategic error not also pitting Hamilton for red tires.
"Firstly, a big congratulations to Max and his team," said a disappointed Hamilton.
"I think we did an amazing job this year, we worked so hard. We gave it everything, we never gave up and that's the most important thing."
A touching moment as Max and Jos Verstappen are congratulated by Lewis Hamilton's father, Anthony 👊#AbuDhabiGP 🇦🇪 #F1 pic.twitter.com/5n2uaLrfr2

— Formula 1 (@F1) December 12, 2021
"Mercedes are such a strong team, and because of the quality of the opposition we've had that what makes this so special," said Red Bull Team Boss Christian Horner. "Max has driven his heart out all year. This is probably the biggest championship we've ever won."
Carlos Sainz Jr finished 3rd, for Ferrari after Sergio Perez retired in the pits on the final lap. "We were in the right place at the right time. I really enjoyed it. I was very strong today, from qualifying yesterday, the car felt really good. They are two great drivers, putting on a great show."
Sergio Perez fell out on the last lap, but did everything he could to help his teammate, holding up Hamilton before his first pitstop and allowing Verstappen to close to under 2-seconds, but then Hamilton just pulled away into the distance and Verstappen, just like the previous three races, had nothing for the 'rocket' engine.
Yuki Tsunoda came home 4th for AlphaTauri, while his teammate Pierre Gasly rounded out the top-5.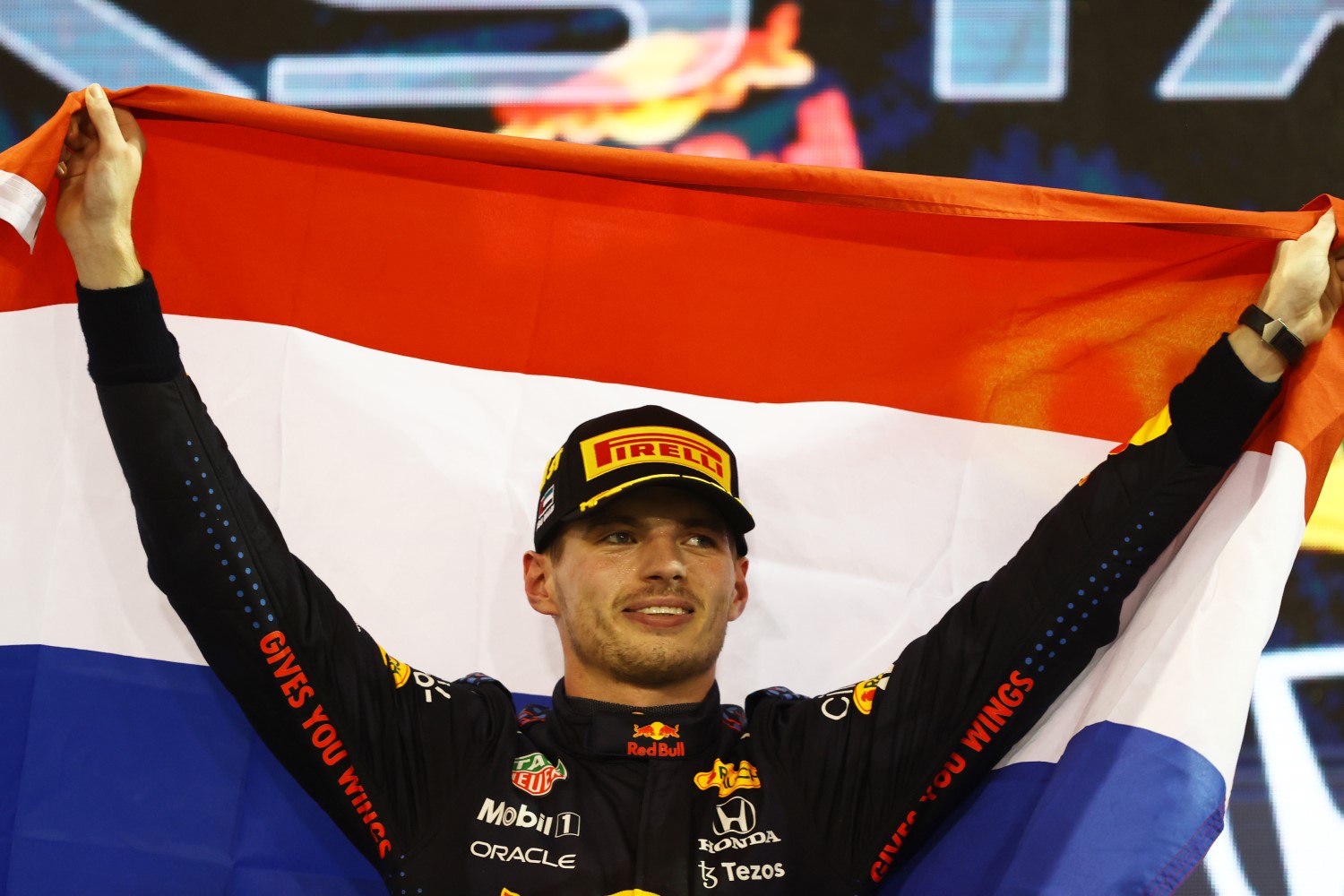 With Mercedes winning their 8th Constructors title, and Red Bull the Driver's title, they shared the spoils in this incredible season-ending Abu Dhabi Grand Prix, fit for a season that will no doubt go down as one of the greatest ever.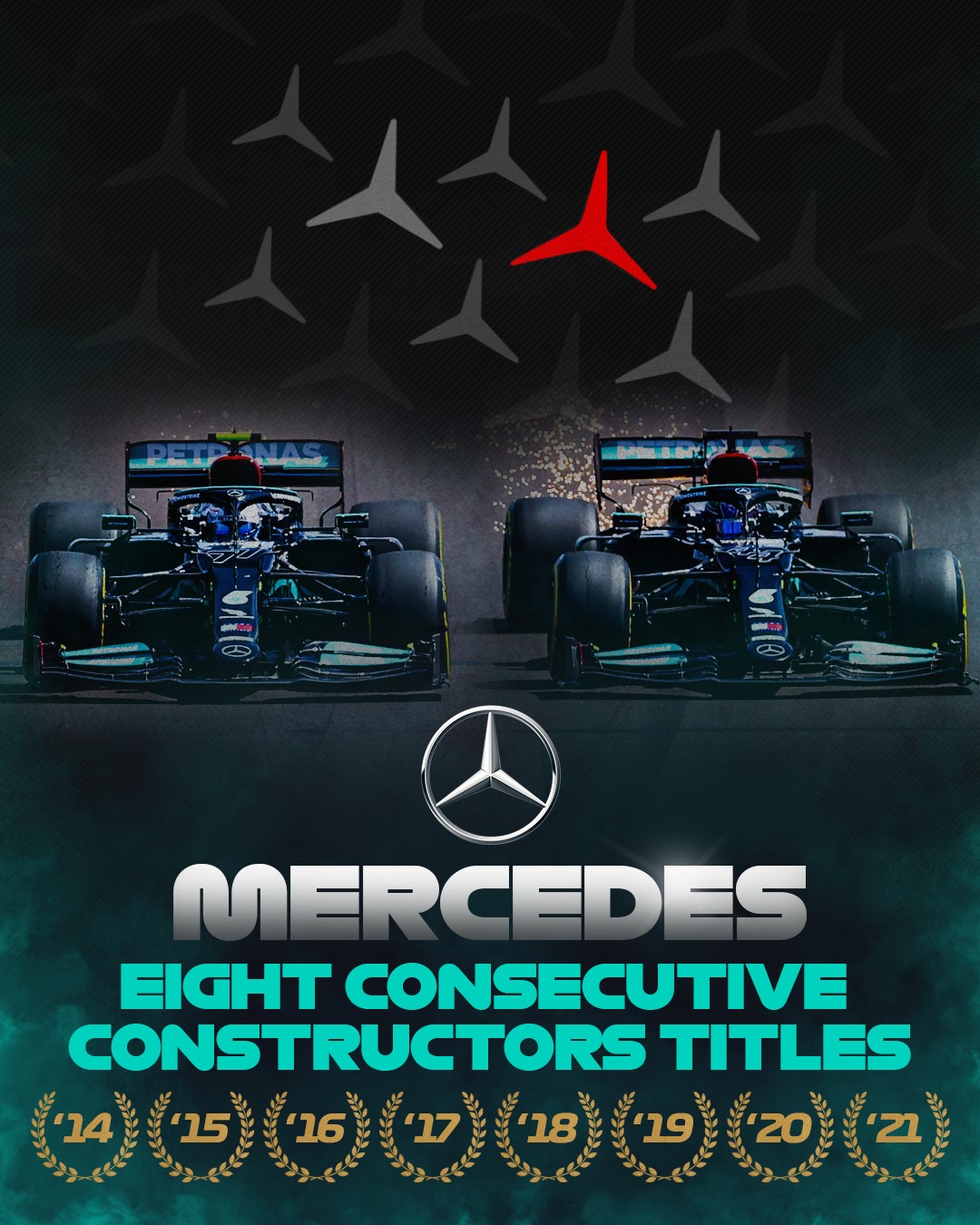 On Twitter, Hamilton's future teammate George Russell, who had retired from the race early, labelled the conclusion "unacceptable".
"This is unacceptable," Russell tweeted.
"Max is an absolutely fantastic driver who has had an incredible season and I have nothing but huge respect for him, but what just happened is absolutely unacceptable. I cannot believe what we've just seen."
The only way Verstappen would be able to come back into play against Hamilton's superior Mercedes pace was luck and a bit of smart strategy.
Mercedes blew this one for Hamilton.  Their decision not to bring in Hamilton under a previous virtual safety car left him exposed to the type of scenario that unfolded at the end of the race. They also did not pit Hamilton for Reds during the final caution, but being the leader, Verstappen was always going to do the opposite from what Hamilton did, and it worked to his advantage today.
Lando Norris took seventh behind Valtteri Bottas and  ahead of Fernando Alonso and Esteban Ocon.
Charles Leclerc rounding out the top 10 for Ferrari
Race Results
| | | | | | | |
| --- | --- | --- | --- | --- | --- | --- |
| POS | NO | DRIVER | CAR | LAPS | BEHIND | PTS |
| 1 | 33 | Max Verstappen | Red Bull Racing Honda | 58 | +0.000s | 26 |
| 2 | 44 | Lewis Hamilton | Mercedes | 58 | +2.256s | 18 |
| 3 | 55 | Carlos Sainz Jr. | Ferrari | 58 | +5.173s | 15 |
| 4 | 22 | Yuki Tsunoda | AlphaTauri Honda | 58 | +5.692s | 12 |
| 5 | 10 | Pierre Gasly | AlphaTauri Honda | 58 | +6.531s | 10 |
| 6 | 77 | Valtteri Bottas | Mercedes | 58 | +7.463s | 8 |
| 7 | 4 | Lando Norris | McLaren Mercedes | 58 | +59.200s | 6 |
| 8 | 14 | Fernando Alonso | Alpine Renault | 58 | +61.708s | 4 |
| 9 | 31 | Esteban Ocon | Alpine Renault | 58 | +64.026s | 2 |
| 10 | 16 | Charles Leclerc | Ferrari | 58 | +66.057s | 1 |
| 11 | 5 | Sebastian Vettel | Aston Martin Mercedes | 58 | +67.527s | 0 |
| 12 | 3 | Daniel Ricciardo | McLaren Mercedes | 57 | +1 lap | 0 |
| 13 | 18 | Lance Stroll | Aston Martin Mercedes | 57 | +1 lap | 0 |
| 14 | 47 | Mick Schumacher | Haas Ferrari | 57 | +1 lap | 0 |
| 15 | 11 | Sergio Perez | Red Bull Racing Honda | 55 | DNF | 0 |
| NC | 6 | Nicholas Latifi | Williams Mercedes | 50 | DNF | 0 |
| NC | 99 | Antonio Giovinazzi | Alfa Romeo Racing Ferrari | 33 | DNF | 0 |
| NC | 63 | George Russell | Williams Mercedes | 26 | DNF | 0 |
| NC | 7 | Kimi Räikkönen | Alfa Romeo Racing Ferrari | 25 | DNF | 0 |
* Provisional results. Note – Verstappen scored an additional point for setting the fastest lap of the race.