F2: Drugovich fastest for MP Motorsport on Day 2 of post-season testing
Felipe Drugovich continued his impressive return to MP Motorsport on Day 2 of post-season testing at the Yas Marina Circuit, setting the quickest time so far with a 1:35.614.
The Brazilian dominated the morning session, finishing more than four-tenths ahead of Virtuosi's Jack Doohan, and PREMA Racing's Jehan Daruvala, who had gone quickest on Day 1.
Carlin rookie Logan Sargeant topped the afternoon session with a lap of 1:36.155, beating out Daruvala and Hitech Grand Prix's Marcus Armstrong.
MORNING
Action resumed on another sunny morning in Abu Dhabi, and it was much of the same as Drugovich, Doohan and Daruvala took up their now customary positions at the top of the timesheet. The trio had led the opening three sessions in varying orders.
Olli Caldwell was amongst the first to get out on track and maximized the available running time in the morning, completing the most laps with 48.
There were several stoppages during the opening session, with Frederik Vesti, Juan Manuel Correa, Guilherme Samaia, Ayumu Iwasa and Sargeant all requiring Red Flags in the three-hour stint.
Drugovich narrowly increased his lead at the top, improving on his initial tour of 1:35.663, with a 1:35.614. Punching in the second most laps of the morning, Théo Pourchaire still found time to strap on a new pair of boots and set the fourth-fastest lap for ART Grand Prix.
Carlin's Liam Lawson beat his old Hitech teammate Jüri Vips to fifth, with Jake Hughes' setting the seventh-fastest time with newcomers Van Amersfoort Racing.
Campos Racing's Ralph Boschung and DAMS' Roy Nissany were just under a second off the pace in eighth and ninth, ahead of PREMA rookie Dennis Hauger.
AFTERNOON
A busy afternoon session was led by Carlin rookie Sargeant, who jumped to the top of the leaderboard in the final half an hour with a 1:36.155, while also running a total of 38 laps.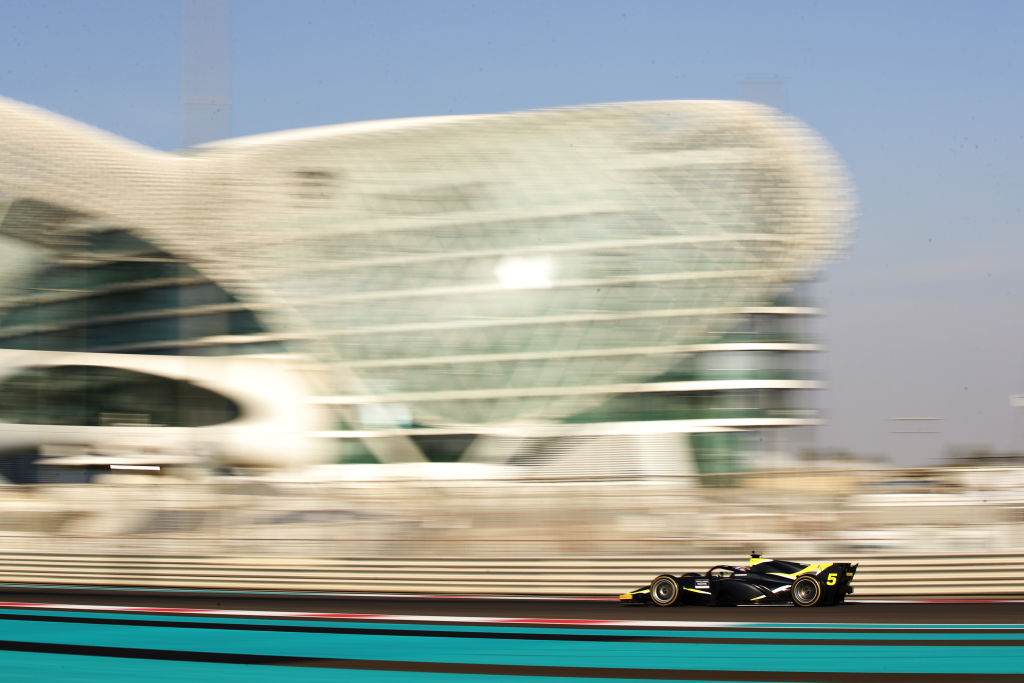 The Williams' junior was backed up by a familiar name in second, with Darvuala finishing in the top three for the fourth successive session since swapping Carlin for PREMA Racing.
Lawson had initially set the afternoon pace with a 1:36.802, but the Carlin driver finished in sixth, ahead of Doohan, despite finding a further two tenths around the Yas Marina Circuit.
Vesti, Hughes and Teppei Natori all caused stoppages in the afternoon, but that didn't stop seven drivers breaking the 50-lap mark, led by Pourchaire with 62.
Correa was half a second off for Charouz Racing System in seventh, ahead of Hughes, Vips and the morning pacesetter, Drugovich.
DAY 2, MORNING SESSION
| POS | DRIVER | TEAM | TIME | LAPS |
| --- | --- | --- | --- | --- |
| 1 | Felipe Drugovich | MP Motorsport | 1:35.614 | 35 |
| 2 | Jack Doohan | UNI-Virtuosi | 1:36.079 | 34 |
| 3 | Jehan Daruvala | PREMA Racing | 1:36.228 | 47 |
| 4 | Théo Pourchaire | ART Grand Prix | 1:36.258 | 45 |
| 5 | Liam Lawson | Carlin | 1:36.271 | 31 |
| 6 | Jüri Vips | Hitech Grand Prix | 1:36.329 | 22 |
| 7 | Jake Hughes | Van Amersfoort Racing | 1:36.465 | 16 |
| 8 | Ralph Boschung | Campos Racing | 1:36.551 | 44 |
| 9 | Roy Nissany | DAMS | 1:36.612 | 44 |
| 10 | Dennis Hauger | PREMA Racing | 1:36.618 | 26 |
| 11 | Logan Sargeant | Carlin | 1:36.627 | 16 |
| 12 | Olli Caldwell | Campos Racing | 1:36.720 | 48 |
| 13 | Marcus Armstrong | Hitech Grand Prix | 1:36.766 | 18 |
| 14 | Frederik Vesti | ART Grand Prix | 1:36.870 | 31 |
| 15 | Clément Novalak | MP Motorsport | 1:36.877 | 30 |
| 16 | Marino Sato | UNI-Virtuosi | 1:37.010 | 32 |
| 17 | Guilherme Samaia | Charouz Racing System | 1:37.020 | 36 |
| 18 | Ayumu Iwasa | DAMS | 1:37.161 | 20 |
| 19 | Juan Manuel Correa | Charouz Racing System | 1:37.349 | 36 |
| 20 | Calan Williams | Trident | 1:37.666 | 31 |
| 21 | Teppei Natori | Trident | 1:37.666 | 29 |
| 22 | Amaury Cordeel | Van Amersfoort Racing | 1:37.916 | 21 |
DAY 2, AFTERNOON SESSION
| POS | DRIVER | TEAM | TIME | LAPS |
| --- | --- | --- | --- | --- |
| 1 | Logan Sargeant | Carlin | 1:36.155 | 44 |
| 2 | Jehan Daruvala | PREMA Racing | 1:36.271 | 46 |
| 3 | Marcus Armstrong | Hitech Grand Prix | 1:36.380 | 51 |
| 4 | Dennis Hauger | PREMA Racing | 1:36.426 | 46 |
| 5 | Jack Doohan | UNI-Virtuosi | 1:36.495 | 48 |
| 6 | Liam Lawson | Carlin | 1:36.608 | 48 |
| 7 | Juan Manuel Correa | Charouz Racing System | 1:36.687 | 41 |
| 8 | Jake Hughes | Van Amersfoort Racing | 1:36.783 | 34 |
| 9 | Guilherme Samaia | Charouz Racing System | 1:36.864 | 45 |
| 10 | Jüri Vips | Hitech Grand Prix | 1:36.921 | 51 |
| 11 | Felipe Drugovich | MP Motorsport | 1:36.992 | 49 |
| 12 | Marino Sato | UNI-Virtuosi | 1:37.000 | 48 |
| 13 | Ayumu Iwasa | DAMS | 1:37.094 | 42 |
| 14 | Teppei Natori | Trident | 1:37.150 | 51 |
| 15 | Roy Nissany | DAMS | 1:37.478 | 60 |
| 16 | Amaury Cordeel | Van Amersfoort Racing | 1:37.480 | 45 |
| 17 | Olli Caldwell | Campos Racing | 1:37.610 | 51 |
| 18 | Calan Williams | Trident | 1:37.903 | 44 |
| 19 | Théo Pourchaire | ART Grand Prix | 1:38.938 | 62 |
| 20 | Clément Novalak | MP Motorsport | 1:38.999 | 38 |
| 21 | Ralph Boschung | Campos Racing | 1:39.042 | 46 |
| 22 | Frederik Vesti | ART Grand Prix | 1:39.396 | 50 |