F2: Doohan tops the final day of post-season Yas Marina test
Virtuosi rookie Jack Doohan (shown above) finished in first on the final day of post-season testing at Yas Marina, with MP Motorsport's Felipe Drugovich and PREMA Racing's Jehan Daruvala also both shining once again in Abu Dhabi.
The trio have dominated the three-day stint, with Doohan coming out on top at the end of Day 3 with a 1:36.110 in the morning session, ahead of Drugovich and Campos Racing's Ralph Boschung.
Drugovich – whose time on Day 2 was the quickest overall – also finished first in the afternoon with a 1:36.342, ahead of Daruvala.
MORNING
In cooler conditions than on days one and two, the teams headed out onto the Yas Marina Circuit for the final track action this year. As has been the case for the majority of the test, Doohan and Drugovich dominated, going first and second during the early stages.
Doohan's time of 1:36.110 was enough to top the charts, with Drugovich 0.029s off, while Boschung went third, less than a tenth off as well.
Carlin duo Liam Lawson and Logan Sargeant finished in fourth and fifth, the top five separated by less than a tenth.
Avoiding any Red Flags on the morning, there were some big totals in terms of laps, with nearly half of the field completing more than 50 tours. It was a familiar name at the top, as Doohan topped the lap count as well as the timesheets, running 58 times in total.
Théo Pourchaire, Roy Nissany and Marcus Armstrong totaled more than 160 between them and were within 0.135s off each other in sixth, seventh and eighth. PREMA Racing duo Daruvala and Dennis Hauger completed the top 10 and were within half a second of the leading pace.
AFTERNOON
Making his testing debut with newcomers Van Amersfoort Racing, Turkish racer Cem Bolukbasi set the benchmark in the afternoon session with a 1:37.978, but it was Drugovich and Daruvala who once again finished first and second, with the MP driver setting a 1:36.342 to top the session.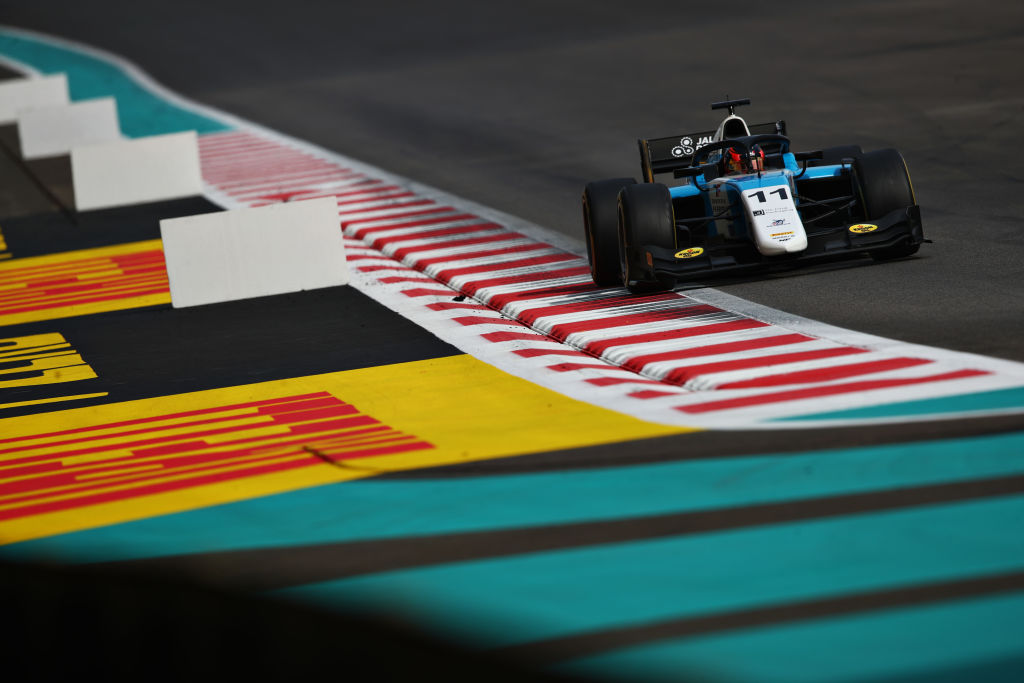 Boschung and Frederik Vesti caused the only two stoppages in the afternoon, allowing the field to set plenty of lap times in the final stint out on track. Hitech Grand Prix's Jüri Vips, who finished fourth fastest, topped the lap count with 56.
Hauger enjoyed his strongest session yet, finishing in third with PREMA, while Roy Nissany completed the top five with DAMS.
Amaury Cordeel put Van Amersfoort in sixth, ahead of Hitech driver Armstrong and MP's Clément Novalak. Juan Manuel Correa briefly put Charouz Racing System at the top of the timesheets with a 1:37.759, but ended up in P9, beating out Bolukbasi.
DAY 3, MORNING SESSION
| POS | DRIVER | TEAM | TIME | LAPS |
| --- | --- | --- | --- | --- |
| 1 | Jack Doohan | UNI-Virtuosi | 1:36.110 | 59 |
| 2 | Felipe Drugovich | MP Motorsport | 1:36.139 | 49 |
| 3 | Ralph Boschung | Campos Racing | 1:36.203 | 41 |
| 4 | Liam Lawson | Carlin | 1:36.242 | 55 |
| 5 | Logan Sargeant | Carlin | 1:36.270 | 53 |
| 6 | Théo Pourchaire | ART Grand Prix | 1:36.415 | 55 |
| 7 | Roy Nissany | DAMS | 1:36.492 | 54 |
| 8 | Marcus Armstrong | Hitech Grand Prix | 1:36.550 | 52 |
| 9 | Jehan Daruvala | PREMA Racing | 1:36.553 | 45 |
| 10 | Dennis Hauger | PREMA Racing | 1:36.572 | 44 |
| 11 | Calan Williams | Trident | 1:36.613 | 50 |
| 12 | Frederik Vesti | ART Grand Prix | 1:36.641 | 58 |
| 13 | Jüri Vips | Hitech Grand Prix | 1:36.674 | 47 |
| 14 | Ayumu Iwasa | DAMS | 1:36.695 | 55 |
| 15 | Clément Novalak | MP Motorsport | 1:36.716 | 50 |
| 16 | Marino Sato | UNI-Virtuosi | 1:36.780 | 54 |
| 17 | Amaury Cordeel | Van Amersfoort Racing | 1:36.784 | 49 |
| 18 | Juan Manuel Correa | Charouz Racing System | 1:36.845 | 55 |
| 19 | Olli Caldwell | Campos Racing | 1:37.014 | 34 |
| 20 | Guilherme Samaia | Charouz Racing System | 1:37.388 | 57 |
| 21 | Teppei Natori | Trident | 1:37.644 | 56 |
| 22 | Cem Bolukbasi | Van Amersfoort Racing | 1:38.887 | 38 |
DAY 3, AFTERNOON SESSION
| POS | DRIVER | TEAM | TIME | LAPS |
| --- | --- | --- | --- | --- |
| 1 | Felipe Drugovich | MP Motorsport | 1:36.342 | 43 |
| 2 | Jehan Daruvala | PREMA Racing | 1:36.457 | 39 |
| 3 | Dennis Hauger | PREMA Racing | 1:36.838 | 41 |
| 4 | Jüri Vips | Hitech Grand Prix | 1:37.002 | 56 |
| 5 | Roy Nissany | DAMS | 1:37.026 | 46 |
| 6 | Amaury Cordeel | Van Amersfoort Racing | 1:37.252 | 44 |
| 7 | Marcus Armstrong | Hitech Grand Prix | 1:37.379 | 50 |
| 8 | Clément Novalak | MP Motorsport | 1:37.526 | 32 |
| 9 | Juan Manuel Correa | Charouz Racing System | 1:37.759 | 50 |
| 10 | Cem Bolukbasi | Van Amersfoort Racing | 1:37.818 | 46 |
| 11 | Ayumu Iwasa | DAMS | 1:37.836 | 44 |
| 12 | Calan Williams | Trident | 1:37.946 | 55 |
| 13 | Teppei Natori | Trident | 1:38.060 | 53 |
| 14 | Olli Caldwell | Campos Racing | 1:38.139 | 35 |
| 15 | Jack Doohan | UNI-Virtuosi | 1:38.798 | 55 |
| 16 | Théo Pourchaire | ART Grand Prix | 1:39.051 | 53 |
| 17 | Logan Sargeant | Carlin | 1:39.205 | 41 |
| 18 | Liam Lawson | Carlin | 1:39.409 | 25 |
| 19 | Guilherme Samaia | Charouz Racing System | 1:39.558 | 45 |
| 20 | Marino Sato | UNI-Virtuosi | 1:39.692 | 53 |
| 21 | Frederik Vesti | ART Grand Prix | 1:39.735 | 53 |
| 22 | Ralph Boschung | Campos Racing | 1:40.233 | 12 |