MotoGP: Nicki Hayden's father dies
The late MotoGP champion Nicky Hayden's father Earl Hayden, patriarch of the Hayden motorcycle racing family and one of the most recognizable and beloved figures in motorsports, died Wednesday at the age of 74.
​​Born in Newman, Kentucky, just outside Owensboro, Earl bought his first motorcycle from a neighbor and rode it back and forth to Owensboro Catholic High School. With the help of his good friend Junior Boone, who owned a Honda shop in Owensboro, Earl began racing enduros and dirt tracks on the weekend.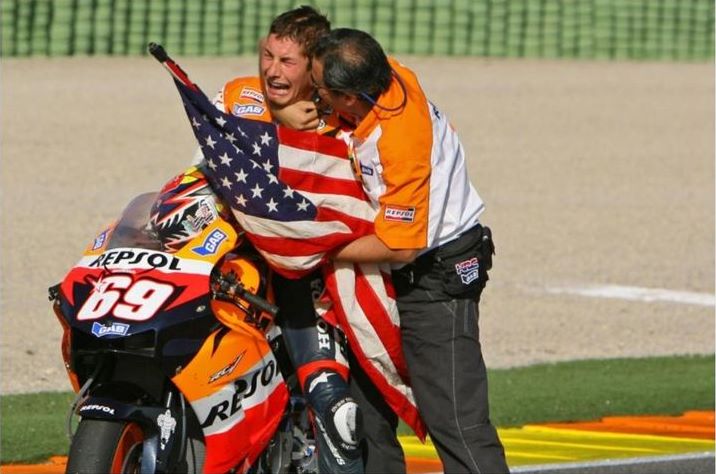 By the time he started Brescia College, where he majored in business and graduated in 1969, Earl was winning trophies. Eventually, he got his pro license and found success racing flat tracks as well.
Earl was inducted into the Kentucky Motorsports Hall of Fame Class of 2015, when he received the Pioneer Award.
Always the businessman, Earl operated a car wash, bred and sold race horses, and opened a car lot to support his 20-year racing "habit." (He never called it a "career.")  But by the time he and his wife Rose started having children, Earl decided to hang up his boots and devote his time to his children; Tommy, Jenny, Nicky, Roger, and Kathleen.
Earl and Rose built a dirt track on their property so the kids could practice as much as they pleased. Tommy started racing at Windy Hollow Raceway before he turned 3. Jenny, Nicky, and Kathleen followed, although Kathleen's racing stint soon gave way to her love for tennis. Jenny also stopped racing to focus on tennis, but by then Roger was chasing down his older brothers.
With Earl's guidance, first Tommy, then Nicky, then Roger all turned pro at 16. In 2001, the Hayden brothers made history by sweeping the podium at the Springfield (Illinois) TT, the first and only time three brothers placed 1st, 2nd, and 3rd. All three eventually became AMA champions; Nicky in 1999 (Supersport) & 2002 (Superbike), Tommy in 2004 & 2005 (Supersport), and Roger in 2007 (Supersport).
In 2003, Nicky had the opportunity to switch to MotoGP and was crowned MotoGP World Champion in 2006.
In 2010, Earl was diagnosed with throat cancer, which he beat with the help of his family and a team of doctors. After a lengthy recuperation, Earl was back at the track.
Earl released a book in 2014, entitled The First Family of Racing, which chronicles the Hayden tradition of family, faith, and racing.
Earl is survived by his wife Rose; sons Tommy and Roger; daughters Jenny and Kathleen; and several grandchildren. Earl is preceded in death by his son Nicky, who died in 2017 from an accident when was hit by a driver while riding his bicycle in Italy.