Dakar Day 1: Al-Attiyah leads over Saniz Sr.
Nasser Al-Attiyah, with six stage wins to his name last year, is a serious contender for the 44th Dakar. The Toyota driver dispelled any doubts from the get-go, beating Carlos Sainz Sr. and his hybrid Audi by a slim margin of 12 seconds in Stage 1 (Jeddah to Ha'il) of the 2022 Dakar Rally.
Al-Attiyah said: "It was a short stage today. I'm quite happy to win because it's good for our starting position tomorrow. I'm happy with the performance of our new car. The team's hard work is helping us a lot."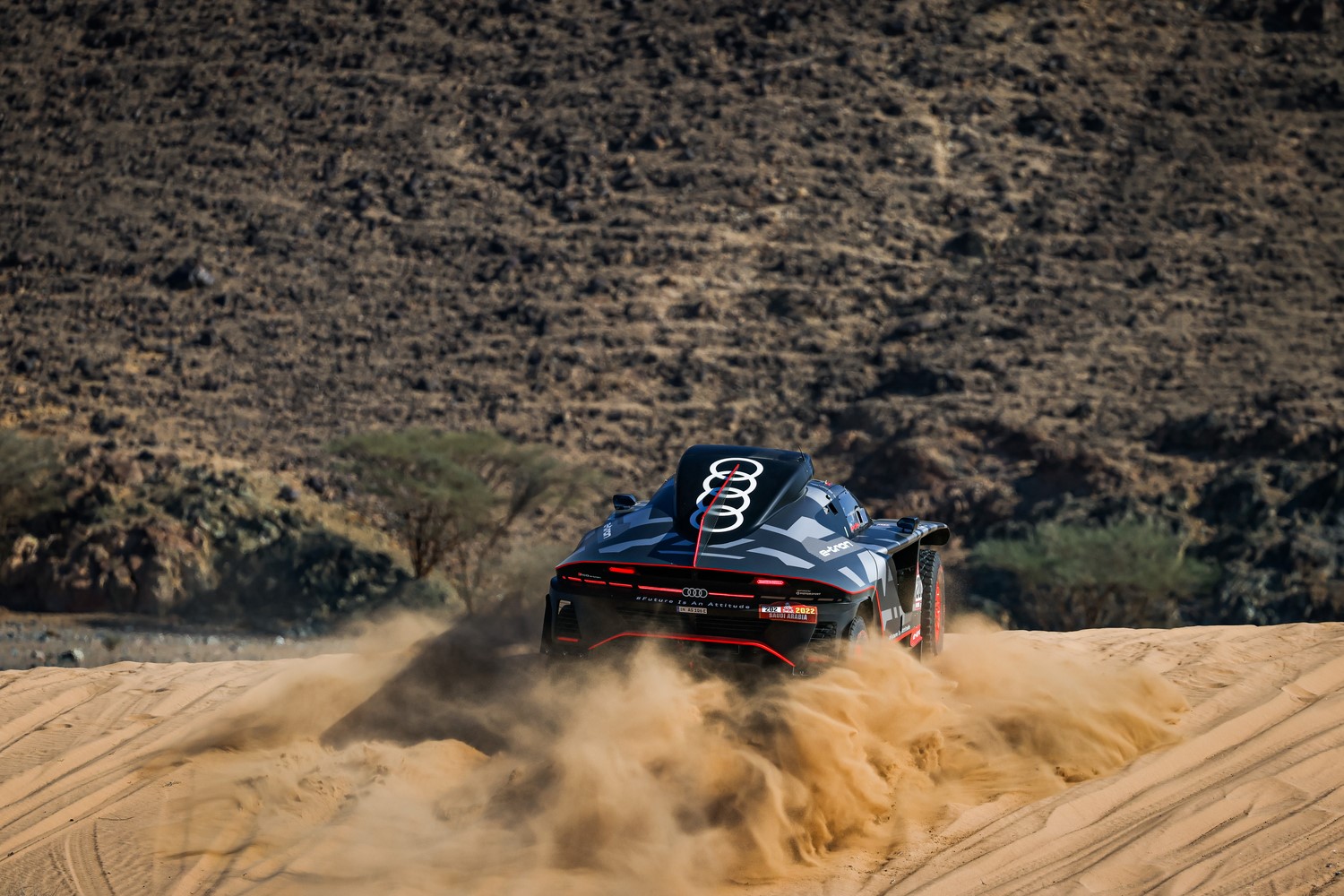 Sanz said: "It was a good prologue stage for us. The feeling was good throughout. We stayed really calm. Maybe we could have pushed a bit more, but it was the first day. Tomorrow starts the real race and we will see what our base level is."
Henk Lategan and Brian Baragwanath are tied in third and fourth place, respectively, while Sébastien Loeb drove his Hunter T1+ into fifth place.
Stéphane Peterhansel is further adrift, sitting in 14th place, behind Lucio Álvarez, after conceding over 1'12' to Al-Attiyah in 19 km of racing.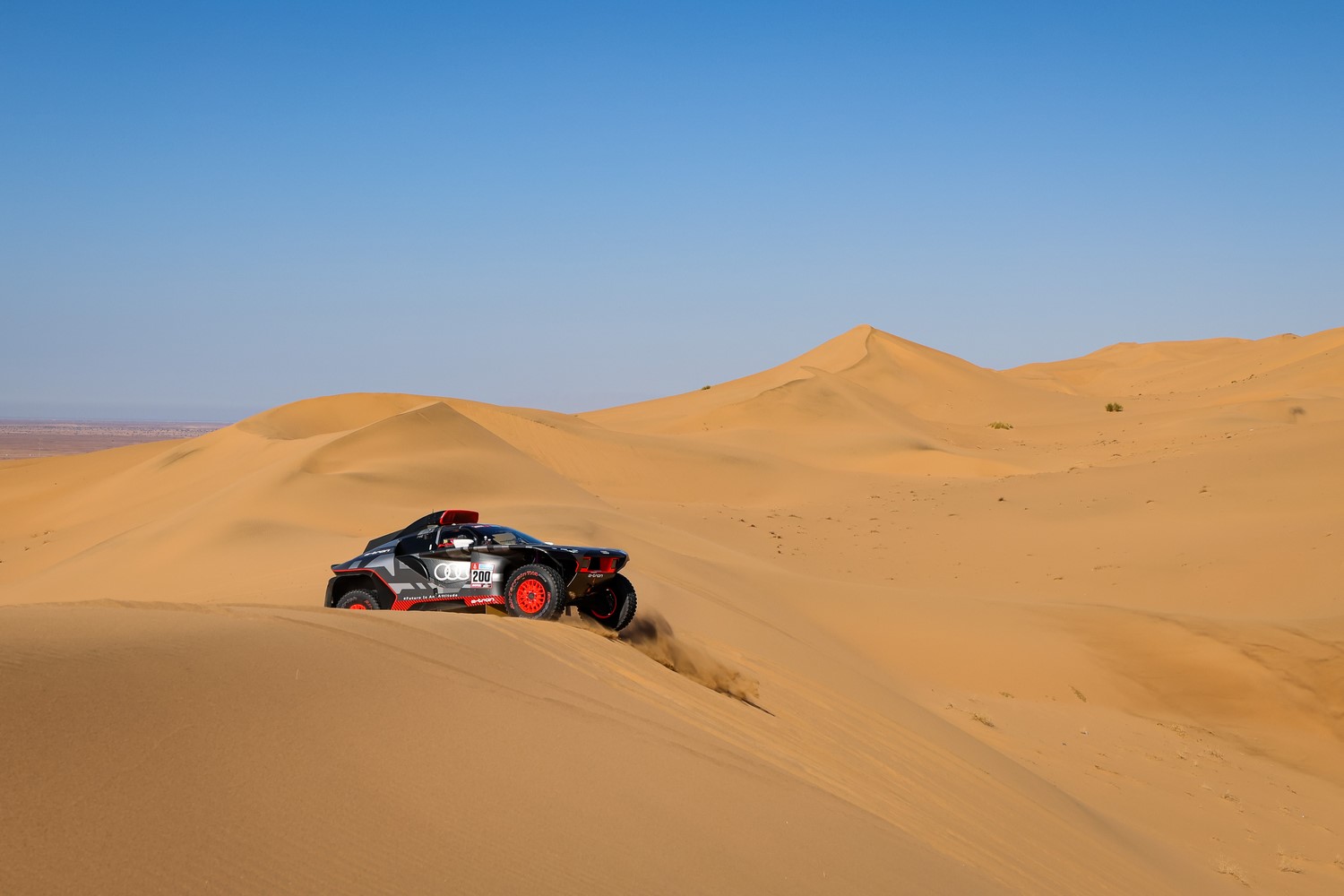 After Alexandre Pesci's Rebellion caught fire during shakedown a few days ago, his teammate Romain Dumas offered him his own vehicle to enter the Dakar. However, Dumas's good deed did not go unnoticed. In turn, Nasser Al-Attiyah decided to lend him the very same Toyota Hilux that he drove in last year's edition. Only in the Dakar!
Prologue Top-15 Results – Car
| | | | | |
| --- | --- | --- | --- | --- |
| Pos | No. | Crew | Brand | Behind |
| 1 | 201 | N. Al-Attiyah (Qat) M. Baumel (And) | Toyota Gazoo Racing | 00:00m00s |
| 2 | 202 | C. Sainz Sr. (Esp) L. Cruz (Esp) | Team Audi Sport | 00:00m12s |
| 3 | 230 | B. Baragwanath (Zaf) L. Cremer (Zaf) | Century Racing | 00:00m36s |
| 4 | 225 | H. Lategan (Zaf) B. Cummings (Zaf) | Toyota Gazoo Racing | 00:00m36s |
| 5 | 211 | S. Loeb (Fra) F. Lurquin (Bel) | Bahrain Raid Xtreme | 00:00m37s |
| 6 | 205 | Y. Al Rajhi (Sau) M. Orr (Gbr) | Overdrive Toyota | 00:00m47s |
| 7 | 204 | N. Roma (Esp) A. Haro Bravo (Esp) | Bahrain Raid Xtreme | 00:00m49s |
| 8 | 207 | G. De Villiers (Zaf) D. Murphy (Zaf) | Toyota Gazoo Racing | 00:00m50s |
| 9 | 203 | J. Przygonski (Pol) T. Gottschalk (Deu) | Orlen Team | 00:01m01s |
| 10 | 221 | O. Terranova (Arg) D. Oliveras Carreras (Esp) | Bahrain Raid Xtreme | 00:01m06s |
| 11 | 208 | V. Vasilyev () O. Uperenko (Lva) | Vrt Team | 00:01m06s |
| 12 | 217 | B. Ten Brinke (Nld) S. Delaunay (Fra) | Overdrive Toyota | 00:01m08s |
| 13 | 222 | L. Alvarez (Arg) A. Monleon (Esp) | Overdrive Toyota | 00:01m11s |
| 14 | 200 | S. Peterhansel (Fra) E. Boulanger (Fra) | Team Audi Sport | 00:01m12s |
| 15 | 224 | M. Ekstrom (Swe) E. Bergkvist (Swe) | Team Audi Sport | 00:01m14s |
Top three overall results in each category
Car
1. Nasser Al-Attiyah (QAT) Toyota Gazoo Racing 10m56s
2. Carlos Sainz (ESP) Team Audi Sport +00:12
3. Brian Baragwanath (ZAF) Century Racing +00:36
Bike
1. Daniel Sanders (AUS) Gas Gas 55m30s
2. Pablo Quintanilla (CHL) Honda Team 2022 +01:00
3. Ross Branch (BWA) Yamaha Rally Team +01:55
Truck
1. Eduard Nikolaev (RUS) Kamaz Master 13m01s
2. Dmitry Sotnikov (RUS) Kamaz Master +00:07
3. Andrey Karginov (RUS) Kamaz Master +00:15
Lightweight Prototype
1. Seth Quintero (USA) Red Bull Off-Road Junior Team 13m07s
2. Andreas Mikkelsen (NOR) Red Bull Off-Road Junior Team +00:03
3. Francisco Lopez Contardo (CHL) EKS – South Racing +00:05