Former Champ Car Series Co-Owner Kevin Kalkhoven dies at 77
(Update)
The entire Vasser Sullivan Racing organization extends its deepest condolences and sympathy to the family of Kevin Kalkhoven.
Kevin was a giant in both the technology and racing worlds and more
Importantly, a great friend.
He will be truly missed,
Statement from Jimmy Vasser
"Kevin Kalkhoven lived life to the absolute fullest.  He showed how life was to be lived. He was a great partner and dear friend. I will always miss his mischievous smile and uproarious laughter. Rest In Peace Dear Friend."
Statements from Roger Penske and Penske Entertainment Corp. President and CEO Mark Miles about the passing of Indianapolis 500-winning team owner and motorsports executive Kevin Kalkhoven, who died Jan. 4 at age 77:
Statement from Roger Penske
"Motorsports has lost one of its true leaders. Kevin Kalkhoven had a great passion for open-wheel racing, and his vision and support helped guide the sport through some turbulent times. As a leader of the Champ Car World Series, Cosworth Engineering and the KV Racing Technology team, Kevin had an incredible impact on INDYCAR. Our thoughts are with the Kalkhoven family and Kevin's many friends and colleagues that are coping with his loss."
Statement from Mark Miles, President and CEO, Penske Entertainment Corp.
"I met Kevin in 2013, and we quickly developed a personal friendship and a lot of common ground in racing. In many ways, winning that year's Indianapolis 500 with Tony Kanaan must have been the highlight of his racing life. I'm sure he didn't come back down to earth for many months. Kevin was a colorful, forceful personality who constantly brought new ideas to the table in an effort to grow the sport. I will miss him."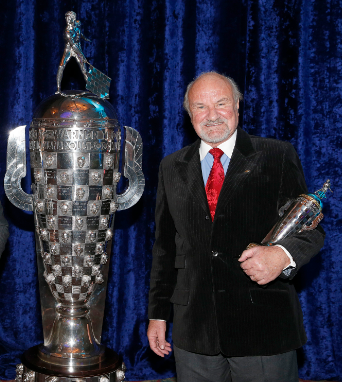 Statement from JIM MICHAELIAN, PRESIDENT and CEO of the Long Beach GP:
"The entire Grand Prix Association of Long Beach family is saddened to hear of the passing of our co-owner Kevin Kalkhoven. He has provided strong support and visionary leadership over the past 16 years and his contributions to our company as well as to the racing community will be sorely missed. Our condolences go out to his wife Kimm and all of the Kalkhoven family in these difficult times.  RIP, Kevin."
We're incredibly saddened to learn the company's former COB Kevin Kalkhoven, sadly passed away this morning, at the age of 77, following a recent illness. Read more: https://t.co/JJfM19Kjeu pic.twitter.com/GDlMQa00AG

— Cosworth (@Cosworth) January 4, 2022
---
January 4, 2022
Australian former Champ Car kingpin and Indianapolis 500-winning team owner Kevin Kalkhoven has died today at the age of 77.
Kalkhoven played a major role in the reunification of North American open-wheel racing among other racing-related ventures.
The Adelaide native was a pivotal figure in North American open-wheel racing both during and after the infamous 'split' between Champ Car and the Indy Racing League, as well as being a highly successful businessman and philanthropist.
Tony Kanaan's first Indy 500 win was the highlight of more than a decade of team ownership for Kalkhoven, who fielded teams in the Champ Car World Series and the NTT INDYCAR SERIES for many champions and stars of the sport, including Kanaan, Vasser, Will Power, Cristiano da Matta, Paul Tracy and Sebastien Bourdais. Kalkhoven's teams – known as PK Racing, PKV Racing and KV Racing Technology – earned seven victories between 2003-16 in major North American open-wheel competition.
Ownership of various racing teams was only part of Kalkhoven's deep involvement in motorsports that started after a very successful career as a business executive in fiber-optic telecommunications networks and as a venture capitalist.
KV Racing Technology (KVRT), which took its name from co-owners Kalkhoven and Jimmy Vasser, was founded in 2003 (as 'PK Racing') and would go on to win the Indianapolis 500 in 2013, with Tony Kanaan.
That was one of seven victories for the squad before it closed ahead of the 2017 season of IndyCar, to which it had moved upon unification of the series in 2008.
However, Kalkhoven's influence on motorsport can be measured far more than the bare statistics of his eponymous race team.
After CART declared bankruptcy in January 2004, he, Gerald Forsythe, and Paul Gentilozzi rescued the category by purchasing the assets and becoming the new owners of what would be known as the Champ Car World Series.
In November of that same year, Kalkhoven and Forsythe bought Cosworth Engineering from the Ford Motor Company, ensuring engine supply for the Champ Car field as well as making them players in Formula 1.
According to respected United States motorsport journalist John Oreovicz, Kalkhoven believed IRL CEO Tony George, the enemy in the open-wheeler war, had also tried to acquire Cosworth in yet another attempt to kill off Champ Car.
In February 2008, Kalkhoven and then-INDYCAR SERIES and Indianapolis Motor Speedway CEO Tony George completed extensive negotiations that reunified North American open-wheel racing after 12 years of two competing series. The final Champ Car race took place in April 2008 at Long Beach, California, an event co-owned at the time by Kalkhoven and won by Power in a KV Racing Technology entry.
Fittingly, the last ever Champ Car race, and indeed the only race for the category in 2008 as the reunification took place, was won by Will Power in a KVRT entry.
Fitting also was that said race was the Grand Prix of Long Beach, an event also co-owned by Kalkhoven through the Long Beach Grand Prix Association.
Sebastien Bourdais would be KVRT's last winner when he triumphed in Detroit in 2016, his third victory for the squad.
A week earlier, the team had fielded three cars in the Indianapolis 500, including the Pirtek Team Murray entry belonging to Speedcafe.com owner Brett 'Crusher' Murray and driven by Matthew Brabham.
Outside of motorsport, Kalkhoven made his mark as a venture capitalist and was named by Worth magazine in 2000 as one of America's top 50 CEOs.
That recognition came shortly after he oversaw the merger of technology company Uniphase Corporation with JDS FITEL, in 1999.
Kalkhoven had joined Uniphase in 1992 as president, CEO, and chairman, with the company's annual sales rate increasing over 67 times during his tenure, from $23 million in fiscal 1991 to the $394 million for the quarter ending March 31, 2000.
He was also a noted philanthropist, including serving on the board of directors of the Association of Hole in the Wall Camps, which benefits children with serious and life-threatening conditions.
Kalkhoven was 77 years of age when he passed away. Speedcafe.com
Brett Murray Remembers Kevin Kalkhoven
Brett Murray spoke fondly of that period in particular, following Kalkhoven's passing.
"Kevin Kalkhoven was one of the best people I have met in racing," he said.
"We hit it off almost immediately, and within a short time I was welcomed into his family.
"While we had some great times at race tracks around the world, the adventures we had away from the track were almost the stuff of legend.
"KK was amazingly generous with his resources and his time.
"When I put together PIRTEK Team Murray for the 100th Indy 500, there was really only one team we were ever going to partner with.
"Kevin was excited at what I was trying to achieve and helped me with every resource to ensure we made it to the grid and had the equipment to finish the race.
"He was like a racing 'father' to me, which makes this news even more difficult the day I say goodbye to my own father in Australia.
"COVID robbed us of time together in the last couple of years, but one of our most recent holidays together in Port Douglas will remain one of many highlights.
"My love and condolences to Kimberly and Kevin's wide extended family."