Dakar Day 5: Al-Rajhi penalty makes Al-Attiyah the winner
4 seems to be the magic number today! Nasser Al-Attiyah (Toyota shown above) won stage 4 ahead of his closest rival in the general standings, Sébastian Loeb (Prodrive), Carlos Sainz (Audi) and Yasir Seaidan (Mini). All in all, 4 constructors in the top 4!
Initially, Yazeed Al-Rajhi was savoring a triumph on home turf. Nasser Al-Attiyah finished right behind the Saudi to add 25 seconds to his overall lead on Loeb, while Carlos Sainz ended up just outside the podium. Mathieu Serradori also made a strong impression, finishing within seven minutes of the fastest time.
However, Al-Rajhi was slapped with a two-minute penalty for speeding, enough to deprive him of the stage win and even a podium finish. Victory goes to Nasser Al-Attiyah, who will be celebrating his 44th career win in stage 4 of the 44th Dakar. It all adds up!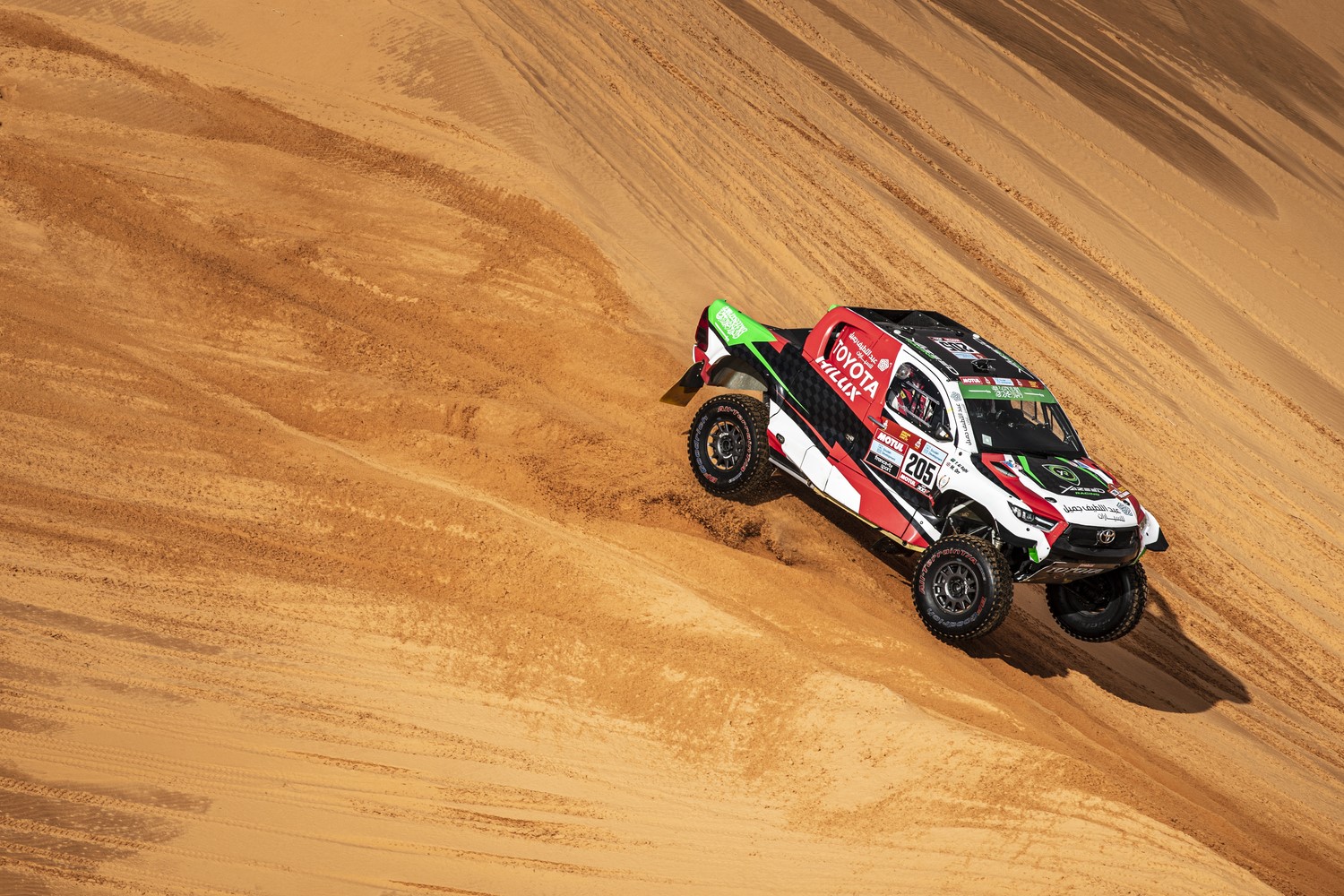 Day 5 Top-10 Results
| | | | | | |
| --- | --- | --- | --- | --- | --- |
| Pos | No. | Driver/Navigator | Team | Time | Gap |
| 1 | 201 | N. Al-Attiyah (Qat)/M. Baumel (And) | Toyota Gazoo Racing | 03:54:40 | 0:00:00 |
| 2 | 211 | S. Loeb (Fra)/F. Lurquin (Bel) | Bahrain Raid Xtreme | 03:55:05 | 0:00:25 |
| 3 | 202 | C. Sainz (Esp)/L. Cruz (Esp) | Team Audi Sport | 03:55:32 | 0:00:52 |
| 4 | 218 | Y. Seaidan (Sau)/A. Kuzmich (Raf) | X-Raid Mini Jcw Team | 03:56:14 | 0:01:34 |
| 5 | 205 | Y. Al Rajhi (Sau)/M. Orr (Gbr) | Overdrive Toyota | 03:56:26 | 0:01:46 |
| 6 | 207 | G. De Villiers (Zaf)/D. Murphy (Zaf) | Toyota Gazoo Racing | 03:58:35 | 0:03:55 |
| 7 | 203 | J. Przygonski (Pol)/T. Gottschalk (Deu) | X-Raid Mini Jcw Team | 03:59:50 | 0:05:10 |
| 8 | 217 | B. Ten Brinke (Nld)/S. Delaunay (Fra) | Overdrive Toyota | 04:00:47 | 0:06:07 |
| 9 | 212 | M. Serradori (Fra)/L. Minaudier (Fra) | Srt Racing | 04:01:23 | 0:06:43 |
| 10 | 222 | L. Alvarez (Arg)/A. Monleon (Esp) | Overdrive Toyota | 04:06:32 | 0:11:52 |
Overall Standings After Day 5
| | | | | | |
| --- | --- | --- | --- | --- | --- |
| Pos | No. | Driver/Navigator | Team | Time | Gap |
| 1 | 201 | N. Al-Attiyah (Qat)/M. Baumel (And) | Toyota Gazoo Racing | 13:26:02 | 0:00:00 |
| 2 | 211 | S. Loeb (Fra)/F. Lurquin (Bel) | Bahrain Raid Xtreme | 14:04:07 | 0:38:05 |
| 3 | 205 | Y. Al Rajhi (Sau)/M. Orr (Gbr) | Overdrive Toyota | 14:15:17 | 0:49:15 |
| 4 | 207 | G. De Villiers (Zaf)/D. Murphy (Zaf) | Toyota Gazoo Racing | 14:15:19 | 0:49:17 |
| 5 | 222 | L. Alvarez (Arg)/A. Monleon (Esp) | Overdrive Toyota | 14:20:00 | 0:53:58 |
| 6 | 208 | V. Vasilyev (Raf)/O. Uperenko (Lva) | Vrt Team | 14:29:54 | 1:03:52 |
| 7 | 203 | J. Przygonski (Pol)/T. Gottschalk (Deu) | X-Raid Mini Jcw Team | 14:37:59 | 1:11:57 |
| 8 | 223 | S. Halpern (Arg)/B. Graue (Arg) | X-Raid Mini Jcw Team | 14:43:25 | 1:17:23 |
| 9 | 209 | M. Prokop (Cze)/V. Chytka (Cze) | Benzina Orlen Team | 14:46:28 | 1:20:26 |
| 10 | 221 | O. Terranova (Arg)/D. Oliveras Carreras (Esp) | Bahrain Raid Xtreme | 14:49:44 | 1:23:42 |