Dakar Day 6: Henk Lategan wins Stage 5
After having driven for a long time with his door open, Henk Lategan has just reached the finishing line and the South African has deprived WRC legend Sébastien Loeb of victory, beating him by 1'58''.
Lategan, who has often met with bad luck since his participation on the Dakar last year, has picked up his very first success. This time he Capitalized on his rivals' misfortune, scoring a stage win in only his second appearance in Dakar, beating the Prodrive/Bahrain car of Loeb by just under two minutes.
Lucio Alvarez has climbed on to the third step of the day's podium, though Mathieu Serradori misses out on the top 3 by just 14 seconds.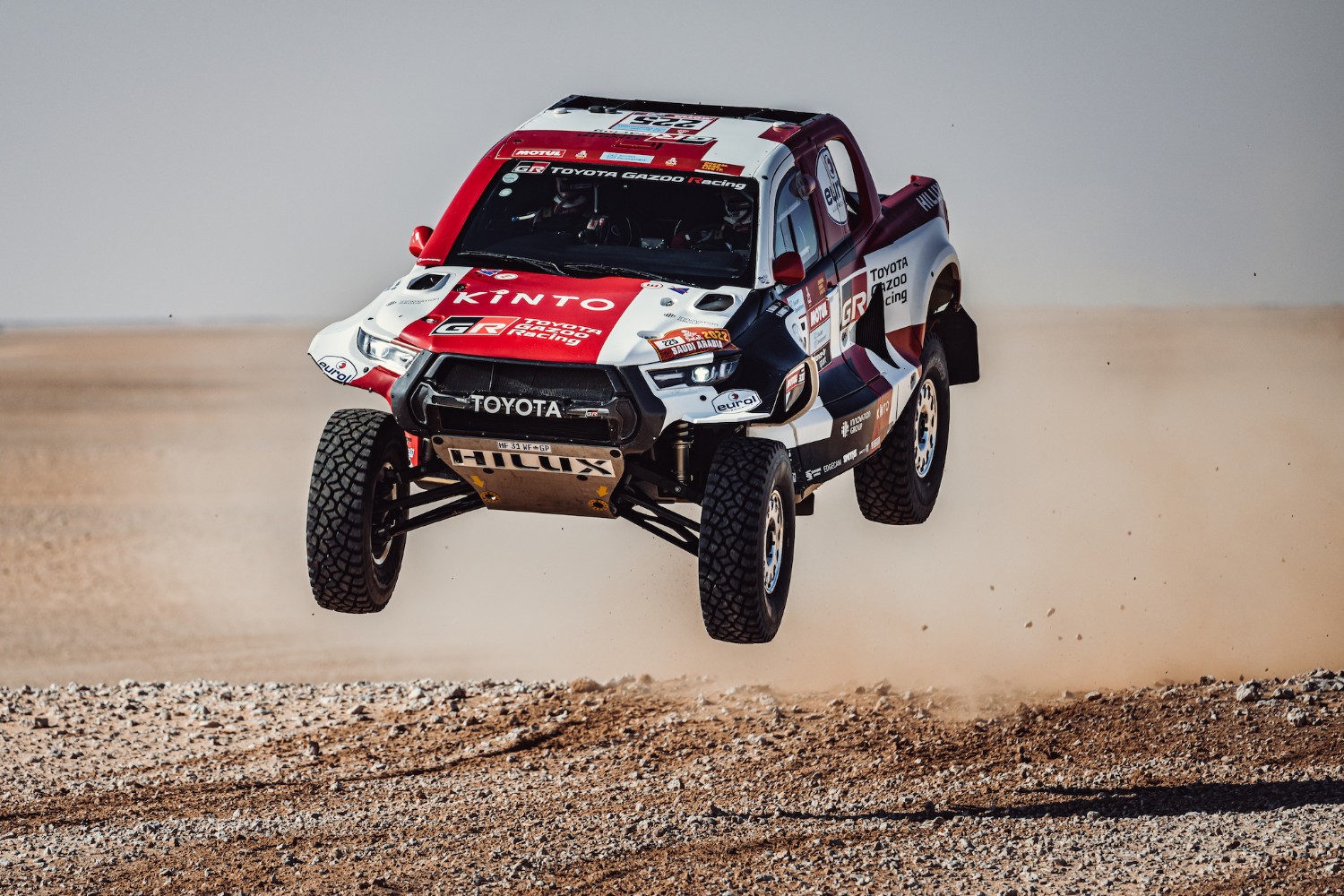 Sainz's Audi came to a halt 201km into the stage with suspension problems, forcing him to call upon teammate Peterhansel for help.
The Spaniard had been running as high as fifth at the fourth checkpoint, just over three minutes behind the leaders.
Apart from Sainz, several other notable contenders including de Villiers, stage winner Lategan and Prodrive's Nani Roma sit outside the top 20 going into Friday's sixth stage, which will also take place near the Saudi capital.
Day 6 Stage 5 Car Top-10
Pos.
No.
Driver/Navigator
Team
Time
Gap
1
225
(Zaf) Henk Lategan

(Zaf) Brett Cummings

Toyota Gazoo Racing
03H 53′ 28"
2
211
(Fra) Sebastien Loeb

(Bel) Fabian Lurquin

Bahrain Raid Xtreme
03H 55′ 26"
+ 00H 01′ 58"
3
222
(Arg) Lucio Alvarez

(Esp) Armand Monleon

Overdrive Toyota
03H 55′ 38"
+ 00H 02′ 10"
4
212
(Fra) Mathieu Serradori

(Fra) Loic Minaudier

Srt Racing
03H 55′ 52"
+ 00H 02′ 24"
5
226
(Fra) Guerlain Chicherit

(Fra) Alex Winocq

Gck Motorsport
03H 56′ 27"
+ 00H 02′ 59"
6
203
(Pol) Jakub Przygonski

(Deu) Timo Gottschalk

X-Raid Mini Jcw Team
03H 56′ 48"
+ 00H 03′ 20"
7
207
(Zaf) Giniel De Villiers

(Zaf) Dennis Murphy

Toyota Gazoo Racing
03H 57′ 57"
+ 00H 04′ 29"
8
201
(Qat) Nasser Al-Attiyah

(And) Matthieu Baumel

Toyota Gazoo Racing
03H 58′ 21"
+ 00H 04′ 53"
9
221
(Arg) Orlando Terranova

(Esp) Daniel Oliveras Carreras

Bahrain Raid Xtreme
03H 59′ 55"
+ 00H 06′ 27"
10
253
(Zaf) Christiaan Visser

(Zaf) Rodney Burke

Century Racing
04H 00′ 37"
+ 00H 07′ 09"
Top-10 Overall after Day 6 Stage 5
Pos.
No.
Driver/Navigator
Team
Time
Gap
1
201
(Qat) Nasser Al-Attiyah

(And) Matthieu Baumel

Toyota Gazoo Racing
17H 24′ 23"
2
211
(Fra) Sebastien Loeb

(Bel) Fabian Lurquin

Bahrain Raid Xtreme
17H 59′ 33"
+ 00H 35′ 10"
3
222
(Arg) Lucio Alvarez

(Esp) Armand Monleon

Overdrive Toyota
18H 15′ 38"
+ 00H 51′ 15"
4
205
(Sau) Yazeed Al Rajhi

(Gbr) Michael Orr

Overdrive Toyota
18H 30′ 46"
+ 01H 06′ 23"
5
208
(Raf) Vladimir Vasilyev

(Lva) Oleg Uperenko

VRT Team
18H 32′ 15"
+ 01H 07′ 52"
6
203
(Pol) Jakub Przygonski

(Deu) Timo Gottschalk

X-Raid Mini Jcw Team
18H 34′ 47"
+ 01H 10′ 24"
7
223
(Arg) Sebastian Halpern

(Arg) Bernardo Graue

X-Raid Mini Jcw Team
18H 46′ 24"
+ 01H 22′ 01"
8
221
(Arg) Orlando Terranova

(Esp) Daniel Oliveras Carreras

Bahrain Raid Xtreme
18H 49′ 39"
+ 01H 25′ 16"
9
209
(Cze) Martin Prokop

(Cze) Viktor Chytka

Benzina Orlen Team
18H 55′ 24"
+ 01H 31′ 01"
10
212
(Fra) Mathieu Serradori

(Fra) Loic Minaudier

SRT Racing
19H 32′ 12"
+ 02H 07′ 49"