Dakar Stage 7: Second win of the year for Loeb
Sébastien Loeb claimed today's special and gained over five minutes from Nasser Al-Attiyah in the fight for the overall.
The Frenchman's sixteenth career win makes him the tenth most prolific stage winner of all time, right behind Giniel De Villiers with seventeen. Yazeed Al-Rajhi finished on the bottom step of the stage podium.
Loeb led pretty much all the way in this Stage.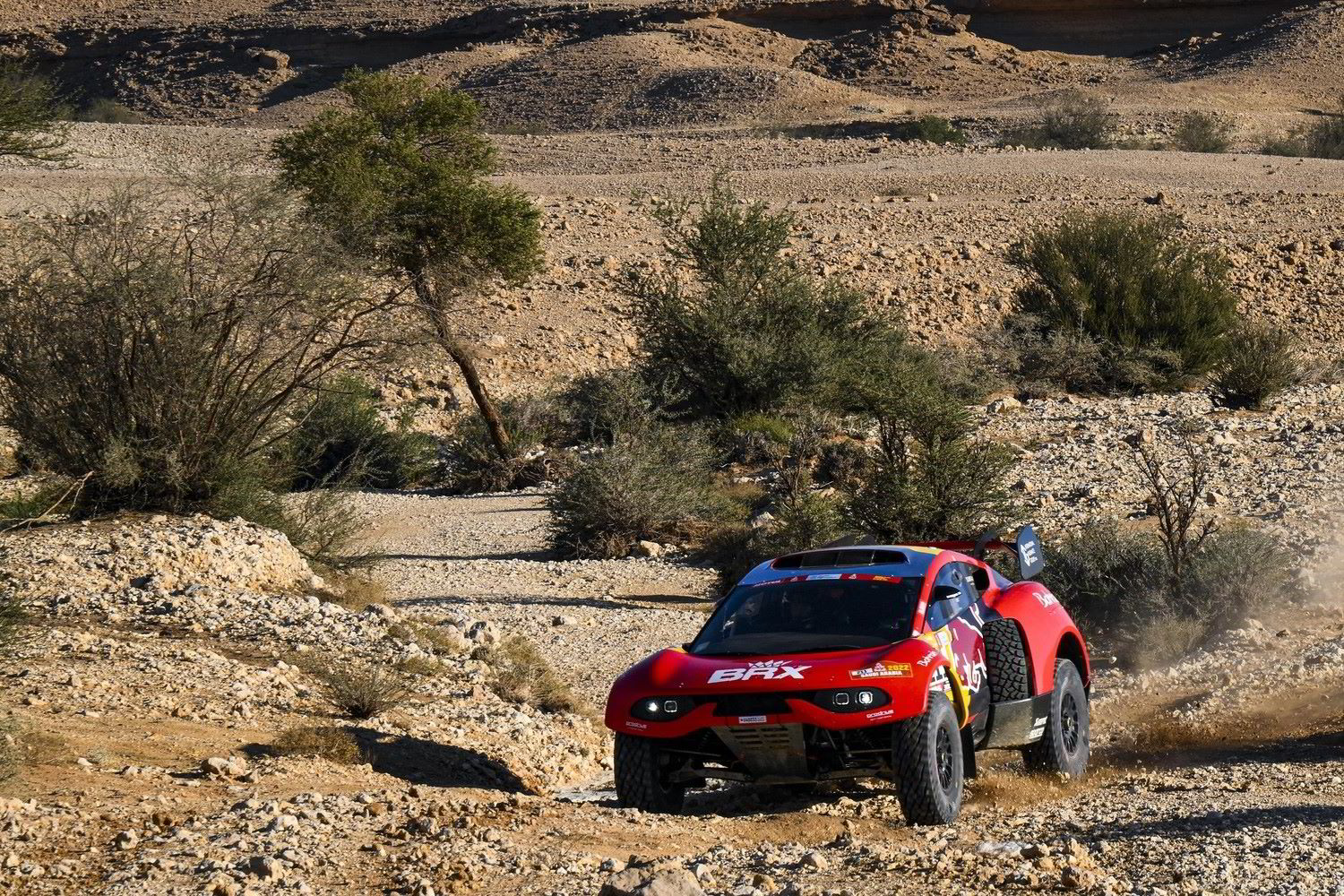 Giniel De Villiers, who moved back within a minute of Sébastien Loeb after his 5-hour penalty was rescinded on Friday evening, was been hit by a mechanical 198 km into today's special.
Teammate Henk Lategan rushed to his rescue, but the whole fracas has set De Villiers back almost an hour. What a disaster!
Stage 7 Car Results – Top 10
| | | | | | |
| --- | --- | --- | --- | --- | --- |
| Pos | No. | Driver/Navigator | Team | Time | Gap |
| 1 | 211 | S. Loeb (Fra)/F. Lurquin (Bel) | Bahrain Raid Xtreme | 03:09:32 | 0:00:00 |
| 2 | 201 | N. Al-Attiyah (Qat)/M. Baumel (And) | Toyota Gazoo Racing | 03:14:58 | 0:05:26 |
| 3 | 202 | C. Sainz (Esp)/L. Cruz (Esp) | Team Audi Sport | 03:17:15 | 0:07:43 |
| 4 | 200 | S. Peterhansel (Fra)/E. Boulanger (Fra) | Team Audi Sport | 03:19:12 | 0:09:40 |
| 5 | 205 | Y. Al Rajhi (Sau)/M. Orr (Gbr) | Overdrive Toyota | 03:19:35 | 0:10:03 |
| 6 | 217 | B. Ten Brinke (Nld)/S. Delaunay (Fra) | Overdrive Toyota | 03:22:26 | 0:12:54 |
| 7 | 222 | L. Alvarez (Arg)/A. Monleon (Esp) | Overdrive Toyota | 03:23:09 | 0:13:37 |
| 8 | 224 | M. Ekstrom (Swe)/E. Bergkvist (Swe) | Team Audi Sport | 03:24:14 | 0:14:42 |
| 9 | 204 | N. Roma (Esp)/A. Haro Bravo (Esp) | Bahrain Raid Xtreme | 03:25:22 | 0:15:50 |
| 10 | 208 | V. Vasilyev (Raf)/O. Uperenko (Lva) | Vrt Team | 03:27:37 | 0:18:05 |
Overall Car Standings after Stage 7
| | | | | | |
| --- | --- | --- | --- | --- | --- |
| Pos | No. | Driver/Navigator | Team | Time | Gap |
| 1 | 201 | N. Al-Attiyah (Qat)/M. Baumel (And) | Toyota Gazoo Racing | 23:52:22 | 0:00:00 |
| 2 | 211 | S. Loeb (Fra)/F. Lurquin (Bel) | Bahrain Raid Xtreme | 24:37:21 | 0:44:59 |
| 3 | 205 | Y. Al Rajhi (Sau)/M. Orr (Gbr) | Overdrive Toyota | 24:45:53 | 0:53:31 |
| 4 | 222 | L. Alvarez (Arg)/A. Monleon (Esp) | Overdrive Toyota | 25:07:31 | 1:15:09 |
| 5 | 203 | J. Przygonski (Pol)/T. Gottschalk (Deu) | X-Raid Mini Jcw Team | 25:22:26 | 1:30:04 |
| 6 | 221 | O. Terranova (Arg)/D. Oliveras Carreras (Esp) | Bahrain Raid Xtreme | 25:29:17 | 1:36:55 |
| 7 | 208 | V. Vasilyev (Raf)/O. Uperenko (Lva) | Vrt Team | 25:32:09 | 1:39:47 |
| 8 | 209 | M. Prokop (Cze)/V. Chytka (Cze) | Benzina Orlen Team | 25:37:10 | 1:44:48 |
| 9 | 223 | S. Halpern (Arg)/B. Graue (Arg) | X-Raid Mini Jcw Team | 25:50:46 | 1:58:24 |
| 10 | 234 | V. Zala (Ltu)/P. Fiuza (Prt) | Teltonika Racing | 26:21:13 | 2:28:51 |