Dakar: Ekstrom wins Stage 8, overall leader Al-Attiyah falters
Four days after Henk Lategan's consecration, the Dakar has welcomed another stage winner to its roll of honor and the 93rd in the race's history.
Before starting the 2022 edition, Mattias Ekström, like his rival at Toyota, had only experienced the Dakar once previously, which he also prematurely exited before the final finishing line.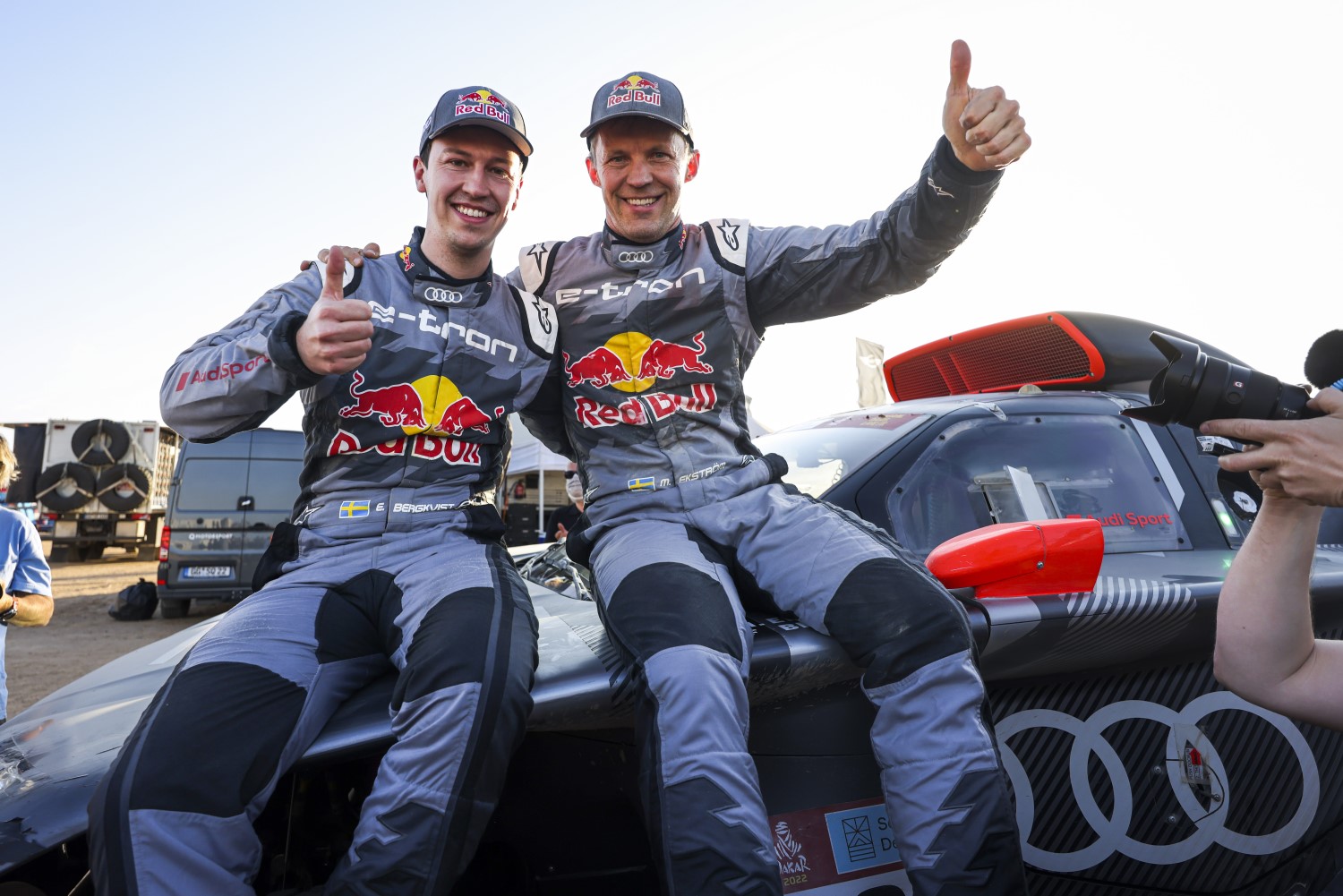 However, the comparison ends there because the Swedish driver first tried his hand at the T3 category, whilst the South African was already driving a Toyota Hilux. What's more, in Wadi Ad Dawasir, Ekström's success is the symbol of a technological revolution.
The RS Q e-tron designed by Audi had already displayed its performance capabilities when driven to triumph by stage success collector Carlos Sainz on special number 3. Today, the former rally-cross world champion (in 2016) triumphed with the honor of leading a high-level collective performance as the Dakar came very close to celebrating a 100% Audi podium, with Peterhansel finishing 2nd and Sébastien Loeb depriving Sainz of 3rd place by just three seconds.
Nasser Al-Attiyah's breathing space is even more comfortable, but he might now be sleeping slightly less easily. Firstly, because his nearest pursuer is called Sébastien Loeb, who is the kind of man who does not give up. Even when driving conservatively after a puncture and then a lost spare wheel (see Quote of the day), the Frenchman still managed to regain seven minutes on the leader.
Secondly, the Qatari is not safe from a mishap himself, as illustrated today when he received a major fright due to a broken rear transmission forcing him to finish the stage with two-wheel drive.
This is a timely warning to the race leader and he will no doubt have in mind that the Audis will make life much more difficult for him next year. The three Q RS e-trons can no longer bother him in the general rankings but were driven into three of the top four places on the day's stage, led by Mattias Ekström (see Performance of the day).
ADVANTAGE LOEB
Sébastien Loeb's counterattack on the day's stage was not in vain on all fronts. The second placed driver in the general rankings was the quickest of the participants in the world rally-raid championship. The five points he won have enabled him to overtake Al-Attiyah and the score is 28-25, with the ball in Loeb's court tomorrow morning!
QUOTES
Mattias Ekström: "I was careful in the dunes, maybe a bit too slow. After that we felt more confident with the track. I enjoyed the ride and Emil did fantastic navigation the whole stage."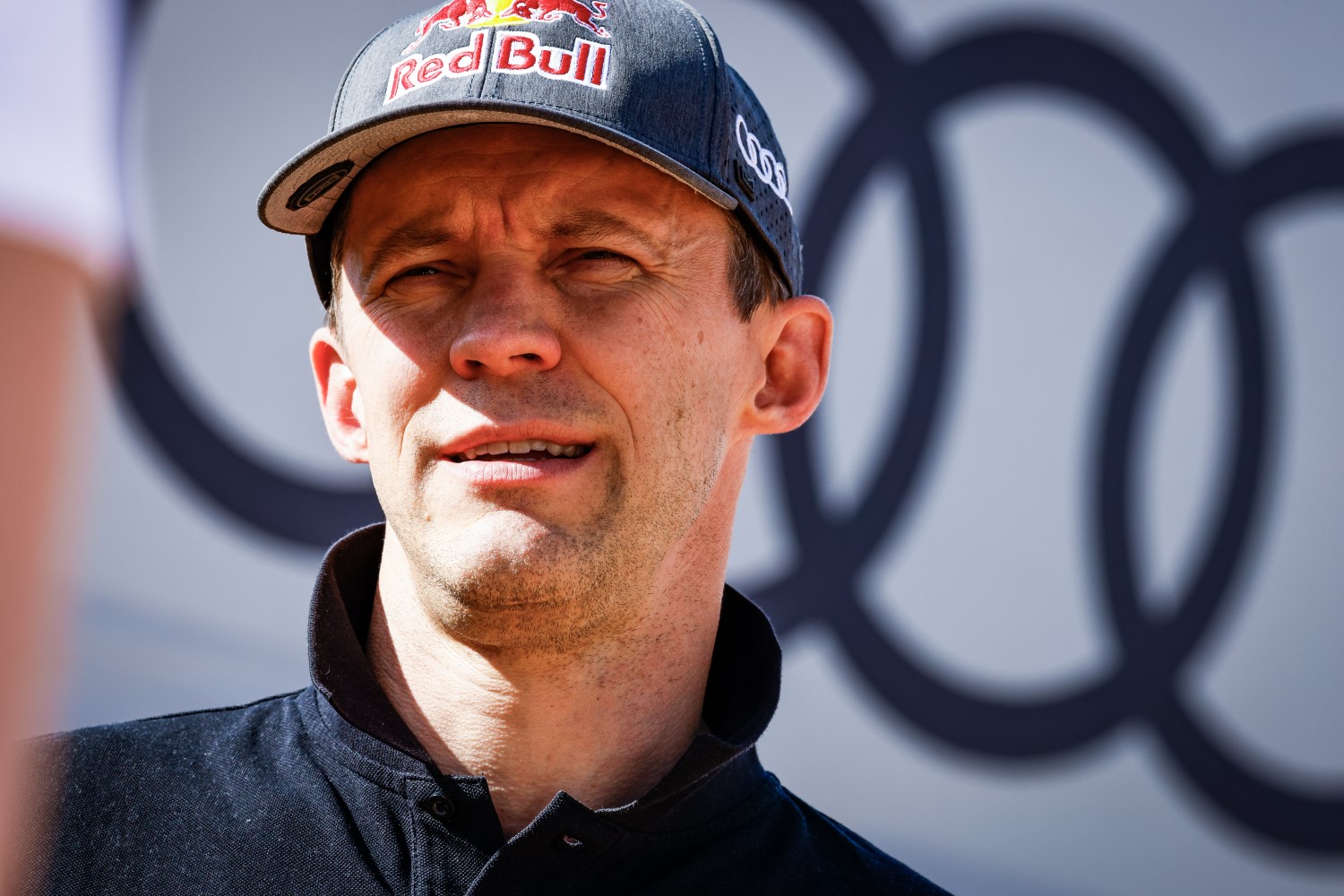 Stéphane Peterhansel: "We broke the bonnet while jumping the dunes so it was necessary to stop and get that fixed. It is a pleasure to drive this car and we are all working hard to improve the performance."
Carlos Sainz: "It was a really good day for Audi with the victory of Mattias. Stéphane came second and I nearly missed third place by three seconds. Considering I had two slow punctures I think our time was good."
Sébastien Loeb: "We pushed really hard from the start until the end. We wanted to stay ahead and not have Nasser following. We had one puncture and changed the wheel quickly. Then we lost our last spare wheel, so I controlled things after that. I think we still did a good stage."
Nasser Al-Attiyah: "We only had front wheel drive for the last 350km of the stage. I was scared we would get more problems but then decided to push for the last 50km."
Stage 8 Car Top-10 Results
| | | | | | |
| --- | --- | --- | --- | --- | --- |
| Pos. | No. | Driver/Navigator | Team | Time | Gap |
| 1 | 224 | (Swe) Mattias Ekstrom/(Swe) Emil Bergkvist | Team Audi Sport | 03H 43′ 21" | + 00H 00' 00" |
| 2 | 200 | (Fra) Stéphane Peterhansel/(Fra) Edouard Boulanger | Team Audi Sport | 03H 44′ 10" | + 00H 00′ 49" |
| 3 | 211 | (Fra) Sebastien Loeb/(Bel) Fabian Lurquin | Bahrain Raid Xtreme | 03H 46′ 29" | + 00H 03′ 08" |
| 4 | 202 | (Esp) Carlos Sainz/(Esp) Lucas Cruz | Team Audi Sport | 03H 46′ 32" | + 00H 03′ 11" |
| 5 | 225 | (Zaf) Henk Lategan/(Zaf) Brett Cummings | Toyota Gazoo Racing | 03H 46′ 41" | + 00H 03′ 20" |
| 6 | 221 | (Arg) Orlando Terranova/(Esp) Daniel Oliveras Carreras | Bahrain Raid Xtreme | 03H 48′ 14" | + 00H 04′ 53" |
| 7 | 212 | (Fra) Mathieu Serradori/(Fra) Loic Minaudier | Srt Racing | 03H 50′ 24" | + 00H 07′ 03" |
| 8 | 203 | (Pol) Jakub Przygonski/(Deu) Timo Gottschalk | X-Raid Mini Jcw Team | 03H 51′ 32" | + 00H 08′ 11" |
| 9 | 207 | (Zaf) Giniel De Villiers/(Zaf) Dennis Murphy | Toyota Gazoo Racing | 03H 52′ 21" | + 00H 09′ 00" |
| 10 | 205 | (Sau) Yazeed Al Rajhi/(Gbr) Michael Orr | Overdrive Toyota | 03H 53′ 12" | + 00H 09′ 51" |
Overall Car Standings after Stage 8
| | | | | | |
| --- | --- | --- | --- | --- | --- |
| Pos. | No. | Driver/Navigator | Team | Time | Gap |
| 1 | 201 | (Qat) Nasser Al-Attiyah/(And) Matthieu Baumel | Toyota Gazoo Racing | 27H 45′ 52" | + 00H 00' 00" |
| 2 | 211 | (Fra) Sebastien Loeb/(Bel) Fabian Lurquin | Bahrain Raid Xtreme | 28H 23′ 50" | + 00H 37′ 58" |
| 3 | 205 | (Sau) Yazeed Al Rajhi/(Gbr) Michael Orr | Overdrive Toyota | 28H 39′ 05" | + 00H 53′ 13" |
| 4 | 203 | (Pol) Jakub Przygonski/(Deu) Timo Gottschalk | X-Raid Mini Jcw Team | 29H 13′ 58" | + 01H 28′ 06" |
| 5 | 221 | (Arg) Orlando Terranova/(Esp) Daniel Oliveras Carreras | Bahrain Raid Xtreme | 29H 17′ 31" | + 01H 31′ 39" |
| 6 | 208 | (Raf) Vladimir Vasilyev/(Lva) Oleg Uperenko | Vrt Team | 29H 26′ 49" | + 01H 40′ 57" |
| 7 | 207 | (Zaf) Giniel De Villiers/(Zaf) Dennis Murphy | Toyota Gazoo Racing | 29H 31′ 57" | + 01H 46′ 05" |
| 8 | 209 | (Cze) Martin Prokop/(Cze) Viktor Chytka | Benzina Orlen Team | 29H 39′ 57" | + 01H 54′ 05" |
| 9 | 223 | (Arg) Sebastian Halpern/(Arg) Bernardo Graue | X-Raid Mini Jcw Team | 29H 54′ 34" | + 02H 08′ 42" |
| 10 | 212 | (Fra) Mathieu Serradori/(Fra) Loic Minaudier | Srt Racing | 30H 17′ 23" | + 02H 31′ 31" |