WEC: Toyota, Penske and Peugeot entries headline record grid for 2022
Season 10 of the FIA World Endurance Championship will see the championship's biggest ever grid as the WEC enters new golden era.
The entry list for the 2022 FIA WEC includes 39 full-season entrants from 12 different countries, plus a record number of teams competing in Hypercar and LMP2 and categories.
Hypercar category comprises six entries (Toyota, Peugeot, Alpine and Glickenhaus)
Strongest ever LMP2 entry in WEC history (15 entries)
Chevrolet joins Ferrari and Porsche to make it a three-way manufacturer showdown in LMGTE Pro
Two female represented line-ups plus youngest-ever WEC competitor at just 16-years-old
Joint biggest-ever LMGTE Am class (13 entries)
In what will be the FIA WEC's tenth anniversary year, the world's premier international sportscar championship continues to go from strength to strength.
The introduction of the Hypercar category last season has seen an influx of manufacturers commits to the WEC with Peugeot set to join Toyota, Alpine and Glickenhaus on the grid in 2022. Audi, Porsche and Ferrari plus others will follow in the very near future.
Until then, the 2022 entry list looks extremely promising with strong manufacturer representation, world-class teams and an impressive line-up of drivers from various motorsport disciplines.
Team Penske will field a single-car LMP2 entry into the 2022 FIA World Endurance Championship in preparation for its Porsche LMDh program in 2023.
The team will field the #5 ORECA 07-Gibson, with Porsche factory drivers Felipe Nasr and Dane Cameron set to partner sportscar veteran Emmanuel Collard.
Nasr and Cameron were announced as part of Porsche's factory LMDh effort last month, which will be operated by the North American stalwarts.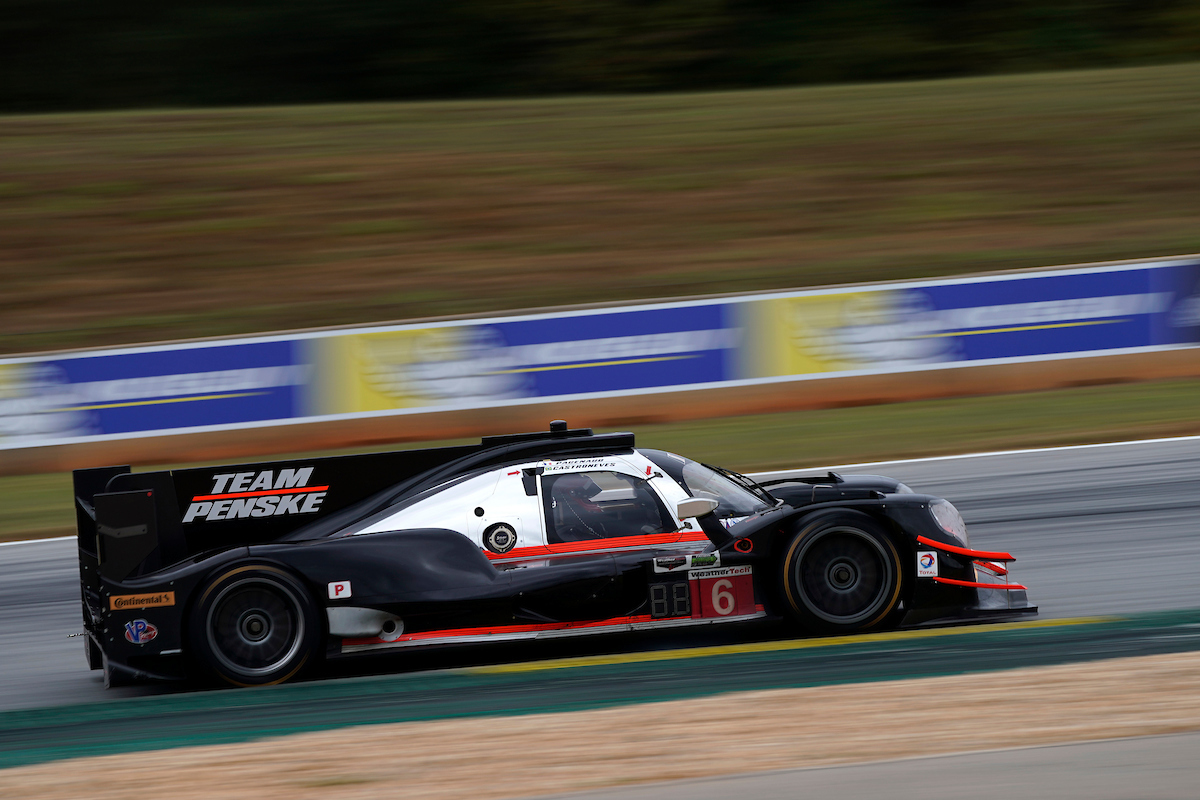 "Outside of Sebring and Spa, racing at some of these historic tracks all around the world will be a new experience for both myself and the team," said Cameron"We want to learn, but we also want to be competitive and race for class wins.
"This will also be a great opportunity to build our notebooks to be even better prepared for the future. I'm excited to race at these historic tracks against some great competition in WEC, and it's going to be incredible to compete for Team Penske at Le Mans."
The WEC will also adopt a renewable fuel for 2022: TotalEnergies' Excellium Racing 100. This will allow for greenhouse gas (GHG) emissions savings of at least 65% compared with traditional fossil fuels.
The quality and diversity of entries across all four categories will provide non-stop action throughout the six-round season which will visit North America, Europe, Middle East and Asia.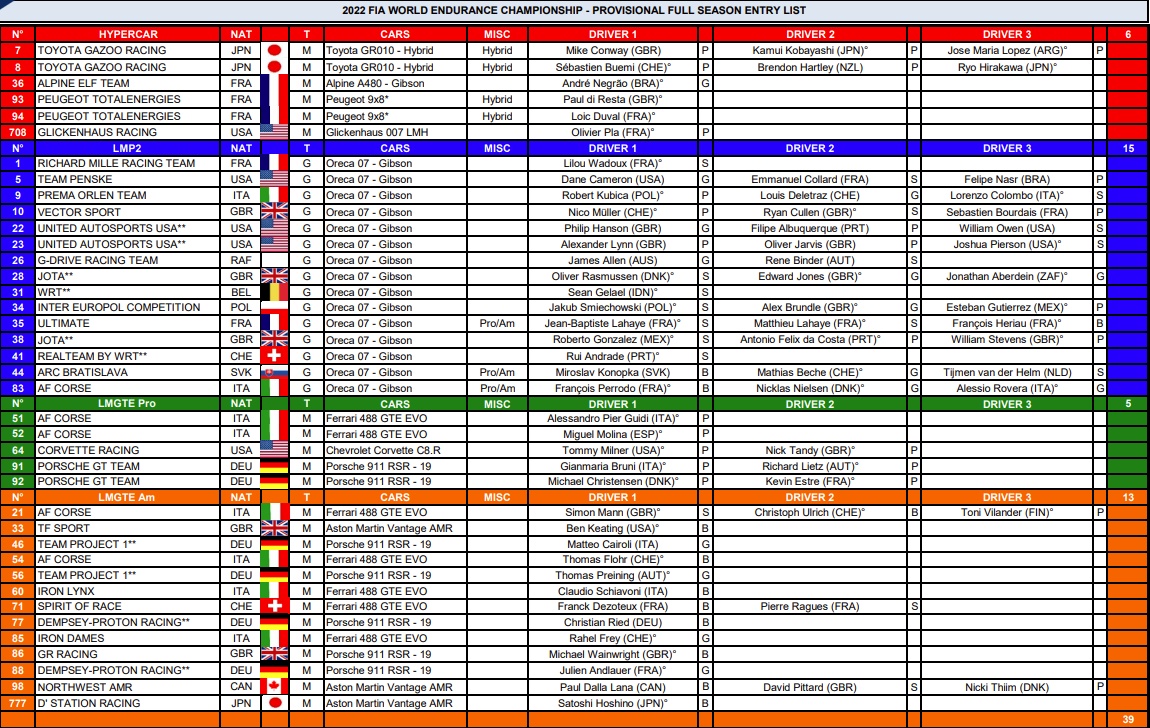 Key Facts and Figures, 2022 FIA WEC Entry List:
Thirty-nine entries representing 12 nations: Italy (8), Germany (6), Great Britain (5), USA (5), France (5), Japan (3), Switzerland (2), Poland (1), Canada (1), Belgium (1), Slovakia (1), RAF (1)
Six entries in Hypercar, 15 in LMP2, five in LMGTE Pro and 13 in LMGTE Am
Prestigious marques including Toyota, Peugeot, Chevrolet, Ferrari, Porsche, Alpine and Glickenhaus
Two female represented line-ups: Richard Mille Racing in LMP2 and Iron Dames in LMGTE Am
Hypercar
Reigning World Champions Toyota Gazoo Racing to field two Toyota GR010 Hybrids with Japan's Ryo Hirakawa replacing Kazuki Nakajima in the No. 8 car. The remainder of the team's line-up is unchanged
Peugeot TotalEnergies submit two Peugeot 9×8 Hybrid Hypercars as French manufacturer will challenge Toyota as they are set to join the grid during the season in the WEC's top-tier category
Glickenhaus Racing enters one Glickenhaus 007 LMH entry with Olivier Pla listed to drive for the American squad
Alpine ELF Team to return to WEC's top-tier category with its non-Hybrid LMP1 (Alpine A480 Gibson), using 2022 as further preparation for its LMDh campaign in 2024
The likes of Audi, Ferrari and Porsche will continue with respective development programs for Hypercar throughout the 2022 season
LMP2
Largest ever LMP2 field in WEC history with a total of 15 entries (up from 11 in 2021) from nine different nations (Belgium, France, Great Britain, Italy, Poland, RAF, Slovakia, Switzerland and USA)
Four new teams: Team Penske, Prema Orlen Team, Vector Sport and Ultimate
Star-studded names from motorsport set to compete in LMP2 including former F1 drivers Robert Kubica, Felipe Nasr, Will Stevens, Esteban Gutierrez and Sebastien Bourdais. F2's Louis Deletraz plus DTM star Nico Muller also feature on the entry list, alongside several other successful endurance racing names such as Antonio Felix da Costa, Filipe Albuquerque, Alex Brundle, Oliver Jarvis, Phil Hanson, Mathias Beche and Alex Lynn
Reigning LMP2 Champions WRT list Sean Gelael in its 2022 line-up, who transitions from JOTA
British-based teams United Autosports and JOTA both enter two-car campaigns. Will Stevens replaces Anthony Davidson in the No. 38 JOTA car
United Autosports fields youngest-ever WEC competitor: 16-year-old Josh Pierson
Richard Mille Racing Team returns with female drivers represented. Confirmed so far is French driver Lilou Wadoux
US-motorsport powerhouse Team Penske make WEC debut with Dane Cameron, Emmanuel Collard and Felipe Nasr. Team using LMP2 to prepare for its collaboration with Porsche in Hypercar
Successful Italian outfit Prema Orlen also join the WEC with strong line-up of Robert Kubica, Louis Deletraz and Lorenzo Colombo
No. 83 LMGTE Am category winning AF Corse Ferrari transition from LMGTE Am to LMP2 with François Perrodo, Nicklas Nielsen and Alessio Rovera
LMGTE Pro
Chevrolet join Ferrari and Porsche as all three marques go head-to-head in LMGTE Pro manufacturer battle
Ferrari remains most successful GTE manufacturer in WEC history, with the marque now having claimed seven titles
2018/2019 World GT Champions Porsche return with Porsche 911 RSR – 19. Only change to 2022 line-up is Michael Christensen who replaces Neel Jani in the No. 92 car
US-based team Corvette Racing list Tommy Milner (USA) and Nick Tandy (UK) to drive the Chevrolet Corvette C8.R
Corvette Racing's first full-time entry in the WEC despite being a regular at Le Mans
LMGTE Am
Multi-marque LMGTE Am field comprising of 13 entries (5 Ferrari, 5 Porsche and 3 Aston Martin cars)
Spirit of Race (Ferrari) return to the category
All-female line-up with No. 85 Iron Dames entry fronted by Rahel Frey
Popular Dane Nicki Thiim returns to the WEC with No. 98 Northwest AMR team alongside Paul Dalla Lana and David Pittard
Return of several familiar teams such as AF Corse, Dempsey-Proton Racing, Team Project 1, Iron Lynx, D'Station Racing and GR Racing
Mohammed Ben Sulayem, FIA President: "The announcement of the FIA World Endurance Championship's entry list is always an eagerly-anticipated moment. The championship continues to grow in strength and the 2022 entry list reflects this fact perfectly. The numbers are even better than last year, with top teams and world-class drivers represented across all four classes and contributing to the overall quality of the grid. In the meantime, the Hypercar category enters its second year, well-establishing as the championship's top class and providing an excellent platform for the manufacturers. Exciting times lie ahead for the championship, both this season and in the years to come and this is something very encouraging."
Pierre Fillon, President of the Automobile Club de l'Ouest: "The FIA World Endurance Championship has certainly come of age! To celebrate 10 years of the WEC, the starting grid boasts an unprecedented number of competitors. The stakes are high this year, and there are some key developments, both in sporting terms and in keeping with our CSR strategy. We are particularly proud, for example, to see the introduction of a 100% renewable biofuel, Excellium Racing 100, developed by our partner TotalEnergies. I'd like to wish all the competitors in the Hypercar, LMP2 and GTE classes an excellent season and I look forward to seeing them on 18 March for the 1000 Miles of Sebring."
Frédéric Lequien, CEO of the FIA World Endurance Championship: "What better way to celebrate the WEC's tenth anniversary than with a record-breaking number of cars on the grid. Not only do we have a strong and varied field in Hypercar and LMGTE Pro, we also see record numbers in LMP2 and LMGTE Am, which is testament to the continued growth of our championship. The future of the WEC is looking extremely bright and we're looking forward to seeing everyone in Sebring for the start of what promises to be another memorable season."