Lawson moves to Carlin for the 2022 campaign
New Zealander Liam Lawson will swap Hitech Grand Prix for Carlin in 2022, with the Red Bull junior joining Williams Academy driver Logan Sargeant at the Surrey-based outfit.
Lawson – who drove for the Alpha Tauri Formula 1 team at the 2021 Abu Dhabi Young Driver test – made his first appearance for Carlin at the Formula 2 post-season tests, finishing four of the six sessions in the top 10.
He joins Carlin on the back of a successful rookie season in F2, which saw him win the opening race and take a further two podiums to finish ninth. He dovetailed his F2 season with a title-challenging campaign in DTM, where he finished as runner-up.
"I'm super excited about the new opportunity this year," said Lawson. "The pre-season test went really, really well. It was a completely different experience to what I've been used to. The whole team is really focused on the right things and all super motivated going into the season.
"The second year is always a good step having done a year and learned a lot, so to take all of that into a new team is a great way to start."
The 19-year-old has four years of European single-seater racing under his belt, making the move from New Zealand in 2018, where he had won the 2017 NZ F1600 Championship title.
Finishing the year as vice-champion in ADAC F4, Lawson made the jump into Formula 3 with MP Motorsport and took two podiums in his maiden campaign. In the same year, Lawson finished second in Euroformula Open, with four wins, and won the Toyota Racing Series, with five wins and 11 podiums.
Switching to Hitech for his sophomore season in F3, Lawson won three times and notched six podiums, as he finished fifth.
Carlin Team Manager Trevor Carlin added: "We're really excited to have Liam join the team. He is a great talent and we've watched him with interest over the last few seasons. We're very proud and thankful that Red Bull and Rodin have entrusted us with this next stage in Liam's career.
"Liam did a great job in the post-season official tests in Abu Dhabi and slotted straight into the team. I expect him to be a championship contender this year."
Vips to remain with Hitech Grand Prix in 2022
Hitech Grand Prix have revealed that Red Bull junior Jüri Vips will remain with the team for a second season in Formula 2.
Vips' relationship with the British outfit first began in Formula 3 in 2019, where he notched one pole, three wins and a further podium, finishing fourth.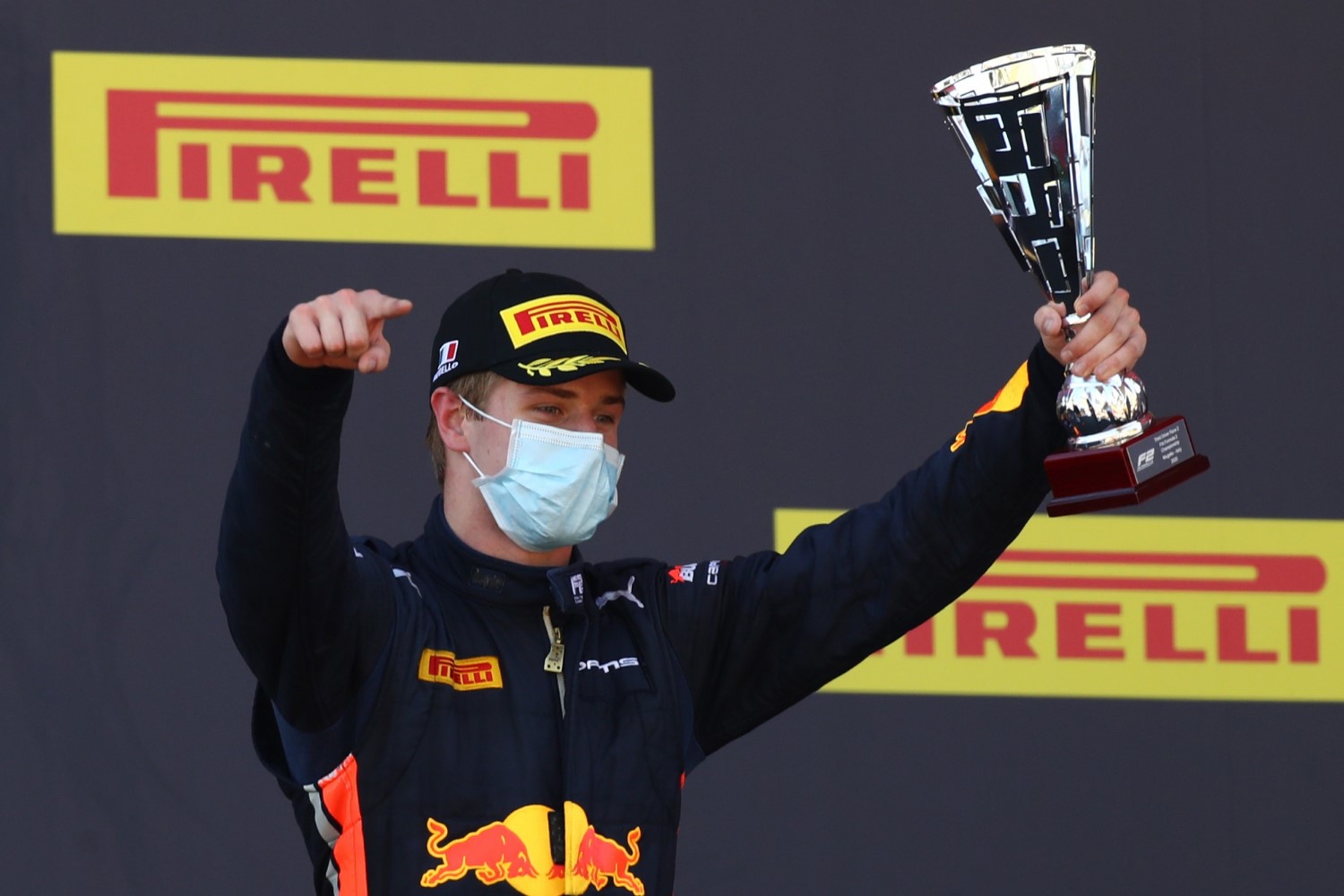 The Red Bull backed driver initially made his F2 debut in 2020, competing for four rounds with DAMS, where he took 16 points, including a podium.
Making the jump to F2 full-time for 2021 with Hitech, the Estonian became the first driver to win twice in a single weekend at Baku, taking his first victory in the second Sprint Race, before clinching the Feature Race win to boot.
Scoring four further podiums throughout the year, the 21-year-old ended his first full campaign in sixth, before taking on Formula 1 machinery with Red Bull at the Young Driver Test in Abu Dhabi.
"I'm thrilled to be joining Hitech for another year," said Vips. "We built a strong relationship in 2021, which enabled me to get to grips with the car and work closely with the team to ensure we gave our very best throughout the season.
"I'm looking forward to fighting for more victories. Massive thanks to Red Bull for their continuous support."
With nearly six years' of single-seater experience behind him, Vips' CV also boasts race wins in European Formula 3, Italian Formula 4 and ADAC F4, while he finished as the runner-up in the 2019 Macau Grand Prix with Hitech.
Hauger and Daruvala lead new-look PREMA Racing line-up for 2022
For the first time in four years, PREMA Racing will field an all-new line-up in Formula 2, with the Italian team announcing the promotion of Formula 3 champion Dennis Hauger and the capture of 2021 race-winner Jehan Daruvala.
PREMA led 18-year-old Hauger to the F3 title last season, with the Red Bull backed driver clinching nine podiums, including four wins, and three pole positions on his way to the crown.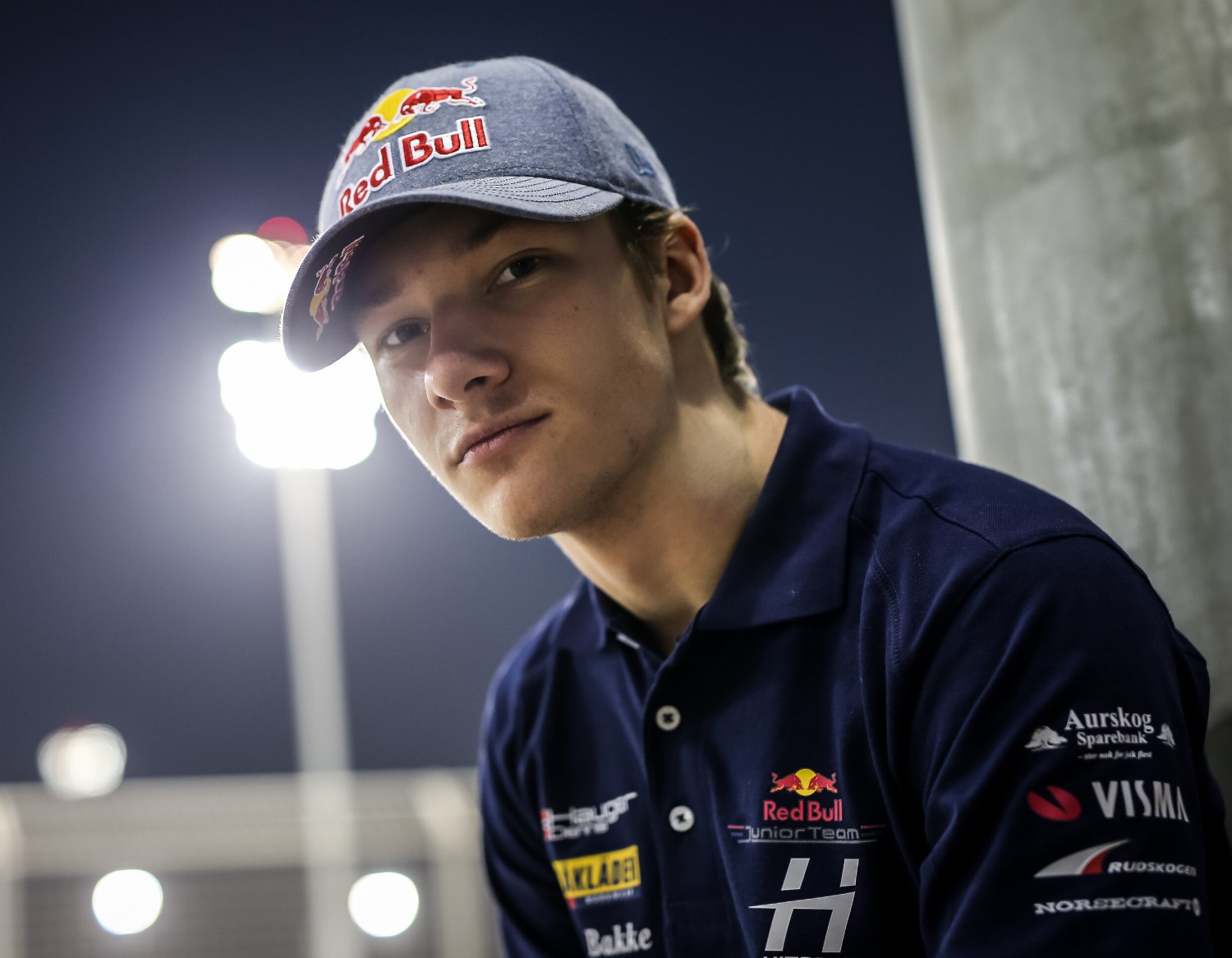 Finishing 17th with Hitech Grand Prix in 2020, Hauger had initially struggled with the step up to F3 but ended his second season with 205 points, 26 ahead of vice-champion Jack Doohan.
"I'm delighted to continue with PREMA in 2022," said Hauger, who was the 2019 Italian F4 champion. "We had a good year in 2021 with some amazing teamwork, and I really enjoyed it.
"I'm extremely happy that they keep believing in me, and I'm looking forward to carrying on the hard work we put in together this season as well."
Fellow Red Bull junior Daruvala will return to PREMA after two seasons in F2 with Carlin, having previously competed for the Italians in the 2019 F3 championship. Challenging for the title, Daruvala ended that season third with two wins and a further five podiums.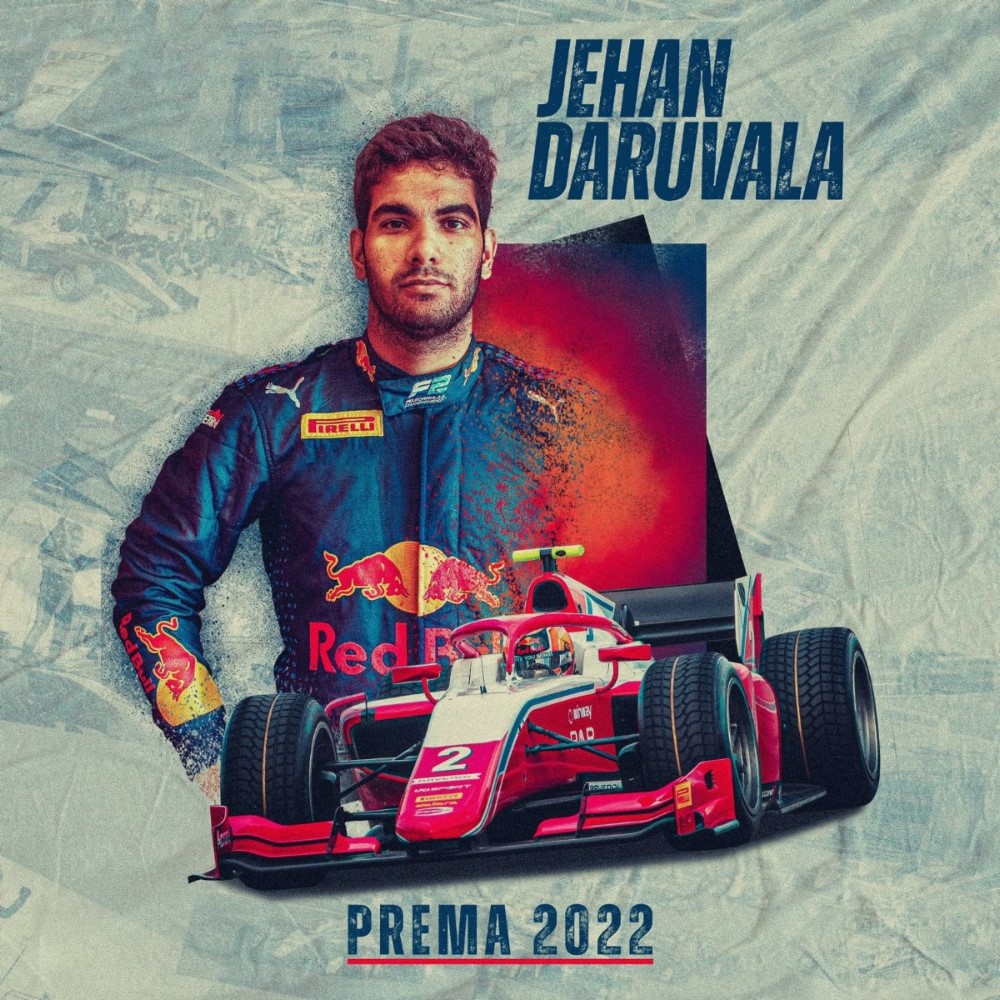 Stepping up to F2 with Carlin, Daruvala took two podiums, including a win, in his rookie year, when he finished 12th. Two more wins followed in his sophomore season, as well as an additional three podiums, with him ending 2021 seventh in the standings.
"I'm really happy to be back at PREMA and continue to be part of the Red Bull Junior Team for the 2022 FIA F2 Championship," said Daruvala. "We have worked together in the past and share a fantastic relationship.
"PREMA is a champion team and I can't wait to get started and look forward to a successful F2 campaign."
On the graduation of Hauger, Team Principal René Rosin commented: "We are delighted to continue the work we started with Dennis (Hauger) last year in F3, and that led to so many great results. Of course, being a rookie is not always straightforward.
"However, in the official postseason test, Dennis made consistent and impressive progress, and we are looking forward to a positive season together. We are also proud to work with the Red Bull Junior Team again, and hopefully, we will be able to add more chapters to our successful history together."
Discussing the return of Daruvala, Rosin added: "We have had a great relationship with Jehan (Daruvala) when we raced together in FIA F3 and we have deep respect for his skills and work ethics. I think he fits our team very well and I'm looking forward to seeing how much progress he has made in the last couple of years.
"He performed impressively in post-season testing and he has a great deal of experience also in terms of race formats and procedures. Together with the Red Bull Junior program, we will provide him with all the support he needs to pursue his goals."
Iwasa steps up from F3 to complete DAMS' 2022 line-up
Red Bull junior and Honda Formula Dream Project driver Ayumu Iwasa has joined DAMS for the 2022 campaign, graduating from Formula 3.
The 20-year-old debuted with the French team at post-season testing in Abu Dhabi and completes their line-up for the new season, joining the already announced Roy Nissany.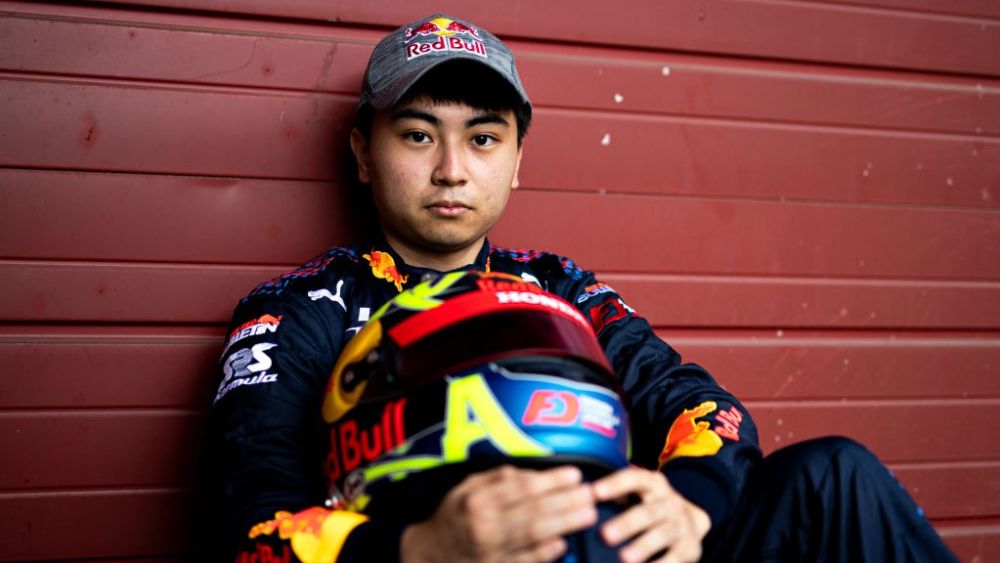 Iwasa steps up on the back of a solid rookie campaign in F3 last season with Hitech Grand Prix, where he finished 12th in the Drivers' Championship with two podiums, including a victory at Budapest.
"I'm very excited to take on my first year of F2 with DAMS," said Iwasa. "We worked together at the test in December, and I learnt a lot about the car and the team. We collected plenty of data, which will be useful ahead of the pre-season test.
"I'll be taking on some new tracks this year, which will be a challenge but I'm looking forward to developing my skills throughout the season. I used to live in Le Mans when I was racing in French F4 so it's great to be competing in F2 with a team based in the area. I can't wait to arrive in Bahrain and get back on track with DAMS for testing on 2-4 March."
In only his first season of European racing, Iwasa stormed to the 2020 French Formula 4 title with nine wins and 15 podiums.
The Japanese driver followed this up with a drive in the 2021 Asian F3 Championship, where he finished eighth with one podium, racing alongside 2022 team-mate Roy Nissany.
"We are extremely happy to welcome Ayumu to the team," said Co-Team Owners Grégory and Olivier Driot. "Ayumu started his single-seater career in Europe very successfully by winning the Formula 4 French Championship which is an impressive feat. He also had a strong first season in F3, managing to take victory in Hungary in front of some very experienced competitors last July.
"This year is going to be a whole new challenge for him in F2, but Ayumu showed during the Abu Dhabi test that he has the potential to perform at this level. For DAMS it's also very exciting to work with Red Bull, with who we have had some great success in the past, and we are proud to be starting a new partnership with Honda."
Red Bull Racing Motorsport Advisor Dr. Helmut Marko added: "We are very happy to work with DAMS again. Ayumu is a young and promising Japanese driver who we hope will be able to make his way to F1.
"He showed his talent in F3 last year, so we are confident he can have a successful F2 season. We're excited to see Ayumu's development in 2022 and looking forward to positive results on the track."
Bölükbasi joins Charouz Racing System for maiden F2 campaign
Cem Bölükbasi will make his Formula 2 debut in 2022, with Charouz Racing System announcing the Turkish driver as their first recruit of the new campaign.
Bölükbasi first tasted F2 machinery at the post-season tests in Abu Dhabi with Van Amersfoort Racing, making the step up from Euroformula Open.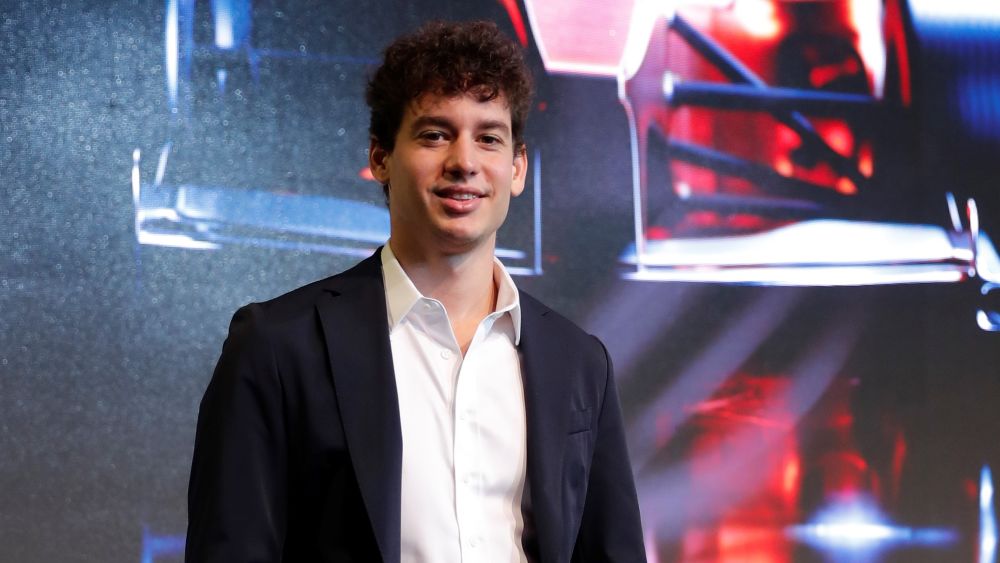 Joining 10 races into the season, the 23-year-old won his first race in Euroformula at Hungary, before going on to take a further seven podiums, including a second win, to finish fifth overall.
Bölükbasi also ran in the 2021 Asian Formula 3 Championship, ending the 15-race season in ninth.
As well as his single-seater experience, Bölükbasi has previously competed in the GT4 European Series, finishing second in 2020.
"I obviously can't wait to get in the car for the testing sessions, after my first taste of an old GP2 car later last year. It's as close as you can get to a Formula 1 car and I'm fully determined to give my 110% to learn how to master it and prove my potential as a driver.
"I also can't wait to start working with the team, the season ahead is gonna be very long and demanding and establishing the best possible relationship with all the guys is going to be crucial for the final outcome."
Bölükbasi arrives with experience on two wheels as well as four, winning the Turkish motocross championship when he was six years old, before switching to karting in 2007.
Charouz Team Owner Antonín Charouz added: "We're more than delighted to welcome a brilliant driver like Cem in our Formula 2 team. It will be a challenging and exciting new experience for him, but he has already shown that he has the numbers to learn quickly and get some good results in some of the most competitive and difficult Formula 1-feeder categories.
"It's going to be a long and tough season with 14 rounds, and that could be something he can take advantage of. On our side, we'll obviously do everything we can to provide him with the best car and guide him in his learning path."