IndyCar: Driver Q&A sessions – Malukas, Veekay and Kirkwood
David Malukas
THE MODERATOR: David Malukas, rookie with Dale Coyne Racing, has joined. First time I've had the opportunity to converse with you. Welcome.
DAVID MALUKAS: Well, hello. Thanks for having me.
THE MODERATOR: How has your day been so far? Any pranking going on by the veterans?
DAVID MALUKAS: No. Everybody has been really busy just going from room to room really. No, I've been having a blast trying to make the most fun out of it as I can.
THE MODERATOR: Any silly questions from our fellow media?
DAVID MALUKAS: Nope, because I already forgot (laughter).
THE MODERATOR: Talk about the optimism of this organization. It's a team that as we kindly say punches above its weight, has a great history of success. Dale Coyne is a great strategist, has great leadership. Talk about your optimism.
DAVID MALUKAS: Yeah, no, the opportunity that we have here is incredible really. I remember being a little kid actually, looking at the TV and seeing Scott Dixon, all of them drive. Now I'm going to be having the opportunity to go and compete side by side with them.
To be with Dale Coyne Racing, as soon as I went in for my test at Barber, everyone is so friendly, like I've known them for years. We've had great connection. Since then we've just been looking forward for the season to start.
THE MODERATOR: You've been described as fast, fast and fast.
DAVID MALUKAS: Really?
THE MODERATOR: You get pretty high marks for that. What expectations do you have for your season?
DAVID MALUKAS: Expectations are I personally will be focusing on the rookie season and also just learning as much as possible.
I think going against these veterans, it's an opportunity for me to learn as much as I can from them. As I said, I'm only 20 years old. They have quite a few years on me of maturity and driving. I'm going to try to absorb as much as I can from it and see where we're at by the end of the season.
THE MODERATOR: Tony Kanaan's 24th INDYCAR season.
DAVID MALUKAS: And I'm 20 years old (laughter).
THE MODERATOR: Your teammate pointed out you're more than half his age.
DAVID MALUKAS: Yes. I hope to absorb all that wisdom within the season.
THE MODERATOR: Questions, please.
Q. Have you set defined expectations outside of the Rookie of the Year? X number of podiums, top 10s?
DAVID MALUKAS: I would like that, yes. For expectations for myself, I try not to set these really, really extremely high expectations. If I don't hit them, it will mentally scar me. Even if I say it won't, I think it will. I just want to make sure that my mental state is always at 100% because I think that is the most important.
Q. You spent three or four years in the Road to Indy. Do you think it's done a good job preparing you for this step?
DAVID MALUKAS: Oh, 100%. The Road to Indy series is just incredible. Going from USF2000 to Indy Pro 2000, they kind of all go up from the steps to each other.
I think the Indy Lights car does such a good job to prepare you. It's a tough car to drive, actually tougher than INDYCAR. When I did the test at Barber, yes, a lot of things were new, yes it was hard, yes it was incredible. At the same time I felt like I was ready for it.
Q. How much time have you gotten to spend with Takuma and what specifically do you think you can learn from him?
DAVID MALUKAS: Takuma, man, he's so just happy all the time. He's such a good man. When I talk to him, I just feel like the world could be ending and I'll be having sushi with him in Japan, it's no problem. He's so awesome.
I think the best thing I'll learn from him is probably any oval strategies. He's very talented. I already spoke with him about it. Yeah, I think mainly on ovals.
I mean, there's definitely different car characteristics that we were talking about. We only had one kind of meal together. I'm going to have to still go more into depth about that.
Q. What is your favorite track on the INDYCAR schedule? Is there a place you wished INDYCAR would race at?
DAVID MALUKAS: My favorite track is Road America. However, a track that I would want INDYCAR to go to? I mean, within the States, there's nothing that really rings a bell. Maybe in Canada. Montreal would be cool. Within the States, yeah, nothing I can really think of on the top of my head.
Q. What is your expectations from this year in your season of rookie? Why Road America is the track favorite for you?
DAVID MALUKAS: You're going to have to say that again.
Q. Why Road America is your track favorite in the 2022 season calendar?
DAVID MALUKAS: My favorite track? Why is Road America…
Road America is like a home track of mine. I'm from Chicago. I actually used to go to Road America when my dad was racing. He did some Corvette 2005 stuff. He always went to Road America. I remember watching him as a kid.
Now that I go there myself and race on that track, it's just so high speed. The thing is INDYCAR is going to make it even better. That's probably going to be one of the very few tracks we're going to be hitting the limiter in INDYCAR. I'm very excited.
Q. One of the things I was speaking to Dale about you, a slight worry, was your build. I was wondering how well you have beefed up, growing your neck muscles and stuff like that.
DAVID MALUKAS: You have to judge from here. That's the one thing, as soon as he saw me after Barber, he's like, That was pretty good, but man, you're weak.
You look at Newgarden, the man is ripped.
No, I mean, since that Barber test I've been trying every single day, three times a day, as hard as I can to just be at the gym. I've been trying to find different ways to motivate me, finding some new music taste that's helped me along the way.
I'm trying my best. I can look in the mirror. I have a little movement on the triceps and looks a little bit better now.
Q. Obviously it's a particularly tough time to be a rookie with so little testing. Are you expecting to be able to extract the most out of whatever the DCR team can offer you at St. Pete? Are you expecting to be bang on the pace straightaway?
DAVID MALUKAS: Well, I'd say about 90% mainly because the extra 10% is I think going to be from how much time I've had off this off-season. I think it's still going to take a little bit of time for me to take the rust out. It is a long time.
I think we'll have one test day on February 14th. That's just not a lot. Then going straight into St. Pete which is a street course.
The team will give me everything I need, no doubt about it. The main thing for me is just chemistry between the team. At Barber, the one taste I've had of it, they've just been 10 out of 10. I felt like I was just at home.
From team side, yeah, I feel like I'll have everything I need. It's more if I can make sure after this huge break that I'm right back into it.
Q. What is the biggest takeaway from the INDYCAR test that you had?
DAVID MALUKAS: Biggest takeaway from the INDYCAR test? It is so incredibly fast, just so much grip through the corners. I mean, realistically I knew that Dale Coyne was calling me weak, that's what I got from the test. We did do like a hundred laps there, but that was the span of a whole day.
No, I mean, it's just incredible. There's so much speed. The one thing, the first lap I was just screaming the whole time because the car can just hold it. I couldn't hold myself and the car was perfectly fine flat out through all the corners. That's my biggest takeaway. Those tires can hold (smiling).
Q. What do you feel you need to work on as a driver to be even better?
DAVID MALUKAS: You'll have to stay it one more time.
Q. What do you feel you need to work on this upcoming INDYCAR season as a driver to be even stronger in your rookie campaign?
DAVID MALUKAS: I think it's going to be consistency. There's a lot of new factors going in from INDYCAR with the fuel saving, tire saving. That's all going to be brand-new, fresh and new to me. It's going to be interesting to see how quickly we can catch onto that, catch onto the strategies, have the consistency with it throughout the rest of the season.
Q. What are your thoughts about Callum and Christian when it comes to the rookie battle?
DAVID MALUKAS: Callum I've heard many stories about him. I've seen many things. He's a very professional, very good driver.
Christian Lundgaard I actually raced with him in go-karts in 2016 in Bahrain. We were with the Ricciardo car from F1. At the time he was better than me. We'll see how it is this time.
No, he's very good. Throughout those times within the team, he was kind of like the All-Star of the Ricciardo car at the time. He's a very good friend. I talked with him recently. Yeah, really good bloke.
Q. Did you set a target for yourself this season, certain position in the championship? Is it just learning and getting better every race?
DAVID MALUKAS: Mainly just learning, getting better every race. If I were to say a goal, it would be focusing on the rookie championship. You can ask me that again once the season starts. Maybe we'll see how things kerfuffle in there. You ask me that question again, I'll give you a more straightforward one.
Q. How did you find the aeroscreen in your first test? Something you don't really think about or was it kind of tricky?
DAVID MALUKAS: So hard to get inside that car. I mean, thankfully I had the seat fit beforehand so I was able to practice before I was in front of people on pit lane at the Barber test. I tripped and fell many times. In the end I figured it out. I had massive bruises under my arm trying to figure out different ways.
Once you're on the track, you can't see that aeroscreen. I honestly forgot it was there. It was actually quite nice, now I don't have to get the little covers for the visor anymore because now I have the whole windshield. You feel very safe.
One thing is if the air tube comes off or something it gets really hot in there.
Q. Do you think your performance in INDYCAR will attract attention and you will be recognized in Lithuania?
DAVID MALUKAS: Yeah, I don't know. I really hope so with this INDYCAR season, I hope we can perform well and bring some attention to myself.
Yeah, for Lithuania, I am really excited to kind of support them and get the fans in as well. I've never seen more supporting fans. They are a little bit crazy. I remember they actually came in the Indy Lights season at the IMS, at the road course. Yeah, the officials were kind of screaming at them to get away because they were jumping over fences and stuff. I'm really excited to show the Lithuanian group the INDYCAR season.
Q. I can tell you many fans from Poland support you.
DAVID MALUKAS: Thank you.
THE MODERATOR: With no further questions, we appreciate your time.
DAVID MALUKAS: Thank you.
Rinus VeeKay
THE MODERATOR: Rinus VeeKay, good afternoon.
RINUS VEEKAY: Good afternoon.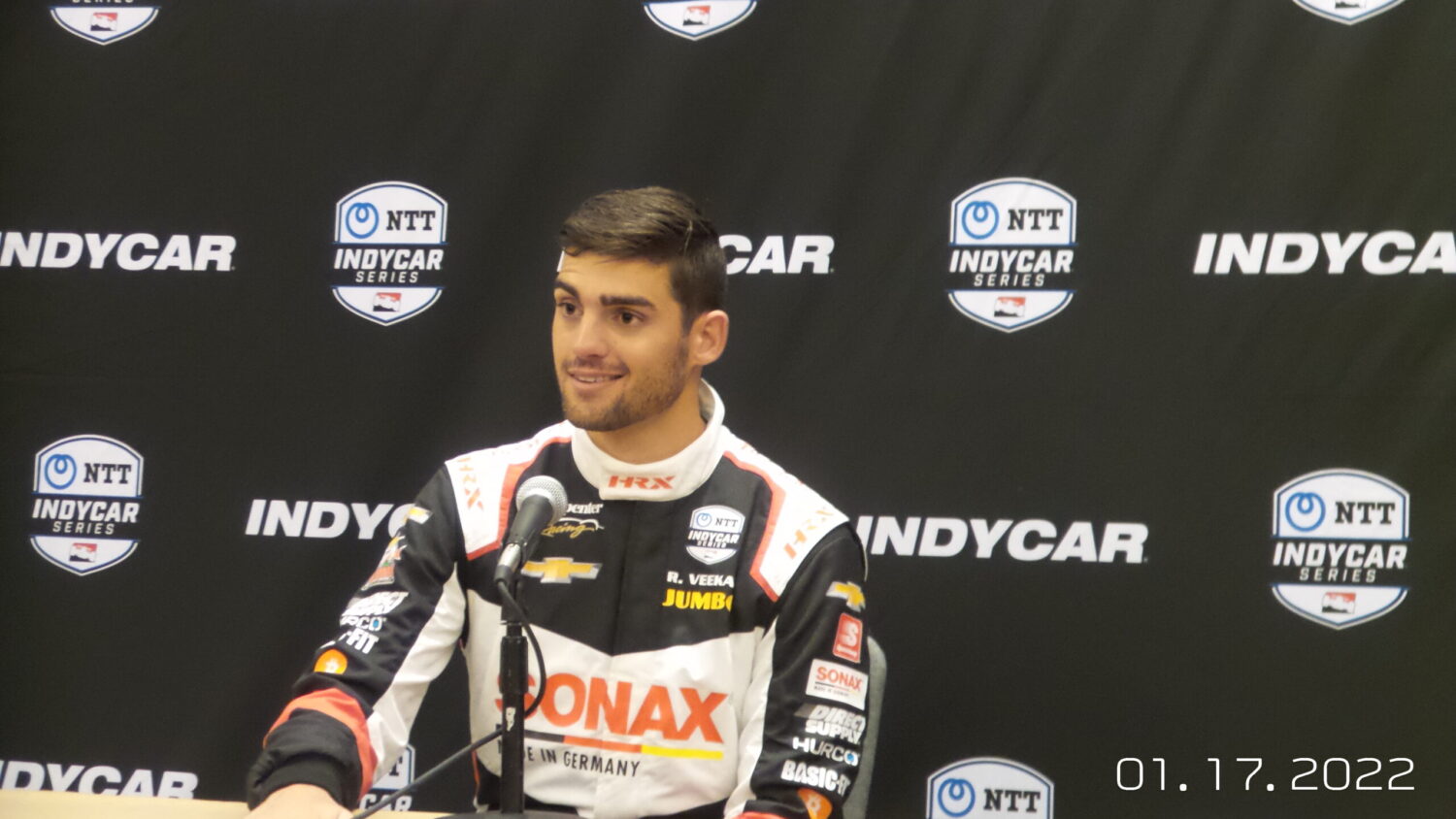 THE MODERATOR: Quite disappointed you moved out of Speedway, Indiana, where we are receiving the slightest bit of snow.
RINUS VEEKAY: I'm sorry. I'm not good with the cold. I enjoy sunshine a lot more.
THE MODERATOR: Second season with Ed Carpenter Racing is about to begin. Your thoughts? Optimism, I assume?
RINUS VEEKAY: Yeah, I'm very optimistic. I think this off-season we have not just waited around for the season to come around, but we have definitely taken all of our time to improve compared to last season.
We definitely knew what we had to improve, so we spent a lot of time going over it, tried some different stuff. I'm curious to see how much we will improve this next season.
THE MODERATOR: Your boss was asked earlier about the second half of your season after the collarbone injury. Was that a factor in the second half of the season or did you think it was going to some new tracks?
RINUS VEEKAY: There was one race — actually two races. I missed Road America. Mid-Ohio, I wasn't 100%. I was happy to be back in the car, but I wasn't 100% yet. The rest of the races I had no problems with the collarbone.
I think the biggest problem was, yeah, I think as a team we were just struggling a little bit getting up to pace, showing up fast. Instead of tweaking the car a little to get the last few 10ths out, we were just trying to determine the whole setup.
I think we just struggled a little bit, which can happen. It only showed the whole team what we had to improve for the coming season.
THE MODERATOR: What is new on your car this year?
RINUS VEEKAY: A lot. I think the thought about the whole car setup is different. I have spent a lot of time with my engineer, even staying at his house on weekends, doing fun stuff, but still making sure my feedback will be translated in a different way so he can take everything, like every little thing I say, translated into the setup.
Right now he has a better view of what I need in the car than before this off-season. So I think we definitely improved. I think everyone's really at the same level of we know what everyone needs on the car.
THE MODERATOR: Was that Woody?
RINUS VEEKAY: Brent is the strategist. Matt Barnes. Actually right now while I'm in Indy I'm staying at his apartment. I've been here already for five days. I've been at the team, yeah, tried to show my face as much as possible, even when it's off-season, be part of the team.
THE MODERATOR: Are you going to give out the address, a pizza party tonight?
RINUS VEEKAY: No pizza for me. I've been eating out too much this week.
THE MODERATOR: Questions, please.
Q. You obviously came through the Road to Indy. New crop coming in this year. What advice do you have for them?
RINUS VEEKAY: First of all, very proud of the Road to Indy of producing such talents, making sure they get to INDYCAR. That's also quite something. Getting the talent to win in your series is one thing, but really making them have a career in INDYCAR is special.
I hope they will do very well. I think for them it's hard to see. In the Road to Indy, you're winning a lot if you do well. David Malukas. You're racing for wins every weekend. In INDYCAR, they will probably not come close to a win in like the first 10 races because they're learning, everything is new. It's a lot different than you're used to. It's a lot more stuff.
If you think you got everything, there's so much more you can learn. I think just being patient, focused on your weekend's execution. Whenever you do well enough to win a race, it will come your way.
Q. How beneficial is it to you this season going into the year with not having the consistency of having Conor with you but also having him as a full-time teammate this year?
RINUS VEEKAY: Yeah, I'm very happy for Conor that he's back again. It's always been a lot of fun. I think it will definitely help Conor, too, to have a full season with one team, one team only. It will not only help Conor but also his crew, if they're just working with one guy.
I'm very happy with it. I think it was definitely very good. I'm looking forward. He was on an upward curve throughout the last part of the season last season. If he can pull that through, I can get back to what I was like the beginning of last season, we can both go for many top 10s and good results.
Q. I wanted to ask if one of the targets for you guys is specifically consistency? Obviously we saw you driving like a bat out of hell in GP of Indy. We come back to the Indy road course, you're kind of relatively nowhere. We're seeing Penske, like Will Power did the opposite of that. Is that something that you feel you have a handle on as a team?
RINUS VEEKAY: Yeah, we definitely have put a lot of focus on it because it's not something — yeah, it's not something that you forget so quickly. If you look at Romain Grosjean, he had two consistent Indy GPs, which is very good for him.
I think what was basically the big factor between those two weekends was NASCAR running in the second one. The more they started running, the worse my car started to feel. I think we were not proactive enough on making setup changes towards, yeah, like fighting that NASCAR rubber.
Q. Obviously you led quite a few laps at Indy, as did Conor. Do you feel you are ready to fight? Say you got involved with the same kind of fight with a veteran as Helio like Palou did last year, do you feel like you'll be ready to take that fight to any veteran INDYCAR driver?
RINUS VEEKAY: I definitely think so, yeah. I have a lot of experience now in Indy actually, running in the front, passing cars and everything. I know with Ed Carpenter Racing I have a great car.
Yeah, I just cannot wait for the Indy 500 this year. I think really I feel like a veteran now going to my third Indy 500. Just, yeah, I might have an advantage being a little younger and not knowing the dangers compared to Helio.
Q. Ed was in before talking about you. You're young, but it's your third year, you came through the Road to Indy. You're growing up. He talked about your finding some independence. What do you think he meant by that?
RINUS VEEKAY: Can you repeat the question? Sorry.
Q. Ed was saying that you're growing up, becoming more independent. What does that entail?
RINUS VEEKAY: Well, I was always having a lot of fun. I still have a lot of fun, as long as when that goes away there's a serious problem.
At the beginning of last season, like everything was fine. I was joking a lot. Sometimes a little too joke-y. We got some hard weekends in a row. It really made me think. I think it really opened my eyes to always keep looking for that little bit of extra speed that's hidden for the weekend.
Now I know that I've won my first INDYCAR race, I want to win more. Yeah, in the future I want to win an Indy 500 and also become an INDYCAR champion. To be able to do that, yeah, I need to get every — find every little speed I can from wherever I can.
I think last half of the season really opened my eyes in a good way. I think it really matured me, too.
Q. When you were talking about the car setup for this year, you said there's some different thinking behind it. What have you been trying to do there, what the new thinking of the setup of the car is?
RINUS VEEKAY: Yeah, so what I said, I have spent a lot of time with my engineer. We're always in a very serious setting where we're always talking about racing, thinking very deeply.
But now because I was staying at my engineer's house for so much time, actually we're just laid back talking, very chill. If you don't dig so deep, you say very normal things that actually you never think about saying.
We talked about some stuff about setups. He really knows what I need from a car right now. I said a few things in the off-season which kind of opened his eyes, gave him a direction of thinking which way we have to go on which tracks.
I think that definitely helped. I think team atmosphere has never been better than it is at the moment.
Q. You've been connected to someone who is going to be sought after in the driver market if you have a good season. Is that something you've taken with you on your journey in 2022? Is it something you think about that essentially there's going to be some big teams looking at you in the future?
RINUS VEEKAY: Yeah, I know that's the case at this moment. I'm not really thinking about it. For now I'm just focusing on every weekend producing the best possible result what we can do. Yeah, actually for me actually I want to show myself and show the team that we can actually stay competitive throughout the whole season. I will see whatever happens after that. I think as long as you show the best driver you are, the best part of yourself, you will always have a future in INDYCAR.
Q. Ed mentioned with growth and maturing, he said you either changed up your workout routine or switched trainers altogether. Can you talk about how as a driver you go about deciding to switch things up from a physical standpoint.
RINUS VEEKAY: Yeah, so this off season I've been focused on being physically fit a lot, especially after what happened to my collarbone. I didn't really have any complications, but I just wanted to be stronger. I felt like the stronger I am, the more work I put in, you will definitely feel the difference on track.
I actually did a lot of strength training. Then I got into the simulator. I was complaining to the guys, There's no force in the steering wheel. It's so light.
They're like, No, Rinus, it's about the same strength as it was before.
I'm like, Okay, that was a good sign.
That was funny. But actually, yeah, I was always (indiscernible) around with my personal trainer. We actually stopped working together after four years. Yeah, it was time for me for some change, trying something else.
I think for me not being 24/7 with a personal trainer also makes me just go head first in some other things that normally I would let him do. If there were, like, things with the team, if I'm in Indianapolis, right now I'm staying at my engineer's place, trying to be doing a lot of stuff with the team, where with him I would always take off, go work out. I still do that but then on my own or with a trainer in Indianapolis.
Q. I wanted to get your thoughts on your countryman Max Verstappen had an exciting finale. Your thoughts on how that went down?
RINUS VEEKAY: Yeah, it was a crazy season finale. Probably the craziest in history with Hamilton leading the championship every lap until the last one almost.
Yeah, it was a lot of controversy about FIA, how they handled stuff. Well, Max definitely got — definitely was the better one. How do you say that?
THE MODERATOR: It worked out better for him.
RINUS VEEKAY: It worked out better for him this time. But Hamilton had a lot of luck. It worked out for Hamilton several times earlier in the season.
If you look at the stats, Max was the better driver last season. Definitely a deserved championship for him.
Q. When you think about the upcoming wins for yourself, would you rather they be that exciting or a straightforward victory?
RINUS VEEKAY: Really depends. Really depends, yeah. I like a good straightforward victory where you're just faster than everyone else, you sweep the floor with them. I think that's pretty cool.
But any kind of win, a win is a win. I would take any kind of win as long as it's fair.
THE MODERATOR: Apologize for saying this is your second year. 2020 kind of got away from me.
RINUS VEEKAY: It did to everyone, right?
THE MODERATOR: Thank you for being here. Enjoy your day.
RINUS VEEKAY: Thank you very much.
Kyle Kirkwood
THE MODERATOR: You've had some time in the car. Will you have (no microphone.) Excitement so far?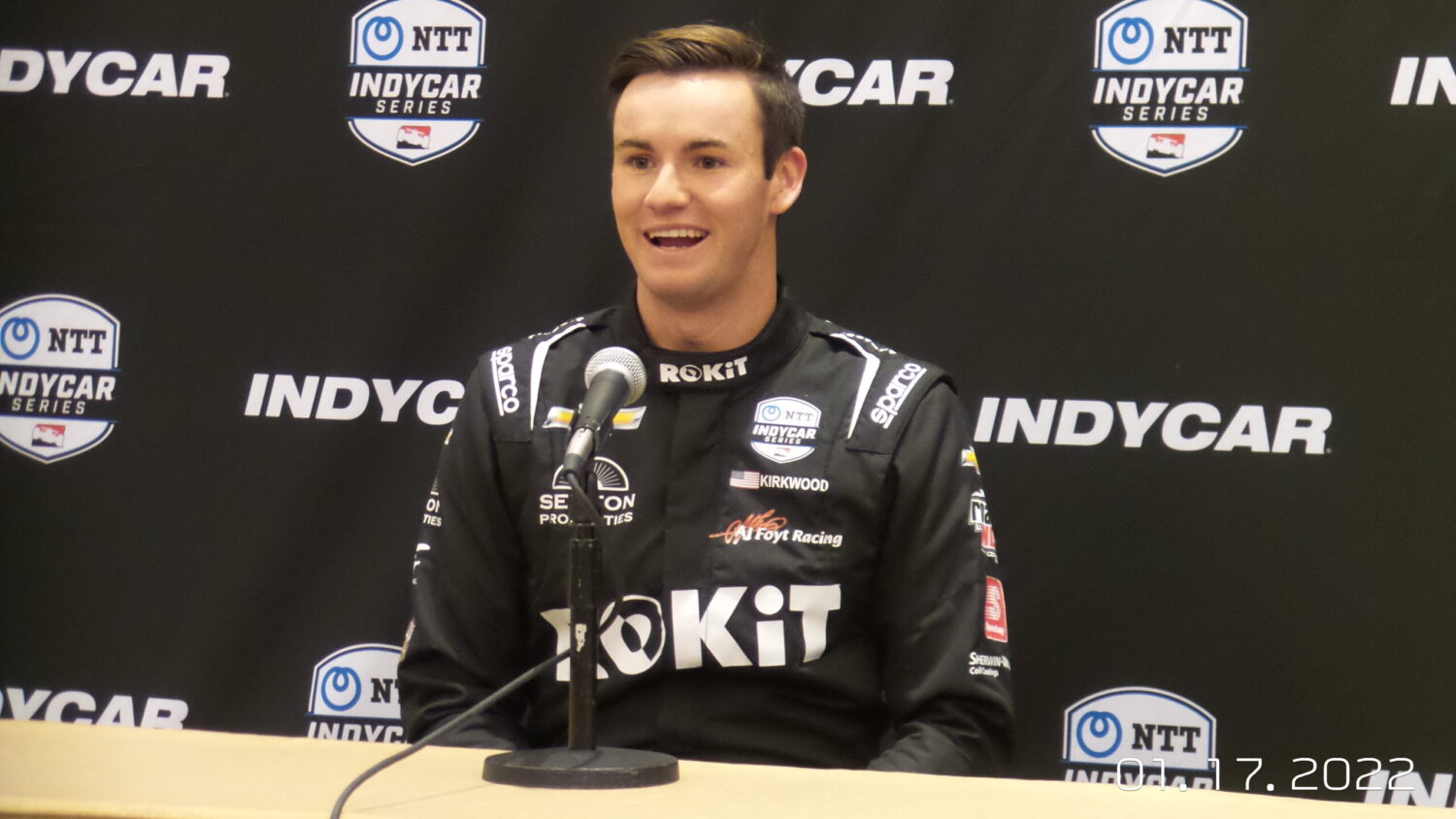 KYLE KIRKWOOD: I'm ecstatic. Finally starting now. Got through the holidays. Seems surreal for me. I thought there would be a moment where I'd be able to take a break, look back at my career over the junior formulas. Now I'm ready to get into it, start racing. Yeah, there hasn't been time to relax. We're all gas right now trying to get ready for the start of the season here in February.
THE MODERATOR: We learned the other day that Kyle is big on spear fishing and spending a lot of time around the ocean. We're sorry for your luck this morning being in Indianapolis.
KYLE KIRKWOOD: Yeah, it's definitely colder here. You don't want to get into the water here. Most of the lakes are frozen, that's what I've found out. I've only seen snow like 10 times. Flew up here Saturday, there was snow. Making snowballs out in front of Chris Wheeler's house.
The water stays warm in Florida, spend a lot of time in the water surfing, spear fishing, diving. That's kind of how I grew up.
THE MODERATOR: 10 times of seeing snow?
KYLE KIRKWOOD: I rarely ever see snow.
THE MODERATOR: Where would your experience have been?
KYLE KIRKWOOD: In the snow? I've seen it once in Canada, once when I went to France for the FIA award banquet, started snowing, which I thought was incredible, right before I went to the awards ceremony. Saw snow a couple days ago. I'm kind of forgetting where else I've seen it. Not many times.
THE MODERATOR: Second time here this season. Pretty lucky.
KYLE KIRKWOOD: Oh, really?
THE MODERATOR: Questions, please.
Q. You came up through Road to Indy. Had quite a bit of success in each level. Are you tempering your expectations at all or are you expecting to be right up at the front?
KYLE KIRKWOOD: Of course it's going to be a tougher crowd racing in INDYCAR. I fully expect that. That's what I've known coming up through all the ranks. Most of the drivers in Road to Indy are rookies. I'm coming into INDYCAR as a rookie where there are veteran drivers that have been here for 15 years I think some of them have been.
It's all new to me. Of course, I have to take a step back, know I need to learn some things. Most of the time, most of the categories, I came into it knowing I probably had the most knowledge. Now I've got probably the least.
Q. Another advantage of the Road to Indy is you race on a lot of the same tracks as INDYCAR. There are a few you haven't been on. Any you're looking forward to?
KYLE KIRKWOOD: I would make it easy and say the Indy 500. I've never driven on a superspeedway. Never driven a car with speedway trim on it. Did a test with Andretti. I have a feeling for how fast the car is going to be, but I'm really looking forward to getting on some ovals.
THE MODERATOR: Tony Kanaan mentioned this is his 24th INDYCAR season, 24 in INDYCAR.
KYLE KIRKWOOD: That's incredible. That's incredible. It shows I'm a rookie coming into it. He's been racing it longer than I've been alive.
Q. You have a veteran driver starting his third season in INDYCAR, two rookies. When you think about A.J. Foyt, the dynamics of that team, it's pretty interesting, especially when you put A.J. in the middle of it all. Almost like you're learning from the man who created it.
KYLE KIRKWOOD: That is very true. I have not had the honor of meeting A.J. yet or being able to speak with him. I'm hoping to very soon. That guy is a world of knowledge, right? He's been around this sport for so many years, seen everything. Hopefully I can hone in on him and get as much as I can from him.
Being around A.J. Foyt Racing has been phenomenal. They've been super open, brought me in as their family, been awesome with sharing data with me, making sure I'm super up to speed with their tests.
Q. Can you talk a bit about your off-season. I know there were heavy rumors about possibly getting into Andretti, then it became Foyt. Talk about that process.
KYLE KIRKWOOD: I have to jog my memory how much I can talk about it.
I know Michael did come out at a press conference speaking about the F1 deal, whatnot. Just bounced off of him. They did have the option for a period of time. Once they found out they couldn't fill me into a seat, they opened up that option. We made some calls. A.J. Foyt Racing was the best fit for us.
Q. You get one track in the world to race on, what would it be? What are you driving?
KYLE KIRKWOOD: That's a good question.
There's two races that I've always loved. I'm going to name two off. It's going to be the 500 in INDYCAR, something I've watched ever since I was super young. Then Monaco in F1. Two pretty easy go-tos there.
Q. Slightly awkward question. Obviously we've seen Foyt struggling over the last couple of years. Does that take any pressure off you in your learning season, that less is expected of you than if you had been thrown into a Ganassi or Penske car?
KYLE KIRKWOOD: It does. It does take pressure off of me. At the same time I think it's beneficial for me because, like I've said, the team has been super open with me. They want to learn, too. I've been able to bring some kind of experience over from my history, try and hone in and try and get something out of our car here.
I think we're going to grow together as a team. I think the chemistry has been working out perfectly.
Q. Obviously Dalton has some experience. He's made the same transition as you. Obviously Tatiana has no experience. Is that also difficult to have one relatively inexperienced and one totally inexperienced?
KYLE KIRKWOOD: That's kind of been my entire history in junior formulas. I've never really had somebody to base stuff off of. It's nothing new to me. I wish I did have a mentor coming up through Road to Indy, F4, F3. I really didn't. It's nothing special. I've kind of been in this position my entire life.
Q. A.J. should be useful there.
KYLE KIRKWOOD: Very much so.
Q. You can't hit the motor with a hammer. Didn't work for him.
KYLE KIRKWOOD: Right (laughter).
Q. Other than the Indy 500, what track are you most looking forward to?
KYLE KIRKWOOD: I'm going to say Mid-Ohio. Mid-Ohio has been a track I've had the most success at. Actually I would say Mid-Ohio and St. Petersburg. St. Petersburg is like a home race for me, somewhere we always start off the season. I really enjoy that place, a lot of good memories there. But Mid-Ohio is a place that I've driven so much at over every single one of the categories I've been in. I've won it in every single category I've driven in. That's somewhere that I always look forward to going back to and racing at. Like I said, it's a place I have the most experience at.
Q. I know you said you haven't talked to A.J. yet. You probably do most of your dealings with Larry. Eventually you will cross paths with A.J. What do you hope to learn from him or experience?
KYLE KIRKWOOD: Yeah, the biggest thing I want to ask him is stuff about ovals because that guy is a legend around ovals, right? Even though it's something so far back in history or in the past, it definitely translates over to today.
As much information as I can get out of him for ovals. In the Road to Indy, we only did a few ovals, we ran at St. Louis, then Lucas Oil Raceway. My oval experience isn't that vast. I think having him on my side is definitely going to help that.
Q. You're one of many INDYCAR drivers that are going to be in the Rolex, not a new event for you, but a new class. I know Lexus wants to win it very badly. How much could a big weekend in Daytona sort of launch your year?
KYLE KIRKWOOD: That's a good question because every single one of my seasons have all been based off of kind of momentum it seems like. Usually my worst race is the first race of the year, then I build on top of that, I start getting strings of wins by the end of the year. Obviously it's going to be a lot harder in INDYCAR. That's my tendency.
Starting it off early with the 24 hour, trying to get into that race mode, is super important. I did it last year. It was a huge help. Being with the Lexus guys, Vasser Sullivan, has been a blessing in my career because I've learned so much with them in sports cars that actually translates over to INDYCAR.
Q. This team has been up and down the last couple years. As a rookie joining a team where you don't have a ton of experienced teammates on a team that has been still working hard to get a podium or a win these last several years, what will you use to gauge what you would deem a successful season?
KYLE KIRKWOOD: I think that kind of comes with us in the team, how we perceive us doing well. I think that is just capitalizing on what we can do, right?
If we come into a weekend, we know we can do well, we don't do well, that's not a good weekend for us, we haven't maximized what we can do.
Our goal is to progress the car as much as possible. I need to learn myself as a new INDYCAR driver, as a rookie. Like I've said, I think we can build off of each other and maybe grow something great. There's some big things happening with the team, a lot of new people onboard, some new development going on.
I think we have the good chance of turning some heads this year.
Q. You would say maybe more of a subjective thing or feeling, internal way to grade your season rather than off of podiums and wins?
KYLE KIRKWOOD: That's correct, yeah. You can only do as well as you can, as well as the equipment is, how well I'm driving, whatever it might be, what the conditions are. It all comes from within. I don't think you can look from the outside, you can't be in third person trying to figure out how you're doing. That just comes from within. How you feel as a team is more important.
Q. Three Road to Indy championships. What has that program meant to your career? Would you be here without it?
KYLE KIRKWOOD: 100% no. Not 100%. It's made it so much easier for me because as everyone knows finding sponsorships, funding, junior categories, is nearly impossible. The return on investment for sponsors is pretty much non-existent because there's none of this broadcasting, being able to put things out. A lot of sponsorships aren't visible.
Having those scholarships from the Road to Indy has been absolutely crucial for my career. That all started from 2012, my first scholarship was with AJ Allmendinger, a couple years later Team USA scholarship. After I would be the P4 scholarship, Honda had a scholarship to go to F3. All the Road to Indys, leading up now to what is INDYCAR, a 1.25 million dollars scholarship into INDYCAR. I don't think I would have made it here this quick.
I think there's a possibility I would have still made it to INDYCAR without the scholarships, but this has obviously made it a much easier transition.
Q. At the beginning of your career, maybe you were aiming for Formula 1. Do you think getting into INDYCAR is a step towards Formula 1 or do you think INDYCAR will be it in your progress?
KYLE KIRKWOOD: That all depends on kind of what happens, doesn't it?
I think every young karting driver when you're five, six, seven years old, you look at Formula 1 as the pinnacle. But there is kind of a transition in my mind when I was probably 10 or 11 years old where I started watching the Indy 500s. This is what I want to do.
I think INDYCAR is very enjoyable. I think there's been some past F1 drivers that have come over here and said if you have the chance, come do this 100%.
I kind of look at it as where I want to be in my life. I like to stay over in the States, to be honest. That keeps me over here. I love INDYCAR racing. This is the ultimate goal for me at the moment. I don't foresee anything happening where I change my plans and move to Formula 1.
THE MODERATOR: Today is often a day of rookie trouble from the veterans. Any pranking going on?
KYLE KIRKWOOD: Nothing yet. Nothing that I've noticed.
THE MODERATOR: Keep your head on a swivel.
KYLE KIRKWOOD: I was actually thinking that this morning in the hotel. This is Content Day. There's definitely going to be some rookie pranks going on.
THE MODERATOR: You arrive on a day without Rossi, without Herta, without Conor.
KYLE KIRKWOOD: Without Conor especially, yes (laughter).
THE MODERATOR: You figured out the pecking order. Kanaan you might want to watch on.
KYLE KIRKWOOD: My head is on a swivel around him always.