IndyCar: Driver Q&A sessions – Lundgaard, Calderon and Grosjean
Christian Lundgaard
THE MODERATOR: Welcome to your first content day. Anything interesting happen to you along the way so far?
CHRISTIAN LUNDGAARD: Hopefully I'll get some good pictures that we can use.
Q. You've been photographed a lot.
CHRISTIAN LUNDGAARD: Oh, yeah.
Q. You and I talked actually the other day about your Sebring test. You're the first person that's come in here today that's gotten to test. Everyone else so far still only has one test day. Is that beneficial? We don't race at Sebring, but did you feel like that was a beneficial test?
CHRISTIAN LUNDGAARD: Definitely. I think the most track time you can get in the car is beneficial. For me also as the first day as an official driver, it was good to spend the time with the team and learn a bumpy track. I know that it's not the worst, but it replicates as much as we can the real tracks, and I think for me just to get a feel of how it actually feels in the car, how the car handles on bumps was very beneficial for me, so I was very satisfied and happy with the test.
Q. What kind of expectations do you have for this year? It's a different lineup at Rahal Letterman Lanigan with three cars, different dynamics with you and Jack coming to the team. How do you think this works?
CHRISTIAN LUNDGAARD: To be honest in terms of expectations, it's a little tricky one because everyone would say, okay, he's new. He needs to learn. But at the same time I have the same feeling, but I still want to do well. But I don't want to put too much pressure on myself.
Whatever pressure the team or sponsors or everyone behind the scenes put on me, I don't really mind because pressure is a good thing. It means that someone knows you can do it, so they're expecting you to.
But I'm here to learn. I'm here to use the first — the beginning of the season to prove myself and to learn, but I don't want to spend the whole season trying to learn and then see where I'm at after that.
Obviously I compete to win, and that's my goal.
Q. You had a dynamite first event last year at Indianapolis on the road course. I would assume that gives you a huge head start for 2022.
CHRISTIAN LUNDGAARD: Just in terms of track time I think that helped for the future. I'm happy that Indy road course was the track that I drove at. I know I tested at Barber, but the track is very European, and I'm used to the European tracks. For me to start there was a good benchmark, but once we get to Nashville, Detroit, those kind of circuits, I wouldn't say I'm going to struggle more, but I'll probably need more time compared to the others because they've been there.
But at the same time I'm here to win, so I'll do everything in my power to do so.
Q. And St. Pete obviously very tricky, as well. That will be another one that will take some quick adaptation.
CHRISTIAN LUNDGAARD: Oh, yeah, I think all tracks it difficult to get to, but once we get there and we do some laps, we'll see where we're at. It didn't take me long to be fast enough at Sebring, which is a track I've never been to. It took about five laps. If we can do the same in St. Pete, we should be doing pretty well.
Q. If I remember correctly from your one race at Indianapolis, one of the things you struggled with during the race was getting a hold of the tires and making sure they're in the right performance window. Is that something you've been focusing on during the off-season?
CHRISTIAN LUNDGAARD: Yes and no, because I haven't really done a long run in the car since because my first day in the car was five days ago. I think we've focused more on getting comfortable in the car and so on, but it's definitely something we'll have to work on just after the first race. After the race last year, I knew already more than I did before. I think if I would have redone the race on Monday or technically on the Sunday, it would have been a completely different result.
I'm happy about that, having the knowledge, but it's about putting it on the track, and that's the next step.
Q. There's also quite a large group of rookies coming in this year, and I think there's five, maybe six now with the announcement this morning. Is the Rookie of the Year award a particular goal for you, or are you more just focused on week to week?
CHRISTIAN LUNDGAARD: The rookie championship is one thing, but there's also a main championship to win. I'm not going to say that I'm going to, but I'm going to try and hard as I can to. I race to win. I don't race to finish second or third. But we've got a good lineup in the team, and I'm sure if we can learn from each other — Graham is a strong racer, and if I can extract as much from him as possible, I think we have a very strong lineup.
Q. You have some experience on street courses. What is your thought on street courses? Do you think that's something that should be a strong point for you? Is that something you're looking forward to?
CHRISTIAN LUNDGAARD: I sure am looking forward. If I'm wrong, I would say there's probably stronger drivers, but at the same time I want to maximize my potential on those kind of tracks and obviously improve.
I think we've seen strong drivers in INDYCAR on the street circuits because they've done them for I don't know how many years, and it's circuits they have driven on before where I'll come in new, but my Macau campaign in 2019 I came in as a rookie and finished fourth.
So the potential is there, I just need to put it together and learn as much as possible.
Q. Question on this rookie class. You said you're focused on winning overall, but how do you size up that rookie competition? Some heavyweights from F2, from Indy Lights. How do you look at those guys?
CHRISTIAN LUNDGAARD: Obviously the Indy Lights drivers coming up to INDYCAR knows some of the tracks which I don't, but it's up to the team to help me prepare for every weekend as best as possible.
But I think we've got the strong drivers, and we've got the rookies that will come in and have to learn. I think the new rookies that come in and have the advantage and have prepared themselves the best will also have the advantage from the beginning of the season.
To be honest, it's difficult to answer now. I think when we all get to test together, I'll have a better view on who is where and who can do what.
Q. Of those street tracks which is really a part of American racing, is there one of them that you look forward to in particular?
CHRISTIAN LUNDGAARD: Not a specific one, but I think all 17 races of the championship I'm looking forward to. My sim arrived the other day, and I've basically been nonstop practicing on all of them, and I can't really pick out which one I want to do the most. I can do 20 laps on one and then go to the next one. I would say all of them is probably my favorite at the moment.
Q. Like Romain Grosjean, did you move to the U.S., as well, full time, and what's been the biggest adjustment for you coming to the United States?
CHRISTIAN LUNDGAARD: Yes, I have moved here. I moved to Indianapolis to stay near the team, to prepare the best possible for the season with the team. I know some of my teammates — Jack is quite close to me, as well. It's good to spend time with the team and my teammates, as well, so we can spend some time in our free time together.
But it is a full-time project. We're not here to do it half. We're here to deliver 100 percent and even 110 percent. So yes, I have moved here.
Q. I know you were a part of the Alpine Academy in previous years, and I'm wondering in what ways did being part of that program prepare you for the opportunity that you have this season.
CHRISTIAN LUNDGAARD: Yes, Alpine, as in the academy program, they develop us pretty much to be as good as the F1 drivers. We are being educated on all sorts of stuff, behind the scenes how to analyze data, how to understand the data. Basically everything you can imagine. Compared to the other drivers that hasn't had that experience, we should have the advantage.
I also think that's one of the stronger points for me is to adapt really quickly, and I think also having been part of Alpine has definitely helped me get that.
It's something that I can only be grateful for.
Q. I know you haven't had much of an oval background before. How do you feel you'll be able to fare with that, and do you think you'll be able to have much time track before Texas in March?
CHRISTIAN LUNDGAARD: I'll have a test at Texas before, which I think will come in quite handy. At the moment I don't know what to think of it. I drove my home sim at Indy the other day, and it felt a bit easy, but it might also have had a bit too much downforce, so I think once we go to Texas and have a real good in the car I will have a good feel of how loose the car is and how stable it is, as well. At the moment it's quite difficult to tell for me, but I'm looking forward to going out and racing at high speeds.
Q. What do you feel you're going to have to adapt with the most with any of the ovals?
CHRISTIAN LUNDGAARD: I think I'll have to learn pretty much everything from top to bottom. Driving a car is one thing, but driving is quick consistently is a complete different one, and that's something we need to be very good at is delivering when we need and also when we are struggling. It's a long learning process, and I'm all for it at the moment.
Q. You said that INDYCAR is your main focus for this year, but there's a chance we could see you sports car racing this year, maybe IMSA?
CHRISTIAN LUNDGAARD: At the moment I wouldn't really say that there is — at the moment I wouldn't say that the opportunity will even come, but it's definitely not in my view at the moment. At the moment it's 110 percent at INDYCAR, and it will be for quite a while. Yeah, I guess that's explains.
Q. On your simulator, iRacing or rFactor 2?
CHRISTIAN LUNDGAARD: A bit of everything, honestly, all sorts of different cars. At the moment mainly INDYCAR, but I would also like to drive different cars just to develop skills, I would say. It's good to have the experience in different cars and understand how different cars handle and get the understanding of setups and so on, but I would say at the moment mainly iRacing is the majority of the time I spend in the sim, but I also do a set a course or even do F1. That's more for the fun of it really. I like the career mode because you can do your own team and so on.
But iRacing is very well built for INDYCAR I would say. It's got most of the tracks.
Q. With the expansion at RLL of the third car, there's probably going to be some team staffing changes. For your car, how much of the folks will be back, and how do you see that as either a positive for you with any new people?
CHRISTIAN LUNDGAARD: I mean, I'm new myself, kind of. So to come into a new team, I have to learn and know new people, and how many new people in the team I'm actually not quite sure. I know some comes from the BMW team. Some are probably new.
But it's a great group of people. I know the team is extremely dedicated on who they hire. It's a strong point for the team to do that and have that.
But how many new people, I don't really know. Even if I'm allowed to say or not, I don't know, because I don't know in general. So it's a bit difficult to explain and answer on.
THE MODERATOR: We'll see you soon. Good luck to you.
Tatiana Calderon
THE MODERATOR: Tatiana, this was announced this morning, your ride with AJ Foyt Racing and Rocket as the sponsorship. I know this has been in discussion. Give us some background on how long the process has been.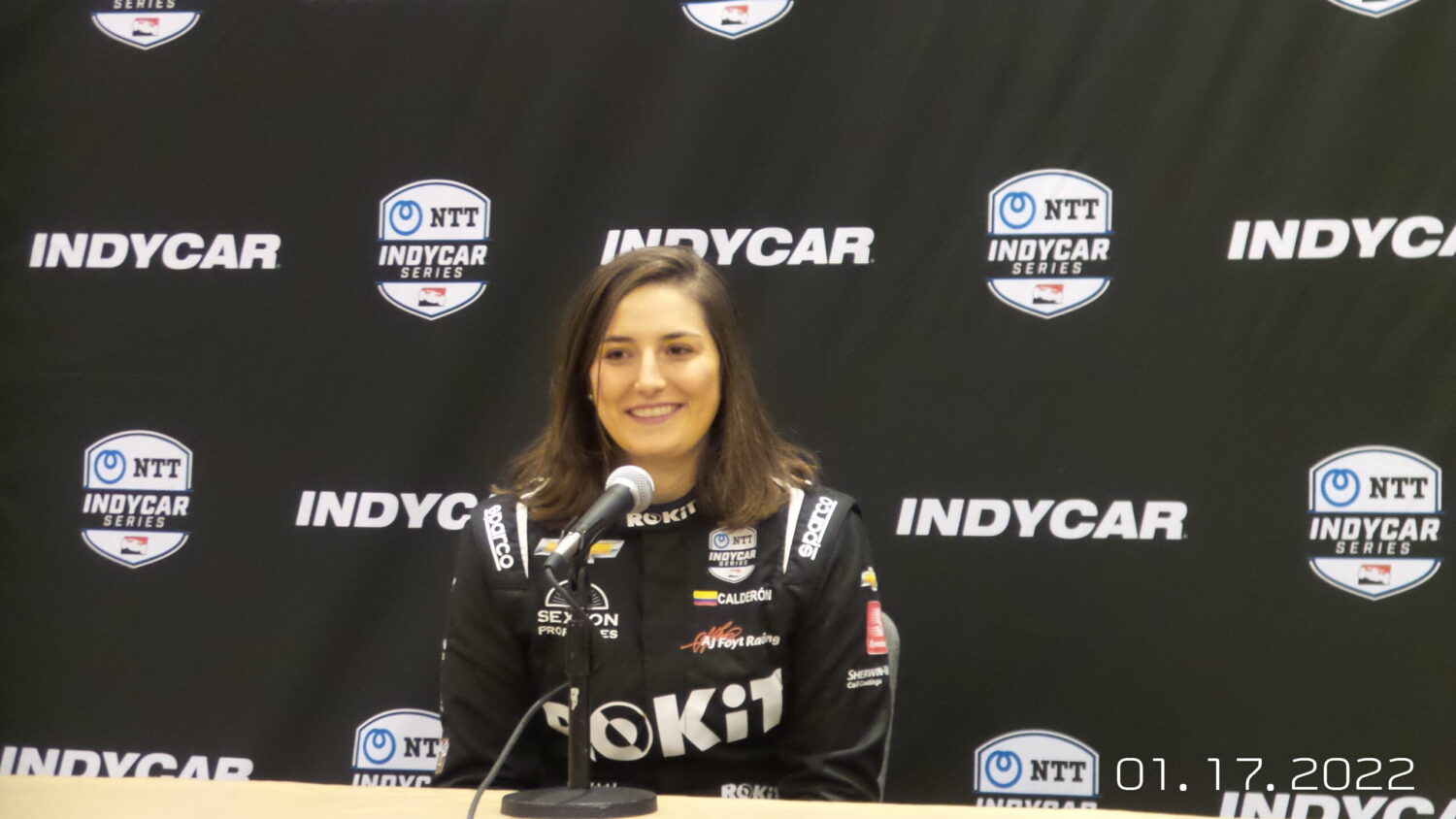 TATIANA CALDERON: Yeah, it's been an amazing time that I have spent with Rocket for the last two years in Super Formula in Japan, but obviously when the chance came to test an INDYCAR last July and I felt really great with the team in the car, of course. We've been in discussions really since then, but good things take time, and we finally managed to put everything together last week.
I'm very excited, very thankful to both Rocket and AJ Foyt for this amazing opportunity and to really start this thing quite soon and get acclimatized with the car and the team around me.
Q. You've had the one test; what has been your other INDYCAR experience in terms of attending races? How many have you been to?
TATIANA CALDERON: Well, I started my career here in U.S. in Star Mazda 10 years ago. It's been a while. So I know some of the tracks that I tried to remember everything. Of course a lot of things have changed. But I've always been kind of following INDYCAR because also I come from Colombia, Juan Pablo Montoya has been racing here in America for many years. He's been kind of my idol, as well.
But in the garage it was only Mid-Ohio that I had the chance to really see an INDYCAR team from the inside. Yeah, a lot of things to learn for me this year.
Q. The Japan transition has been very good for — we saw last year with Alex Palou. Do you expect to be prepared for this endeavor?
TATIANA CALDERON: Yeah, I think Super Formula is a great preparation for any single seater series. I think it's a super quick car, very tricky. Also I had to learn how to communicate differently. The culture was very different, as well. But I think that has prepared me more for this opportunity.
Of course I don't expect anything to be very easy, particularly at the beginning, because I've only done one test day in INDYCAR. I think we'll have probably three days before the first race.
A lot of things to take in, but I think it was a great preparation with Super Formula and sports cars that I have been racing the last couple of years, as well, to help with fuel save, with tire save and pit stops and all that. I think it's been quite good for my career.
Q. Have you been to the team shop down in Texas yet?
TATIANA CALDERON: Not in Texas, but their one here. We spent last week doing some seat fit and getting back into rhythm with everybody. Yeah, I'm excited to actually drive for the first time here in 2022.
Q. You have such an extensive resume behind you; what is it about INDYCAR that caught your attention, and also, do you believe that INDYCAR does a good job with female representation in motorsports?
TATIANA CALDERON: I think INDYCAR has always been in my radar. I think I've always been very competitive, and I want to be where the best drivers are at, and I think INDYCAR is pretty high up there on the single seater ladder. I've always enjoyed single seaters quite a lot, as well.
It's an honor to be racing in INDYCAR after I started my career 10 years ago, and I was just watching those races. Yeah, huge privilege in that sense, and I think here in America, in INDYCAR, there has been many female drivers coming through, so I think there is more opportunity at the moment for us here.
I will obviously make the most out of this opportunity, and I'm really hoping that I can do well and inspire even more girls to join in in karting, in single seaters, and that they know this is also a great opportunity to showcase that.
Yeah, can't wait to get started and see where we end up in the first race, but obviously build up to it step by step, and I think as long as we improve every time we're on track, then I'll be happy.
Q. Have you had a chance to meet AJ yet?
TATIANA CALDERON: Sadly, no. We were supposed to meet very soon, but with all this COVID situation, with the weather, it's been — it has not been easy. He had a birthday yesterday, as well.
Yeah, hopefully very soon.
Q. Do you have any idea what to expect?
TATIANA CALDERON: No, I think obviously I've read a lot of what he's done, about the Indy 500, as well, everything that has won. I think it will be a privilege to be able to share some experiences with him, to look at him in the eyes. I think that's one of the biggest things I would say sometimes when you have that connection, that feeling with somebody. Hopefully it will be very soon.
Q. Did you give any consideration to the ovals?
TATIANA CALDERON: Yeah, definitely. Obviously I've only tested the car one day back in July, so we thought to take things easy to start off with, the road courses, build up to hopefully test in an oval, see how I feel, see how my confidence with the car comes.
But of course who wouldn't love to do Indy 500 one day. Yeah, we're just taking it step by step.
Q. Are you still going to be a reserve driver, or has that come to an end?
TATIANA CALDERON: I'm not sure at the moment, but my full focus is obviously here in INDYCAR. I want to do the best job I can, and I think in order to do that, I need to be focused on one thing. We'll figure out the next bit in the future, but I'm just super excited with this opportunity and to be present and focused on one thing.
Q. We've had a lot of successful drivers from Formula 2 and Super Formula recently coming to INDYCAR. You've done both. What do you think your experiences, how can they help you getting into grips with INDYCAR this year?
TATIANA CALDERON: Well, I think they will be very useful, all those experiences, particularly because there's not much time that we have in the car in preseason, so only a couple of days of testing, so I'm kind of used to that. But yeah, all the tracks sort of will be quite new, especially with an INDYCAR. It's quite a heavy, big car, just with the tires to get a feel for the degradation, as well, here.
Because I've been changing continents and cars and tire manufacturers, I think that's definitely going to help me to speed up the process, but I still want to take step by step this steep learning curve.
Yeah, I don't expect it to be any easier, but I definitely feel more ready than I was a couple of years back if I had the opportunity. Yeah, looking forward to making the most out of it and to learn as quick as possible.
Q. As I recall, now that I think more about it, weren't you involved with Derek Daly and his driving academy years ago, so therefore you must have quite a relationship with the daily family and Conor even?
TATIANA CALDERON: Yeah, we were teammates with Conor when we were driving with Juncos Racing in Star Mazda, and I worked with Derek, as well, the first couple of years that I was here in single seaters.
Yeah, I've always felt really, really confident here. Everybody has been very open to help, as well, and yeah, I have a lot of relationship with many of the drivers that are here in INDYCAR. Yeah, it will be fun to see them back on track again after so many years.
Q. Who else in this paddock have you raced with?
TATIANA CALDERON: Well, I raced against Alex, a little bit against Pato in Formula 2 where he did only one race. I've raced with Montoya, as well, in the World Endurance Championship. Yeah, I need to think, but there are many others for sure. Lundgaard, Callum Ilott, as well.
Q. Quite a few.
TATIANA CALDERON: Yeah, I'm pretty sure I have more, but — Felix Rosenqvist, as well, in Formula 3. Yeah, a lot of familiar faces.
Romain Grosjean
THE MODERATOR: We are joined by the new man in the yellow suit. Good to see you in that. Romain Grosjean, you look very good in the DHL colors. Have you ever worn a bright yellow suit?
ROMAIN GROSJEAN: Not that bright, but I like it.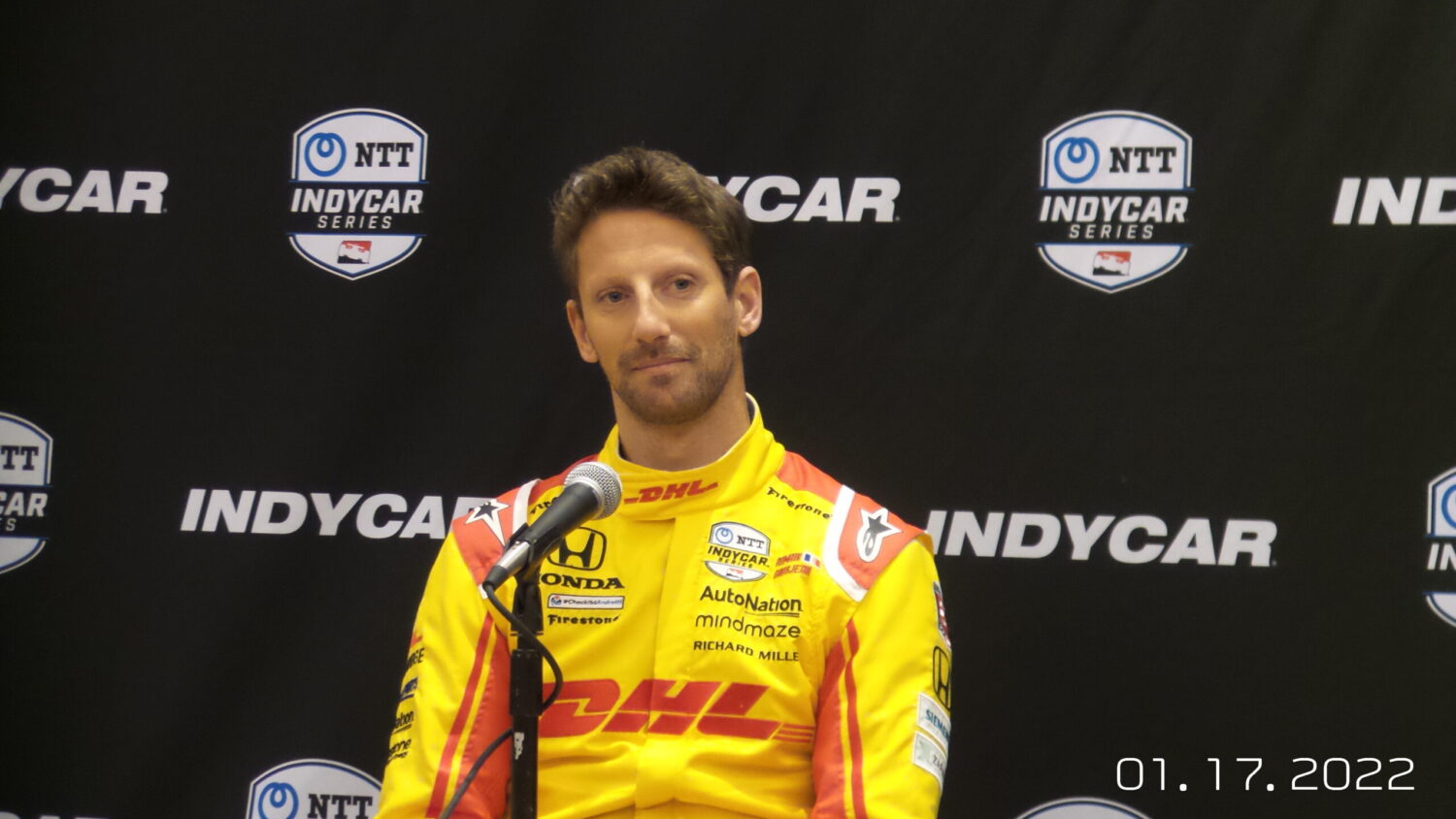 Q. I see on social media, have you been up here most of the week or at least last week getting further indoctrinated with the Andretti team?
ROMAIN GROSJEAN: Yeah, we came last year at Andretti, most of the drivers, everyone that could travel. So we were just missing a few of the guys, but it was nice, we had INDYCAR lights, the LMP 3, INDYCAR, drivers in the team, and we just had some fun. Also the guys from México. It was just a great day, having fun, doing some content, and then meeting the boys, as well.
All the crews are now formed, so obviously I know my engineer, but I could also meet the other engineer. I don't remember exactly — it's different from Formula 1. The performance engineer would be named in F1, and then my mechanics, and then just being in the factory with the boys was good.
I'm actually going back Wednesday afternoon, sitting in a cockpit and making sure everything fits nicely before we go to Sebring.
Q. For as long as you've been in motorsports, does joining a new team give you a new sense of energy and a new kind of excitement?
ROMAIN GROSJEAN: Yes, of course. It's always great. I think last year joining INDYCAR, discovering the U.S. has been incredible. It was definitely a season I'll remember for a long time. And then getting the chance to drive for Andretti just adds to the fun, I would say. Incredible opportunity.
Yes, last year I came in INDYCAR not knowing if I was going to like the championship, if I was going to like the car, the tracks, the American life, and this year it's a bit different because I come here, my whole family have moved — we all moved to Florida. We're now settling in nicely in a new house. Everyone is happy. I come with one of the best team probably of the world, and on paper I've got all the ingredients that we need to be able to fight at the front. So that's definitely something I'd like to do, winning races, going pole position and see at the end of the championship where we stand.
Q. Just wanted to follow up on how you and your family are adapting to life now over in the U.S.
ROMAIN GROSJEAN: Yeah, life is great. I mean, apart from all the administrative stuff that are not fun when you move to a new place, the rest has been pretty good. We picked up a really nice area that we're happy with. It was not easy to do that via WhatsApp or FaceTime, choosing a house, but we picked up well and did everything we have to do, and now the kids are happy. They go to school. Boys are playing baseball, not something you can do back in Europe, so they're loving it. My daughter goes dancing. Everyone is having fun and can enjoy the sun of Florida and get to the training routine that I like to have before the season.
Q. What is one aspect of let's say the 2021 season you can't wait to do over again here in 2022?
ROMAIN GROSJEAN: Oh, just fighting at the front, fighting for pole position, fighting for podiums, fighting for wins. That's all that really matters to me. I think I'm in a time of my career where I do it for myself and for myself what I want to do is win races. That's what I like doing, and that's definitely what I'm going to try to do.
Q. It's your second season here and you're with Andretti Autosport. Do you feel any extra pressure to deliver solid results, or do you feel more confident having their support as you head into the new season?
ROMAIN GROSJEAN: Well, you know, I think pressure is just part of what we do, so I've been dealing with that for the last 20 years, I guess. It's just part of what we do.
I think, as I say, the relationship with the Andretti team has been really good. I've just felt really welcome in the family. That's a word Michael uses very often, and it means quite a lot to me. I was also lucky to have my race engineer from last year that moved over, so that makes the transition quite smooth.
You know, obviously I know what I was capable of doing last year, but this year it's a new car, different team, so I just have to adapt, do the best I can there.
We'll know quite soon how we are doing. St. Pete is only a month and a half away, so it's just going to come quick.
Q. In the first year you achieved three podiums in this category. What will be your objective for this year?
ROMAIN GROSJEAN: I'm laughing because it's a question my oldest kid asked me this week. I want big. I want seven podiums. I hope I'm not going to disappoint him.
Q. This is your first time in your career that you will compete in the 500 miles in Indianapolis. What are your expectations?
ROMAIN GROSJEAN: I mean, big. It's a big event. Everyone talks about it a lot. I'm excited as everyone is to be in May, but I'm as well super excited to get competing in all the races. I believe the Indy 500 as long as you haven't discovered it you don't really know what it is, so it's hard to be excited for something that you don't know. But also I know what everyone tells me about it.
I was lucky to get my rookie orientation program done in early October. That went well. I enjoyed the place. Last year in the bus, I've been living a lot of time at the Indianapolis Motor Speedway. I absolutely love the place. I've got a good record with it with two podiums. Hopefully that keeps going, and that will be great.
Q. Obviously Colton was performing on a really high level last season and I guess it's going to be kind of a big story this season, as well, how you kind of compare against him as a teammate. Do you see it as a positive that you're in the same car and you get to work with him and see his data, or is it a bit more of a negative because you're trying to beat him in the same car on the same team?
ROMAIN GROSJEAN: No, I see it as a positive. I think Colton is a great guy. He's done really well last year. He was very impressive on many places. I'm actually looking forward to discovering what he does and what I can learn from his driving style. I think he's been doing INDYCAR for a few years now, so he's got some good experience, so I'm definitely going to try to use some of that.
I believe he's also going to look at my data and try to see what experience I can bring the team. Actually I met Colton here at the media content day last year, and I asked him a question, and I said, why don't you weave on the safety car like you do everywhere else, and he was very honest in his answer. He said, we think that doesn't work, there's too much marbles on track; just use the brake and the throttle together to warm up the tires. First restart of the year I gained three positions, so I was like, thanks Colton, that worked.
I asked him, but I said, why do you tell me that. He said, just because we want the best one to win and we don't care about keeping secrets from each other. As I say, right now that's the positive attitude that I really like, and I'm going to be the same, and if he's faster than me, if he's better than me, absolutely awesome. If I'm better than him, great. Some days will be one way, some days will be the other way.
Q. You've got a big team with lots of other drivers. Have you managed to speak to them all and does it feel like a good atmosphere so far?
ROMAIN GROSJEAN: Yes, very good. I think there's also Alex Rossi who's been competing at the front in INDYCAR for a few years. He was not far from the title, so definitely Alex will be fast, as well. Really looking forward to working with them. Devlin, a rookie, so I think he's got three good teammates to learn as fast as he can.
We've got a good team. I think I'm excited that we get going. It almost feels like the winter break is too long and we forgot how to drive. Hopefully I did not.
Q. I'm curious what you thought of the end of the Formula 1 finale.
ROMAIN GROSJEAN: I loved it. It was exciting. My heart was pumping like hell, and I think having two cars fighting over one lap for the world championship was amazing.
I think the wrong conception is to think that the world championship went on one lap. It was 22 Grand Prixes, and if you look at the full season, you know Max had the puncture in Baku, Valtteri Bottas crashed into Verstappen in Hungary, there at the Silverstone race. I think at the end if we look at how many points were lost by Verstappen, not necessarily by his fault, he was the one that deserved more the championship.
On the Abu Dhabi race, Lewis deserved more the championship; he got unlucky over the last lap. But as a race fan, I loved that last lap, and it was super exciting to watch.
Q. Were you surprised they decided it with that one-lap shootout and the safety car?
ROMAIN GROSJEAN: Well, there's a few ways of seeing it. It would have been very strange to not unlap those cars and have Lewis first and then Max four car behind over one lap for the world championship. On the other hand, it was from — from Lewis it was definitely not a great call, but as a TV fan, as a spectator, as for the sport, I think Michael Masi make the right decision. I don't think the championship would have been nice to finish under the safety car. It would not have been nice to finish with the guys being separated on track being first and second separated by a few cars.
As I say, I was more Lewis side than Max, so I was kind of, oh, Lewis lost it over the last part of the season; Max did the same, made an incredible job. But I thought it was so cool to get those two guys going together.
Q. Just wanted to check and see how your hand was doing after that surgery this off-season.
ROMAIN GROSJEAN: Yeah, it's going good. It definitely made me life better. It was quite a big surgery. The first one was about four hours and the second one was an hour and a half. It was a little bit heavier than I thought it was going to be.
But definitely we made things much better and kind of live on a daily basis much more normally than I used to before.
Q. Curious to know your perspective, you've got obviously a really big global following both from Formula 1 and just some of what you were able to do in INDYCAR last year. As INDYCAR continues to try and grow its following in the United States and internationally, what do you feel like this series needs to do to capitalize and continue to build its fan base from your own perspective of having built such a strong fan base around the world?
ROMAIN GROSJEAN: Oh, wow, that's a tough question. You know, I don't have any magic tricks, so I don't have any magic answer. I can only tell you that I saw the starting time of the season this year, and I think for Europe they are in a much better place than they were last year. Having a race here around midday eastern time, even morning, makes it at least 5:00, 6:00 p.m. back in Europe, 7:00 p.m., so that's good. So that's definitely a good time for Europe to be watching, for South America, as well, so that's a step in the right direction.
Obviously I think for INDYCAR it's to keep pushing all the broadcasters outside of the U.S. to do a better job, just to communicate more, to push the program ahead and forward.
But definitely — I know France last year did 100 percent on viewing, so they doubled what they were doing, so that's great. Still not Formula 1, but it's getting there.
You know, I think there's many other things that can be done, and the beauty with INDYCAR is it's open for everyone to come in. There's so much behind the scenes between the drivers living in the bus, the team being open. I think there's definitely room to make some cool content.
Q. How would INDYCAR benefit from something like "Drive to Survive"? We talk about how open and welcoming the series is, but we also don't maybe often get the behind-the-scenes perspective that "Drive to Survive" shows. I know maybe it's not accurate or it's exaggerated but how would INDYCAR benefit from something like that?
ROMAIN GROSJEAN: I would be very happy to see something similar be done in INDYCAR. I think there's still a perception that a little bit, what is INDYCAR. It's like the GT cars running on ovals. Oh, no, that's NASCAR. It's just not the same. For people that are not a hard-core fan, they still got a little bit wrong.
Yes, there's many platforms out there. Definitively Peacock broadcasting the 17 races live, it's going to be a good thing this year, as well as the TV channel.
Yes, if Amazon or Netflix or whoever wants to come and do a series behind the scenes, I'd be more than happy to get on board.
Q. Off the 2020 F1 season you were supposed to get a test session with Mercedes which didn't happen for whatever reason. Is that still in the works at any point?
ROMAIN GROSJEAN: Yes, I sent a message to Toto after Abu Dhabi. Well, I left a couple of weeks, a few weeks going by, and then I sent a message to Toto, and he did reply. He I started thank you, and then the last sentence was, we need to get you in that car this year.
Yes, it's still on the card. There were a few things last year that didn't make it easy.
This year I cannot go at the French Grand Prix because we're racing in Iowa the same weekend. But definitively Mercedes is keen to do it. I am keen to do it, even though my neck will be dying because I've lost part of the muscle there. You can ask Pato what it was like.
But yes, I mean, we still want to do it, and if it happens, great, but it's just — the main focus is now trying to win races with Andretti.
Q. You mentioned Sasha and Simon in baseball; do you have any baseball skills?
ROMAIN GROSJEAN: Absolutely none.
Q. How is your throwing of the ball, because we might have you throw out say a first pitch.
ROMAIN GROSJEAN: I mean, it's not — I can practice with the boys, but for us it's quite cool. It's a very American sport that we don't have in Europe I don't think. I've never seen it. The boys enjoy it. I think it's just cool.
I'm probably going to try to hit some balls at one point. I actually went — we went cage batting this summer, and I wanted to go full speed. It was a bad idea. I think the machine was wrongly set up. That was the problem. It wasn't me.
Q. They are seven and five?
ROMAIN GROSJEAN: Eight and six.
Q. You mentioned some things about your hand you can now do at home. What are a couple examples that it's now easier?
ROMAIN GROSJEAN: Just beforehand if I was doing some hope work or whatever, I would hit my hand, it would be really painful. Now it's much more normal. It's still healing and there's still the scar — the inflammation is still here because it was early November, so that's only two months, but yes, now I can just put my shoe using my finger that I couldn't do before, things like that. It's better. I'm also a little bit less careful with the sun, using sun cream, and just when I'm in the water, it's just nicer. It is a good step in a good direction.
Q. Both those surgeries were in November or just the second?
ROMAIN GROSJEAN: Both.
Q. Four hours and one and a half the same week?
ROMAIN GROSJEAN: No, it was two weeks apart. The first one was to do the graft and remove the burning part, and the second one was to remove about 60 to 80 stitches because I had 120, so we had to do them in a surgery. It was just a little bit too long.
THE MODERATOR: Thank you very much. Good luck to you.