IMSA: DragonSpeed loads up on IndyCar drivers for Rolex 24
The DragonSpeed team, back-to-back winners of the Rolex 24 at Daytona LMP2 class in 2019 and 2020, begin their preparations for the 2020 race this weekend at Daytona International Speedway with an all-star driver lineup ready to make the most of eight hours of track time over the three-day Roar Before the 24 test.
After finishing third last year, IndyCar rookie Devlin DeFrancesco reunites with DragonSpeed veteran Eric Lux for this year's edition of the classic enduro. The pair will be joined by IndyCar stars and former Rolex 24 class winners Colton Herta and Pato O'Ward. Recent Formula 1 tester and Arrow McLaren SP ace O'Ward won the Prototype Challenge class on his Daytona debut in 2017 while Andretti Autosport star Herta took GTLM class honors with BMW in 2019.
The action kicks off on Friday with two sessions totaling 165 minutes. Saturday will feature 180 minutes of testing – including a two-hour night session – plus a 15-minute qualifying session for Sunday's 100-minute race, with the LMP2 teams required to field their Bronze-ranked drivers. The finishing order of the Sunday race will set the grid for the Rolex 24 at Daytona, with two of each car's four pilots contesting the event.
Led by team principal and former racer Elton Julian, the DragonSpeed entry will be backed at Daytona by Kimoa, the clothing and accessories brand founded by multiple World Champion Fernando Alonso; jewelry manufacturer Rembrandt Charms; Seattle-based Jones Soda Co.; clean technology company Atmofizer; electric mobility retailer, Simply EV; Austrian small-batch distilled ultra-premium NEFT Vodka; Capstone Green Energy microturbine energy solutions; shipping container leaders Flex-Box; new formula Motul 300V racing motor oil; Electrolit premium hydration drinks; and Gainbridge.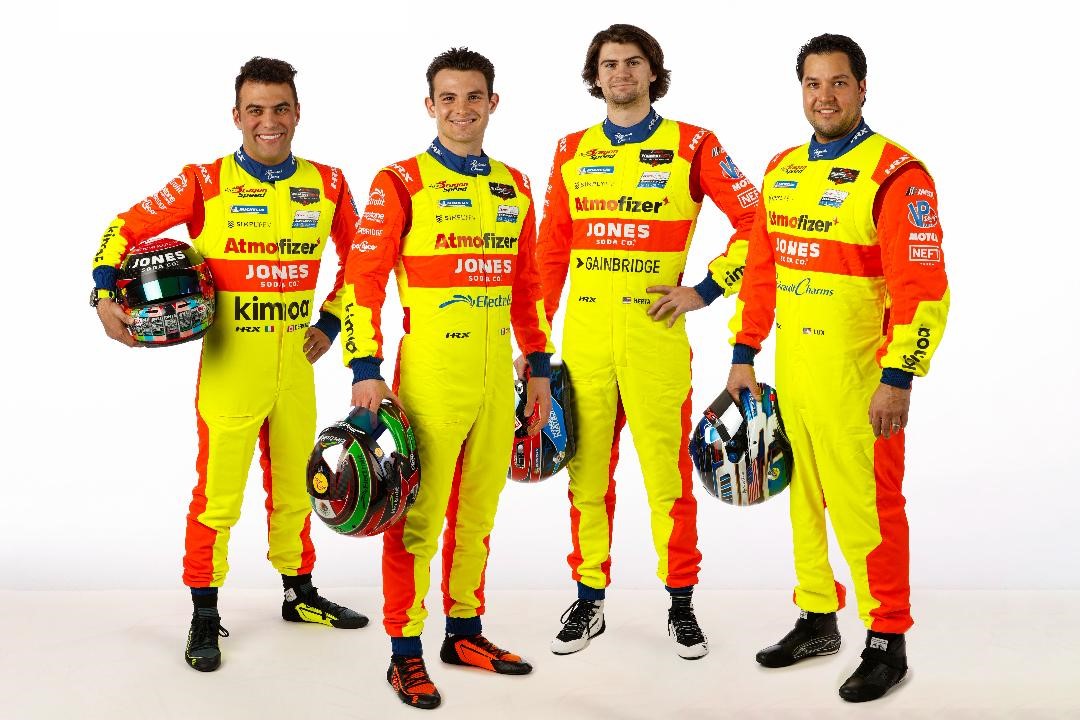 Eric Lux: "This is the strongest team and driver lineup I've ever been part of at Daytona. We have all the elements we need to be at the front after 24 hours, hopefully with a bit of good luck thrown in. Having Elton at the helm is key for me. He helped me a lot on the way to the LMPC title in 2011 and we became good friends. When he stepped away from the cockpit to build up DragonSpeed, we started looking for a way to race together again, which led to a great season of Pirelli World Challenge in 2015. Our podium here last year was frustrating and motivating at the same time, so it really would be sweet to earn my first Rolex 24 watch with DragonSpeed."
Devlin DeFrancesco:  "I always love starting the season at Daytona, and this year will be extra special with Pato and Colton on board – I've known them since we were kids racing karts a decade ago. I really enjoyed my time with DragonSpeed and Eric last year and was thrilled to get onto the podium. My pace here has always been strong, Colton and Pato are obviously mega quick, and with Eric I think we have the top Bronze driver. He has massive endurance racing experience and something like a million laps under his belt at Daytona! Our work at the Roar won't be about outright pace; it's about going into next week as prepared as possible – nailing the car set-up, refining pit stops and driver changes, all the factors that really add up. When it comes to 24-hour races, luck obviously plays a huge role, but I believe we have the pieces in place to make a lot of our own luck."
Colton Herta:  "I'm really looking forward to Daytona this year. I've never driven an LMP2 car, so that will bring a different set of challenges from my GT runs here with BMW. This year I'll be passing a bunch of cars, rather than being passed. At the same time, my experience of the GT lines and braking points will help in navigating the traffic. The Rolex 24 calls for running flat out for the full distance which places exceptional demands on the car, but I've got a terrific team behind me and great teammates, so I'm excited to give it our best shot."
Pato O'Ward:  "I remember when I ran my first laps here; you don't realize how massively banked it is until you're on track. That and the traffic make the Rolex 24 unique as a sportscar race. An LMP2 is quick enough to truly feel the speed, especially at the end of the straight. The whole experience just adds to your adaptability and knowledge base, which helps whenever you step into any type of car. The Roar test is vital for working out things like cockpit fitting details for drivers of different sizes so they don't cause problems during the race week."
Elton Julian: "Finally, we can get down to work on track! Our focus this weekend will be on getting the car running in a useful performance window and helping our drivers old and new to gel as a unit and attuned to the subtleties of LMP2, which can make or break your effort here. We managed to do that last year with drivers who were all new to each other, to the point where we were poised to go for the win until forced to nurse the car to the finish with an oil leak. The talent we have on tap this year makes me even more hopeful for the race."