IMSA: #5 Cadillac on pole for Rolex 24 Qualifying race
Tristan Vautier will start Sunday's Rolex 24 qualifying race from pole after recording the quickest time in the 15-minute prelude to the 100-minute qualifying race Jan. 23 that will determine the pole winner and set the field for the 60th anniversary of the twice-around-the-clock race.
The Frenchman turned a lap of 1m34.034s in his No. 5 JDC-Miller Motorsports Cadillac DPi-V.R , edging out the No. 10 Wayne Taylor Racing Acura ARX-05 of Filipe Albuquerque by 0.122 seconds. The No. 10 Acura was the only non-Cadillac in the top-5.
"It was still really cold," said Vautier. "It was still damp on the curbs and stuff, so it was important to work the tires to get them up to temp quick," Vautier said. "There was quite a lot of traffic with 15 cars, so you knew you had to put a lap in because there was a chance of a red flag, which actually happened. When I got to the Bus Stop, I knew the lap was good and I was thinking, 'Don't mess this up! You just have one corner to go.' The car felt great.
"The team has been working really hard. We made a step last year at Petit Le Mans, and it seems to be helping here."
The No. 02 CGR Cadillac of Alex Lynn was third, followed by the No. 31 Action Express Cadillac of Tristan Nunez in fourth.
Seven-time NASCAR Cup Series champion Jimmie Johnson drove the No. 48 Ally Cadillac DPi-V.R for Action Express Racing to fifth place at 1:34.941. Renger van der Zande was sitting second with 5 minutes left in the session, but hard braking entering Turn 5 caused the No. 01 V-Performance Academy Cadillac DPi-V.R to nose into the tire barrier. Van der Zande was uninjured, but by bringing out a red flag he lost his quickest lap.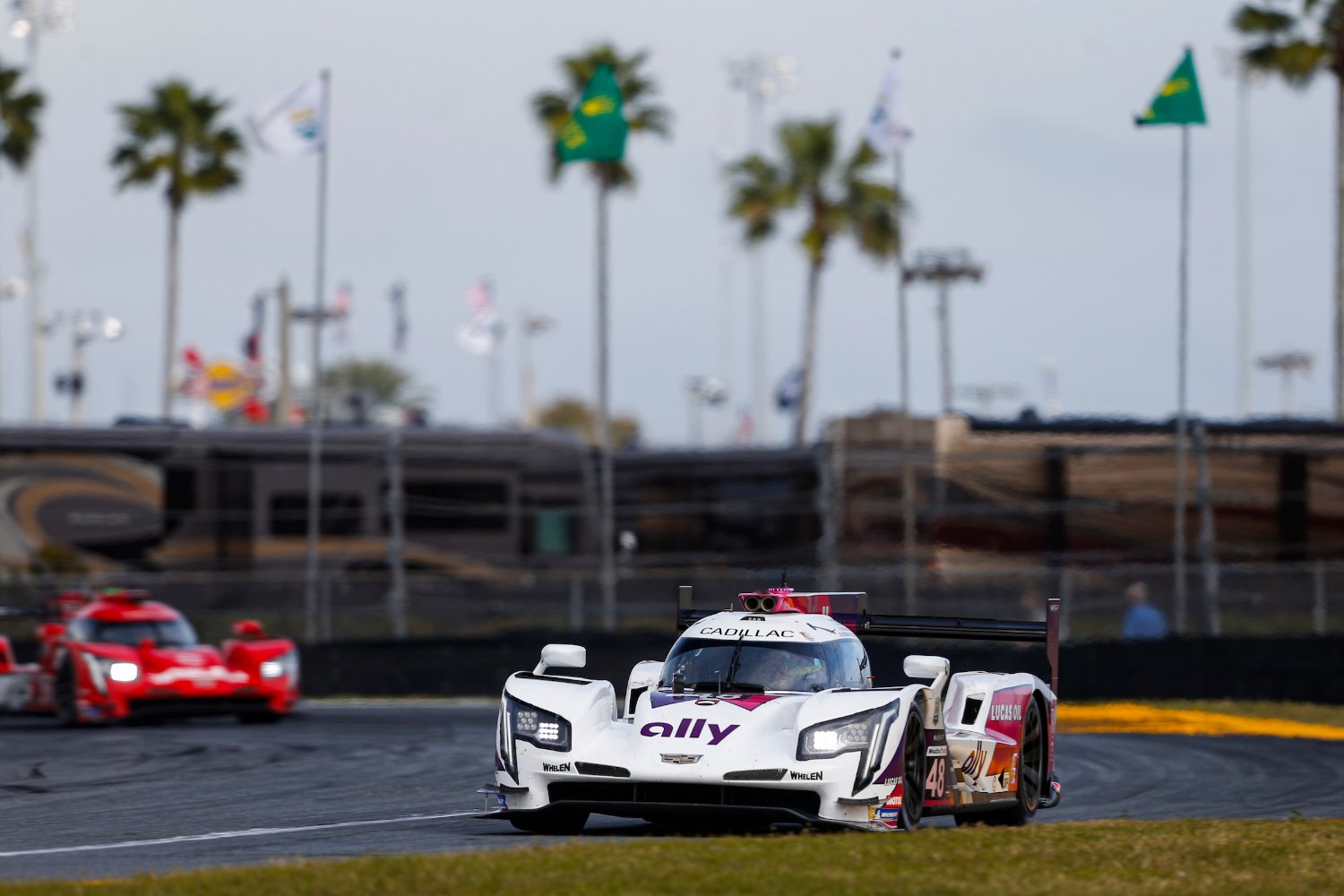 Ben Keating was quickest in the LMP2 class, leading a PR1/Mathiasen Motorsports 1-2 in class.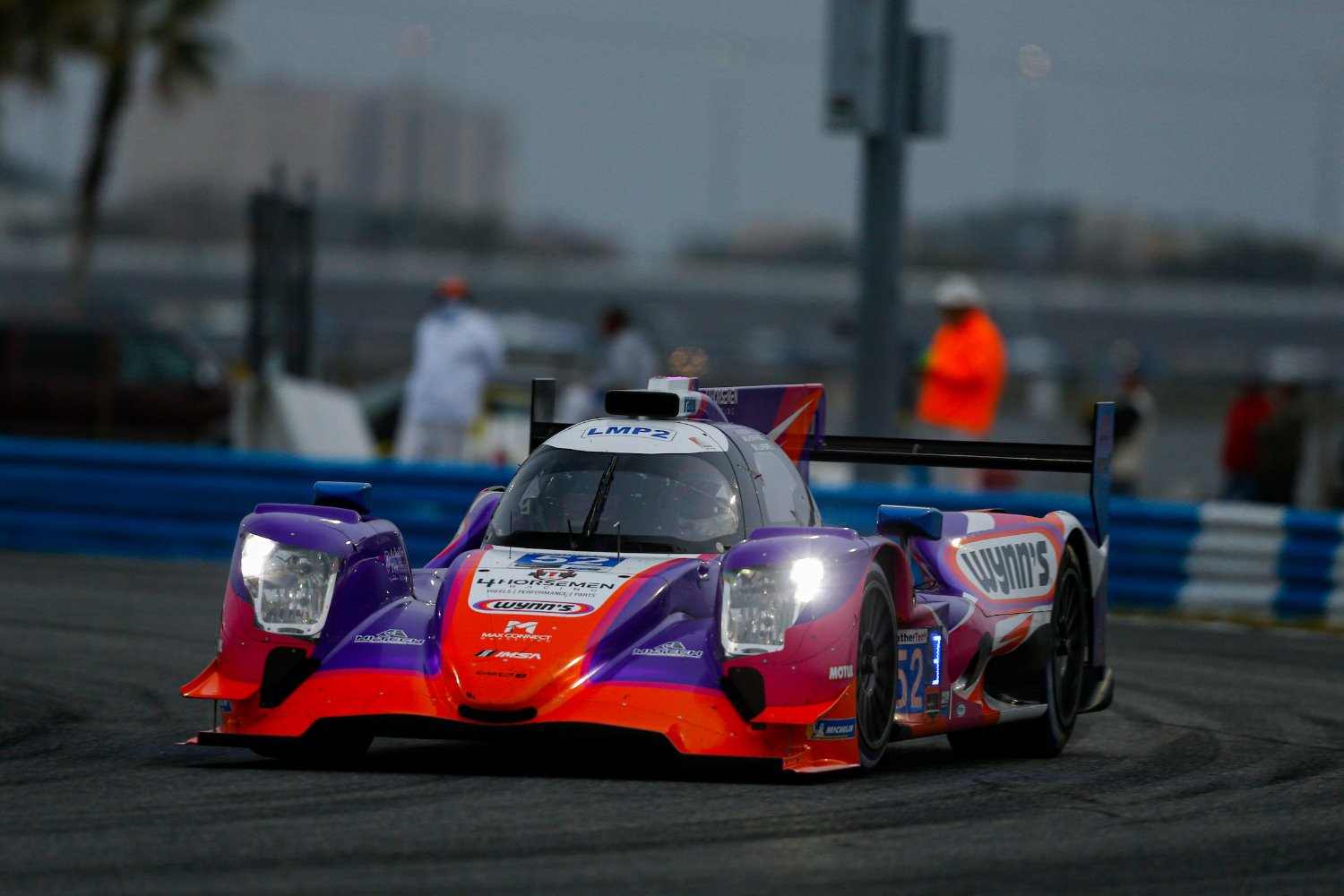 Alexandre Imperatori was quickest in GTD Pro, thanks to a last-lap flyer of 1:46.136 in his KCMG Porsche 911 GT3 R on a drying track.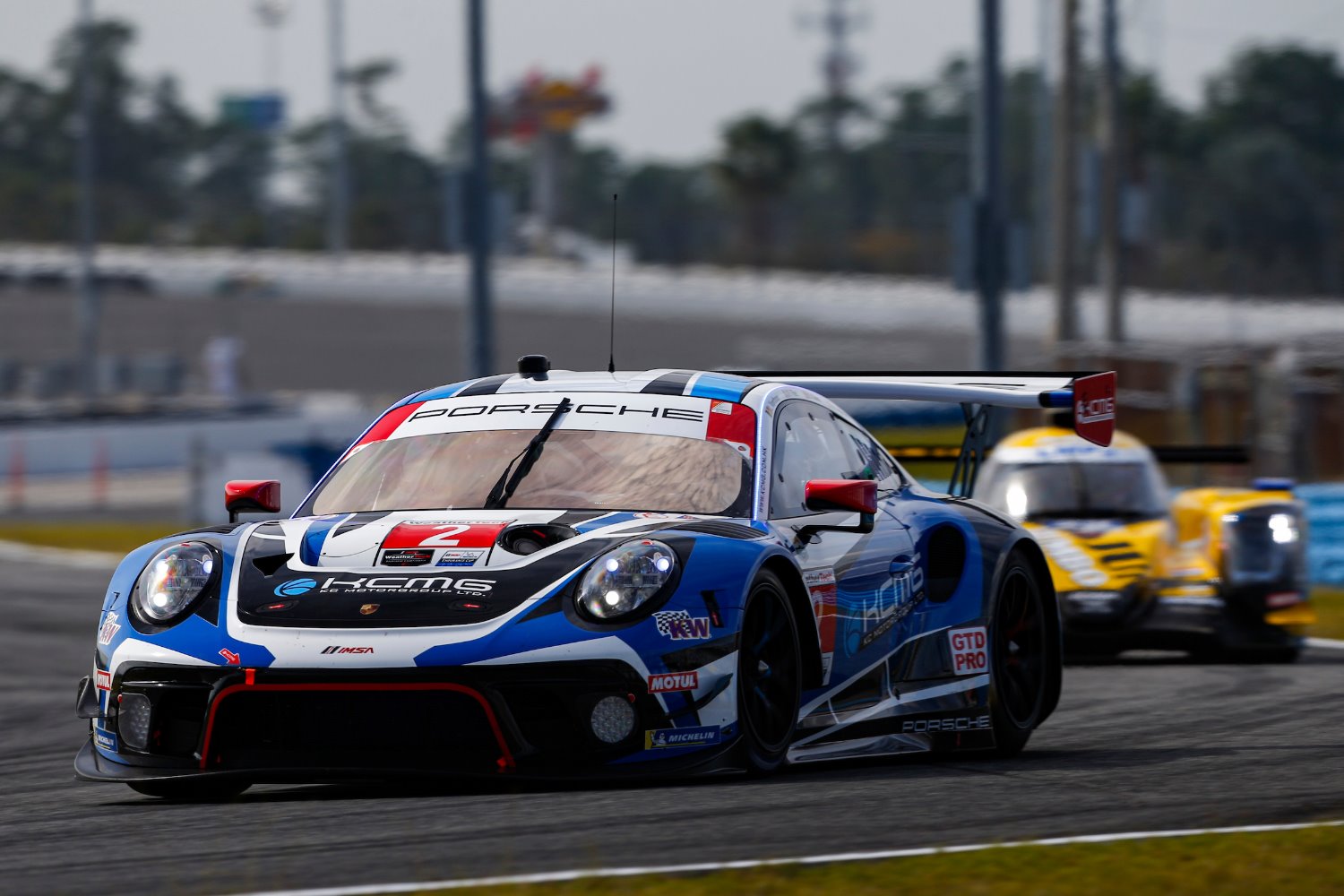 It was 0.063 seconds faster than the No. 9 Pfaff Motorsports Porsche of Mathieu Jaminet, who ended up second quickest.
Mercedes-AMG GT3 Evos locked out the front row in GTD, meanwhile, led by SunEnergy1 Racing's Kenny Habul.
Qualifying Results
Pos

Pic

No.

Class

Drivers*

Team

Car

Time

Behind Gap Mph

1

1

5

DPi

T. Vautier / R. Westbrook

L. Duval / B. Keating

JDC Miller MotorSports

Cadillac DPi

1:34.034

– – 136.291

2

2

10

DPi

R. Taylor / F. Albuquerque

A. Rossi / W. Stevens

Konica Minolta Acura ARX-05

Acura DPi

1:34.156

+0.122 +0.122 136.114

3

3

02

DPi

E. Bamber / A. Lynn

M. Ericsson / K. Magnussen

Cadillac Racing

Cadillac DPi

1:34.259

+0.225 +0.103 135.966

4

4

31

DPi

P. Derani / T. Nunez

M. Conway

Whelen Engineering Racing

Cadillac DPi

1:34.440

+0.406 +0.181 135.705

5

5

48

DPi

K. Kobayashi / M. Rockenfeller

J. Lopez / J. Johnson

Ally Cadillac

Cadillac DPi

1:34.941

+0.907 +0.501 134.989

6

6

60

DPi

O. Jarvis / T. Blomqvist

H. Castroneves / S. Pagenaud

Meyer Shank Racing W/Curb-Agajanian

Acura DPi

1:35.407

+1.373 +0.466 134.330

7

1

52

LMP2

B. Keating / M. Jensen

S. Huffaker / N. Lapierre

PR1 Mathiasen Motorsports

ORECA LMP2 07

1:37.296

+3.262 +1.889 131.721

8

2

11

LMP2

J. Pierson / H. Tincknell

S. Thomas / J. Bomarito

PR1 Mathiasen Motorsports

ORECA LMP2 07

1:37.933

+3.899 +0.637 130.865

9

3

20

LMP2

D. Andersen / A. Fjordbach

F. Scherer / N. Mueller

High Class Racing

ORECA LMP2 07

1:38.175

+4.141 +0.242 130.542

10

7

01

DPi

van der Zande / S. Bourdais

Dixon / A. Palou

Cadillac Racing

Cadillac DPi

1:38.593

+4.559 +0.418 129.989

11

4

68

LMP2

F. Heriau / O. Rasmussen

E. Jones / R. Rast

G-Drive Racing By APR

ORECA LMP2 07

1:38.876

+4.842 +0.283 129.617

12

5

69

LMP2

J. Falb / J. Allen / L. Ghiotto

T. van der Helm

G-Drive Racing By APR

ORECA LMP2 07

1:38.929

+4.895 +0.053 129.547

13

6

81

LMP2

E. Lux / D. Defrancesco

P. O'Ward / C. Herta

DragonSpeed USA

ORECA LMP2 07

1:38.987

+4.953 +0.058 129.471

14

7

29

LMP2

F. Van Eerd / G. van der Garde

D. Murry / R. Veekay

Racing Team Nederland

ORECA LMP2 07

1:40.044

+6.010 +1.057 128.103

15

8

8

LMP2

J. Farano / L. Deletraz

R. Pinto de Andrade

F. Habsburg-Lothringen

Tower Motorsport

ORECA LMP2 07

1:40.091

+6.057 +0.047 128.043

16

9

18

LMP2

D. Merriman / K. Tilley

R. Dalziel / P. Chatin

Era Motorsport

ORECA LMP2 07

1:40.668

+6.634 +0.577 127.309

17

1

26

LMP3

C. Shields / R. Crews / N. Siegel

U. de Wilde

Muehlner Motorsports America

Duqueine D08

1:42.182

+8.148 +1.514 125.423

18

2

38

LMP3

D. Goldburg / H. Abe / G. Grist

N. Pino

Performance Tech Motorsports

Ligier JS P320

1:42.468

+8.434 +0.286 125.073

19

3

36

LMP3

J. Andretti / J. Burdon

R. Lindh / G. Chaves

Andretti Autosport

Ligier JS P320

1:43.783

+9.749 +1.315 123.488

20

4

6

LMP3

E. Castro / M. Kranz / A. Ori

J. Miller

Muehlner Motorsports America

Duqueine D08

1:43.799

+9.765 +0.016 123.469

21

5

54

LMP3

J. Bennett / C. Braun / G. Kurtz

N. Jonsson

CORE Autosport

Ligier JS P320

1:44.783

+10.749 +0.984 122.310

22

6

33

LMP3

J. Barbosa / M. Jakobsen

S. Priaulx / L. Willsey

Sean Creech Motorsport

Ligier JS P320

1:46.053

+12.019 +1.270 120.845

23

10

22

LMP2

J. McGuire / G. Smith

P. Hanson / W. Owen

United Autosports

ORECA LMP2 07

1:46.112

+12.078 +0.059 120.778

24

1

2

GTDPRO

L. Vanthoor / P. Pilet / D. Olsen

A. Imperatori

KCMG

Porsche 911 GT3R

1:46.136

+12.102 +0.024 120.750

25

2

9

GTDPRO

M. Campbell / M. Jaminet

F. Nasr

Pfaff Motorsports

Porsche 911 GT3R

1:46.199

+12.165 +0.063 120.679

26

1

75

GTD

F. Schiller / K. Habul / L. Stolz

R. Marciello

Sun Energy 1

Mercedes-AMG GT3

1:46.313

+12.279 +0.114 120.549

27

2

57

GTD

R. Ward / P. Ellis / M. Grenier

L. Auer

Winward Racing

Mercedes-AMG GT3

1:46.464

+12.430 +0.151 120.378

28

7

13

LMP3

O. Fidani / K. Wittmer / L. Kern

M. Bell

AWA

Duqueine D08

1:46.545

+12.511 +0.081 120.287

29

3

63

GTDPRO

R. Ineichen / M. Mapelli

A. Caldarelli / M. Bortolotti

TR3 Racing

Lamborghini Huracan GT3

1:46.577

+12.543 +0.032 120.251

30

4

23

GTDPRO

R. Gunn / A. Riberas

M. Martin

Heart of Racing Team

Aston Martin Vantage GT3

1:46.683

+12.649 +0.106 120.131

31

3

59

GTD

L. Bergstein / J. Miller

P. Gallagher / P. Holton

Crucial Motorsports

McLaren 720S GT3

1:46.800

+12.766 +0.117 120.000

32

5

62

GTDPRO

A. Pier Guidi / J. Calado

D. Serra / D. Rigon

Risi Competizione

Ferrari 488 GT3

1:46.805

+12.771 +0.005 119.994

33

6

14

GTDPRO

Hawksworth / B. Barnicoat

Kirkwood

VasserSullivan

Lexus RC F GT3

1:46.833

+12.799 +0.028 119.963

34

7

97

GTDPRO

C. MacNeil / D. Juncadella

M. Engel / J. Gounon

WeatherTech Racing

Mercedes-AMG GT3

1:47.017

+12.983 +0.184 119.756

35

4

28

GTD

M. de Quesada / D. Morad

L. Lundqvist / M. Goetz

Alegra Motorsports

Mercedes-AMG GT3

1:47.075

+13.041 +0.058 119.692

36

8

24

GTDPRO

P. Eng / M. Wittmann

N. Yelloly / S. van der Linde

BMW M Team RLL

BMW M4 GT3

1:47.198

+13.164 +0.123 119.554

37

8

7

LMP3

M. Kvamme / A. McCusker

T. Estep / A. Doquin

Forty7 Motorsports

Duqueine D08

1:47.220

+13.186 +0.022 119.530

38

9

79

GTDPRO

C. MacNeil / J. Andlauer

M. Cairoli / A. Picariello

WeatherTech Racing

Porsche 911 GT3R

1:47.226

+13.192 +0.006 119.523

39

5

47

GTD

R. Lacorte / G. Sernagiotto

A. Fuoco / A. Rovera

Cetilar Racing

Ferrari 488 GT3

1:47.271

+13.237 +0.045 119.473

40

6

12

GTD

F. Montecalvo / A. Telitz

R. Heistand / T. Bell

VasserSullivan

Lexus RC F GT3

1:47.625

+13.591 +0.354 119.080

41

10

4

GTDPRO

T. Milner / N. Tandy

M. Sorensen

Corvette Racing

Chevrolet Corvette C8.R GTD

1:47.661

+13.627 +0.036 119.040

42

11

3

GTDPRO

A. Garcia / J. Taylor

N. Catsburg

Corvette Racing

Chevrolet Corvette C8.R GTD

1:47.894

+13.860 +0.233 118.783

43

7

70

GTD

B. Iribe / F. Schandorff

O. Millroy / J. Pepper

inception racing

McLaren 720S GT3

1:47.930

+13.896 +0.036 118.743

44

8

44

GTD

J. Potter / A. Lally / S. Pumpelly

J. Adam

Magnus Racing

Aston Martin Vantage GT3

1:48.014

+13.980 +0.084 118.651

45

12

25

GTDPRO

C. De Phillippi / J. Edwards

A. Farfus / J. Krohn

BMW M Team RLL

BMW M4 GT3

1:48.082

+14.048 +0.068 118.576

46

9

21

GTD

S. Mann / L. Perez Companc

N. Nielsen / T. Vilander

AF CORSE

Ferrari 488 GT3

1:48.125

+14.091 +0.043 118.529

47

10

71

GTD

M. Goikhberg / F. Perera

M. Llarena / M. Paul

T3 Motorsport North America

Lamborghini Huracan GT3

1:48.586

+14.552 +0.461 118.026

48

11

16

GTD

R. Hardwick / Z. Robichon

J. Heylen / R. Lietz

Wright Motorsports

Porsche 911 GT3R

1:49.747

+15.713 +1.161 116.777

49

12

42

GTD

D. Yount / B. Hites

J. Conwright / M. Palttala

NTE Sport

Lamborghini Huracan GT3

1:51.790

+17.756 +2.043 114.643

50

13

39

GTD

Megennis / C. Lewis

Mitchell / J. Westphal

CarBahn with Peregrine Racing

Lamborghini Huracan GT3

1:54.042

+20.008 +2.252 112.379

51

14

32

GTD

M. Skeen / G. Cosmo

S. McAleer / S. Andrews

Gilbert Korthoff Motorsports

Mercedes-AMG GT3

1:54.796

+20.762 +0.754 111.641

52

15

98

GTD

P. Dalla Lana / D. Pittard

C. Eastwood / N. Thiim

Northwest AMR

Aston Martin Vantage GT3

1:54.870

+20.836 +0.074 111.569

53

16

96

GTD

R. Foley / B. Auberlen

M. Dinan / J. Klingmann

Turner Motorsport

BMW M4 GT3

1:55.147

+21.113 +0.277 111.301

54

17

19

GTD

B. Sweedler / J. Megrue

G. Altoe / J. Segal

TR3 Racing

Lamborghini Huracan GT3

1:58.809

+24.775 +3.662 107.870

55

13

15

GTDPRO

D. Mueller / P. Assenheimer

A. Cindric

Proton USA

Mercedes-AMG GT3

56

18

27

GTD

R. De Angelis / I. James

D. Turner / T. Gamble

Heart of Racing Team

Aston Martin Vantage GT3

57

19

34

GTD

K. Washington / J. Sofronas

J. Bleekemolen / K. Bachler

GMG Racing

Porsche 911 GT3R