IMSA: RSI Porsche wins Michelin Pilot Challenge race at Daytona
The brand new Porsche 718 Cayman GT4 RS Clubsport has won its inaugural race, the Endurance Challenge at Daytona, today at Daytona International Speedway. RS1, a longtime Porsche entrant in the GS class of the IMSA Michelin Pilot Challenge, was able to stave-off heated competition from fellow Porsche privateer TeamTGM to score the victory in the 4.0-liter flat-six engined-sports car's competition debut.
It was the first series win for the driving combination of Eric Filgueiras (Cocoa, Florida) and Stevan McAleer (Scotland). The four-hour race was the first GT4-spec victory on the 2.56-mile, 12-turn road course for Porsche since RS1 earned the first win for a then new Porsche 718 Cayman in 2018. In total, nine Porsche 718 Cayman GT4 RS Clubsport race cars finished today's season-opening enduro with four cars in the top-ten overall.
The No. 28 RS1 Porsche of eventual race winners McAleer and Porsche Motorsport Pyramid graduate Filgueiras pushed hard from the start battling past the pole position-winning No. 8 McCann Racing Porsche. The first-year McCann team with drivers Andrew Davis (Athens, Georgia) and Michael McCann (Canton, Ohio) would fall out of contention with a punctured left-front with just over one-hour remaining. They would continue in the race but have to settle for 25th in the 48-car field.
It was the 10th Michelin Pilot Challenge victory for McAleer, a 37-year-old Scotsman, and the first for Filgueiras in his first IMSA race of any kind. It was also Porsche's first win in any form of IMSA competition at Daytona since 2018, also delivered by RS1 in the Michelin Pilot Challenge.
"I grew up about an hour south from here, came to this race all my life, and always said I was going to be in it one day," Filgueiras exclaimed. "This is my first IMSA race and my first IMSA win, and I'm just so glad to be here. I don't know how to describe what this means to me.
"Stevan McAleer is an absolute hero, and that's why we hired him," Filgueiras added. "He took his time, he was persistent and he was patient. You could see that (executing the winning pass) took time. He kept asking how much time was left, and you could see he made a couple attempts that didn't quite work as he tried to feel things out. This was an absolute team effort."
McAleer said he encountered a gearbox glitch about 30 minutes into his stint that required him to recycle the Porsche's electronics. After that, the car was flawless and fast – albeit, no longer in the lead.
"It was frustrating watching cars passing me left, right and center," McAleer said of the moments when he slowed and had to reboot the car. "We had a little bit of work to do, but the car was utterly fantastic. It shows how good the new Cayman GT4 platform is because so many teams have moved forward with this car."
The final restart came with McAleer running sixth, but he was confident in working his way to the front. He harbored a bit of worry about Trinkler in the leading Porsche.
"I wanted to play the game smart and certainly not take two Porsches out at the end of the race," McAleer said. "Credit to him because we touched fenders a few times."
Gary Ferrera and Kris Wilson, in the No. 11 Capstone Motorsports Mercedes-AMG GT3, won the Bronze Cup awarded to the top-finishing entry with an all-Bronze rated driver lineup. The No. 11 finished 11th overall.
For the first time in almost three and a half years, Robert Wickens returned to racing.
Wickens, paralyzed in an IndyCar crash at Pocono Raceway in August 2018, teamed with fellow Canadian Mark Wilkins in the No. 33 Bryan Herta Autosport Hyundai Elantra N TCR to finish 28th, 4 laps behind, in a hand controls car.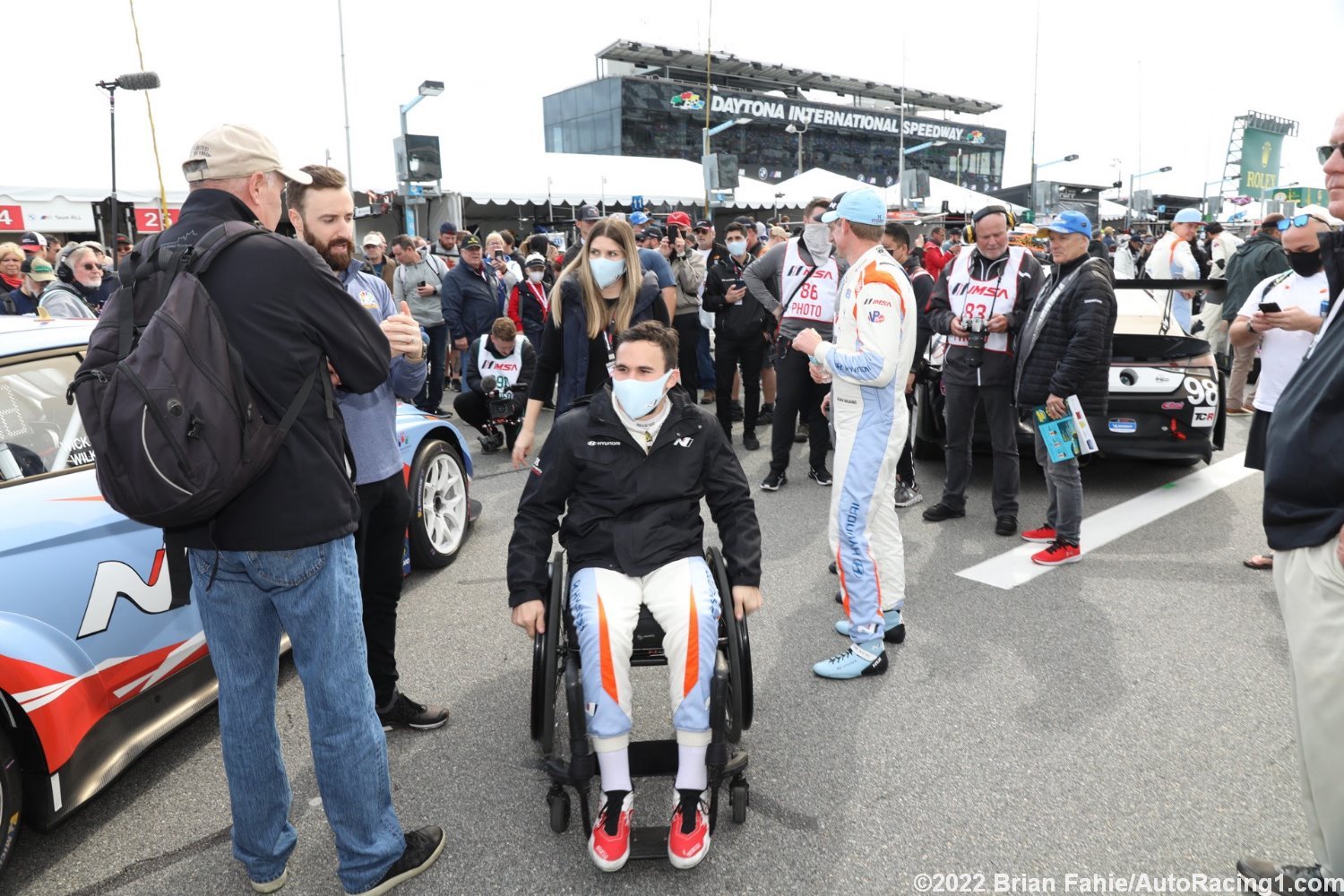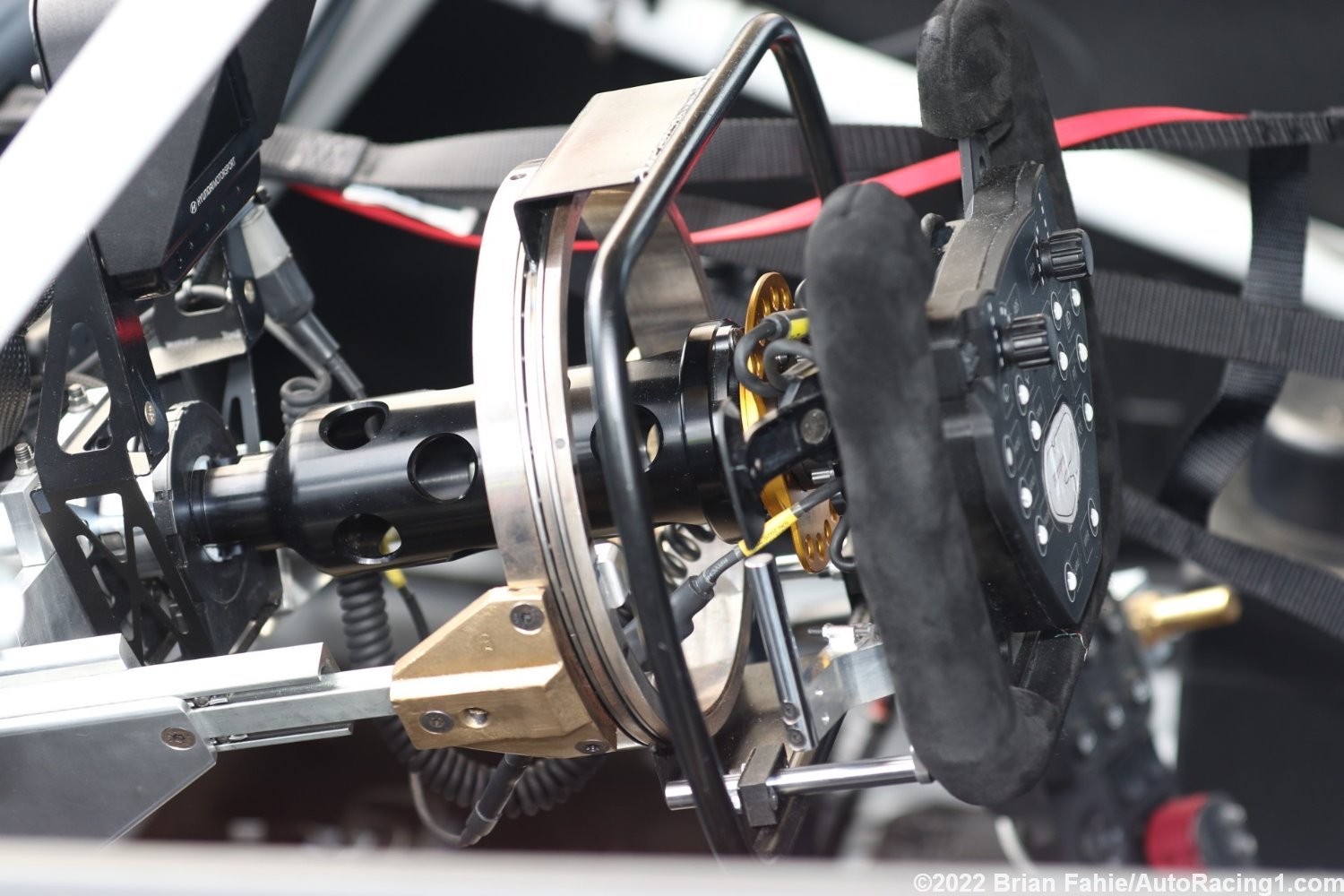 Quotes
Eric Filgueiras, Driver, No. 28 RS1 Porsche 718 Cayman GT4 RS Clubsport.  
"We are really proud of this win. This is my first IMSA race and first IMSA win. I have been associated with RS1 for a while and we wanted to put all the pieces together. I raced in half a season of Porsche Sprint Challenge North America last year, so I was familiar with the 718 platform, and it just felt like home. We are proud to have RS1 back on top… it is where they should be."
Stevan McAleer, Driver, No. 28 RS1 Porsche 718 Cayman GT4 RS Clubsport.  
"The race was incredible. There has been a lot of bad luck the last few years here and to get the Cayman upfront in its debut in the series is special. It is quite a car. There are a lot of Porsche race cars on the track out there and I think just from the sheer number of Porsche cars it showed the teams favoring that this was going to be a good car this year. Eric did an absolute phenomenal job, the first time in IMSA for him. He ran as quick as the guys up front. How we won this race today, comfortably, is that the car didn't fall off. I am blown away that the Michelin tire could go that long on this car; same brake and turn-in points over the stint. I am delighted to get a win for RS1."
Ted Giovanis, Driver/Owner, No. 64 TeamTGM Porsche 718 Cayman GT4 RS Clubsport.
"I've been on the podium before but not since 2016 so this is great. I was really hoping for a win. It seemed like the team was going to be in a good position, but the number 28 car had just a little too much on us in the banking and was able to get us. But all in all, we are just ecstatic with this performance and I'm sorry that Owen got overheated but he'll be fine. Owen has been driving like a man on fire this weekend. I'm ecstatic, more then we could have imagined."
Owen Trinkler, Driver, No. 64 TeamTGM Porsche 718 Cayman GT4 RS Clubsport.
"First of all, I'm super happy for Ted. This has been coming for a little while. We almost had the win at Atlanta, but we made it up at Daytona, at the World Center of Racing. Almost got the win, we just didn't have the speed that the number 28 had. I can't say enough for our guys. We got this car and in seven days had it on track at Sebring and put some miles on it. We did limited practice here because of weather conditions and look where we are. Not the top step but we led a lot of this race toward the end. Ted's first podium in Michelin Pilot Challenge GS ever and I'm just so happy for our boys and how we've grown as a team and where we are going. The Porsche performed flawlessly. Looking forward to this year."
Michelin Pilot Challenge Results
Pos

PiC

No.

Class

Drivers

Team

Car

Laps

Behind/Gap

1

1

28

GS

E. Filgueiras / S. McAleer

RS1

Porsche 718 GT4 RS CS

111

– –

2

2

64

GS

T. Giovanis / O. Trinkler

TeamTGM

Porsche 718 GT4 RS CS

111

4.631 4.631

3

3

95

GS

B. Auberlen / D. Machavern

Turner Motorsport

BMW M4 GT4

111

8.638 4.007

4

4

93

GS

M. Siegel / T. Dyer

T. McQuarrie

CarBahn with Peregrine Racing

Porsche 718 GT4 RS CS

111

8.824 0.186

5

5

96

GS

R. Foley / V. Barletta

M. Dinan

Turner Motorsport

BMW M4 GT4

111

9.625 0.801

6

6

46

GS

H. Plumb / M. Plumb

TeamTGM

Porsche 718 GT4 RS CS

111

21.421 11.796

7

7

7

GS

A. Brynjolfsson / T. Hindman

Volt Racing

Aston Martin Vantage GT4

111

26.450 5.029

8

8

56

GS

J. Mosing / E. Foss

Murillo Racing

Mercedes-AMG GT GT4

111

26.547 0.097

9

9

41

GS

A. Cindric / H. Burton

PF Racing

Ford Mustang GT4

111

26.826 0.279

10

10

72

GS

K. Murillo / C. Szymczak

Murillo Racing

Mercedes-AMG GT GT4

111

26.985 0.159

11

11

11

GS

B G. Ferrera / K. Wilson

Capstone Motorsports

Mercedes-AMG GT GT4

111

30.323 3.338

12

12

3

GS

S. Monk / K. Marcelli

JG Wentworth Racing by Infinity Autosport

Toyota Supra GT4

111

32.564 2.241

13

13

14

GS

A. Najri / T. Camilo

J. Santero

Riley Motorsports

Toyota Supra GT4

111

40.011 7.447

14

14

65

GS

B B. Mosing / T. Probert

Murillo Racing

Mercedes-AMG GT GT4

111

1:48.088 1:08.077

15

15

32

GS

B K. Washington / J. Sofronas

GMG Racing

Porsche 718 GT4 RS CS

110

1 Lap 1 Lap

16

16

68

GS

K. Conway / J. Geesbreght

J. Hawksworth

Smooge Racing

Toyota Supra GT4

110

1 Lap 11.199

17

17

40

GS

J. Pesek / C. McCumbee

PF Racing

Ford Mustang GT4

110

1 Lap 7.496

18

18

6

GS

T. Long / L. Rumburg N. Galante

Forbush Performance

Toyota Supra GT4

110

1 Lap 15.290

19

19

47

GS

M. Travis / J. Hart

NOLASPORT

Porsche 718 GT4 RS CS

110

1 Lap 27.811

20

20

71

GS

M. Cooper / R. Liddell

Rebel Rock Racing

Chevrolet Camaro GT4.R

109

Not Running

21

21

540

GS

T. Pappas / J. Bleekemolen

S. Bleekemolen

Black Swan Racing

Porsche 718 GT4 RS CS

109

2 Laps 3:49.123

22

22

24

GS

F. Gannett / D. Staveley

Ian Lacy Racing

Ford Mustang GT4

109

2 Laps 19.920

23

23

21

GS

A. Dias Perera / C. Braun

S. Andrews

Riley Motorsports

Toyota Supra GT4

109

2 Laps 1:04.228

24

24

42

GS

C. Briscoe / H. Deegan

PF Racing

Ford Mustang GT4

109

2 Laps 5.575

25

1

5

TCR

R. Block / T. Lewis

KMW Motorsports with TMR Engineering

Alfa Romeo Giulietta Veloce TCR

107

4 Laps 2 Laps

26

25

8

GS

A. Davis / M. McCann

McCann Racing

Porsche 718 GT4 RS CS

107

4 Laps 8.520

27

2

1

TCR

M. Lewis / T. Hagler

Bryan Herta Autosport w/ Curb Agajanian

Hyundai Elantra N TCR

107

4 Laps 1.004

28

3

33

TCR

M. Wilkins / R. Wickens

Bryan Herta Autosport w/ Curb Agajanian

Hyundai Elantra N TCR

107

4 Laps 4.511

29

4

44

TCR

T. Herbert / W. Tally

NGP Motorsports

Audi RS3 LMS DSG

107

4 Laps 4.737

30

5

19

TCR

R. van der Steur / T. Gonzalez

VAN DER STEUR RACING

Hyundai Veloster N TCR

107

4 Laps 1.158

31

6

54

TCR

S. Simpson / M. Johnson

Michael Johnson Racing w/ Bryan Herta Autosport

Hyundai Elantra N TCR

106

5 Laps 1 Lap