Rolex 24 Hour 4: Vander Zande puts Ganassi #01 out front
Renger van der Zande led the Rolex 24 at Daytona at the 4-Hour Mark by overtaking Will Stevens on the restart as the second of two lengthy full-course caution periods ended.
Van der Zande moved his No. 01 Chip Ganassi Racing Cadillac DPi-V.R. past Stevens' Acura ARX-05 just after the field took the green flag and soon thereafter three other Cadillacs passed Stevens as he drives the #10 Acura toward the back of the standings.
In GTD Pro Risi Competizione driver James Calado took the lead under the caution but the #9 Porsche soon passed him once the green flew.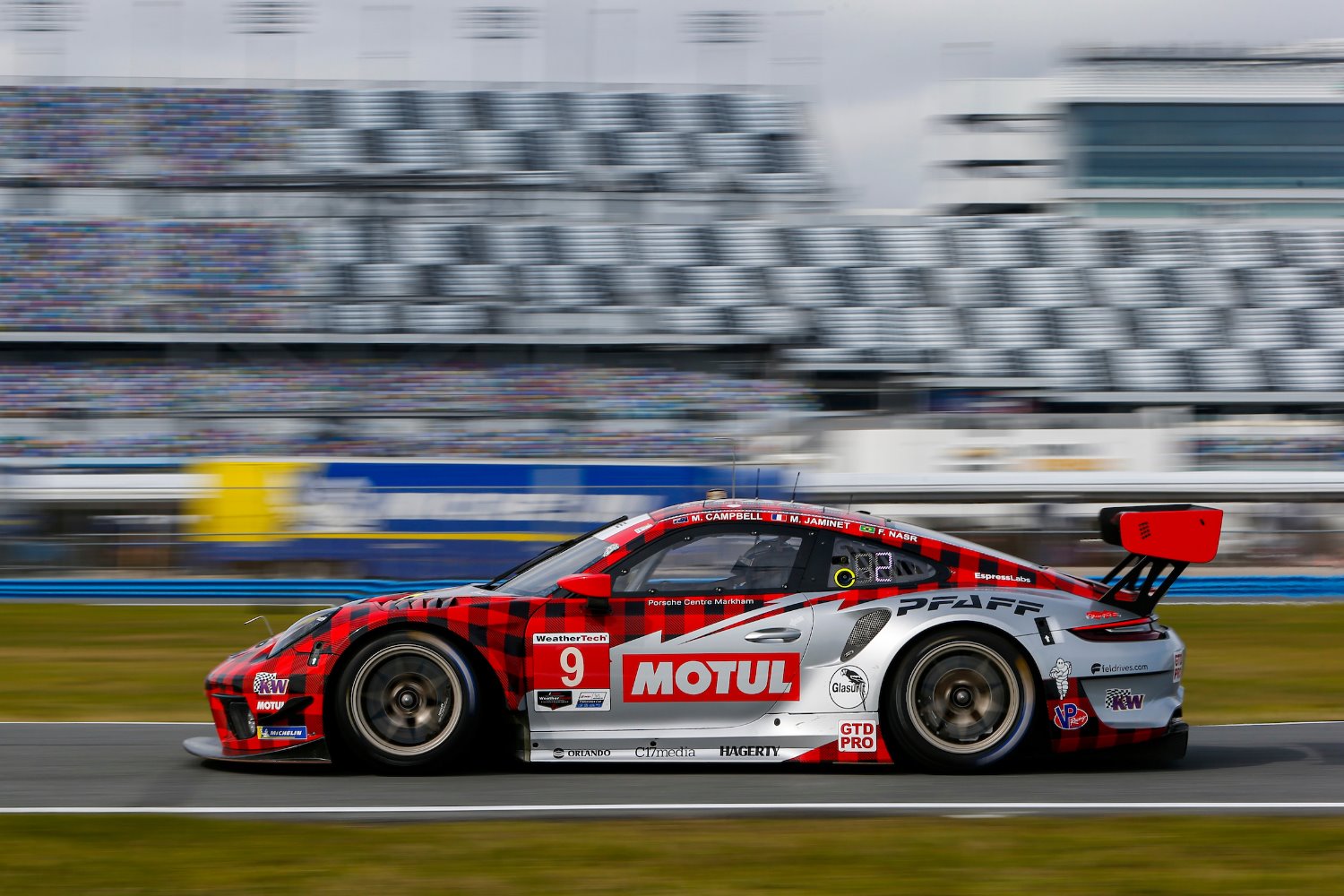 The #57 Mercedes-AMG customer Winward Racing led in GTD with Mikael Grenier at the wheel.
G-Drive Racing's No. 69 Oreca 07 Gibson was the LMP2 leader, while #36 Andretti Autosport held the edge in LMP3.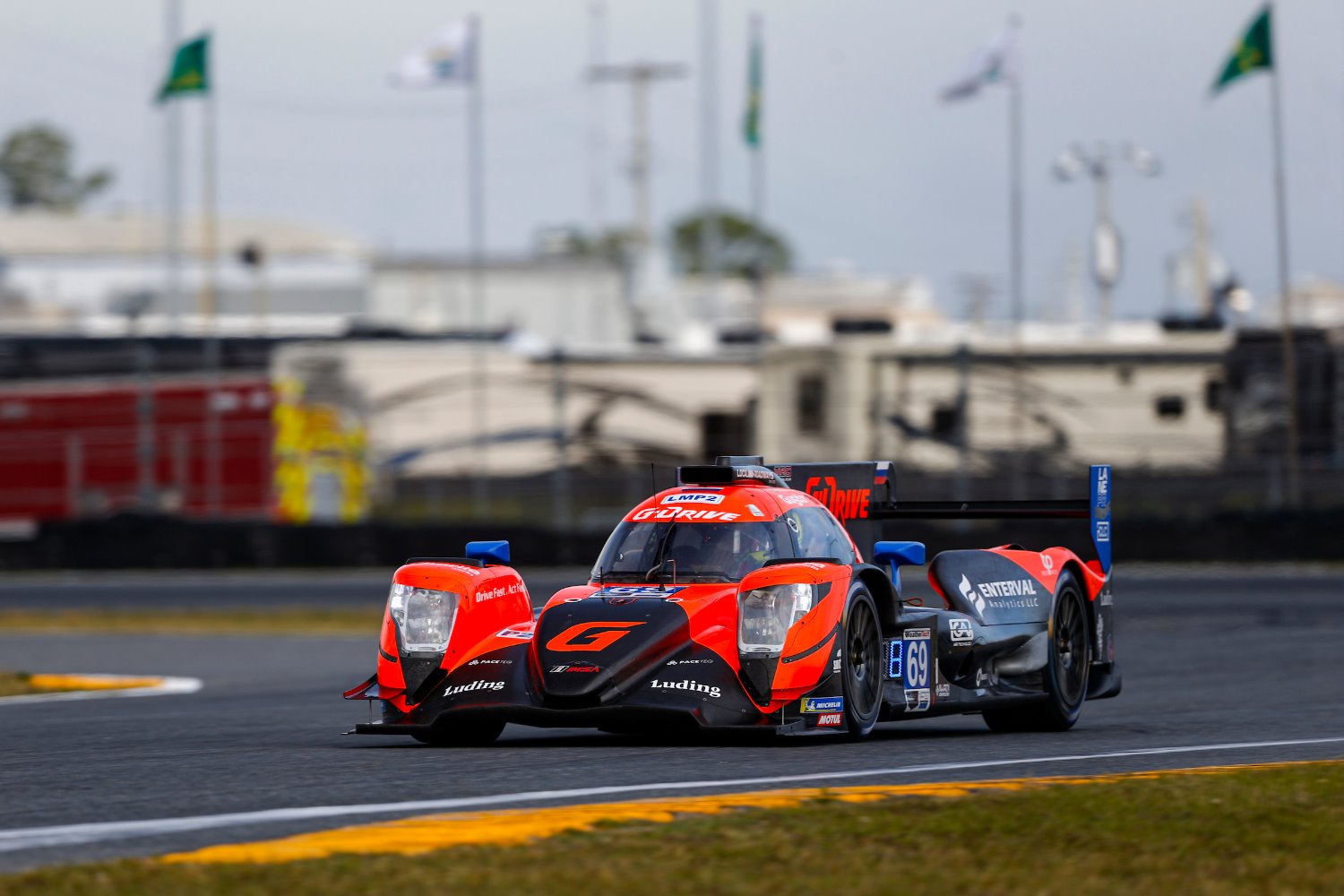 Hour 4 Standings
Pos
No.
CLASS
TEAM
Drivers
Car
Laps

Behind

1

01

DPi

Cadillac Racing

Renger van der Zande

Sebastien Bourdais

Scott Dixon

Alex Palou

Cadillac DPi

121

0.000s

2

10

DPi

Konica Minolta Acura ARX-05

Ricky Taylor

Filipe Albuquerque

Alexander Rossi

Will Stevens

Acura DPi

121

1.194

3

31

DPi

Whelen Engineering Racing

Pipo Derani

Tristan Nunez

Mike Conway

 

Cadillac DPi

121

2.135

4

02

DPi

Cadillac Racing

Earl Bamber

Alex Lynn

Marcus Ericsson

Kevin Magnussen

Cadillac DPi

121

2.719

5

48

DPi

Ally Cadillac

Mike Rockenfeller

Kamui Kobayashi

Jimmie Johnson

Jose Maria Lopez

Cadillac DPi

121

4.402

6

5

DPi

JDC Miller MotorSports

Tristan Vautier

Richard Westbrook

Loic Duval

Ben Keating

Cadillac DPi

121

5.007

7

60

DPi

Meyer Shank Racing W/Curb-Agajanian

Oliver Jarvis

Tom Blomqvist

Helio Castroneves

Simon Pagenaud

Acura DPi

120

1 Laps

8

69

LMP2

G-Drive Racing By APR

John Falb

James Allen

Luca Ghiotto

Tijmen van der Helm

ORECA LMP2 07

118

3 Laps

9

20

LMP2

High Class Racing

Dennis Andersen

Anders Fjordbach

Fabio Scherer

Nico Mueller

ORECA LMP2 07

118

3 Laps

10

29

LMP2

Racing Team Nederland

Frits Van Eerd

Giedo van der Garde

Dylan Murry

Rinus Veekay

ORECA LMP2 07

118

3 Laps

11

11

LMP2

PR1 Mathiasen Motorsports

Steven Thomas

Josh Pierson

Jonathan Bomarito

Harry Tincknell

ORECA LMP2 07

118

3 Laps

12

52

LMP2

PR1 Mathiasen Motorsports

Ben Keating

Mikkel Jensen

Scott Huffaker

Nicolas Lapierre

ORECA LMP2 07

118

3 Laps

13

81

LMP2

DragonSpeed USA

Eric Lux

Devlin Defrancesco

Patricio O'Ward

Colton Herta

ORECA LMP2 07

118

3 Laps

14

8

LMP2

Tower Motorsport

John Farano

Louis Deletraz

Rui Pinto de Andrade

Ferdinand Habsburg-Lothringen

ORECA LMP2 07

117

4 Laps

15

36

LMP3

Andretti Autosport

Jarett Andretti

Josh Burdon

Rasmus Lindh

Gabby Chaves

Ligier JS P320

115

6 Laps

16

33

LMP3

Sean Creech Motorsport

Joao Barbosa

Malthe Jakobsen

Seb Priaulx

Lance Willsey

Ligier JS P320

115

6 Laps

17

54

LMP3

CORE Autosport

Jon Bennett

Colin Braun

George Kurtz

Nic Jonsson

Ligier JS P320

115

6 Laps

18

74

LMP3

Riley Motorsports

Gar Robinson

Felipe Fraga

Kay van Berlo

Michael Cooper

Ligier JS P320

115

6 Laps

19

38

LMP3

Performance Tech Motorsports

Dan Goldburg

Hikaru Abe

Garett Grist

Nico Pino

Ligier JS P320

115

6 Laps

20

22

LMP2

United Autosports

James McGuire

Guy Smith

Phil Hanson

Will Owen

ORECA LMP2 07

114

7 Laps

21

9

GTDPRO

Pfaff Motorsports

Matt Campbell

Mathieu Jaminet

Felipe Nasr

Porsche 911 GT3R

114

7 Laps

22

62

GTDPRO

Risi Competizione

Alessandro Pier Guidi

James Calado

Daniel Serra

Davide Rigon

Ferrari 488 GT3

114

7 Laps

23

2

GTDPRO

KCMG

Laurens Vanthoor

Patrick Pilet

Dennis Olsen

Alexandre Imperatori

Porsche 911 GT3R

114

7 Laps

24

14

GTDPRO

VasserSullivan

Jack Hawksworth

Ben Barnicoat

Kyle Kirkwood

 

Lexus RC F GT3

114

7 Laps

25

4

GTDPRO

Corvette Racing

Tommy Milner

Nick Tandy

Marco Sorensen

 

Chevrolet Corvette C8.R GTD

114

7 Laps

26

57

GTD

Winward Racing

Russell Ward

Philip Ellis

Mikael Grenier

Lucas Auer

Mercedes-AMG GT3

114

7 Laps

27

97

GTDPRO

WeatherTech Racing

Cooper MacNeil

Daniel Juncadella

Maro Engel

Jules Gounon

Mercedes-AMG GT3

114

7 Laps

28

3

GTDPRO

Corvette Racing

Antonio Garcia

Jordan Taylor

Nicky Catsburg

 

Chevrolet Corvette C8.R GTD

114

7 Laps

29

15

GTDPRO

Proton USA

Dirk Mueller

Patrick Assenheimer

Austin Cindric

 

Mercedes-AMG GT3

114

7 Laps

30

28

GTD

Alegra Motorsports

Michael de Quesada

Daniel Morad

Linus Lundqvist

Maximilian Goetz

Mercedes-AMG GT3

114

7 Laps

31

32

GTD

Gilbert Korthoff Motorsports

Mike Skeen

James Davison

Stevan McAleer

Scott Andrews

Mercedes-AMG GT3

114

7 Laps

32

27

GTD

Heart of Racing Team

Roman De Angelis

Ian James

Darren Turner

Tom Gamble

Aston Martin Vantage GT3

114

7 Laps

33

96

GTD

Turner Motorsport

Robby Foley

Bill Auberlen

Michael Dinan

Jens Klingmann

BMW M4 GT3

114

7 Laps

34

44

GTD

Magnus Racing

John Potter

Andy Lally

Spencer Pumpelly

Jonathan Adam

Aston Martin Vantage GT3

114

7 Laps

35

63

GTDPRO

TR3 Racing

Rolf Ineichen

Marco Mapelli

Andrea Caldarelli

Mirko Bortolotti

Lamborghini Huracan GT3

114

7 Laps

36

71

GTD

T3 Motorsport North America

Misha Goikhberg

Franck Perera

Mateo Llarena

Maximilian Paul

Lamborghini Huracan GT3

114

7 Laps

37

19

GTD

TR3 Racing

Bill Sweedler

John Megrue

Giacomo Altoe

Jeff Segal

Lamborghini Huracan GT3

114

7 Laps

38

16

GTD

Wright Motorsports

Ryan Hardwick

Zacharie Robichon

Jan Heylen

Richard Lietz

Porsche 911 GT3R

114

7 Laps

39

99

GTD

Team Hardpoint

Rob Ferriol

Katherine Legge

Stefan Wilson

Nick Boulle

Porsche 911 GT3R

114

7 Laps

40

21

GTD

AF CORSE

Simon Mann

Luis Perez Companc

Nicklas Nielsen

Toni Vilander

Ferrari 488 GT3

114

7 Laps

41

66

GTD

Gradient Racing

Kyffin Simpson

Till Bechtolsheimer

Marc Miller

Mario Farnbacher

Acura NSX GT3

114

7 Laps

42

39

GTD

CarBahn with Peregrine Racing

Robert Megennis

Corey Lewis

Sandy Mitchell

Jeff Westphal

Lamborghini Huracan GT3

114

7 Laps

43

68

LMP2

G-Drive Racing By APR

Francois Heriau

Oliver Rasmussen

Ed Jones

Rene Rast

ORECA LMP2 07

113

8 Laps

44

79

GTDPRO

WeatherTech Racing

Cooper MacNeil

Julien Andlauer

Matteo Cairoli

Alessio Picariello

Porsche 911 GT3R

113

8 Laps

45

59

GTD

Crucial Motorsports

Lance Bergstein

Jon Miller

Patrick Gallagher

Paul Holton

McLaren 720S GT3

113

8 Laps

46

13

LMP3

AWA

Orey Fidani

Kuno Wittmer

Lars Kern

Matthew Bell

Duqueine D08

113

8 Laps

47

26

LMP3

Muehlner Motorsports America

Nolan Siegel

Cameron Shields

CR Crews

Ugo de Wilde

Duqueine D08

113

8 Laps

48

25

GTDPRO

BMW M Team RLL

Connor De Phillippi

John Edwards

Augusto Farfus

Jesse Krohn

BMW M4 GT3

113

8 Laps

49

42

GTD

NTE/SSR

Don Yount

Benja Hites

Jaden Conwright

Markus Palttala

Lamborghini Huracan GT3

113

8 Laps

50

70

GTD

inception racing

Brendan Iribe

Frederik Schandorff

Ollie Millroy

Jordan Pepper

McLaren 720S GT3

112

9 Laps

51

64

GTD

TeamTGM

Ted Giovanis

Hugh Plumb

Matt Plumb

Owen Trinkler

Porsche 911 GT3R

112

9 Laps

52

18

LMP2

Era Motorsport

Dwight Merriman

Kyle Tilley

Ryan Dalziel

Paul-Loup Chatin

ORECA LMP2 07

110

11 Laps

53

24

GTDPRO

BMW M Team RLL

Philipp Eng

Marco Wittmann

Nick Yelloly

Sheldon van der Linde

BMW M4 GT3

106

15 Laps

54

23

GTDPRO

Heart of Racing Team

Ross Gunn

Alex Riberas

Maxime Martin

 

Aston Martin Vantage GT3

103

18 Laps

55

6

LMP3

Muehlner Motorsports America

Efrin Castro

Moritz Kranz

Ayrton Ori

Joel Miller

Duqueine D08

103

18 Laps

56

7

LMP3

Forty7 Motorsports

Mark Kvamme

Austin McCusker

Trenton Estep

Antoine Doquin

Duqueine D08

102

19 Laps

57

75

GTD

Sun Energy 1

Fabian Schiller

Kenny Habul

Luca Stolz

Raffaele Marciello

Mercedes-AMG GT3

101

20 Laps

58

98

GTD

Northwest AMR

Paul Dalla Lana

David Pittard

Charlie Eastwood

Nicki Thiim

Aston Martin Vantage GT3

99

22 Laps

59

34

GTD

GMG Racing

Kyle Washington

James Sofronas

Jeroen Bleekemolen

Klaus Bachler

Porsche 911 GT3R

88

33 Laps

60

47

GTD

Cetilar Racing

Roberto Lacorte

Giorgio Sernagiotto

Antonio Fuoco

Alessio Rovera

Ferrari 488 GT3

69

52 Laps

61

12

GTD

VasserSullivan

Frankie Montecalvo

Aaron Telitz

Richard Heistand

Townsend Bell

Lexus RC F GT3

41

80 Laps