MotoGP: 2022 Monster Energy Yamaha livery revealed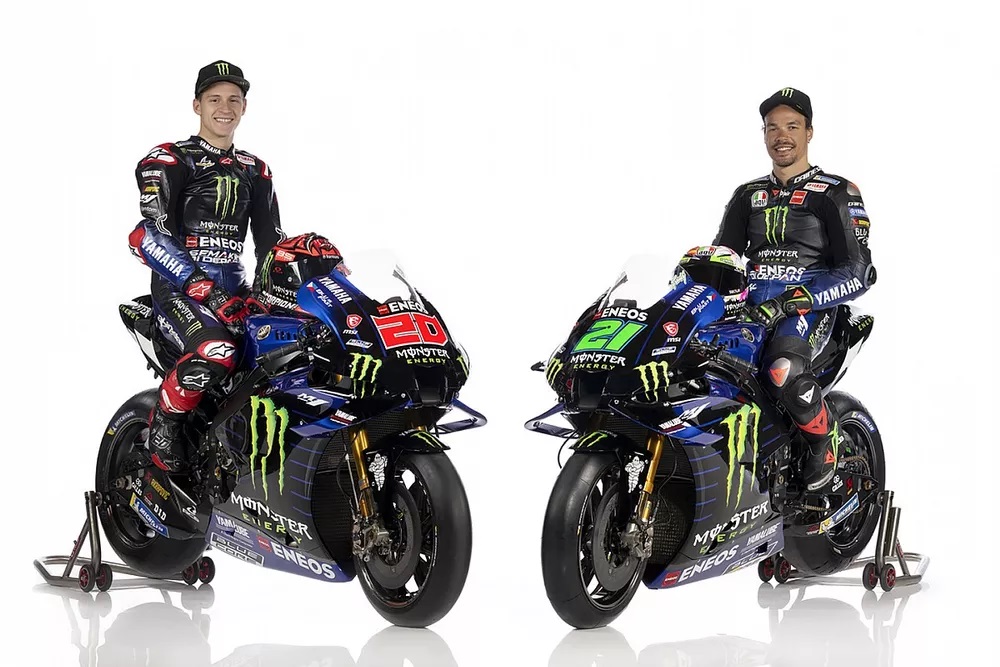 The factory Monster Energy Yamaha team has unveiled its 2022 MotoGP livery ahead of the official pre-season test at Sepang.
For the third straight year, the design remains mostly unchanged – combining the blue of Yamaha with the black of title sponsors, Monster Energy. The iconic green Monster Energy logo can also be seen on both sides of the bike, and at the front, either side of the rider's number.
Reigning champion Fabio Quartararo remains with the team after guiding the manufacturer to its first title in six years last season. The Frenchman has opted to stay with his regular number 20 instead of swapping to the number one plate.
"The winter break was quite long, but if I'm honest I feel like I kept busy the whole time," Quartararo said. "There were many events for me to attend, and of course training continued as normal – so all in all it was quite busy, but in a good way. I'm excited to begin the new season and start riding and improving.
"We got the title last year, and that's great. Nobody can ever take that away from me, but as of the first day of riding, none of that matters anymore. Last year's title win is behind us now, we must focus on this year's championship. Last year we barely did any pre-season testing due to the pandemic.
"This year I already have a year of experience with the Factory Team, so we know how to work well together. We know our strengths and where we can improve, so that will help during the tests in Sepang and Mandalika."
Quartararo is joined by Franco Morbidelli this season following the departure of Maverick Vinales. Morbidelli rode for the factory team for the final five races of last season following his return from knee surgery – after missing five races.
"Last year was all about showing mental strength whilst working on improving my physical strength," Morbidelli explained. "It was not easy to come back after the surgery on my knee, but the work that I did last year will be beneficial for me at the start of this season. We already have some data to work with, and I'm already familiar with the bike and the team.
"I have always had a good feeling on the Yamaha, but this M1 is so smooth. I can't wait to start riding the 2022 bike now that my knee is in a better condition. I'm very interested to see how our progress will continue. I also look forward to seeing the whole team again at the tests. The atmosphere in the team was really nice last year, so let's see what steps we can make during winter testing."