NASCAR: Elliott tops Clash practice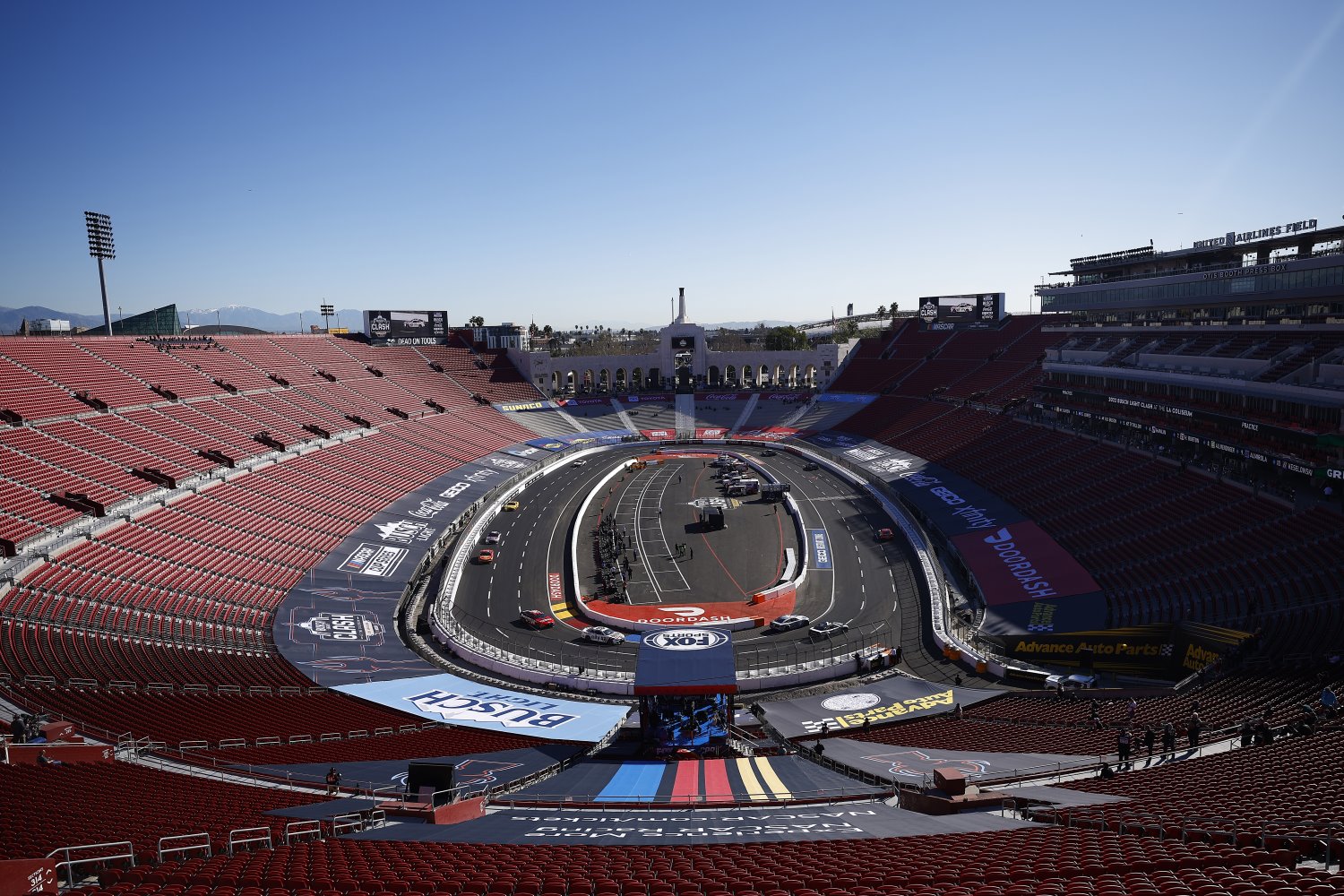 Chase Elliott topped the Busch Light Clash practice leaderboard Saturday at the Los Angeles Memorial Coliseum, pushing his No. 9 Hendrick Motorsports Chevrolet to a 13.455-second lap at 66.89 mph.
Kevin Harvick's No. 4 Stewart-Haas Racing Ford had the second-best time (13.457 seconds, 66.88 mph), while teammate Chase Briscoe was third fastest (13.47 seconds, 66.815 mph) in the No. 14 entry. Justin Haley and Kyle Busch round out the top five, while Tyler Reddick, Kyle Larson, Landon Cassill, Ryan Blaney and Denny Hamlin completed the top-10 performers.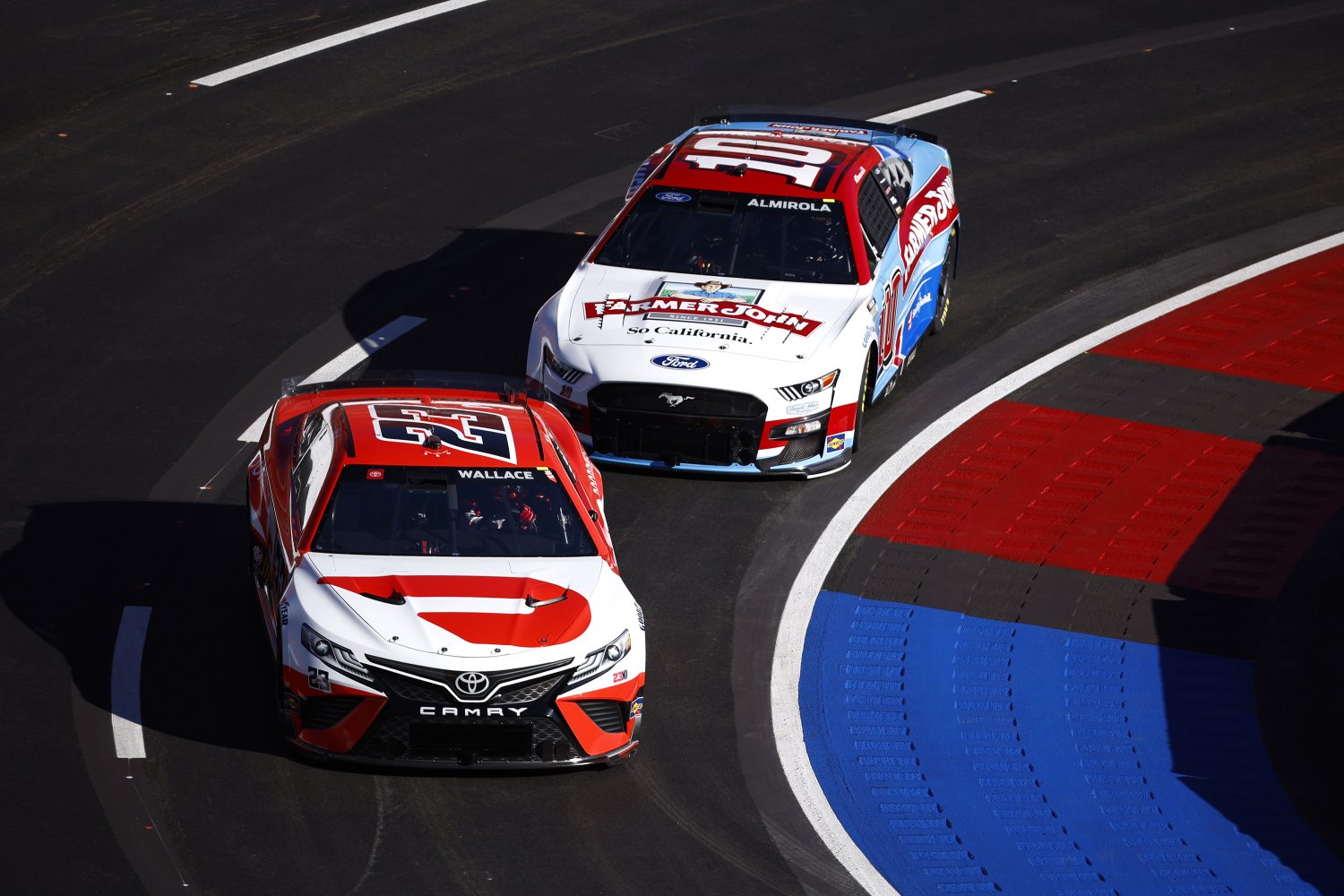 Final Practice Results
| | | | | | | | |
| --- | --- | --- | --- | --- | --- | --- | --- |
| Pos | No. | Driver | Team | Time | Speed | Behind | Gap |
| 1 | 9 | Chase Elliott | NAPA Auto Parts Chevrolet | 13.455 | 66.8896 | —.— | —.— |
| 2 | 4 | Kevin Harvick | Busch Light Ford | 13.457 | 66.8797 | -0.002 | -0.002 |
| 3 | 14 | Chase Briscoe | Mahindra Tractors Ford | 13.47 | 66.8151 | -0.015 | -0.013 |
| 4 | 31 | Justin Haley | LeafFilter Gutter Protection Chevrolet | 13.47 | 66.8151 | -0.015 | 0.000 |
| 5 | 18 | Kyle Busch | M&M's Toyota | 13.482 | 66.7557 | -0.027 | -0.012 |
| 6 | 8 | Tyler Reddick | Guaranteed Rate Chevrolet | 13.503 | 66.6519 | -0.048 | -0.021 |
| 7 | 5 | Kyle Larson | HendrickCars.com Chevrolet | 13.513 | 66.6025 | -0.058 | -0.010 |
| 8 | 77 | Landon Cassill(i) | Voyager: Crypto for All Chevrolet | 13.532 | 66.509 | -0.077 | -0.019 |
| 9 | 12 | Ryan Blaney | Menards/Great Lakes Flooring Ford | 13.546 | 66.4403 | -0.091 | -0.014 |
| 10 | 11 | Denny Hamlin | FedEx Express Toyota | 13.565 | 66.3472 | -0.11 | -0.019 |
| 11 | 99 | Daniel Suarez | Freeway Insurance Chevrolet | 13.57 | 66.3228 | -0.115 | -0.005 |
| 12 | 41 | Cole Custer | HaasTooling.com Ford | 13.571 | 66.3179 | -0.116 | -0.001 |
| 13 | 51 | Cody Ware | Nurtec ODT Ford | 13.572 | 66.313 | -0.117 | -0.001 |
| 14 | 7 | Corey LaJoie | NationsGuard Chevrolet | 13.583 | 66.2593 | -0.128 | -0.011 |
| 15 | 15 | Ryan Preece | Jacob Companies Ford | 13.587 | 66.2398 | -0.132 | -0.004 |
| 16 | 38 | Todd Gilliland # | First Phase Ford | 13.592 | 66.2154 | -0.137 | -0.005 |
| 17 | 34 | Michael McDowell | Love's Travel Stops Ford | 13.611 | 66.123 | -0.156 | -0.019 |
| 18 | 45 | Kurt Busch | Monster Energy Toyota | 13.617 | 66.0939 | -0.162 | -0.006 |
| 19 | 3 | Austin Dillon | True Velocity Chevrolet | 13.618 | 66.089 | -0.163 | -0.001 |
| 20 | 20 | Christopher Bell | SiriusXM Toyota | 13.626 | 66.0502 | -0.171 | -0.008 |
| 21 | 17 | Chris Buescher | Fastenal Ford | 13.638 | 65.9921 | -0.183 | -0.012 |
| 22 | 24 | William Byron Jr. | Valvoline Chevrolet | 13.64 | 65.9824 | -0.185 | -0.002 |
| 23 | 47 | Ricky Stenhouse Jr. | Food 4 Less Chevrolet | 13.646 | 65.9534 | -0.191 | -0.006 |
| 24 | 43 | Erik Jones | FOCUSfactor Chevrolet | 13.652 | 65.9244 | -0.197 | -0.006 |
| 25 | 48 | Alex Bowman | Ally Chevrolet | 13.66 | 65.8858 | -0.205 | -0.008 |
| 26 | 22 | Joey Logano | Shell Pennzoil Ford | 13.677 | 65.8039 | -0.222 | -0.017 |
| 27 | 42 | Ty Dillon | Black Rifle Coffee Company Chevrolet | 13.685 | 65.7654 | -0.23 | -0.008 |
| 28 | 16 | AJ Allmendinger(i) | chevyliners.com Chevrolet | 13.716 | 65.6168 | -0.261 | -0.031 |
| 29 | 1 | Ross Chastain | Howler Head Chevrolet | 13.74 | 65.5022 | -0.285 | -0.024 |
| 30 | 19 | Martin Truex Jr. | Bass Pro Shops Toyota | 13.78 | 65.312 | -0.325 | -0.040 |
| 31 | 10 | Aric Almirola | Farmer John Ford | 13.82 | 65.123 | -0.365 | -0.040 |
| 32 | 21 | Harrison Burton # | Motorcraft/Quick Lane Ford | 13.822 | 65.1136 | -0.367 | -0.002 |
| 33 | 6 | Brad Keselowski | Violet Defense Ford | 13.865 | 64.9116 | -0.41 | -0.043 |
| 34 | 2 | Austin Cindric # | eCascadia Ford | 14.021 | 64.1894 | -0.566 | -0.156 |
| 35 | 78 | BJ McLeod | SkyView Partners Ford | 14.065 | 63.9886 | -0.61 | -0.044 |
| 36 | 23 | Bubba Wallace | DoorDash Toyota | 14.184 | 63.4518 | -0.729 | -0.119 |