NASCAR: Logano holds off Busch to win Busch Light Clash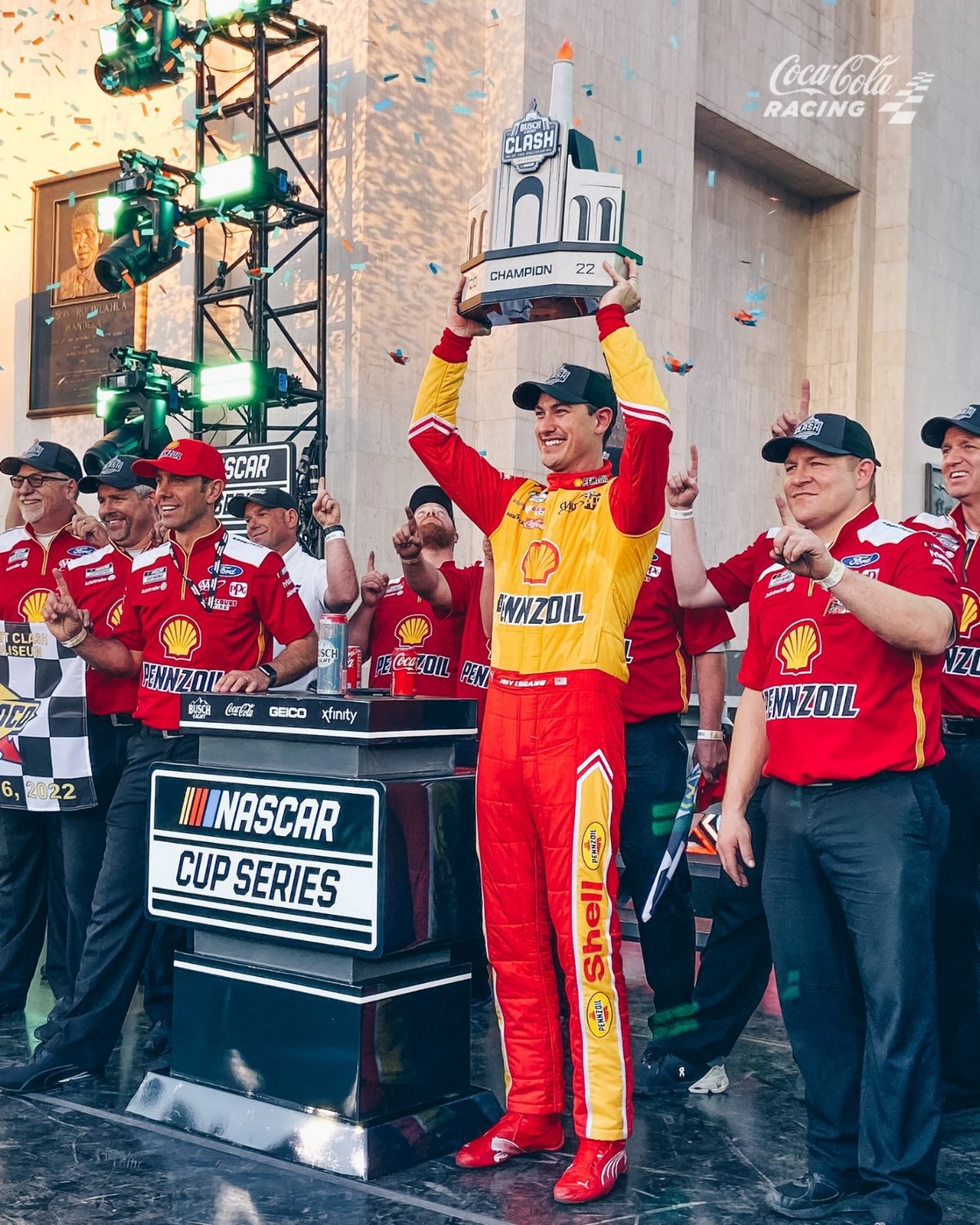 Joey Logano has won the Busch Light Clash NASCAR Cup exhibition race at the LA Coliseum in his #22 Penske Ford.
Choosing the outside line alongside the leader, Logano passed leader Kyle Busch's #18 JGR Toyota on the next to last restart by punting him up the track, and held on to win the 150-lap. Busch led 64 laps but had to settle for 2nd today.
Fair to say @joeylogano wanted that lead! 😂 pic.twitter.com/4jvmoWpK4q

— NASCAR (@NASCAR) February 7, 2022
"I was being perfect doing everything I needed to do – keep the tires underneath me," said Busch. "When I got close, I was like, okay I've got to try more and pounce at an opportunity and just overheated the tires and smoked them in three laps and that was it. Disappointing, obviously, come out here and win the pole, and lead laps, run up front. The finish goes green and it's not chaotic and we can't win, so it sucks.
"Congratulations to my son (Brexton Busch) – he won yesterday. That's cool. I was trying to match him. He's winning more than me these days, so somebody better send him a contract."
Austin Dillon rounded out the top-3 in the #3 Chevy.
Erik Jones and Kyle Larson rounded out the top-5 as William Byron, Cole Custer, Christopher Bell, AJ Allmendinger and Kevin Harvick completed the top 10.
It was Logano's 2nd Clash win. He also won in 2017 at Daytona.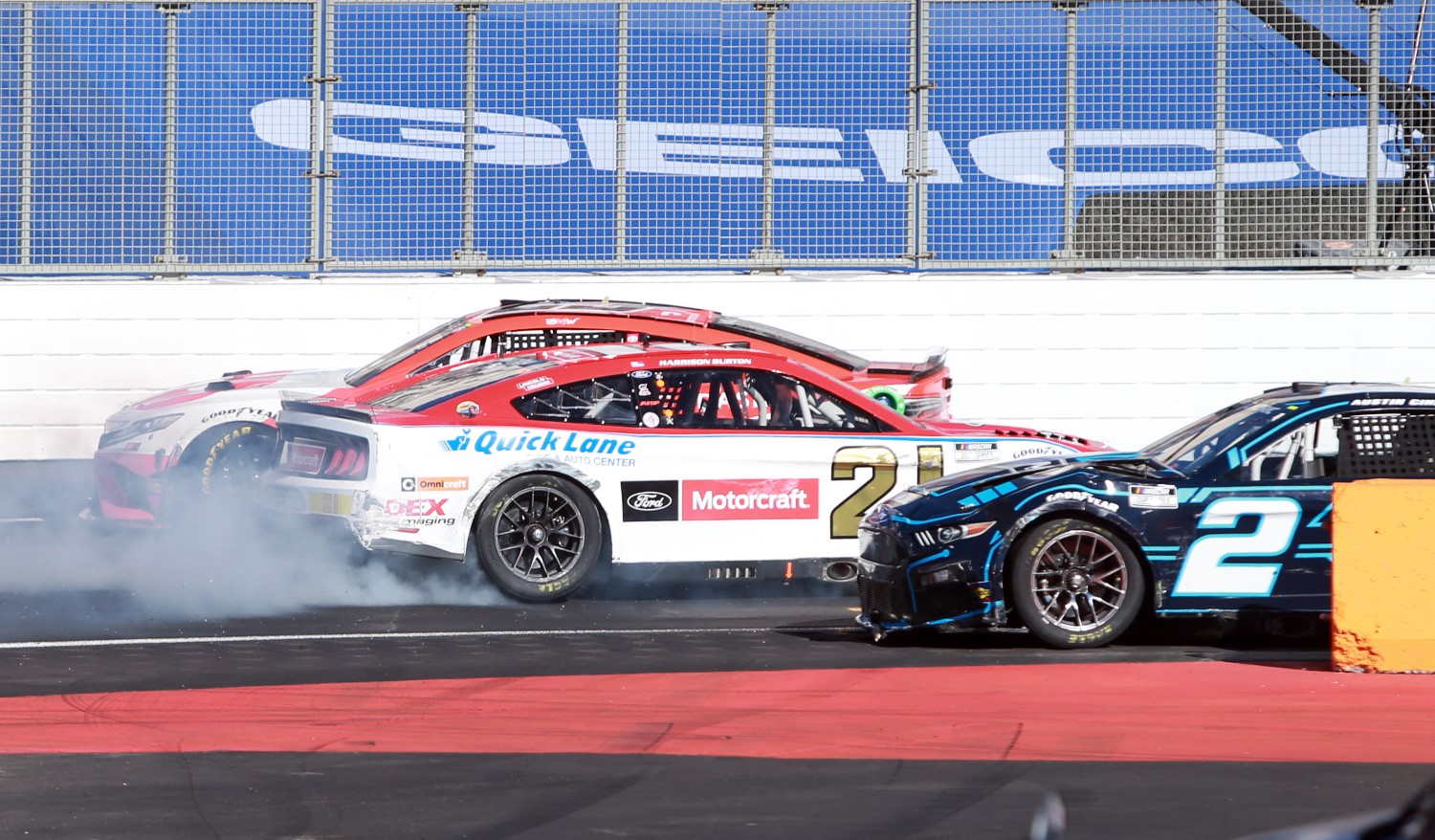 RETWEET TO CONGRATULATE JOEY LOGANO ON HIS WIN AT THE LOS ANGELES MEMORIAL COLISEUM! pic.twitter.com/1o3sVztZBe

— FOX: NASCAR (@NASCARONFOX) February 7, 2022
Logano started the 150-lap main event from fourth, securing a second-row start after winning an earlier heat race. The Team Penske veteran worked his way through the field, executing a perfect bump-and-run move to solidify the lead at the 75-lap intermission. After trading blows on the restart, Logano found a rhythm and went on to lead 35 total laps and secure the checkered flag.
Kyle Busch started from pole position after setting the best mark in qualifying and dominating Heat No. 1. Busch led a race-high 64 laps.
Tyler Reddick sped out to an early lead in the No. 8 Richard Childress Racing Chevrolet, leading 51 laps before bowing out with mechanical issues during an early caution. Front-runners Chase Briscoe and Denny Hamlin also ended their day under the same break.
"Mechanical," said Hamlin. "It looks like the power steering belt evidently came off and took the hose with it. We didn't have any steering ability. This is something you will probably see a lot of this year. It's just fixing all of the bugs that are going to happen. Unfortunately, had a power standing issue."
Sunday's Clash exhibition race was a historic day for the sport, marking the first time the event was held outside of Daytona International Speedway. The LA Memorial Coliseum, home to the USC Trojans, was transformed from grass to a 0.25-mile asphalt circuit.
The NASCAR Cup Series will return to action February 15-20 at Daytona International Speedway.
Quotes
Joey Logano
Joey Logano, so much anticipation for this event. What does it mean to you to be the first winner right here, the Clash at the Coliseum?
JOEY LOGANO: I can't believe that we're here. L.A. Coliseum, we got the victory with the old Shell-Pennzoil Mustang. This is an amazing event. Congratulations, NASCAR. Such a huge step in our industry to be able to do this, put on an amazing race for everybody. I'm out of breath. I'm so excited about this. It was a big win.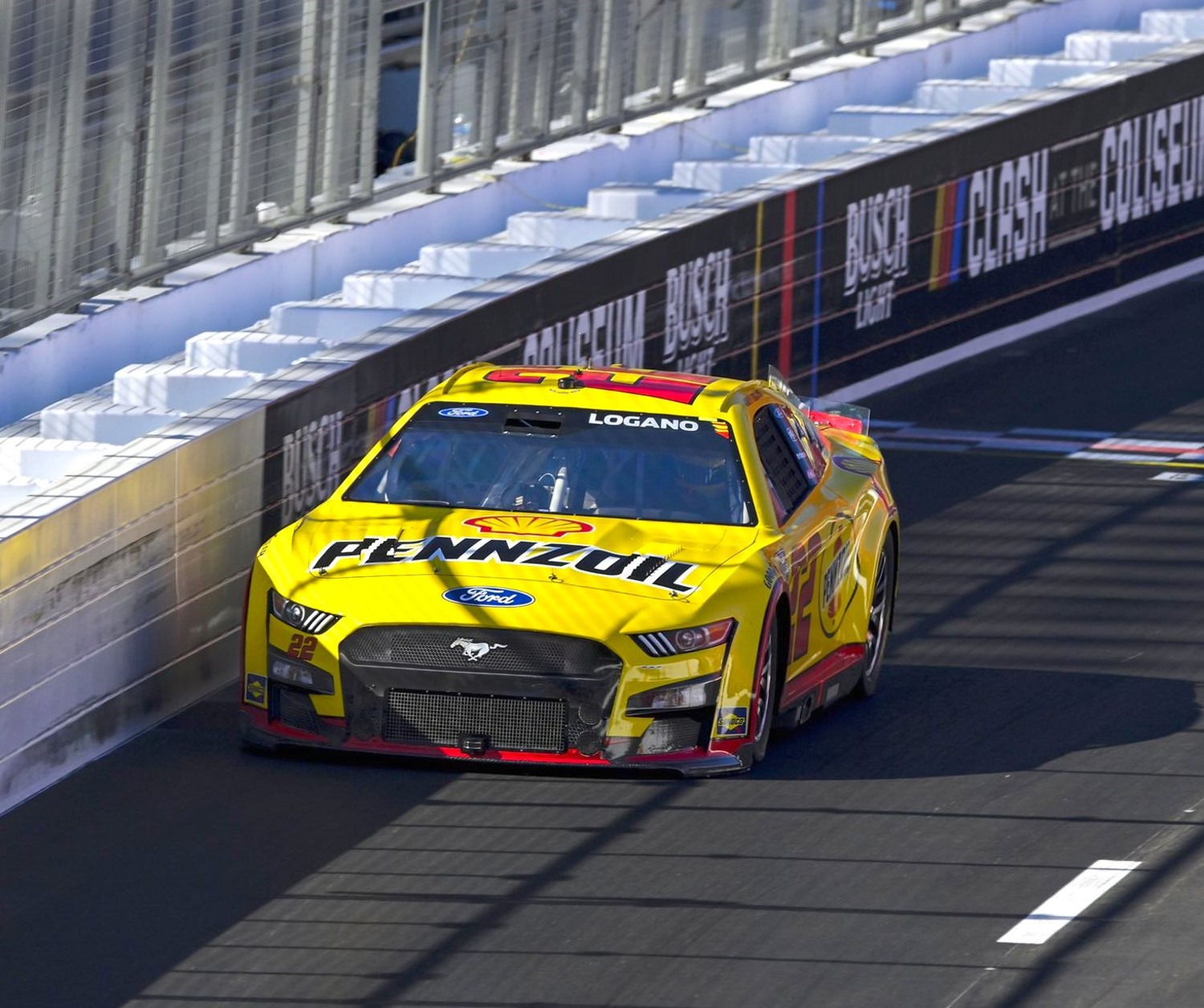 This is big. Having a baby, my wife is having a baby tomorrow, our third one. Pretty big weekend for us.
You got a lot of applause for that baby number three. Joey, yesterday in practice, you struggled a little bit. You're learning this car. How did you step up so big, make those right adjustments, be able to run and win here?
JOEY LOGANO: Yeah, Paul and Shaggy and the engineers do a great job. The guys working on the car did an amazing job. Finding speed, we were slow, 28th or so on the board yesterday. Made some good changes. Worked with our teammate, Ryan Blaney, I owe a lot to him too, to see some of the gains they made, and ultimately get the win.
I want to say hi to My buddy Hudson and Jamison, my wife Brittany. This is cool. I'm headed home after this. I told her, if you're having the baby, I'm running right off the track from here. I don't think it's happening right now. This is special to get the first Next Gen win, the first win here in the Coliseum. It's a special one. We're going to have some fun and celebrate it.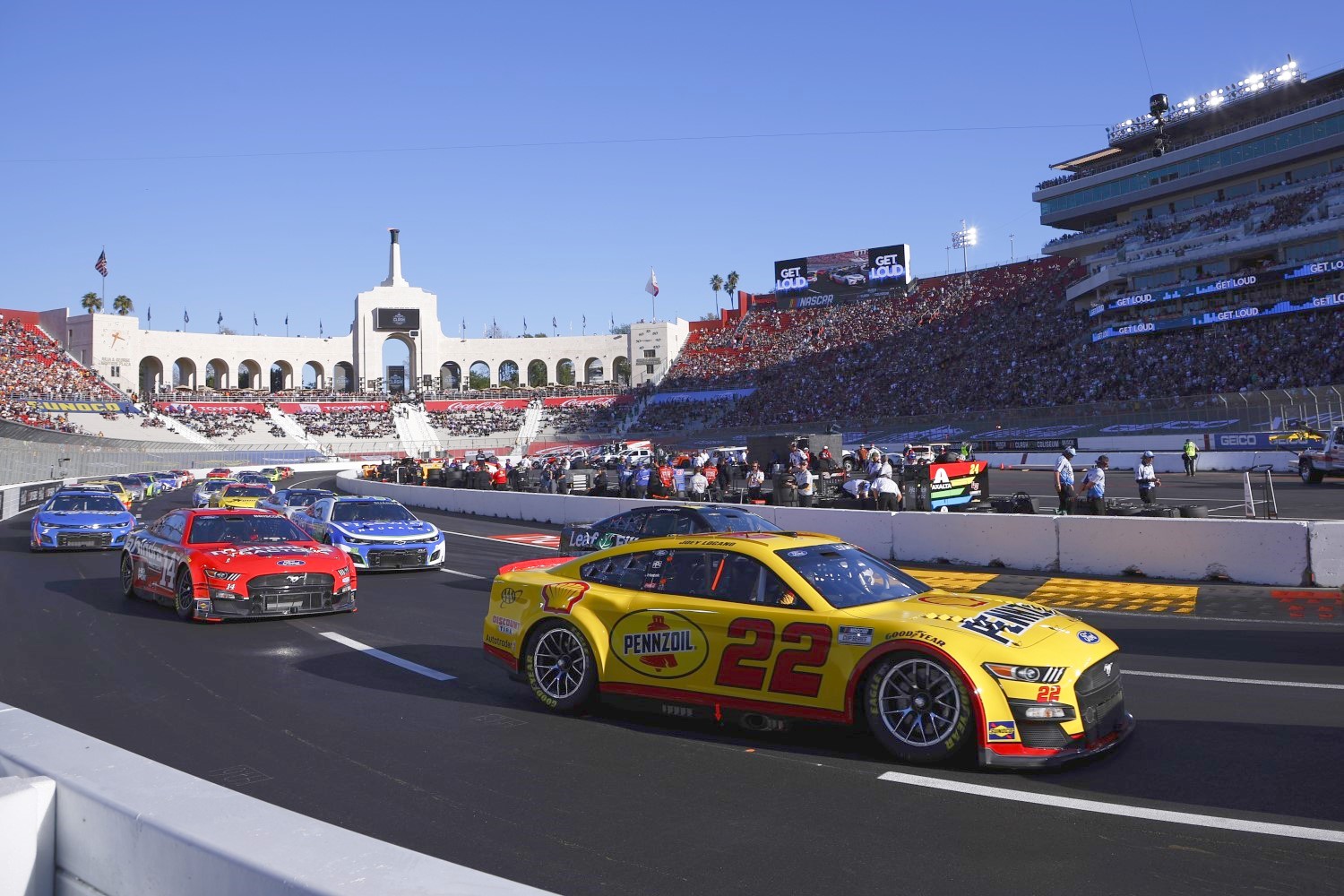 AUSTIN DILLON, NO. 3 TRUE VELOCITY CAMARO ZL1 – Finished 3rd
AUSTIN, YOUR CAR CAME TO LIFE AT THE END OF THIS RACE. YOUR TEAMMATE (TYLER REDDICK) WAS REALLY STRONG EARLY ON AND THEN, ALL OF A SUDDEN, YOU SHOWED UP WITH A LOT OF SPEED. WHAT ELSE DID YOU NEED FOR THE END OF THIS THING?
"Man, I don't know. From where we were last night, it took a lot of crazy fate and a little prayer last night. Talked to myself. We got it together today. The True Velocity Chevrolet was really fast in practice, I just struggled a little bit in qualifying and knew we would get in the race and be fine. The long run speed was there. Disappointed I couldn't get those next two cars. I really wanted to get there. But all-in-all, a great race from where we were last night and everyone back home at RCR, good job. It was a good showing for us."
ERIK JONES, NO. 43 FOCUSFACTOR CAMARO ZL1 – Finished 4th
YOU HAD SOME DRAMA THERE WITH RYAN BLANEY. WHAT HAPPENED BETWEEN YOU TWO?
"Yeah, I was racing with him there and he brake-checked me off of (turn) four for no real reason. I didn't appreciate that and felt like I showed it on the track. If we have a conversation, we have a conversation. It's an exhibition race. We're out here doing what we can. I was frustrated with the move that he made, so that's what happened."
"Overall, my No. 43 FOCUSfactor Chevy was really good. It was a good weekend to come home fourth for us. It's not a race that means a lot, as far as setting us up for the rest of the season. But nobody came out here not trying. It feels good to run good and we'll hopefully we'll carry that momentum to Daytona."
KYLE LARSON, NO. 5 HENDRICKCARS.COM CAMARO ZL1 – Finished 5th
OVERALL, HOW WAS YOUR EXPERIENCE IN THE BUSCH LIGHT CLASH AT THE COLISEUM AND THE NEXT GEN CAR?
"It was an awesome experience all around. First race with the new car. This event was really neat. It seemed like a great atmosphere. I'm not able to ever sit in the stands and watch other races. I got to watch a Heat Race and the Last Chance Qualifiers. It seemed like a blast and I hope we can do more of this."
WHAT ABOUT THE PERFORMANCE? THE DRIVE OFF SEEMED TO BE THE ISSUE. WAS IT LIKE THAT AT THE TAILEND OF THE RACE, AS WELL?
"Kind of all weekend. Yesterday and today, I was just too free. I never had a problem turning, but I think my turn was just too good. We'll just look at it and try be a little bit better for next time."
WILLIAM BYRON, NO. 24 VALVOLINE CAMARO ZL1 – Finished 6th
"It was a fun event and I think the fans got a good show. It was all about track position though, similar to Martinsville. We tried a couple times on restarts to pick up an extra position here and there but we were just too tight the first half of the race to keep it. The guys worked hard, not just today, but all weekend to improve the Valvoline Chevy. We learned a lot with these new cars."
Race Results
| | | | | | |
| --- | --- | --- | --- | --- | --- |
| POS | CAR | DRIVER | MAKE | BEHIND | LAPS |
| 1 | 22 | Joey Logano | | 0.000s | 150 |
| 2 | 18 | Kyle Busch | | 0.877 | 150 |
| 3 | 3 | Austin Dillon | | 3.225 | 150 |
| 4 | 43 | Erik Jones | | 3.603 | 150 |
| 5 | 5 | Kyle Larson | | 4.143 | 150 |
| 6 | 24 | William Byron | | 4.550 | 150 |
| 7 | 41 | Cole Custer | | 4.998 | 150 |
| 8 | 20 | Christopher Bell | | 5.477 | 150 |
| 9 | 16 | AJ Allmendinger(i) | | 6.270 | 150 |
| 10 | 4 | Kevin Harvick | | 7.093 | 150 |
| 11 | 9 | Chase Elliott | | 7.805 | 150 |
| 12 | 21 | Harrison Burton # | | 9.164 | 150 |
| 13 | 47 | Ricky Stenhouse Jr. | | 12.960 | 150 |
| 14 | 99 | Daniel Suarez | | 14.904 | 150 |
| 15 | 19 | Martin Truex Jr. | | 12.894 | 149 |
| 16 | 34 | Michael McDowell | | 13.040 | 149 |
| 17 | 12 | Ryan Blaney | | -3 Laps | 147 |
| 18 | 23 | Bubba Wallace | | -4 | 146 |
| 19 | 31 | Justin Haley | | -34 | 116 |
| 20 | 15 | Ryan Preece | | -75 | 75 |
| 21 | 8 | Tyler Reddick | | -97 | 53 |
| 22 | 14 | Chase Briscoe | | -97 | 53 |
| 23 | 11 | Denny Hamlin | | -98 | 52 |
# DENOTES ROOKIE
(i) NOT ELIGIBLE FOR POINTS
(*) REQUIRED TO QUALIFY ON TIME
Average Speed of Race Winner:  39.029 mph.
Time of Race:  0 Hrs, 57 Mins, 39 Secs. Margin of Victory:  .877 Seconds.
Caution Flags:  5 for 0 laps.
Lead Changes:  5 among 3 drivers.
Lap Leaders:   T. Reddick 1;K. Busch 2-3;T. Reddick 4-53;K. Busch 54-115;J. Logano 116-150.
Leaders Summary (Driver, Times Lead, Laps Led):  Kyle Busch 2 times for 64 laps; Tyler Reddick 2 times for 51 laps; Joey Logano 1 time for 35 laps.