NHRA: Ashley, Hight, Enders lead field on season's opening day
The 2022 NHRA Camping World Drag Racing Series officially kicked off Friday at Auto Club Raceway at Pomona with the opening passes at the Lucas Oil NHRA Winternationals presented by ProtectTheHarvest.com and Justin Ashley, Robert Hight, and Erica Enders finished the day atop their respective classes to get their seasons off to a fast start.
An offseason's worth of work, testing, and dealmaking all led to the first of three qualifying sessions, and the newly leveled and manicured Pomona dragstrip played the perfect host with strong run after strong run down the historic track.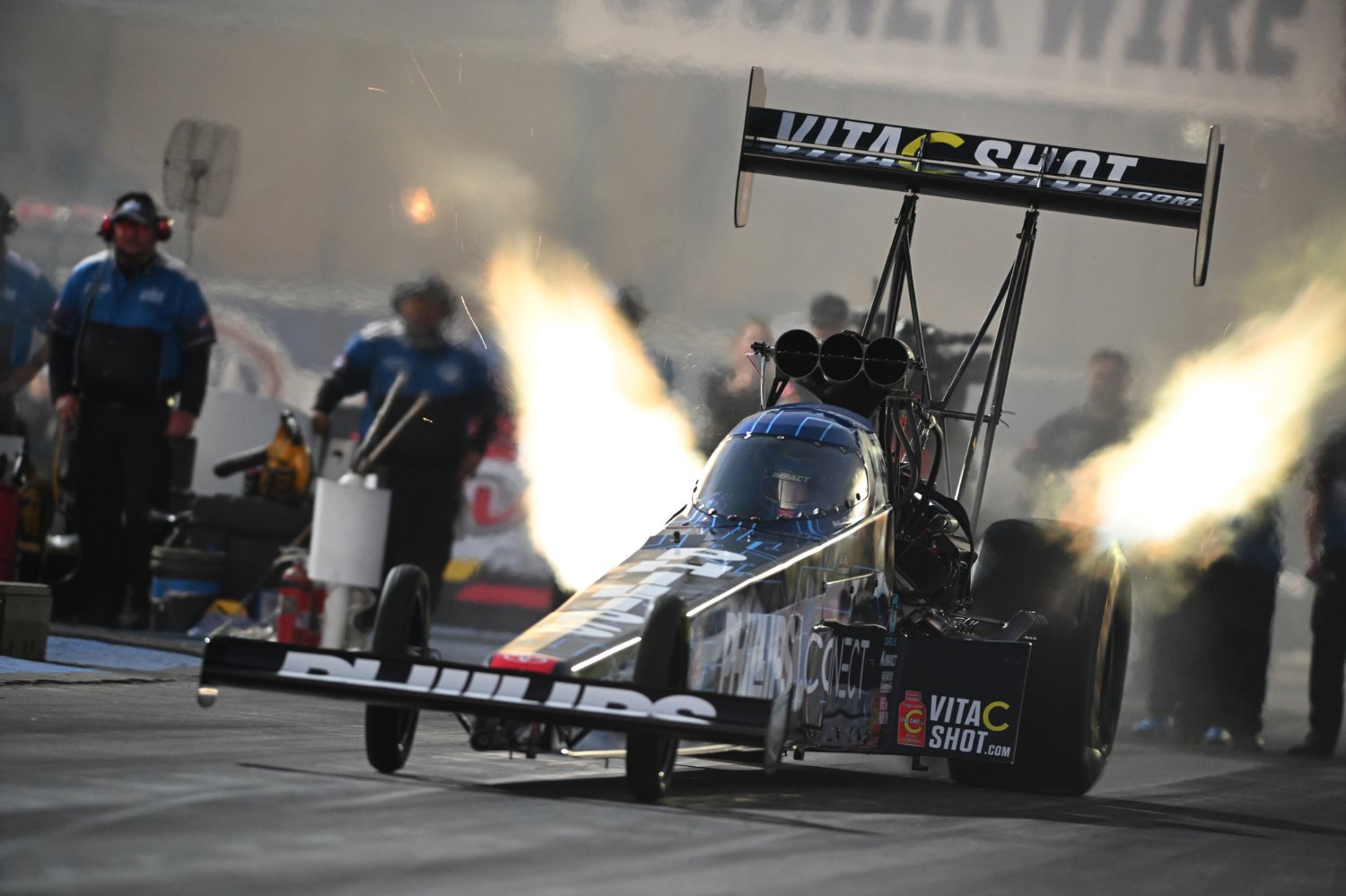 Ashley's Mike Green-tuned Phillips Connect dragster powered him to a career-best 3.676 to grab the No. 1 spot, which would be the first off his short but spectacular career. His pass just edged Mike Salinas 3.677 by a thousandth of a second for the top spot on a thrilling side-by-side pass.
"You have this whole offseason, right, and it's relatively quick, it's two months, but at the end of the day, it feels like it's been forever. So it's exciting to be able to get back in the race car," said Ashley."We were able to go down there the first run of the new season and go right to the top and run as good as we did in front of our new sponsor. It's exactly what we're looking for. It's a good way to kick off the weekend.
"I think this is the best Top Fuel field in at least a decade, to be able to qualify No. 1 here would be amazing. We still have tomorrow to go, and a lot of really good cars behind us that are going to try and improve, but our team is going to try and do exactly the same thing and even improve upon today."
Salinas, who finished last season in the No, 3 spot in points, looked strong right from the start with new crew chief Rob Flynn, just missing the top spot in a spot with his Scrappers Racing entry.
Brittany Force, last year's championship runner-up, powered her Minster Energy entry to a 3.722 for the No. 3 spot just ahead of world champ Steve Torrence's 3.725.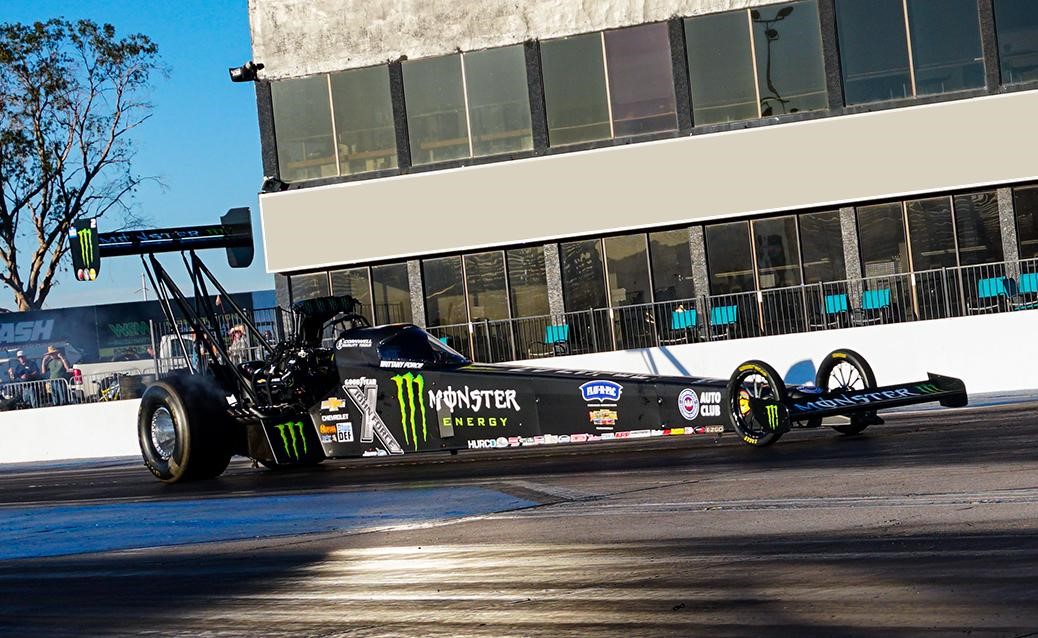 Doug Kalitta, who posted a 3.733 on the first official lap with new crew chiefs Alan Johnson and Brian Husen, slotted fifth, followed by Antron Brown (3.756), Clay Millican (3.789),  and Austin Prock (3.794).
Tony Schumacher, the class' winningest driver, didn't make it down the track on his first pass after smoking the tires early.
A strong outing in pre-season testing the previous weekend paid off for Hight and the Auto Club Camaro team, showing off at their hometrack with a 3.882 to lead Friday Funny Car qualifying. Hight, a four-time Winternationals champ, just edged out three-time Pomona winner Matt Hagan by .004-second.
"We tested well last week, and more than anything, we made a lot of really good runs down the track; not up not a lot of smoke in the tires and things like that we had last year," said Hight, "So, you know, I was I couldn't wait to get here and see if we could do it again, on at Pomona.
"My team really worked over the winter, looking at what we did in 2021 and how that went so bad. We had no consistency — we could throw down a few times, won a couple of races, but just no consistency — so, basically, we went back to our whole clutch setup like we ran in '19 when we just ran away from the field. And so far, so good."
Hagan, making his first start for new team owner and NASCAR legend Tony Stewart, piloted his Dodge Power Brokers Charger to a 3.886 for the No. 2 spot while reigning world champ Ron Capps checked in with a 3.903 for the No. 3 spot.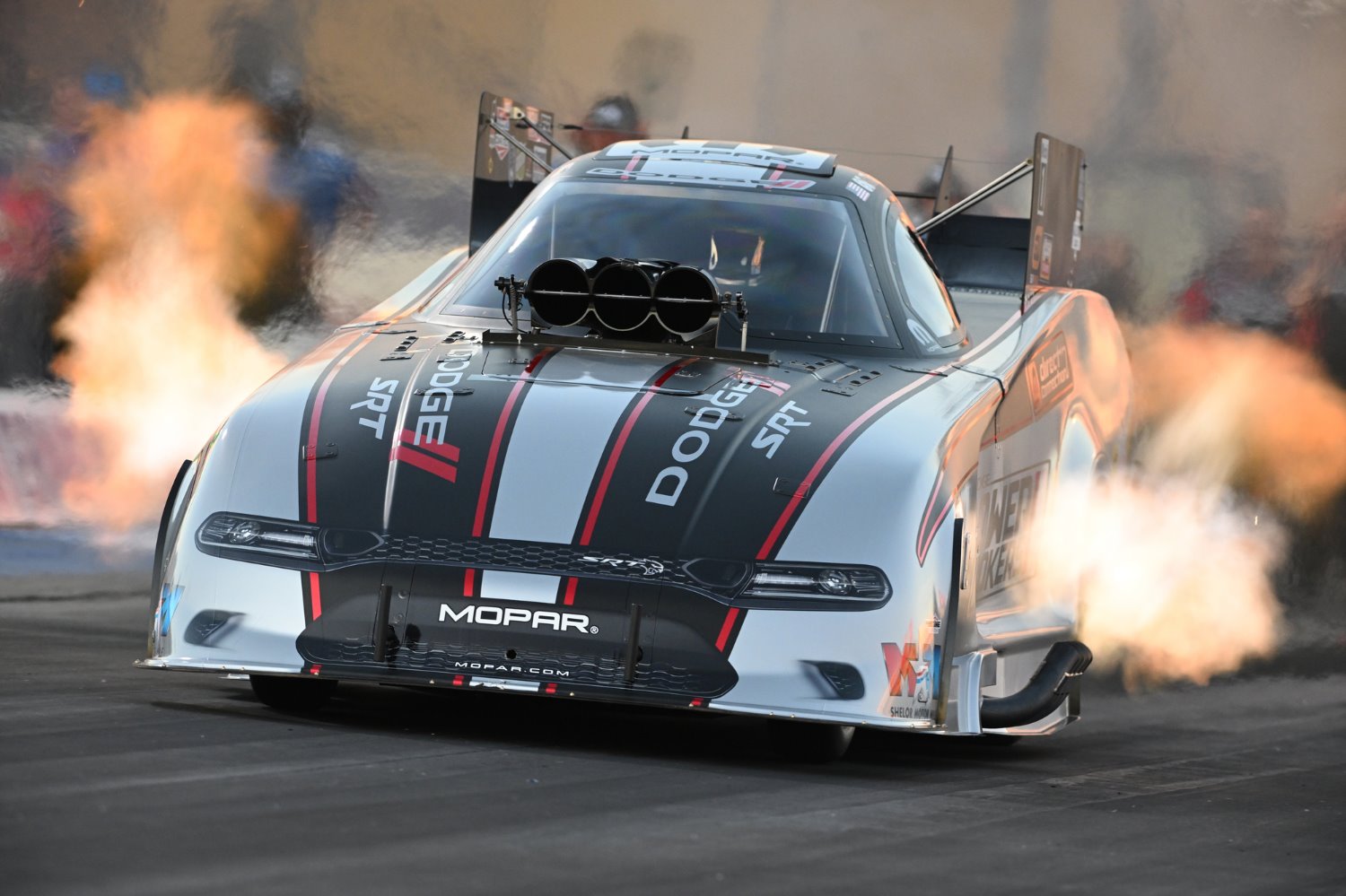 The new Toyota GR Supra bodies impressed in their official debuts as Alexis DeJoria (3.945) and J.R. Todd (3.985) both made three-second passes with the swoopy new shell and finished the day in fourth and fifth positions.
Rising second-generation driver Bobby Bode had the last of the three-second passes, a 3.993, for the No. 7 spot while local favorite Jeff Arend is a pleasant surprise in the No. 8 spot with a 4.092.
Both John Force and Auto Club NHRA Finals champ Bob Tasca III lost strong runs by crossing the centerline and Tasca's cross also invalidated the time registered by his qualifying mate, Cruz Pedregon.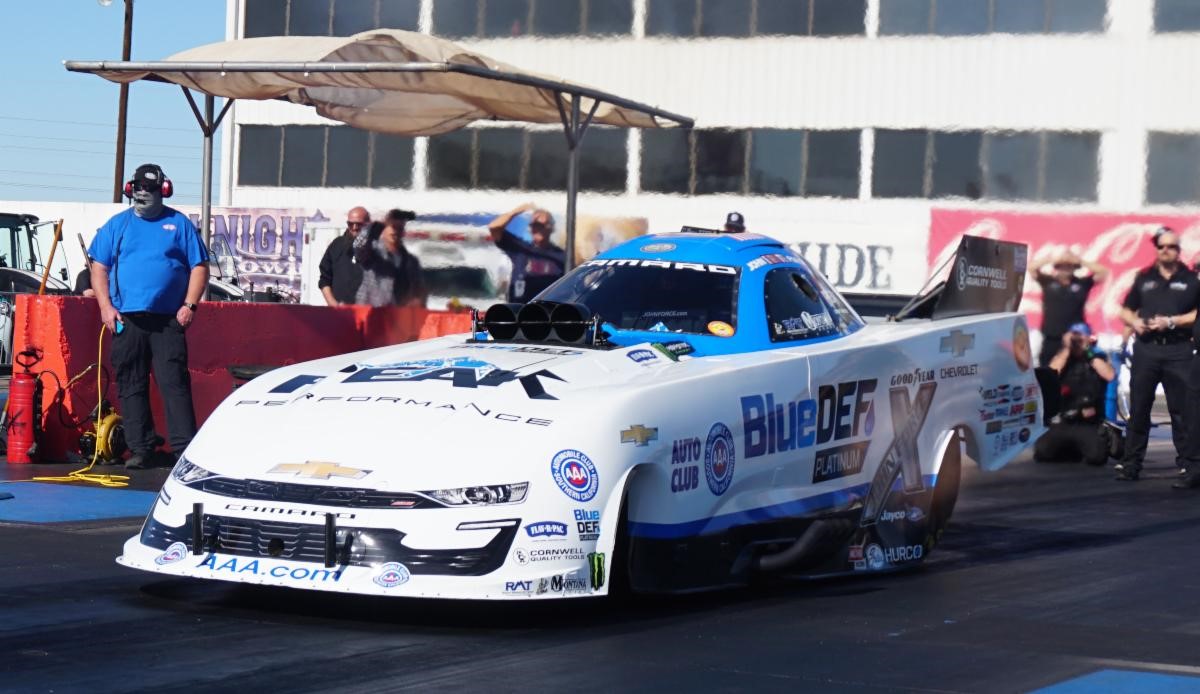 Enders, who has never won the Winternationals, made it clear that she's gunning to get her world championship crown back from Greg Anderson, setting the pace in Pro Stock in the opening session with a 6.521 from her Melling/Elite Performance Camaro.
"We were definitely excited considering how the year ended last year, we knew that we had to go to work on finding some power in the engine department and then getting our Rick Jones racecars tuned up," she said. "The KB [Racing] guys had a big, big power last year, and it still came down to the wire,, so our goal was to come out swinging.
"We were .971 to 60 foot and as a driver that's been in the car tens of thousands of runs you know when you're on a hit. We made it through low gear with the wheels up. I pulled second and I thought she might be pretty happy. When I put it in high gear and looked over and I didn't see Greg, so I was really hopeful that we were gonna blow the scoreboard over."
Enders' Elite teammate, Aaron Stanfield, sits in the No. 2 spot with a 6.527 in the Janac Bros. Camaro ahead of the KB Racing duo of Kyle Koretsky and Anderson at 6.528 and 6.536, respectively, showing that the hard work of Elite team owner Richard Freeman and team has paid off. It's only one run, but it's clear that the Elite team is motivated.
Deric Kramer (6.547), two-time Winternationals champ Bo Butner (6.551), 2021 rookie of the year Dallas Glenn (6.555), and Matt Hartford (6.560) round out the top eight.
Highly publicized rookie Camrie Caruso, just the seventh woman to compete in the class, notched an impressive 6.563 for the No. 9 spot. John Cerbone, fresh out of the Factory Stock Showdown class, sits on the bump spot with a 6.647. Twenty cars are entered in the class, ensuring that Saturday's two qualifying runs with be filled with drama.