NHRA: Brittany Force, Ron Capps race into top nitro qualifying spots Saturday in Pomona
Two frantic qualifying sessions set the fields for the Lucas Oil NHRA Winternationals presented by ProtectTheHarvest.com, the opening event of the 2022 NHRA Camping World Drag Racing Series, with Brittany Force, Ron Capps, and Erica Enders entering Sunday's raceday atop their fields
The cool track and air temperatures of the final Top Fuel session shook up the field with numerous drivers improving on their previous bests, but none were more impressive than Force's stunning 3.661 pass that moved her to the top of the pack.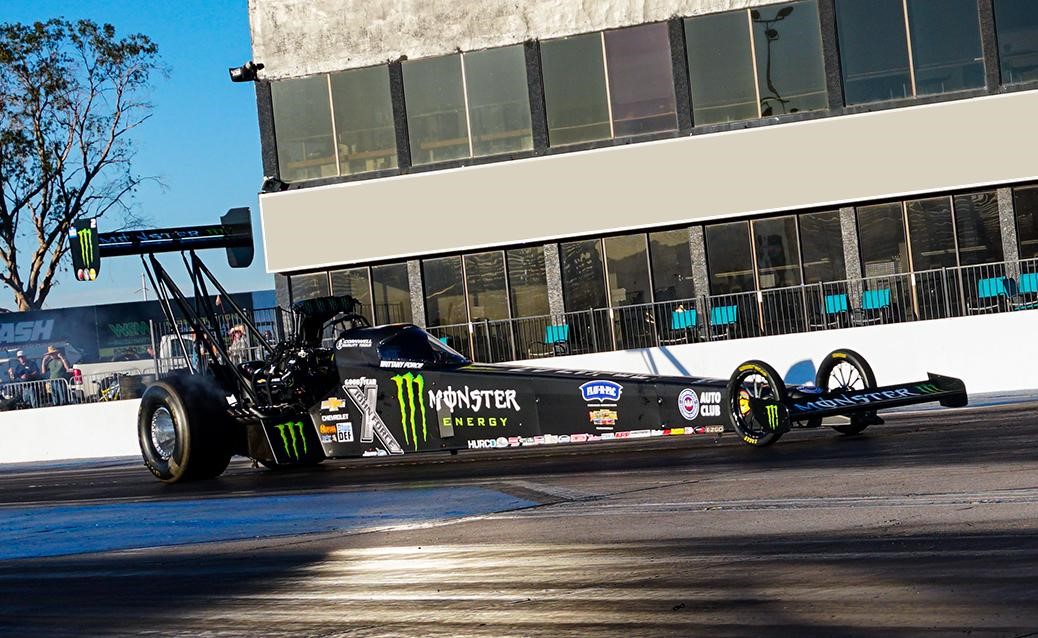 It's Force's 33rd career No. 1 and a familiar position as she and crew chief David Grubnic have led the field at 11 of the last 14 events spanning back to mid-last season and with prime conditions, she knew what was coming.
"[Grubnic] doesn't say much, and that's when I know we're gonna run pretty well. He just comes to me and says, 'I'm not gonna say anything,' and I'm like, I already know what that means. It's usually hold on tight We had a solid run we're safe in the show, so it gave us the opportunity to take some chances.
"I'm just happy to be back out here on my home track, starting a new season with the Monster Energy/Flav-R-Pac team, I'm excited to be back with all of them doing what we love, and even better to go No. 1 at the first race of the season."
Friday leader Justin Ashley had a shot to take back the No. 1 spot but his 3.699 fell well short even of his earlier pass of 3.676. Mike Salinas has the third and final 3.6-second car with a 3.677, also recorded Friday night.
Austin Prock (3.711) and Doug Kalitta (3.720) also used the final session to improve end ended up Nos. 4 and 5.
Former world champ Shawn Langdon was not qualified coming into the final Top Fuel session, but the DHL "Yella Fellas" got it together on the final pass for a 3.74 that moved them into the top half of the field and bumped out UPS pilot and Top Fuel debutante Scott Farley.
The Dodge Charger SRT Hellcat that won last year's Funny Car world title kicked off the 2022 National Hot Rod Association (NHRA) Camping World Drag Racing Series season at the top of the qualifying timing sheets as driver and new team owner Ron Capps claimed the No. 1 qualifier position for the season-opening 62nd annual Lucas Oil Winternationals presented by ProtectTheHarvest.com at Auto Club Raceway at Pomona, California.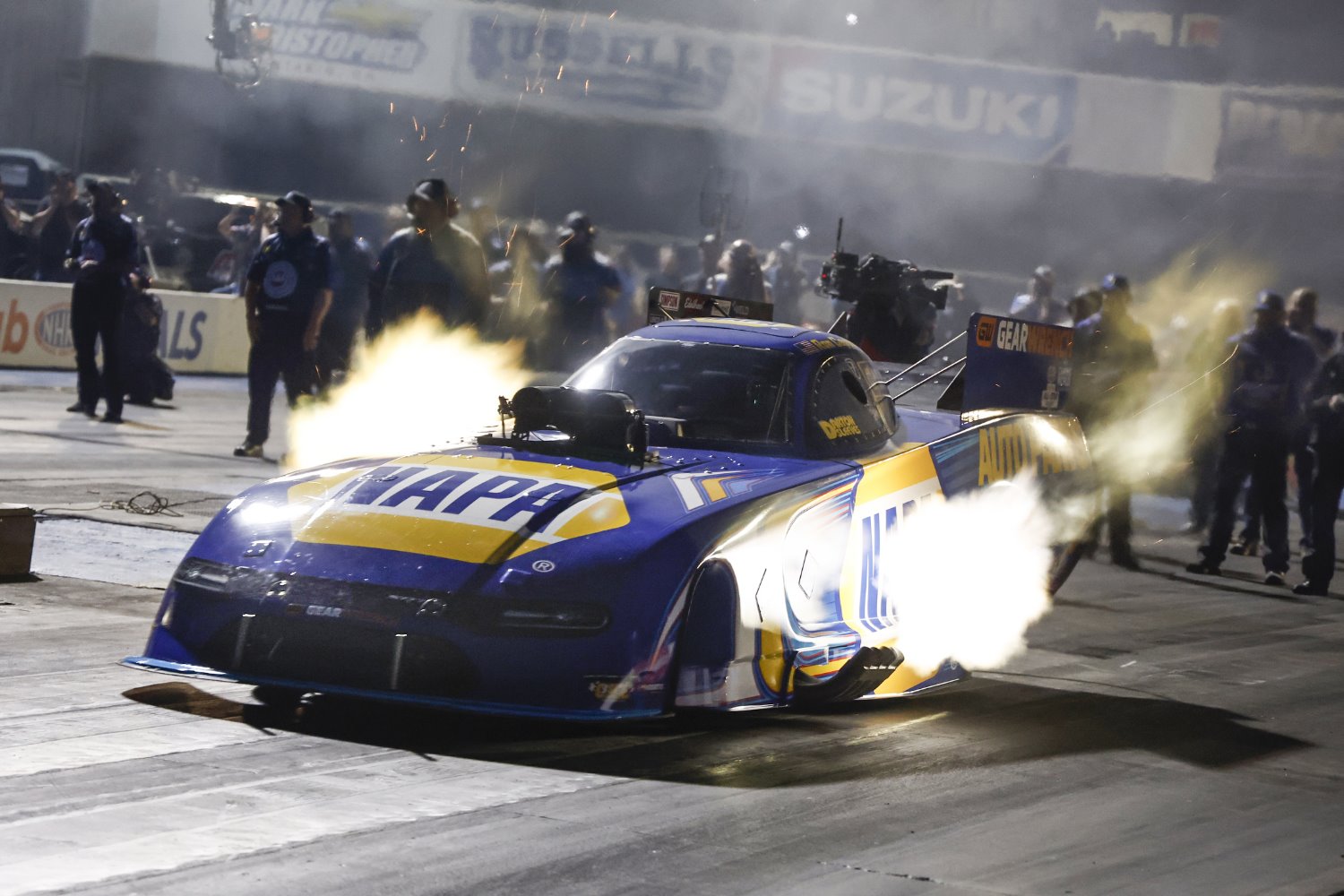 Capps, also the defending Winternationals winner, drove his NAPA Auto Parts Dodge Charger SRT Hellcat to the provisional No. 3 spot in Friday's qualifying session, posted the quickest run of the second session, then bettered that with a stout 3.857 second elapsed time lap at 332.43 mph under the lights to secure his 30th career No. 1 qualifier position. He'll battle the No. 16 seed and fellow veteran racer John Force in the first eliminations round of the year to kick off his 28th NHRA season of competition.
Capps' blast took the No. 1 spot from Friday leader Robert Hight, who improved on his Friday 3.882 with a 3.861 alongside Capps, but slipped to No. 2. The news wasn't all bad for Hight as it mean that he no longer had to race his boss, the Funny Car GOAT, who barely made the field in the No. 16 spot. Instead, Capps will take on Force Sunday.
"We went up to really to run an .83, which is what 'Guido [Antonelli] put in the car and started cooling off, actually too much, so we came back made some changes to slow it down," said Capps.
"Honestly, I was just hanging on; that thing it was a rocketship.  I could hear Hight over there and the fact that I didn't see his nose, but I knew he was right there, and that means if you're running with [crew chief] Jimmy Prock, you're running pretty darn good."
Matt Hagan sandwiched two 3.886s around a Q2 tire smoker and finished the day in third. Cruz Pedregon, who lost his first pass Friday when Bob Tasca III hit the finish line timing block, disqualifying Pedregon's time, jumped into the top four with a 3.906 after a 3.96 earlier in the day.
Local Funny Car favorite Alex Miladinovich took a wild ride in his Red Shirt Friday machine, smoking the tires, crossing the centerline, and piling almost head-on into the other guardwall. Miladinovich exited the car under his own power and climbed onto the back of his shattered racecar to salute the crowd.
No one could touch Enders' Friday Pro Stock field-leading 6.521 and even though she had the second-best run of each of Saturday's sessions –- behind Greg Anderson in Q2 and Elite teammate Aaron Stanfield in Q3 -– she enters what promises to be a cooler raceday as a favorite. It's the 24th No. 1 of her career and her first since the Reading event last year, which was her only No. 1 of the season.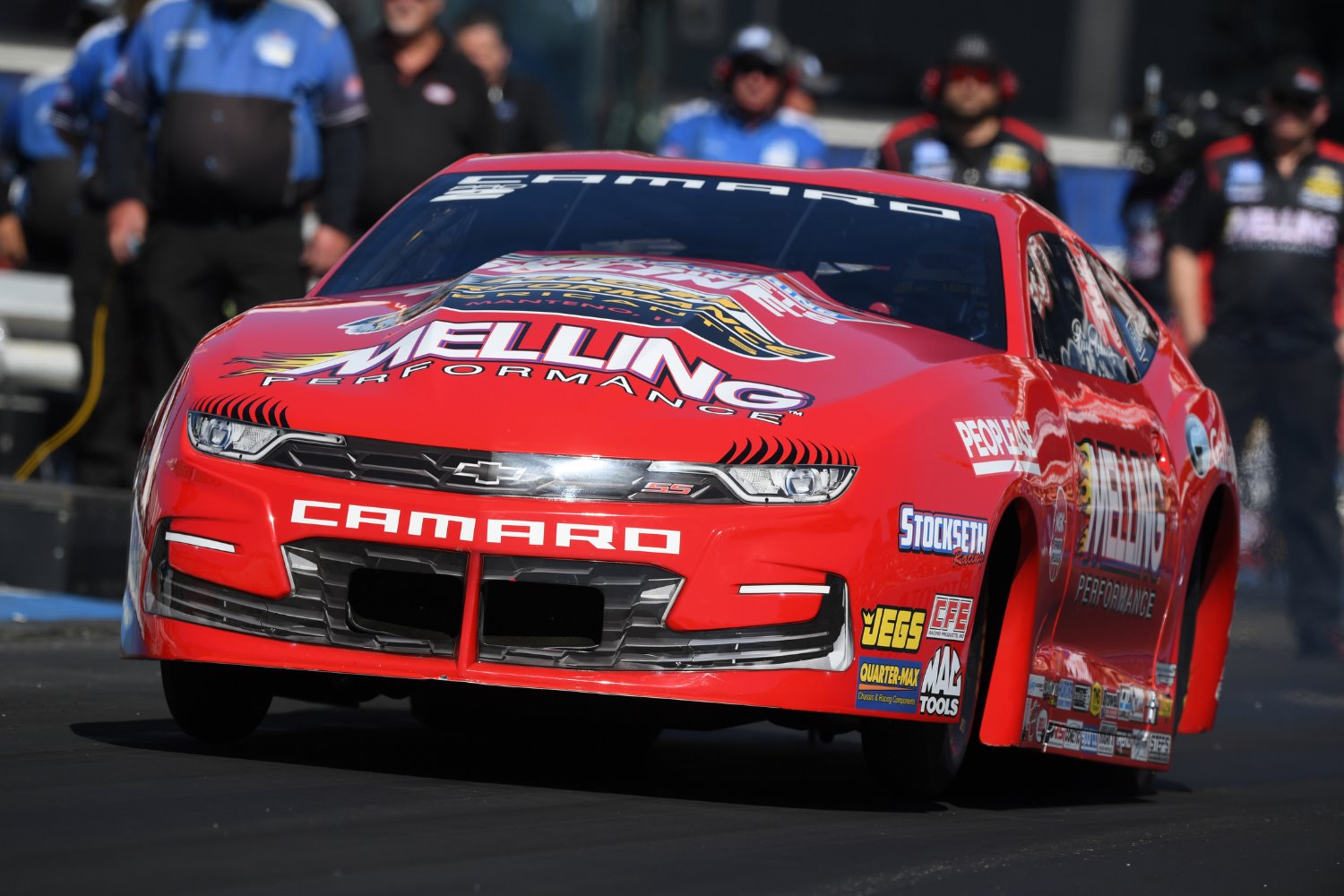 "I feel like this probably the best race car we've had in a long time, even considering the Countdown last year," she said. "We had a goal in the offseason to come out swinging. I feel like we have something to prove, and the guys went to work hard in the engine shop.
"To lay down three really consistent runs like that during the three qualifying sessions. It definitely gives you confidence heading into raceday."
Behind Enders on the grid are Stanfield, Kyle Koretsky, and Anderson, all three also relying on their Friday runs to lock down spots.
Pro Stock rookies Camrie Caruso (No. 7) and John Cerbone (No. 12) both qualified for the field in their class debuts. Caruso will face Rodger Brogdon in round one while Cerbone will tangle with Deric Kramer.
It's only the second time that two females have qualified for the same Pro Stock event (Enders and Grace Howell, 2012 Charlotte).
Alan Prusiensky started the last session in the field's final qualifying spot with a 6.622 but was bumped from the field by Troy Coughlin Jr., who hadn't made it down the track on his first two passes but ripped his way to a 6.592 to make the field. Cristian Cuadra ended up on the bump spot with a 6.599, just shy of the 6.597 record for the EFI era of Pro Stock.