NHRA: Ashley, Hight, Enders open super season with big Pomona wins
Justin Ashley, Robert Hight, and Erica Enders collected victories at the 2022 NHRA Camping World Drag Racing Series-opening Lucas Oil NHRA Winternationals presented by ProtectTheHarvest.com but they weren't the only winners as the traditional season opener returned to Auto Club Raceway at Pomona,
New teams, owners, and sponsors have flocked to the NHRA for 2022, electrifying the sport, its drivers, and its fans and infusing new excitement, drama, and storylines to the 70-year-old sport.
The Top Fuel final was a battle of young guns in the class. Ashley, who reached the final round at last year's Winternationals –- contested in the heat of summer due to the pandemic — but was forced to withdraw due to heat exhaustion, got the win this time, racing past Austin Prock for the title, 3.69 to 3.71, for his third career win.
Ashley's new Phillips Connect dragster, tuned by championship crew chiefs Mike Green and Tommy DeLago, looked strong in eliminations with a pair of 3.69 passes in the first two frames to dispatch Jim Maroney and Antron Brown then reached the final round with a 3.702 to eke past reigning world champ Steve Torrence.
"When you were coming into the day, you know that throughout the year, the Top Fuel field is going to be really tough," said Ashley. "You saw it starting today where races were separated by such little margins. We really had no layups at all, and you're really never going to have any layups, and to be able to beat a guy like Jim Maroney and Antron Brown, Steve Torrence, and Austin Brock really just solidified what we came out here and wanted to do. We spent the offseason trying to work on power, pick up and get to where we want to get to and I feel like today you could see that.
"it was like a bracket car all day today. I mean, this Phillips Connect  Toyota dragster all day long, up and down the racetrack. And from a driver's perspective, when it's going down the racetrack, there are very few things that give you as much confidence that does."
Prock, who was runner-up at the Winternationals the last time he raced in the season opener in 2020, competed at just two events in 2020 before the pandemic shut down John Force Racing and competed at just one event in 2021, as a one-race fill-in for ailing Clay Millican.
The Funny Car final was between the event's top two qualifiers, Robert Hight and Ron Capps, and the two Southern California favorites battled their way towards the money round from opposite sides of the ladder. After a brief starting-line scare when the throttle hung up quickly as crewman Trevor Huff lowered the body, Hight gathered his composure and raced away for the 3.86 to 3.88 win, the 54th of his career, eking past Capps holeshot-aided effort by just 0.002-second.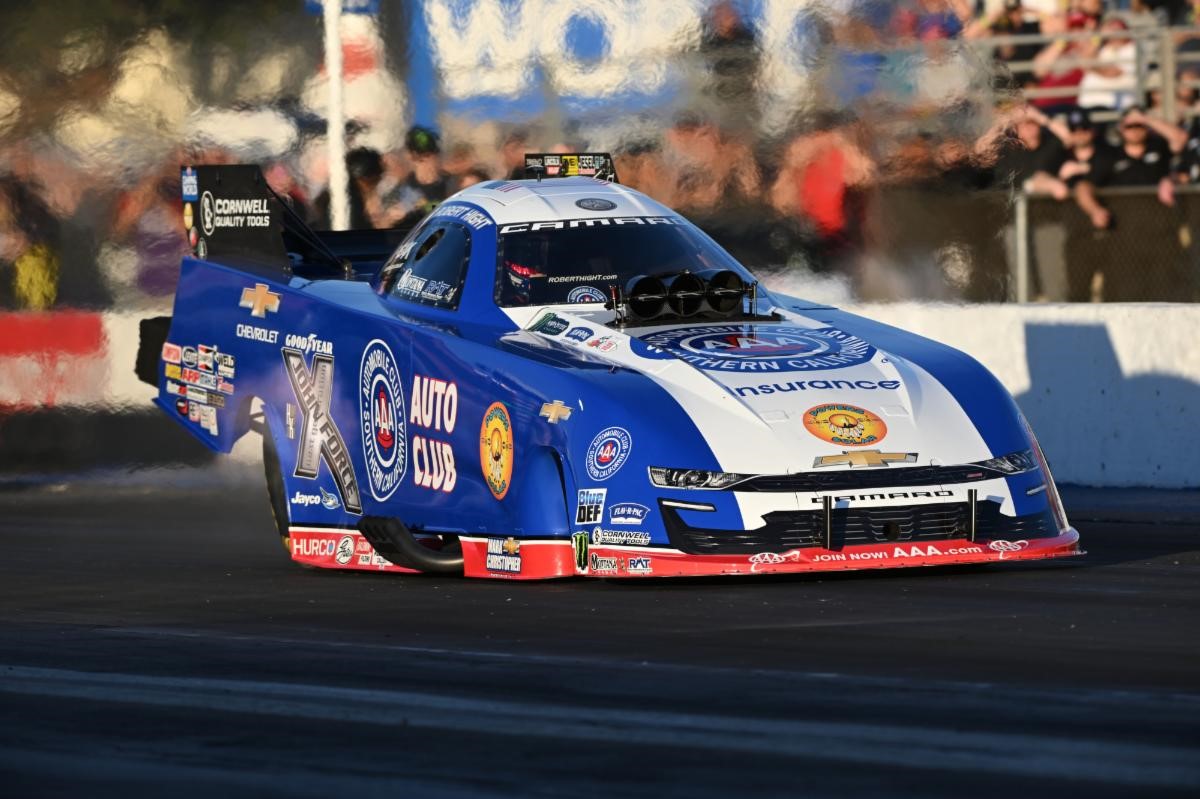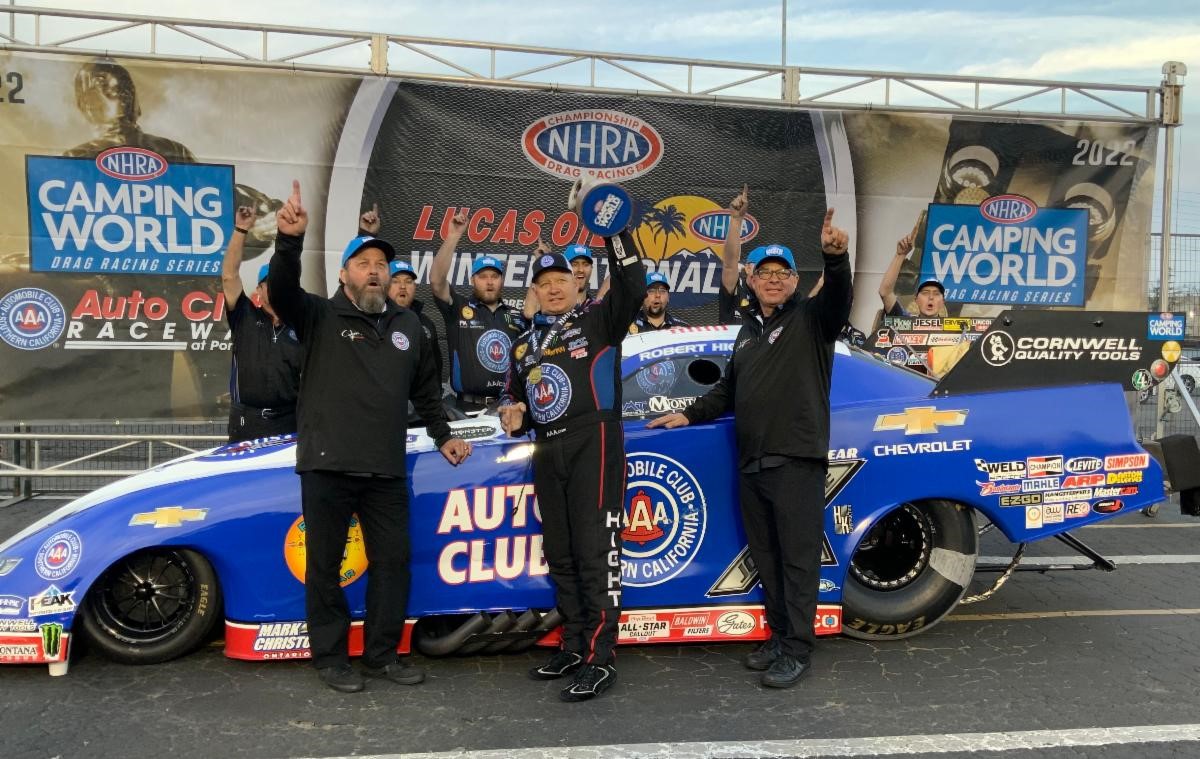 "When he came down, he hooked the injector. It hasn't been coming down straight and he hooked the injector with the body. Luckily, I had a hold of the brake. It could have been way worse if it would have jumped 10 feet or something. I didn't know if we going to shut this thing off., but Jimmy's like, 'Nope, let's run this thing,' and staged me and got the job done. But it was kind of a weird win, I'll give you that.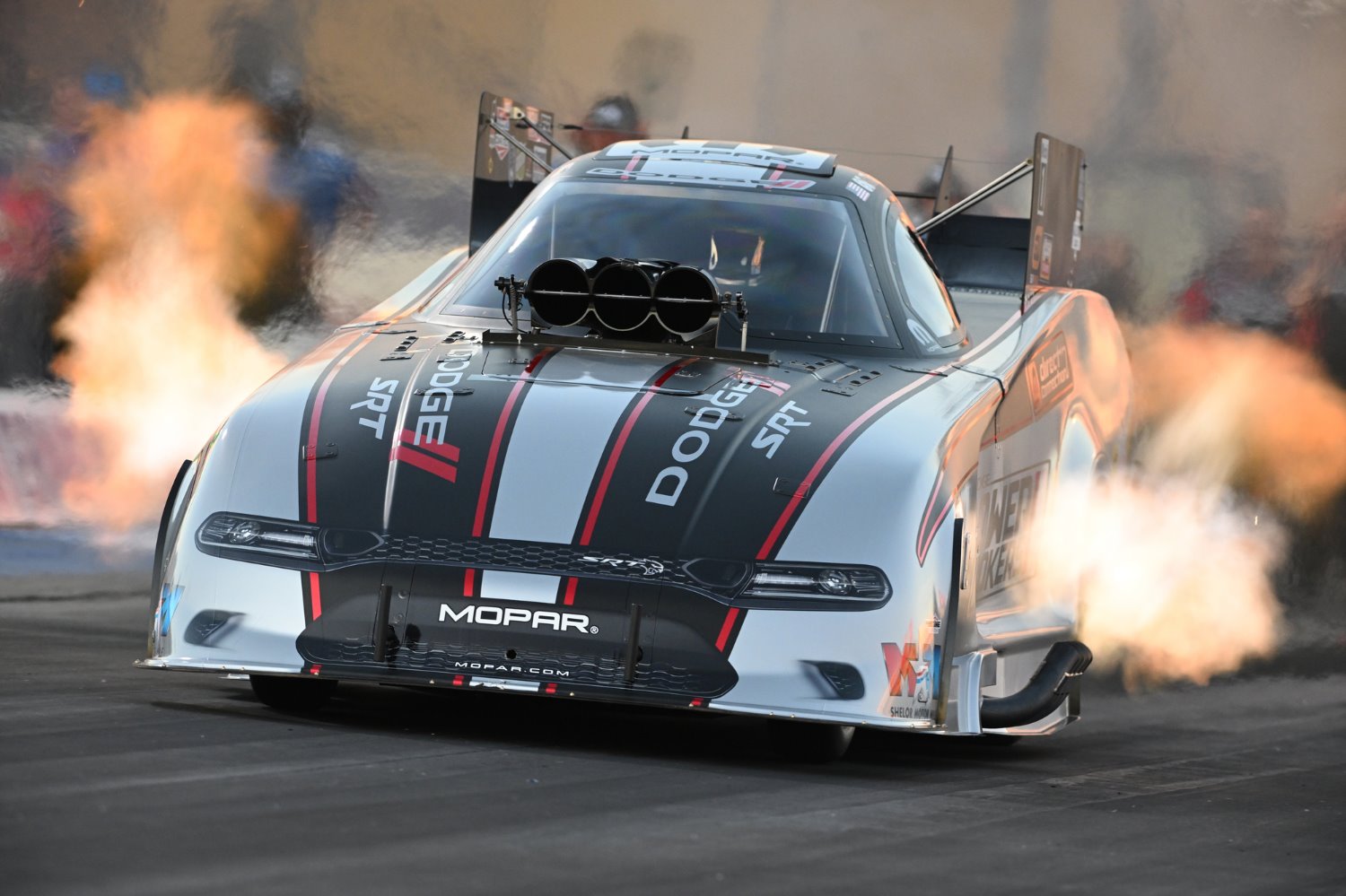 I had to reset because you're still driving a monster with 12,000 horsepower, and you;ve you got to focus and pay attention. And, you know, can't go out there and do something stupid just because something else happened. When I got the 'chutes out, and I saw the win light,  the first thing I was asking is how Trevor was and Chris Cunningham said he's alright."
Hight, who had been the low qualifier until Capps took the pole on the last pass Saturday night, took his Jimmy Prock- and Chris Cunningham-wrenched Auto Club Chevy to his 86th career final, using a pair of 3.89s to defeat Jason Rupert and Tony Jurado and then a statement 3.86 in the semifinals to get past Matt Hagan.
Capps' Dean Antonelli- and John Medlen-tuned NAPA Auto Parts Dodge improved on every run in eliminations, taking down the sport's winningest driver, John Force, in round one with a 3.920 and then following with passes of 3.890 and 3.881 in besting J.R. Todd and Cruz Pedregon to reach his 132nd career final round, 130 of which have come in Funny Car. Although Capps did not get the win in his first event as a team owner, it certainly had to be a satisfying start.
Enders' Elite Performance team came into the 2022 season with a pretty big chip on their shoulders after having to surrender the championship to Greg Anderson and the rival KB Racing squad last year but will leave Pomona feeling much lighter after a dominating performance that included the top two qualifying spots and an all-team final.
Enders collected her 34th Pro Stock title and a special bonus Hurst shifter-topped trophy for NHRA's 900th Pro Stock event by beating Aaron Stanfield with a strong 6.55 after Stanfield had to abort his pass.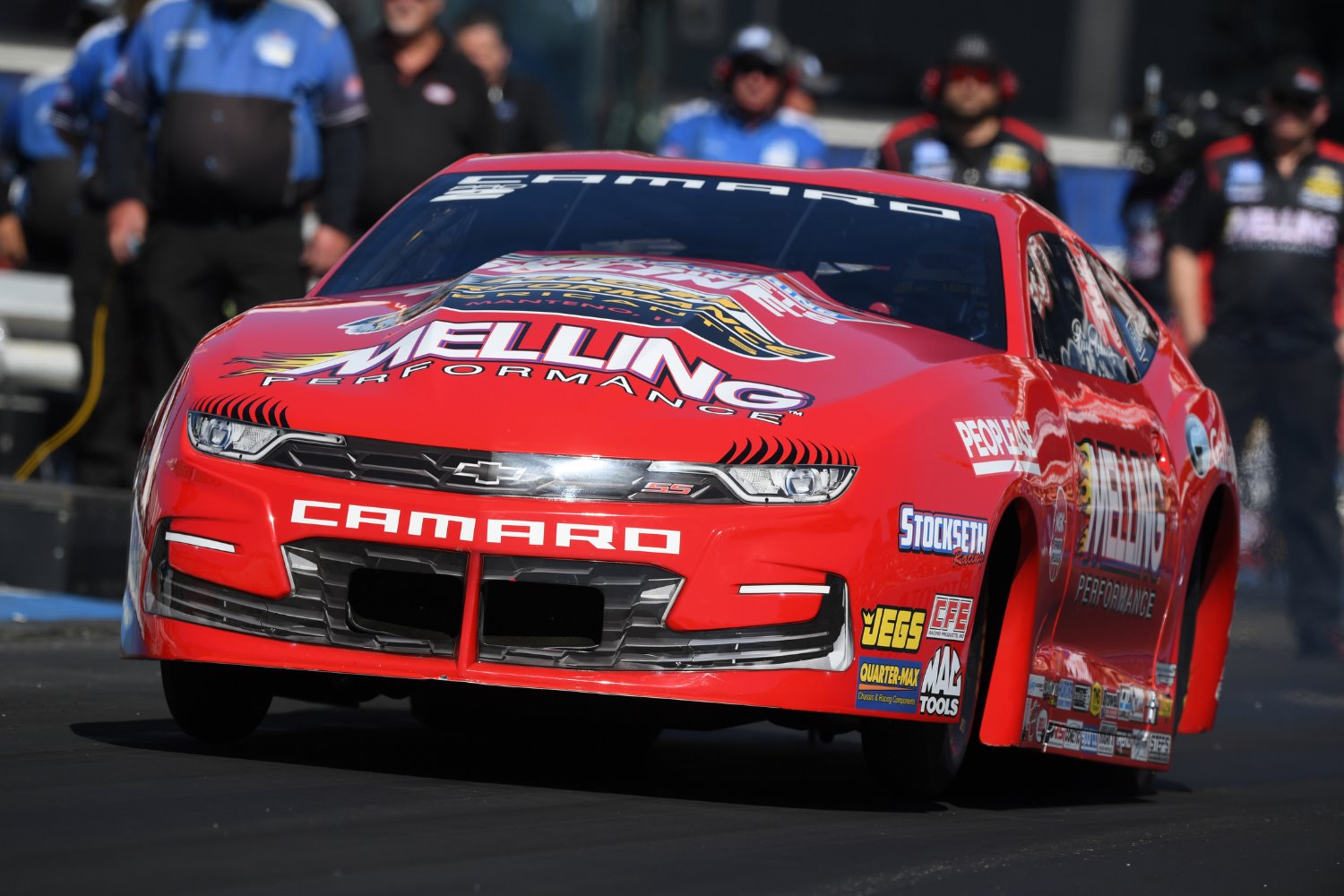 "To put the Elite Performance Motorsports cars in the 1-2  position after qualifying was all said and done Aaron and I said this is how we want to finish, 1-2,  and we're able to both work our way to the final rounds. This is my 18th season in Pro Stock so this one is very significant. I mean you treat every race day the same but this 900 victory for Pro Stock means a lot to me, especially because I wasn't sure until two weeks ago if I was going to be able to race here after having surgery on my arm [torn tendon] over the winter
"My only hiccup was my light in the final. I went up there and I pre-staged and I always take a deep breath and I pre-stage and the way that the weather changed my glasses completely fogged up. I was scared to go red because we were  [.012, .013, and .016] today so I just I missed the tree. I wanted to keep all my lights under [.020] today, so three out of four is not bad."
After qualifying No. 1 with a 6.521, Enders' red Melling Camaro powered to passes of 6.55 and a pair of 6.56s to defeat Cristian Cuadra and the KB Racing entries of Dallas Glenn and Anderson. her titanic semifinal battle with Anderson ended after Anderson's Hendrickcars.com Camaro lost traction at the top end, forcing him to lift. r
Stanfield, the reigning NHRA Factory Stock Showdown world champ and defending Winternationals winner, qualified just behind Enders with a 6.527, then 6.63, and a pair of 6.56s to trailer Troy Coughlin Jr., Rodger Brogdon, and Fernando Cuadra Jr.