Rumor: Alpine could be supporting an Andretti F1 effort
(2nd Update)
It was interesting to see Mario Andretti talking to Ferrari boss Mattia Binotto Saturday in Miami.
We always thought it made far more sense for the Andretti F1 team to run Ferrari engines, which are more powerful than the Renault's
Andretti has to see how well the Alfa Romeo team and Haas team are performing running Ferrari power in 2022.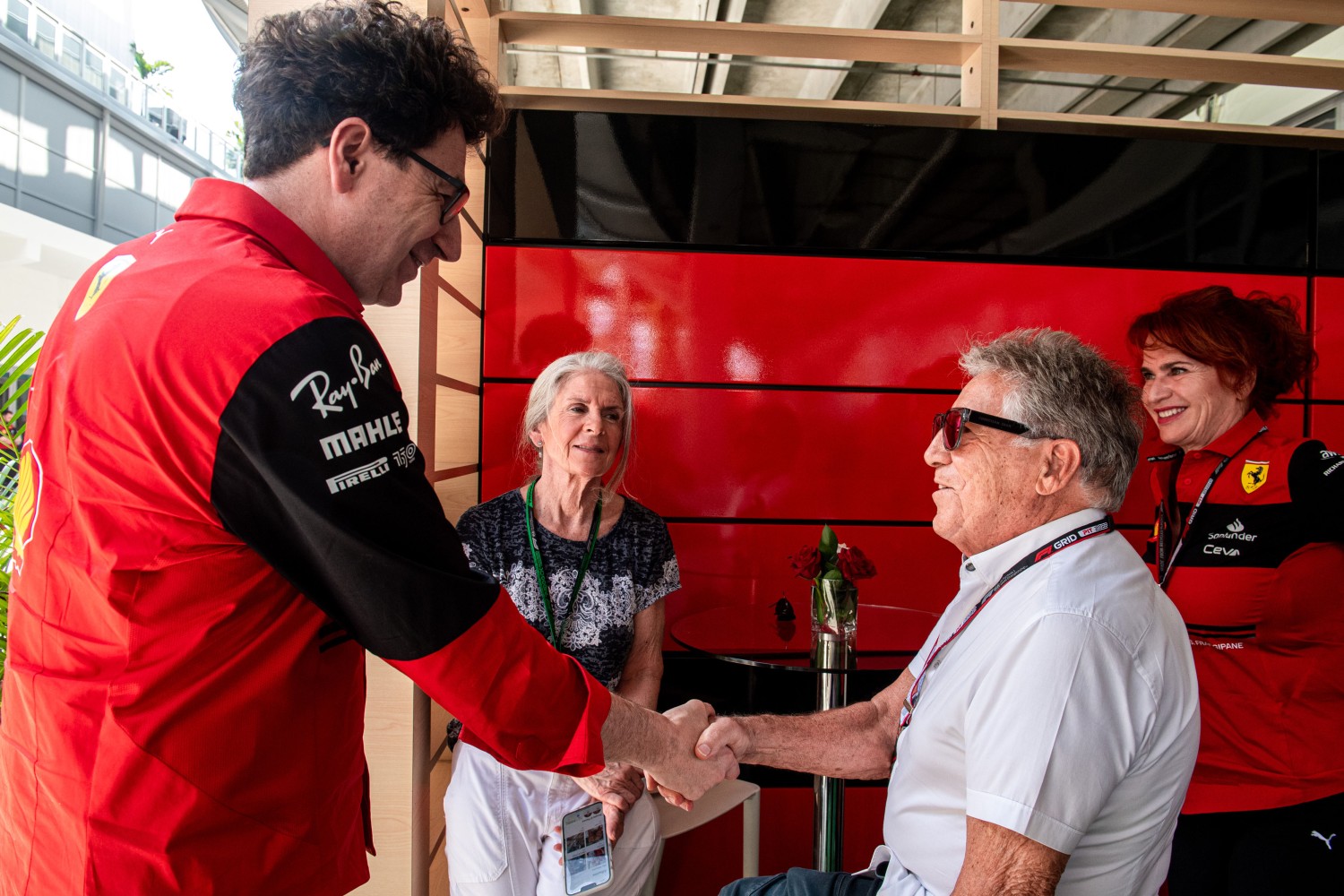 ---
February 28, 2022
Well it appears we were somewhat wrong that Alpine/Renault would not supply engines to an Andretti F1 effort.
Mario Andretti said in an interview with David Land on YouTube that the team had already secured a Renault engine deal.  And there is a photo of Alpine CEO Laurent Rossi visiting with Michael Andretti. But visiting and doing the final deal are two different things.
"We're not just new boys in town," said the 1978 F1 World Champion.
"We know the prerequisites and also there's a time factor here. Once we said go ahead, we've got to go.
"So a lot of work has been done. We know where the facility is going to be built in the UK. We know we have people, prominent individuals that have done this type of work as far as start-ups. We have a lot of things in mind.
"We have formal agreement now on the engine supplier, and it's out there, it's going to be Renault, I'm allowed to say it now."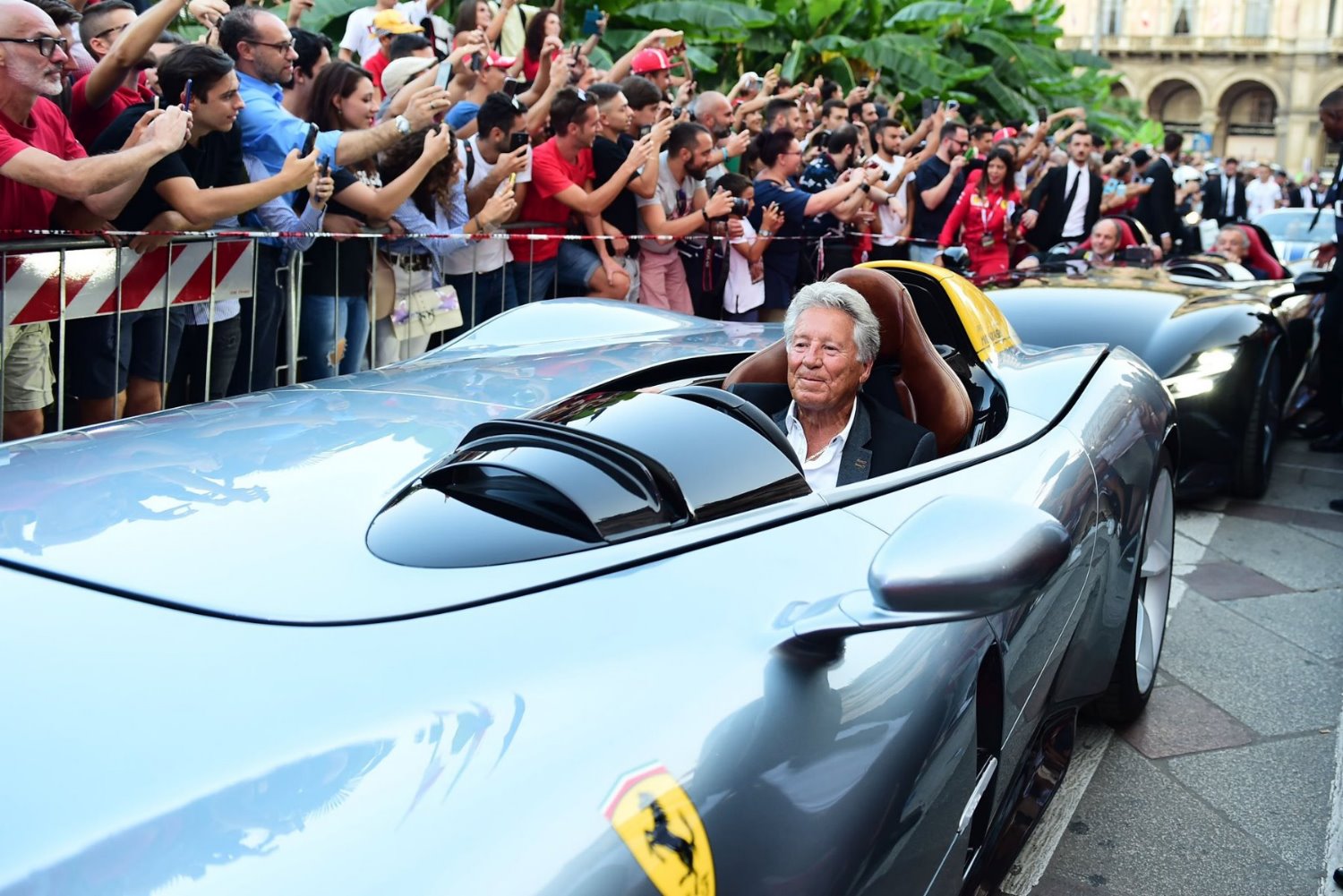 Andretti also revealed that Mercedes boss Toto Wolff was worried that Andretti would strike a deal with Ferrari, pushing the Italian squad's output to four teams.
Renault currently only powers its own Alpine team on the grid.
"There was a lot of speculation from [Mercedes boss] Toto Wolff, he was concerned about potentially it being Ferrari, Ferrari would have more votes than he would have, so on and so forth," Andretti said.
"There's a lot of steps to take here, I understand that. But we're ready for it. We have incredible partners.
"Myself, I've been at it for 67 years now so we know what goes on on all sides of the Atlantic.
"And this is a great undertaking, a wonderful undertaking on Michael's part. This shows that he's very, very ambitious in the sport. That's his business, period."
On Friday in St. Petersburg, Florida for this weekend's IndyCar race, Michael Andretti told Autosport Renault was "one of the options," but clarified there was "another one" and that no decision had yet been taken.
We believe that other one is Ferrari, as it makes too much sense for the reasons we stated below.  That plus the Ferrari engine makes more power and is more reliable, but father Mario clearly said in the interview with David Land that they already have a formal deal with Renault…..so why would Michael say "Renault was one of the options, but clarified there was 'another one' and that no decision had yet been taken?"
Alpine CEO Laurent Rossi seemed to confirm this week that a deal with Andretti is not final.
Rossi told Racer he is open to working with Andretti, but admits right now it would be "impossible" as he wants the Enstone team's full focus to be on its own team.
But with Andretti only on the grid in 2024, if even then, Rossi says they can have the conversation.
"If they ask us and we are geared and structured this way, perhaps we would be open (to helping Andretti). For now, it's impossible.
"I wanted to focus the team on itself to improve the performance. It was good enough last year but it wasn't great, let's be honest – that's my role to be lucid about that.
Two different messages coming out from the Andretti family. We suspect Mario is saying Renault, so Toto Wolff does not get his feathers too ruffled that Ferrari may get a tying 4th vote that Mercedes enjoys today. Call it a necessary diversion so Toto does not have a coronary.
We know Ferrari will be in F1 forever, they have been there since 1950 when F1 started, we cannot say the same thing about Renault.
To summarize, why Ferrari over Renault?
More powerful engine
More reliable engine
Ferrari will be in F1 long after Andretti is around. We cannot say the same about Renault who have been in and out over the years.
An Italian-American team running a French engine? Enzo Ferrari would roll over in his grave.
The USA is the #1 market for Ferrari – supplying engines to another American team with the Andretti name is something we have to believe is very desirable for the Scuderia
They make better pasta.
---
February 26, 2022
There have been reports that Alpine F1 would be open to supporting an Andretti F1 team sometime in the future.
How silly as father Mario Andretti stated that when the Alfa Romeo/Sauber deal fell through , "Michael started working, he started talking about possible connections — that's how he pretty much lined himself up with an engine supplier and some of the aspects where, if you don't have anything like that at least promised then what's the point?"
Alfa Romeo was supplied engines by Ferrari. That deal fell through, but our sources tell us that if the Andretti F1 team comes to fruition, the team will be running Ferrari engines and other parts of the car allowed by the rules…..similar to how Ferrari supports the Haas F1 team.
As we reported earlier, Ferrari wants four teams to vote their way on F1 rules, today they only have three votes to Mercedes' four. Will Andretti run Ferrari engines and give Ferrari that four vote?