IndyCar: Grosjean leads Andretti 1-2 in opening St. Petersburg GP practice
Former F1 driver Romain Grosjean immediately made his mark in his first race with Andretti Autosport, putting his #29 DHL Honda at the top of the time sheets in Practice 1 for the Firestone GP of St. Petersburg.
Grosjean's teammate Colton Herta was 2nd fastest just 0.1s behind in his #26 Gainbridge Honda ahead of Team Penske veteran Will Power who has won more poles here than anyone.
"We still have a bit more speed we can get out of the car to get it to my liking, but the car was really good, very smooth to drive," Grosjean said. "I know Andretti has got a brilliant car on all the street courses. With Olivier last year, we had a really good car on road courses. Ovals, I know Andretti has got a good car, as well.
"I think with all of us, we can get something good. I'm happy that I've got really fast teammates. That's going to push me to get better."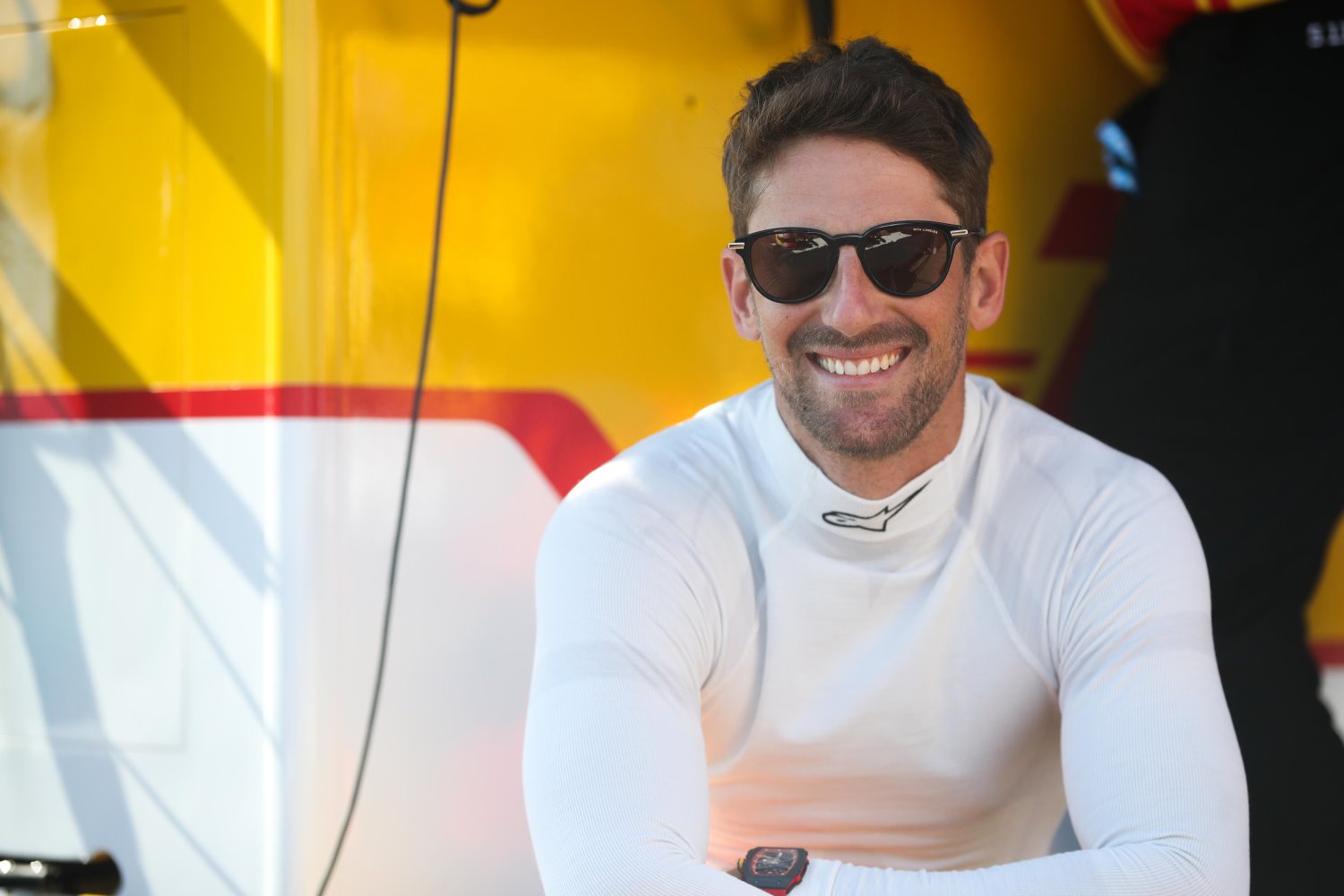 Simon Pagenaud's first race with Meyer Shank Racing also got off to a great start in 4th ahead of Graham Rahal's #15 Rahal Letterman Lanigan Honda.
Honda-powered cars took 7 of the top-10 positions.
Rookie drivers David Malukas, Kyle Kirkwood and Devlin DeFrancesco were especially impressive in their first outing in 10th, 12th and 13th respectively.
Malukas is driving for Dale Coyne Racing this year, and Kirkwood for AJ Foyt Racing – two underdog teams, so to put in that sort of performance early has tongues wagging.
In an identical car to Kirkwood, his teammate, Tatiana Calderon, was dead last, 2.66s off the pace of Grosjean and 2.1s behind her teammate. In other words out to lunch.  She's going to have to step up if she is going compete for podiums in this league.
Less than a second separated the top 21 drivers in the 26-competitor field, but two prominent names ended up uncharacteristically toward the bottom of that group. Six-time NTT INDYCAR SERIES champion Scott Dixon was 19th at 1:01.7747 in the No. 9 PNC Bank Chip Ganassi Racing Honda, while 2021 championship contender Pato O'Ward was 20th at 1:01.8297 in the No. 5 Arrow McLaren SP Chevrolet..
Practice 1 Results
| | | | | | | | | |
| --- | --- | --- | --- | --- | --- | --- | --- | --- |
| Pos | No | Name | Time | Diff | Gap | Speed | Engine | Team |
| 1 | 28 | Romain Grosjean | 1:01.0525 | 0.000s | 0.000s | 106.138 | Honda | Andretti Autosport |
| 2 | 26 | Colton Herta | 1:01.1567 | 0.1042 | 0.1042 | 105.957 | Honda | Andretti Autosport |
| 3 | 12 | Will Power | 1:01.2282 | 0.1757 | 0.0715 | 105.834 | Chevy | Team Penske |
| 4 | 60 | Simon Pagenaud | 1:01.3249 | 0.2724 | 0.0967 | 105.667 | Honda | Meyer Shank Racing |
| 5 | 15 | Graham Rahal | 1:01.3683 | 0.3158 | 0.0434 | 105.592 | Honda | Rahal Letterman Lanigan Racing |
| 6 | 27 | Alexander Rossi | 1:01.4570 | 0.4045 | 0.0887 | 105.440 | Honda | Andretti Autosport |
| 7 | 45 | Jack Harvey | 1:01.4903 | 0.4378 | 0.0333 | 105.382 | Honda | Rahal Letterman Lanigan Racing |
| 8 | 3 | Scott McLaughlin | 1:01.5354 | 0.4829 | 0.0451 | 105.305 | Chevy | Team Penske |
| 9 | 21 | Rinus VeeKay | 1:01.5522 | 0.4997 | 0.0168 | 105.276 | Chevy | Ed Carpenter Racing |
| 10 | 18 | David Malukas | 1:01.5889 | 0.5364 | 0.0367 | 105.214 | Honda | Dale Coyne Racing with HMD |
| 11 | 06 | Helio Castroneves | 1:01.6086 | 0.5561 | 0.0197 | 105.180 | Honda | Meyer Shank Racing |
| 12 | 14 | Kyle Kirkwood | 1:01.6177 | 0.5652 | 0.0091 | 105.165 | Chevy | AJ Foyt Enterprises |
| 13 | 29 | Devlin DeFrancesco | 1:01.6632 | 0.6107 | 0.0455 | 105.087 | Honda | Andretti Steinbrenner Autosport |
| 14 | 2 | Josef Newgarden | 1:01.6903 | 0.6378 | 0.0271 | 105.041 | Chevy | Team Penske |
| 15 | 8 | Marcus Ericsson | 1:01.6922 | 0.6397 | 0.0019 | 105.038 | Honda | Chip Ganassi Racing |
| 16 | 7 | Felix Rosenqvist | 1:01.7267 | 0.6742 | 0.0345 | 104.979 | Chevy | Arrow McLaren SP |
| 17 | 10 | Alex Palou | 1:01.7267 | 0.6742 | 0.0000 | 104.979 | Honda | Chip Ganassi Racing |
| 18 | 20 | Conor Daly | 1:01.7462 | 0.6937 | 0.0195 | 104.946 | Chevy | Ed Carpenter Racing |
| 19 | 51 | Takuma Sato | 1:01.7617 | 0.7092 | 0.0155 | 104.919 | Honda | Dale Coyne Racing w/RWR |
| 20 | 9 | Scott Dixon | 1:01.7747 | 0.7222 | 0.0130 | 104.897 | Honda | Chip Ganassi Racing |
| 21 | 5 | Pato O'Ward | 1:01.8297 | 0.7772 | 0.0550 | 104.804 | Chevy | Arrow McLaren SP |
| 22 | 77 | Callum Ilott | 1:02.1578 | 1.1053 | 0.3281 | 104.251 | Chevy | Juncos Hollinger Racing |
| 23 | 4 | Dalton Kellett | 1:02.2448 | 1.1923 | 0.0870 | 104.105 | Chevy | AJ Foyt Enterprises |
| 24 | 48 | Jimmie Johnson | 1:02.4246 | 1.3721 | 0.1798 | 103.805 | Honda | Chip Ganassi Racing |
| 25 | 30 | Christian Lundgaard | 1:02.5246 | 1.4721 | 0.1000 | 103.639 | Honda | Rahal Letterman Lanigan Racing |
| 26 | 11 | Tatiana Calderon | 1:03.7173 | 2.6648 | 1.1927 | 101.699 | Chevy | AJ Foyt Enterprises |