NHRA: Kalitta, Hight, Enders heat up chilly day in the Arizona desert
Nitro thunder returned to Wild Horse Pass Motorsports Park after a near-two-year COVID-related absence for the opening day of qualifying at the NHRA Arizona Nationals. Doug Kalitta (Top Fuel) and Winternationals champs Robert Hight (Funny Car) and Erica Enders (Pro Stock) lead their respective fields with two more runs to follow on Saturday to set the field for Sunday's final eliminations.
With temperatures in the mid-60s and a freshly-prepared racetrack, the conditions were prime for peak performance, and the teams didn't let the fans down.
The fruits of a new tuning alliance with Alan Johnson didn't take long to materialize as Kalitta raced his Mac Tools dragster to a career-best 3.657 to lead the Friday Top Fuel field as he angles for what would be his first No. 1 qualifying effort since mid-2019.
"It left hard and seemed like it was going straight and got just a little squirrelly at the end, but I could definitely tell it was pulling harder than any run that I've ever been on. I'm just super proud of my guys, and, obviously, with Alan Johnson and Brian [Husen] and what they brought to our team, we couldn't be more excited for sure.
"I knew it was a good run, but I just didn't realize how good, I was definitely looking forward to figuring out what we had run. But yeah, 'So that's what a .65 feels like.' That was cool."
Behind Kalitta on the qualifying sheets was a bit of a surprise in Tripp Tatum, who powered to a stout 3.684 in his 2022 season debut. Tatum has a tuning alliance with the world championship Capco Contractors team.
Leah Pruett put Tony Stewart's Dodge Power brokers dragster in the No. 3 spot with a 3.703 but the rest of the 15 dragster that tried to make runs on a cooling track shook, mostly from underestimating the conditions.
Funny Car
Hight and crew chief Jimmy Prock continued to flex their muscles with the Auto Club Camaro, racing to the No. 1 spot with a 3.838 — the quickest run since the 2020 Winternationals and not far off the four-year-old track record set by former teammate Courtney Force. Hight's run displaced his boss, John Force, from the No. 1 spot, but Force, who barely qualified at the season opener, was no doubt pleased by his 3.851 for second.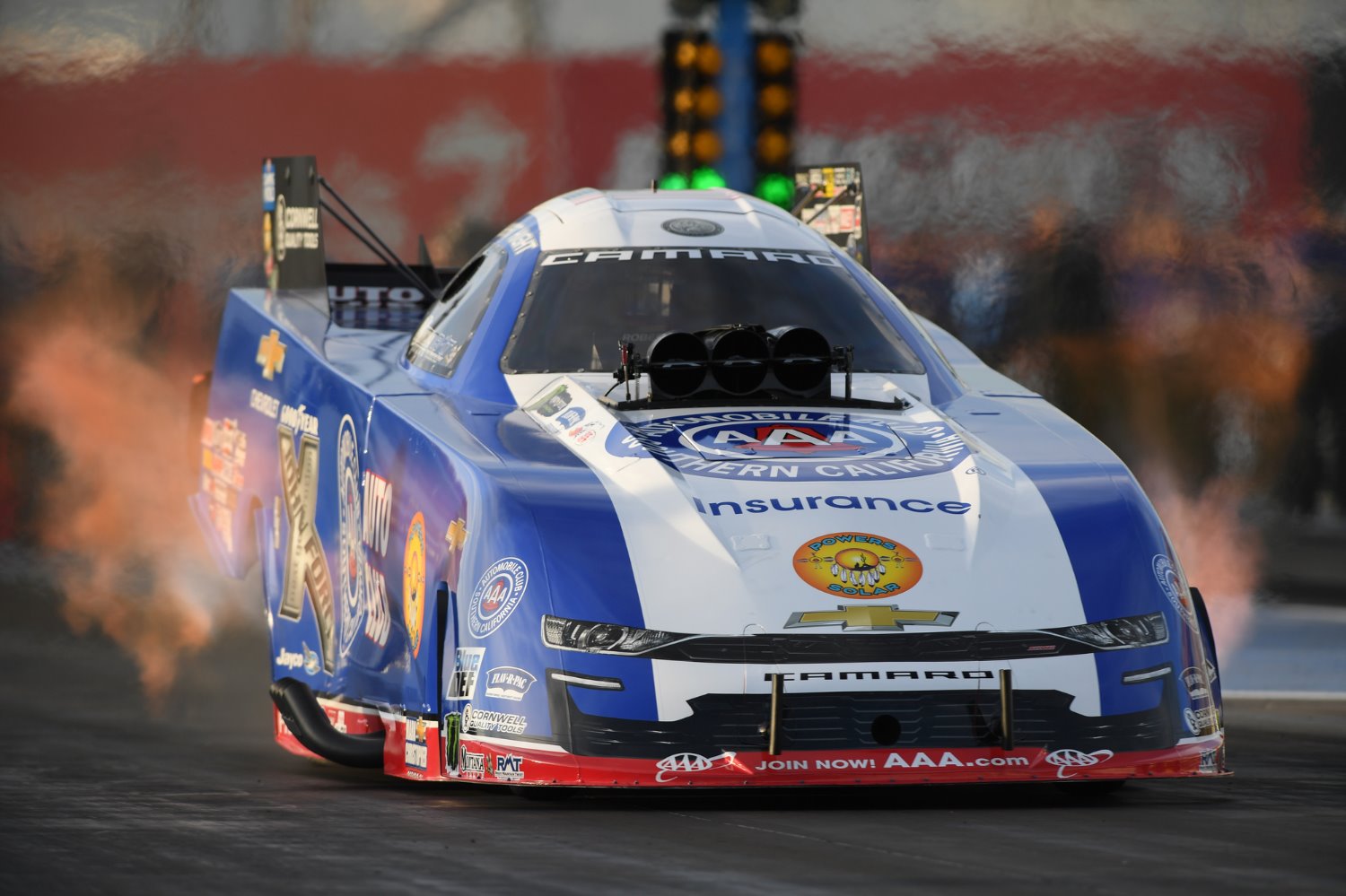 "Every run, we've made down the track this whole year has been in the 3.80s," said Hight. "So that's pretty impressive, but we're under really good conditions. When you come to Phoenix, and the temperatures are like this, you better hold on, and Jimmy and Chris [Cunningham] did a really good job and hit it just right.
"You also have a little luxury when you're in the back of the pack,  to be able to watch what the other cars are doing and kind of plan ahead., and we did that. Jimmy spent a lot of time in the [tuning] box, and I thought to myself, 'It's either really quick or not make it.' This exactly what you need to start off our season."
Behind Force were another pair of 3.85s, with Tim Wilkerson grabbing the No. 3 spot with a 3.852 and Matt Hagan fourth with a 3.859.
Chad Green, whose car is tuned by Wilkerson, was a solid fifth with a 3.982, the last of the three-second cars, and is followed on the qualifying sheets by Jim Campbell (4.030), Arizona State University student Bobby Bode III (4.112), and Jeff Arend (4.130).
Neither Jeff Diehl nor Paul Lee got a qualifying time as Diehl crossed the centerline in their pairing and collected the timing block, invalidating both passes.
Pro Stock
Fans who watched Pro Stock action from the Winternationals a week ago got a case of déjà vu as Elite Motorsports teammates Enders and Aaron Stanfield qualified Nos. 1 and 2. Both ran 6.540 but Enders' better speed, 210.44 to 209.82, gave her the provisional pole with two qualifying runs to go Saturday. The side-by-side passes came on the final runs of the session and booted world champ Greg Anderson's 6.541 from first to third.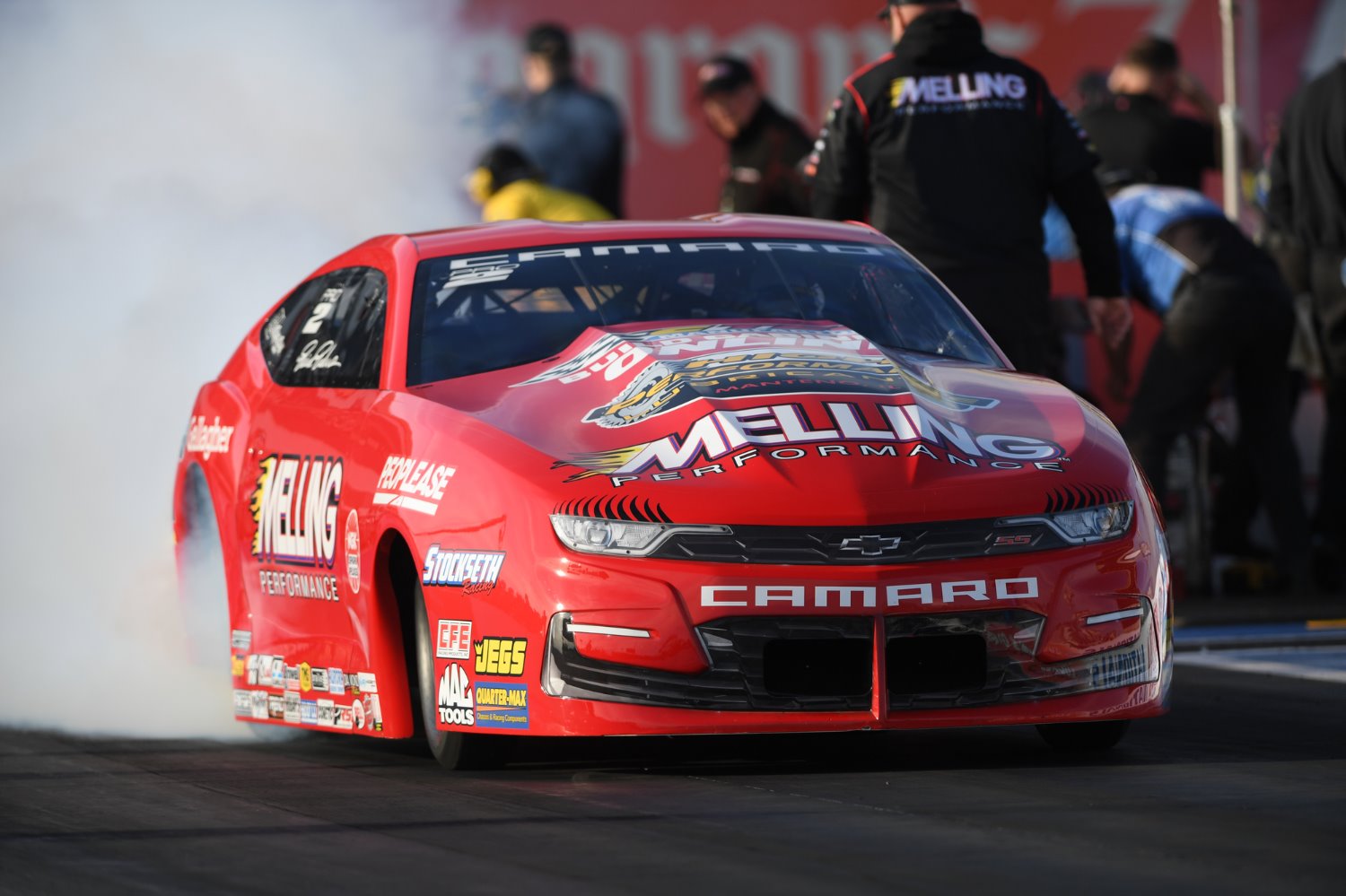 "It was definitely pretty awesome," said Enders, the defending event champ from 2020. "I got to run next to my teammate, and we qualified 1-2 in Pomona and we met each other in the final round, we were able to win there. So that put us as the last pair for the first qualifying session here in Phoenix. And as the sun was going down, and the temperatures are getting cooler, it's always a really fun run for Pro Stock at that time of day.
"[Crew chief] Mark Ingersoll is definitely the key to our success. He's a he's a legend for sure in the crew chief department and has a lot of data and we feel like we've really got a great tune up on our on our EFI stuff. Having said all that, I definitely think we can improve tomorrow."
The top eight qualifiers were separated by just over three-hundredths of a second with Deric Kramer (6.552, Kyle Koretsky (6.555), Bo Butner (6.569), 2021 rookie of the year Dallas Glenn (6.571), and Rodger Brogdon (6.571) rounding out the quick half of the field.
Rookie sensation Camrie Caruso is ninth with a 6.574 and her speed of 210/.34 is second only behind Enders' 210.44. Troy Coughlin Jr sits on the bump spot at 7.066.