NASCAR: Austin Cindric wins pole in Fontana
In a qualifying session that should have merited hazard pay for the 10 final-round drivers, Daytona 500 winner Austin Cindric backed up his victory in the Great American Race with a pole-winning run on Saturday at Auto Club Speedway in Fontana, Calif.
Cindric will start where he finished the 500 in Sunday's Wise Power 400 NASCAR Cup Series event at the 2-mile track (3:30 p.m. ET on FOX, MRN and SiriusXM NASCAR Radio). The driver of the No. 2 Team Penske Ford posted a lap in 41.226 seconds (174.647 mph) to score the first pole of his Cup career six days after claiming his first win.
Cindric is on a roll so far this year, winner in the Daytona 500 and on pole this race has surprised not only the fans but also most of the betting sites in Ireland. Cindric is a highly rated rookie who could be a real surprise and affect the betting odds on the NASCAR Cup races despite being a rookie.
The last driver to attempt a lap, Chase Elliott, choked, tested the apron in Turn 3 and spun in Turn 4, posting no time.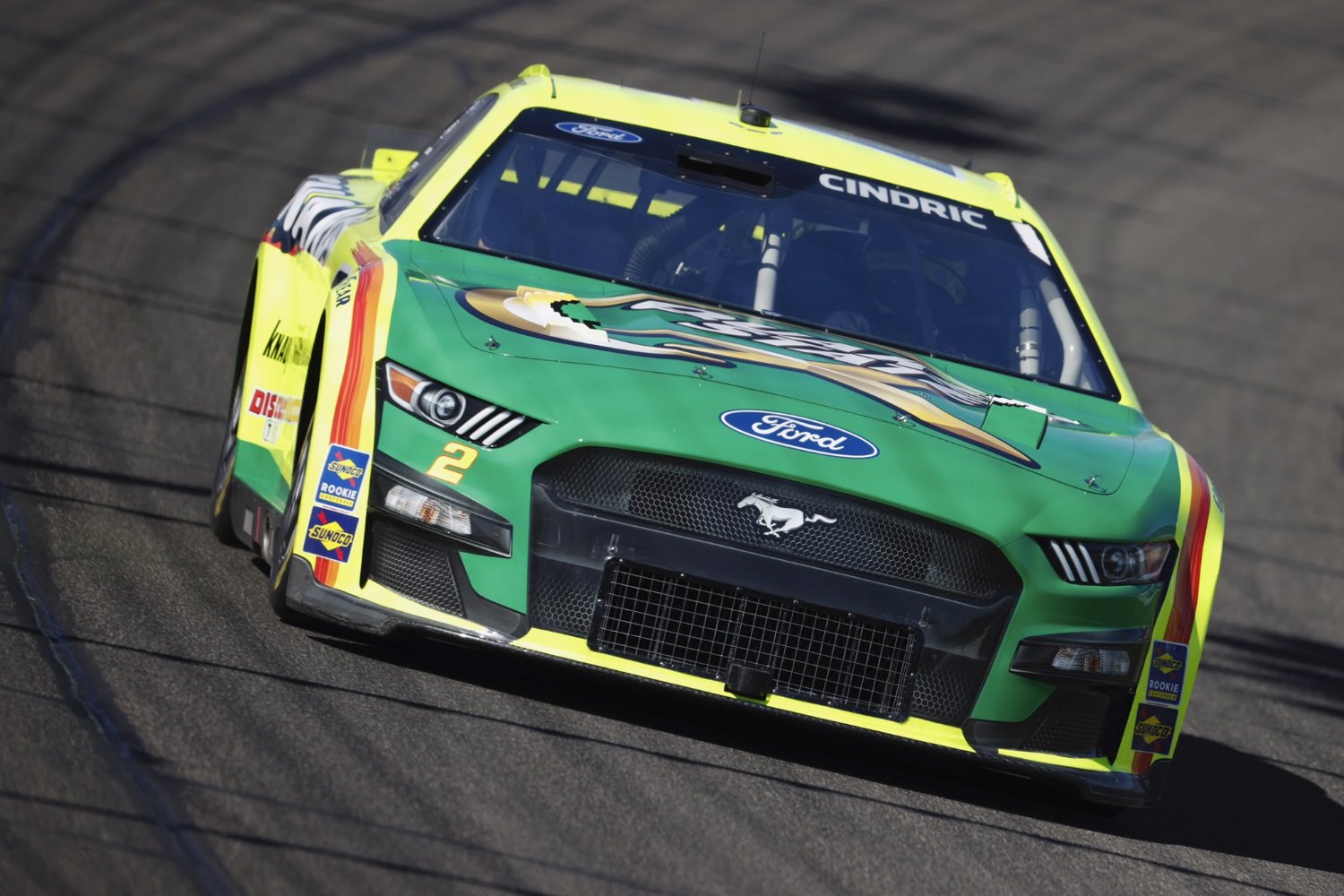 Elliott wasn't the only casualty in the final round. Joey Logano, who was fastest in Group A in Round 1, also tried the apron and smacked the outside wall at the exit of Turn 4. Brad Keselowski and William Byron also spun during their money laps but kept their cars off the wall.
Erik Jones was second-fastest at 174.157 mph in the No. 43 Richard Petty Motorsports Chevrolet, grabbing the other front-row starting spot for Sunday's Wise Power 400. Kyle Busch, Denny Hamlin and Daniel Hemric finished out the top five in that order.
"I definitely left a bit out there," said Jones.
"I thought we probably could have had a shot there for the pole, but missed (turns) one and two a bit. But nonetheless, I'm proud of number one, Petty GMS Motorsports; and number two, Dave (Elenz, Crew Chief) coming into a new role this year and being really strong right off the bat. We were strong at the Clash, Daytona and here. Obviously, there's a long way to go tomorrow, but I'm happy with how we've started with the No. 43 FOCUSFactor Chevrolet."
"I'm looking forward to it. I was excited the second we hit the racetrack and started making laps with how the car was driving; and obviously the speed in qualifying. It's definitely on an edge and it's challenging. It's easy for me to say it's fun. I'm sure some don't have the same opinion at this point, but it's definitely a challenging car right now."
Kurt Busch did not participate in time trials after his 23XI Racing No. 45 Toyota failed pre-qualifying inspection three times. The team will start at the back of the pack, and Busch will have to serve a pass-through penalty at its soonest opportunity after the green flag. Additionally, No. 45 car chief David Bryant was ejected.
Kevin Harvick, Ross Chastain and Bubba Wallace also did not register speeds in qualifying after incidents during practice.
Alex Bowman, the most recent Cup Series winner at the 2-mile California track, was 14th-fastest in the Hendrick Motorsports No. 48 Chevrolet.
Denny Hamlin (173.415 mph) bested the Group A session, and Tyler Reddick (172.472 mph) was fastest in Group B – third overall.
The practice sessions were eventful from the start, with the No. 4 Stewart-Haas Racing Ford of Kevin Harvick spinning and backing into the Turn 4 retaining wall just two minutes into the Group A session.
"I wasn't even hardly in the throttle," Harvick radioed his No. 4 crew after skidding to a stop. His car was towed back to the garage with significant rear-end damage.
Two minutes later, Ross Chastain crashed hard in the No. 1 Trackhouse Racing Chevrolet in Turn 4, almost simultaneously while Chris Buescher looped the No. 17 RFK Racing Ford behind him in Turn 3. Christopher Bell capped the first 15-minute session with another Turn 4 spin in the No. 20 Joe Gibbs Racing Toyota.
Bubba Wallace scraped the outside wall in Turn 1 nearly four minutes into Group B, causing minor right-rear damage to the No. 23 23XI Racing Toyota.
The on-track activity was the first for the NASCAR Cup Series at Auto Club Speedway since 2020. COVID-19 concerns nixed last year's scheduled event, which was reassigned to the Daytona International Speedway road course.
Qualifying Results
| | | | | | |
| --- | --- | --- | --- | --- | --- |
| Pos | No. | Driver | Team | Time | Speed |
| 1 | 2 | Austin Cindric # | Menards/Quaker State Ford | 41.226 | 174.647 |
| 2 | 43 | Erik Jones | FOCUSfactor Chevrolet | 41.342 | 174.157 |
| 3 | 18 | Kyle Busch | Interstate Batteries Toyota | 41.437 | 173.758 |
| 4 | 11 | Denny Hamlin | FedEx Ground Toyota | 41.529 | 173.373 |
| 5 | 16 | Daniel Hemric(i) | Poppy Bank Chevrolet | 41.585 | 173.139 |
| 6 | 12 | Ryan Blaney | Wurth Ford | 41.588 | 173.127 |
| 7 | 22 | Joey Logano | AAA Southern California Ford | 42.197 | 170.628 |
| 8 | 9 | Chase Elliott | NAPA Auto Parts Chevrolet | 41.177 | 174.855 |
| 9 | 6 | Brad Keselowski | Violet Defense Ford | 41.403 | 173.9 |
| 10 | 24 | William Byron Jr. | Axalta Chevrolet | 41.478 | 173.586 |
| 11 | 8 | Tyler Reddick | Lenovo Chevrolet | 41.516 | 173.427 |
| 12 | 19 | Martin Truex Jr. | Reser's Fine Foods Toyota | 41.517 | 173.423 |
| 13 | 5 | Kyle Larson | HendrickCars.com Chevrolet | 41.594 | 173.102 |
| 14 | 48 | Alex Bowman | Ally Chevrolet | 41.634 | 172.936 |
| 15 | 99 | Daniel Suarez | Freeway Insurance Chevrolet | 41.636 | 172.927 |
| 16 | 3 | Austin Dillon | Dow Coatings Chevrolet | 41.678 | 172.753 |
| 17 | 47 | Ricky Stenhouse Jr. | Ralphs/Honey Nut Cheerios Chevrolet | 41.688 | 172.712 |
| 18 | 42 | Ty Dillon | Allegiant Chevrolet | 41.777 | 172.344 |
| 19 | 20 | Christopher Bell | Rheem Toyota | 41.888 | 171.887 |
| 20 | 17 | Chris Buescher | Fastenal Ford | 41.888 | 171.887 |
| 21 | 41 | Cole Custer | Production Alliance Group Ford | 41.94 | 171.674 |
| 22 | 21 | Harrison Burton # | DEX Imaging Ford | 41.989 | 171.473 |
| 23 | 34 | Michael McDowell | Stage Front Ford | 42.056 | 171.2 |
| 24 | 14 | Chase Briscoe | Mahindra Tractors Ford | 42.14 | 170.859 |
| 25 | 7 | Corey LaJoie | General Formulatioins/Mutoh Chevrolet | 42.188 | 170.665 |
| 26 | 38 | Todd Gilliland # | Frontline Enterprises Inc. Ford | 42.505 | 169.392 |
| 27 | 51 | Cody Ware | Nurtec ODT Ford | 42.634 | 168.879 |
| 28 | 77 | Josh Bilicki(i) | Pacific Coast Termite Chevrolet | 42.957 | 167.609 |
| 29 | 15 | Garrett Smithley | Jacob Companies Ford | 43.953 | 163.811 |
| 30 | 78 | BJ McLeod | Pala Casino Ford | 44.103 | 163.254 |
| 31 | 10 | Aric Almirola | Rush/Mobil Delvac 1 Ford | 0 | 0 |
| 32 | 4 | Kevin Harvick | Subway Ford | 0 | 0 |
| 33 | 1 | Ross Chastain | Casa Del Sol Tequila Chevrolet | 0 | 0 |
| 34 | 23 | Bubba Wallace | Wheaties Toyota | 0 | 0 |
| 35 | 31 | Justin Haley | LeafFilter Gutter Protection Chevrolet | 0 | 0 |
| 36 | 45 | Kurt Busch | Monster Energy Toyota | 0 | 0 |