IndyCar: Sunday Morning Update from St Pete
Good morning from St Pete and the first race of the season 2022 IndyCar season.    We will have perfect weather for the 100-lap race, with sunshine and temperatures in the mid-70s. A good crowd is expected given the perfect weather.
It will be an early morning with the IndyCar 30 minute warm up at 8:45 am ET.  The race is scheduled for a 12:30 pm ET start on NBC TV.
It will be interesting to see what happens when they funnel down in turn one at the start.   With all the adrenaline flowing and all the rookies in the field, something is always bound to happen. You would think they would learn you can't win the race if you don't finish.
Keep your eye on Kyle Kirkwood.  The rookie is fast and, with veteran Sebastien Bourdais coaching him, has raised more than a few eyebrows on pit lane. Kirkwood won over 60% of his Road-To-Indy races, which means he won more races than he lost. He's making the AJ Foyt Chevy do things no one expected.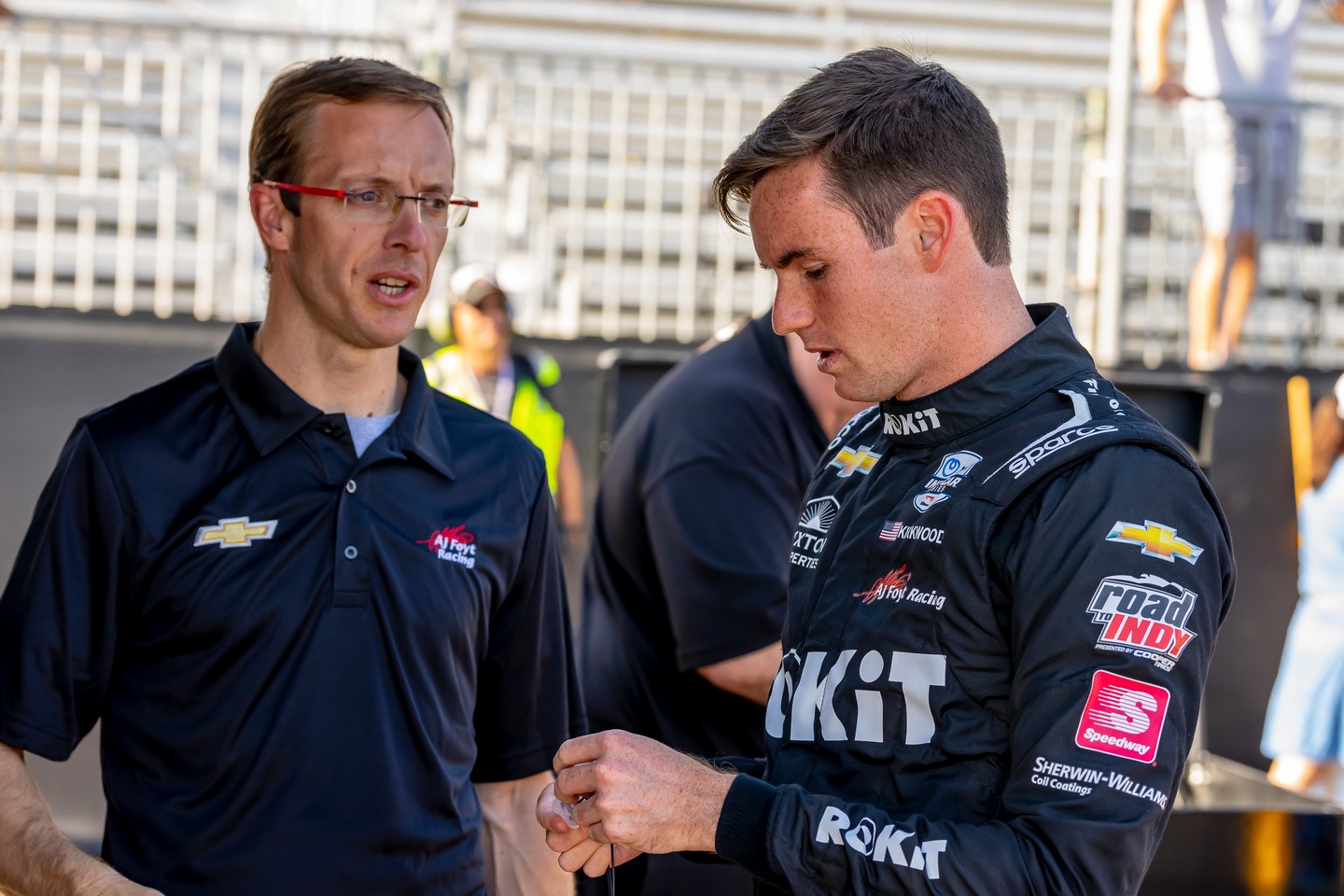 Kirkwood, the only rookie to transfer out of Round 1, will start 12th after posting a lap time of 1 minute, 0.2616 seconds (107.531mph) around the 14-turn, 1.8-mile street circuit.
Kirkwood, the 2021 Indy Lights champion, posted a short video on social media, saying, "Just finished up my first ever qualifying in INDYCAR and made it into the top 12. I'm super ecstatic with that. We had a car that could have been potentially in the Fast Six, but unfortunately, on the one lap that you get with red tires, I just didn't pull it off.
"I was trying to get more out of it than I've ever done before and pushed my brakes points a little bit further, and unfortunately, it kind of caught me out and I brushed the wall coming out of Turn 9.
"No real damage to the car but after that point, I just played it safe. We ended up 12th overall. Super happy with that, it's right in the middle and we can make up some ground from there."
Will Power, driver of the Team Penske Verizon #12 entry, just missed the pole to his Kiwi teammate Scott McLaughlin on the last lap of qualifying for the Firestone Fast Six.  The Aussie is now the new track record holder at 59.3466s, putting down his fast lap in Qualifying session two.    Power is happy to be on the front-row next to his teammate because he started 20th last year and according to him, many things happen at the back or middle of the pack.
Power is concerned about reaching pole number 68 to break the career pole record, which is currently held by Mario Andretti.  "Poles keep eluding me, down to this last like five that I need.  After I break the record, I don't care about pole."
Romain Grosjean, driver of the Andretti Autosport number #27 DHL entry, was the fastest driver in Friday's practice session.  After a bad hit to the back of Takuma Sato's car in the Saturday morning practice, the Frenchman ended up 5th in his qualifying effort.
Asked about the incident, Grosjean commented, "Yeah, but I did aim for the middle
of the car so I knew there would be as little damage as possible. My hands took a little bit of a hit yeah, not fun. But it's okay.  It's not too painful when I drive, so it's fine for the race."
Alexander Rossi continued his performance from last year, a few tenths slower than two of his teammates. This is a contract year for Rossi.   However, in qualifying, he could not get the time out of the car his teammates Colton Herta and Romain Grosjean could. As a result, Rossi was eliminated in Round 1 of qualifying and will start back in 13th.
There were some concerned looks in his pit stall.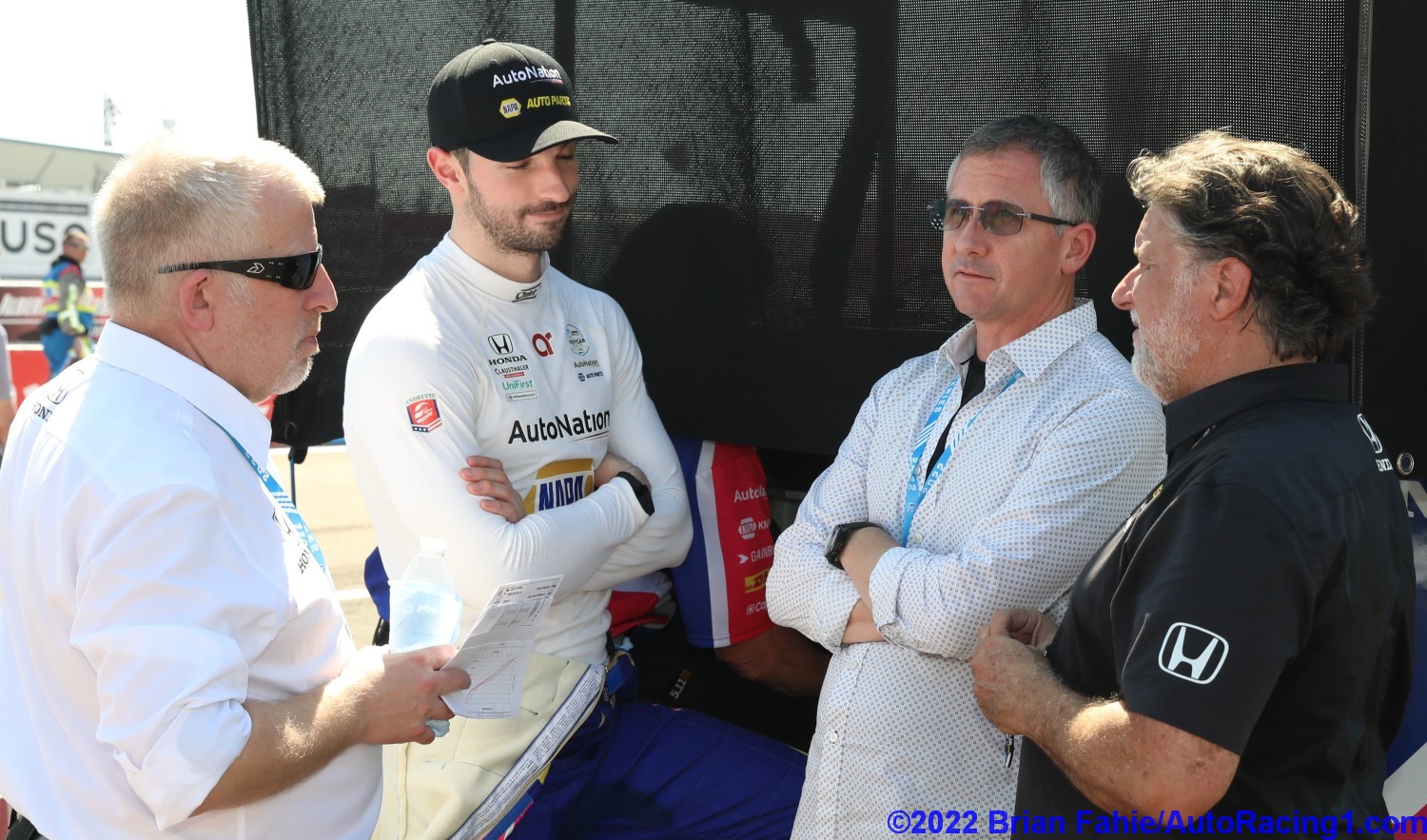 A bit off-topic, but look who AutoRacing1.com staff spotted in Chandler, AZ Saturday at the NHRA Arizona Nationals. Don't tell us Paul Tracy is angling for an NHRA shot?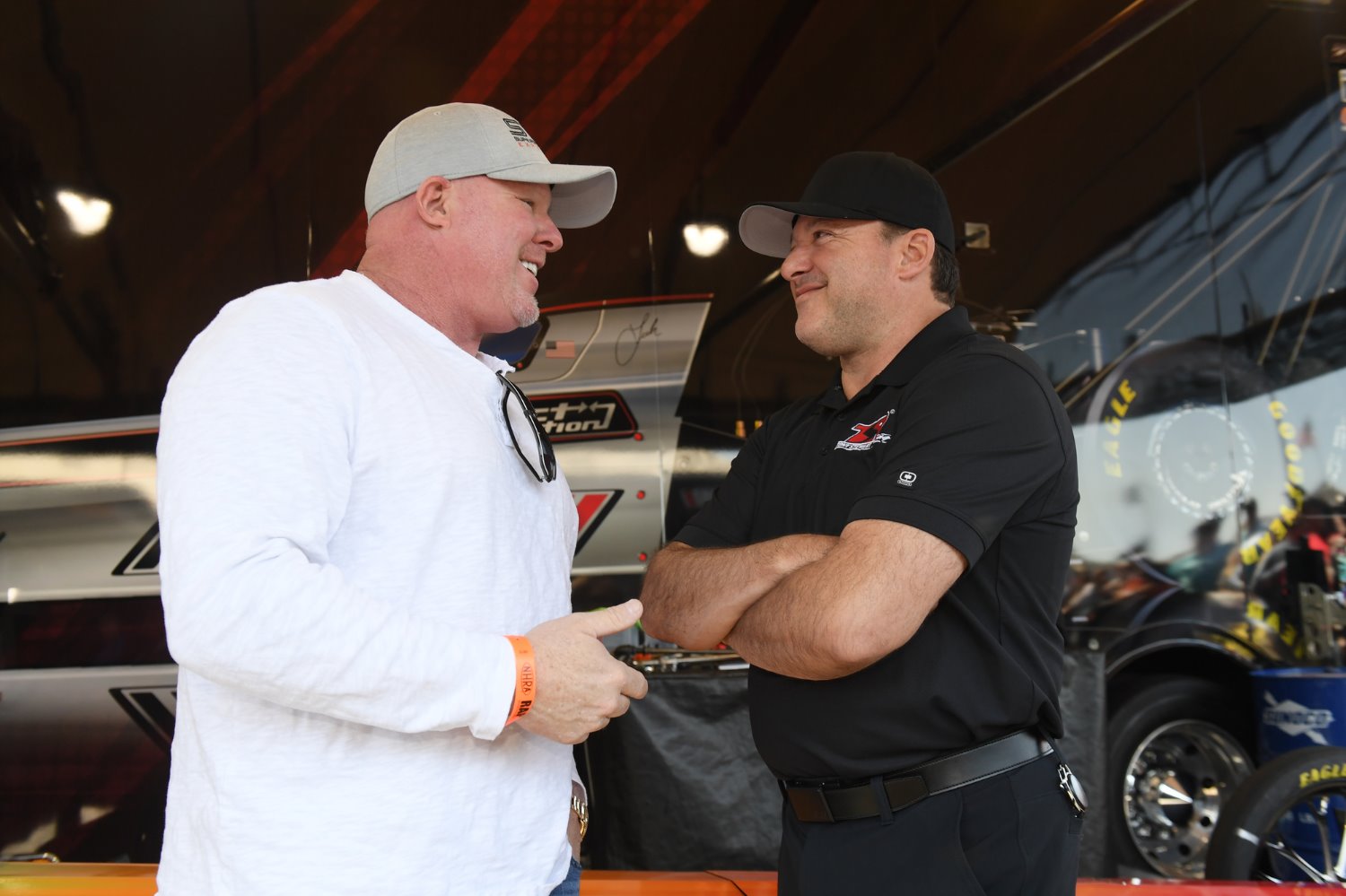 The biggest news here this weekend isn't the IndyCar race, it's F1.
The buzz has been about Formula 1 and Michael Andretti's flirtation with motor racing's glamour circuit.
Andretti Autosport, with a four car driver line-up that includes F1 veteran Romain Grosjean and 21-year-old American Colton Herta, is a hot favorite to claim the IndyCar championship this season.
But the headlines for much of the week have centered around Andretti's application to join the F1 grid as its 11th team in 2024.
While awaiting world governing body FIA's decision, there have been multiple reports circulating that Andretti has been in discussion to purchase F1 tail-enders Haas, who are sponsored by Russian potash producer Uralkali and facing financial headwinds with sanctions imposed on Russia following its invasion of Ukraine.
Check back for updates on today's racing….
Lucille Dust reporting live from St Pete