NHRA: Kalitta, Hagan, Koretsky lead Phoenix final qualifying
Cool conditions and a tight racetrack provided equal parts high performance and high drama on the final day of qualifying for the NHRA Arizona Nationals at Wild Horse Pass Motorsports Park, where Doug Kalitta (Top Fuel), Matt Hagan (Funny Car), and Kyle Koretsky (Pro Stock) will lead their fields into Sunday's final eliminations.
Although his Mac Tools dragster didn't make it down the track on its final qualifying pass, Kalitta remained atop the Top Fuel field with his Friday pass of 3.657, managing to stay ahead of fast-closing Mike Salinas and Steve Torrence. it's Kalitta's first No. 1 spot since mid-2019.
"It was nice getting to No. 1 here, for sure. That last session, the conditions were perfect, and I knew everybody was going for it. including us, so we were definitely not going to be bashful, but we're definitely looking forward to tomorrow. The guys are working their tails off on my car and we're seeing some major strides in the performance and looking forward to tomorrow. "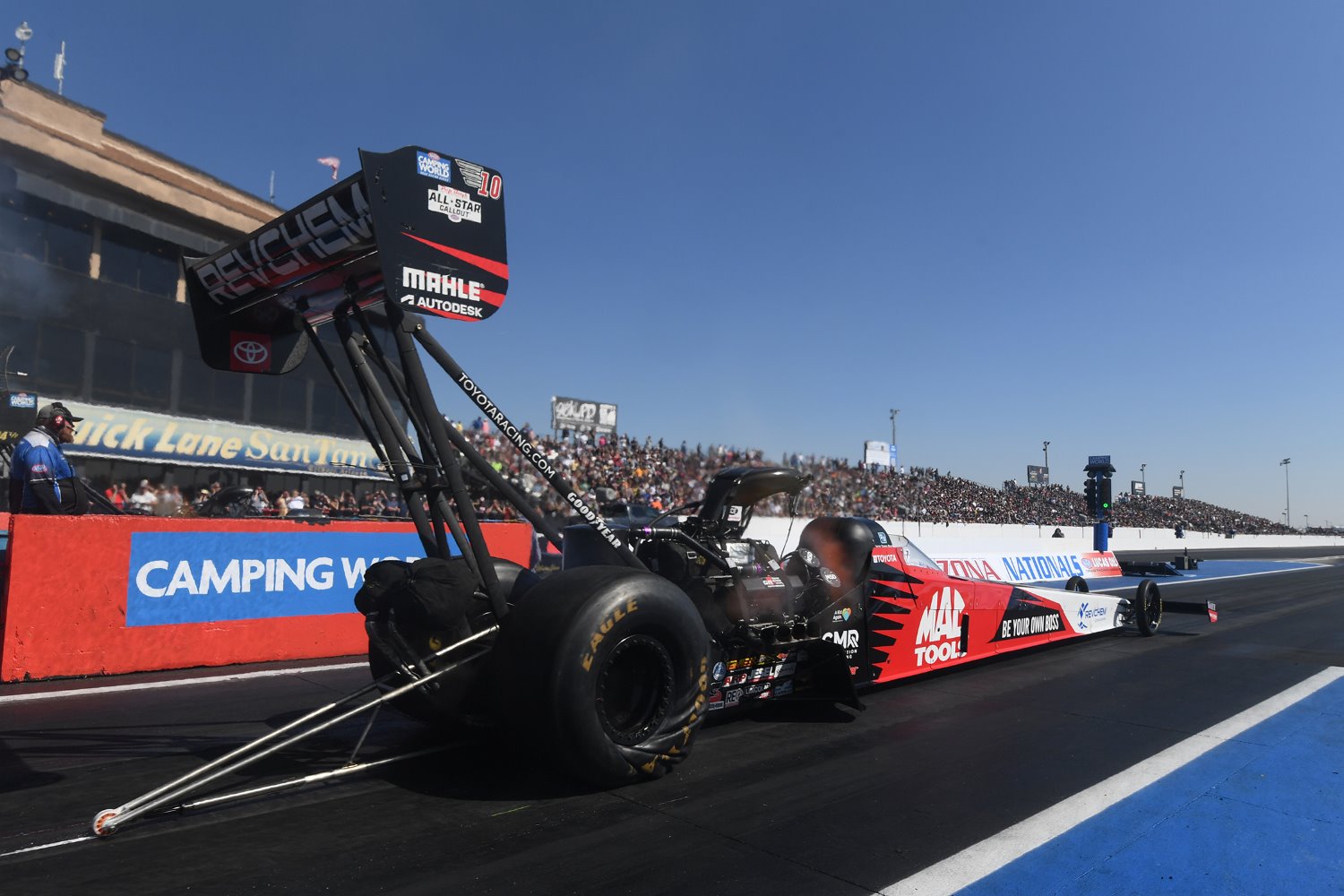 Salinas, who didn't make it down the track Friday, improved to a 3.714 in Q2 to set the stage for a ripping 3.678 in the final session for the No. 2 spot while world champ Torrence, who also had to abort his Friday pass, ran 3.715 in Q2 and then 3.680 for the No. 3 position.
Tripp Tatum, who finished Friday in the No. 2 spot, couldn't improve on his 3.684 but did run 3.694 to show his consistency, but nonetheless slid to the fourth spot.
Justin Ashley (3.685), Brittany Force (3.694), Shawn Langdon (3.696), and Josh Hart (3.700) round out the top eight, Winternationals runner-up Austin Prock wasn't qualified when he pulled the Montana Brand Top Fueler to the line in the final session but blasted his way into the show with an explosive 3.739.
Langdon and the DHL "Yella Fellas" made a heroic and much-needed 3.696 pass that moved them into the final eight for the Pep Boys NHRA Top Fuel All-Star Callout event. Langdon needed to outqualify Clay Millican by six spots and did exactly that as Millican, who didn't make it down the track on his final pass, ended up 13th. Although Langdon's run put him fourth at the time, he was bumped down to seventh, and had Leah Pruett run quicker than him, Langdon and Millican would have been tied, necessitating a tiebreaker.
Funny Car
Hagan took over the Funny Car qualifying lead from Hight with a 3.823-second blast from Tony Stewart's Dodge Power Brokers Charger, breaking Courtney Force's four-year-old track record of 3.826. The run was also the quickest pass in more than four years in the class.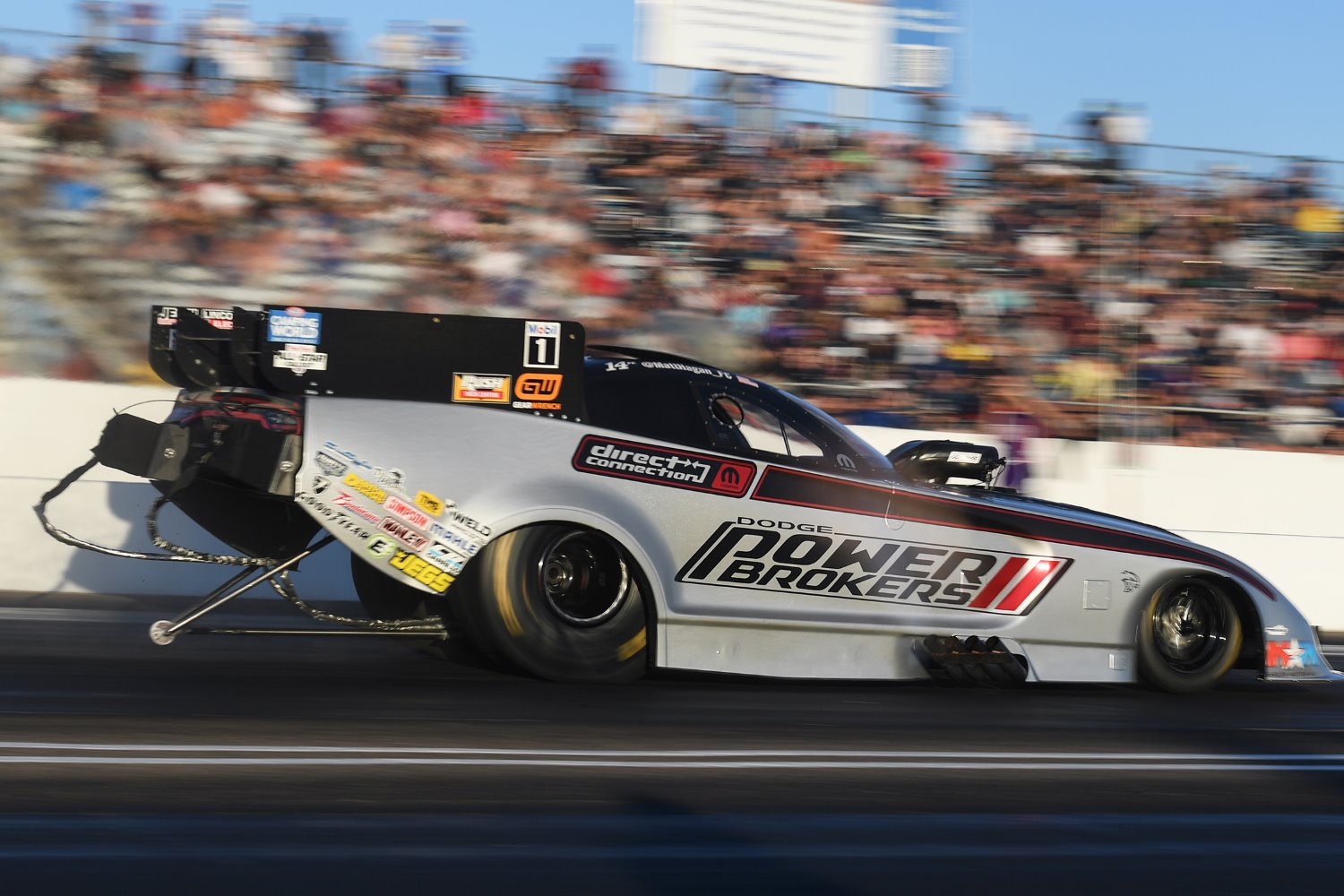 "I've been kind of like poking a bear with my assistant crew chief [Mike Knudsen] like, 'Man, this can take more primary [clutch weight], put some primary on it; why are you so scared?' you know, just giving him a hard time," said Hagan, "and we went .844 to 60 foot and that's probably my fastest 60-foot ever. Those guys had it loaded for bear. It hiked the tires up and was washing out at the top end.
"It was just super fun to drive, but you know, those cars are a handful, and sometimes when you're on those record runs, less is more and, you kind of gotta let them go as far as you can until you start making those corrections. But that's learned over time."
While three-second runs were rare on Friday's opening session, they were plentiful on Saturday with 17 threes recorded on the sticky track and 10 drivers qualified at quicker than four seconds.
Friday leader Robert Hight slid to No. 2 when he didn't improve on his 3.838 but runs of 3.839 and 3.848 show that his Auto Club Camaro will be a handful on Sunday. Hight's boss, John Force, didn't make it down the track on either pass Saturday and finished fourth with a 3.851.
Tim Wilkerson (3.852), Cruz Pedregon (3.861), world champ Ron Capps (3.877), Bob Tasca III (3.881), and J.R. Todd (3.908) round out the top half of the field.
Pro Stock
Friday Pro Stock leader Erica Enders' front-running 6.540 was under assault all day, including from when she improved with a 6.530 in Q2 and a bunch of her fellow racers lined up with 6.53s of their own, but few people saw Koretsky jumping past her to the No. 1 spot with a 6.520 from his Lucas Oil/KB Racing Camaro in the final session. It's Koretsky's second career No. 1, his first coming at last year's U.S. Nationals.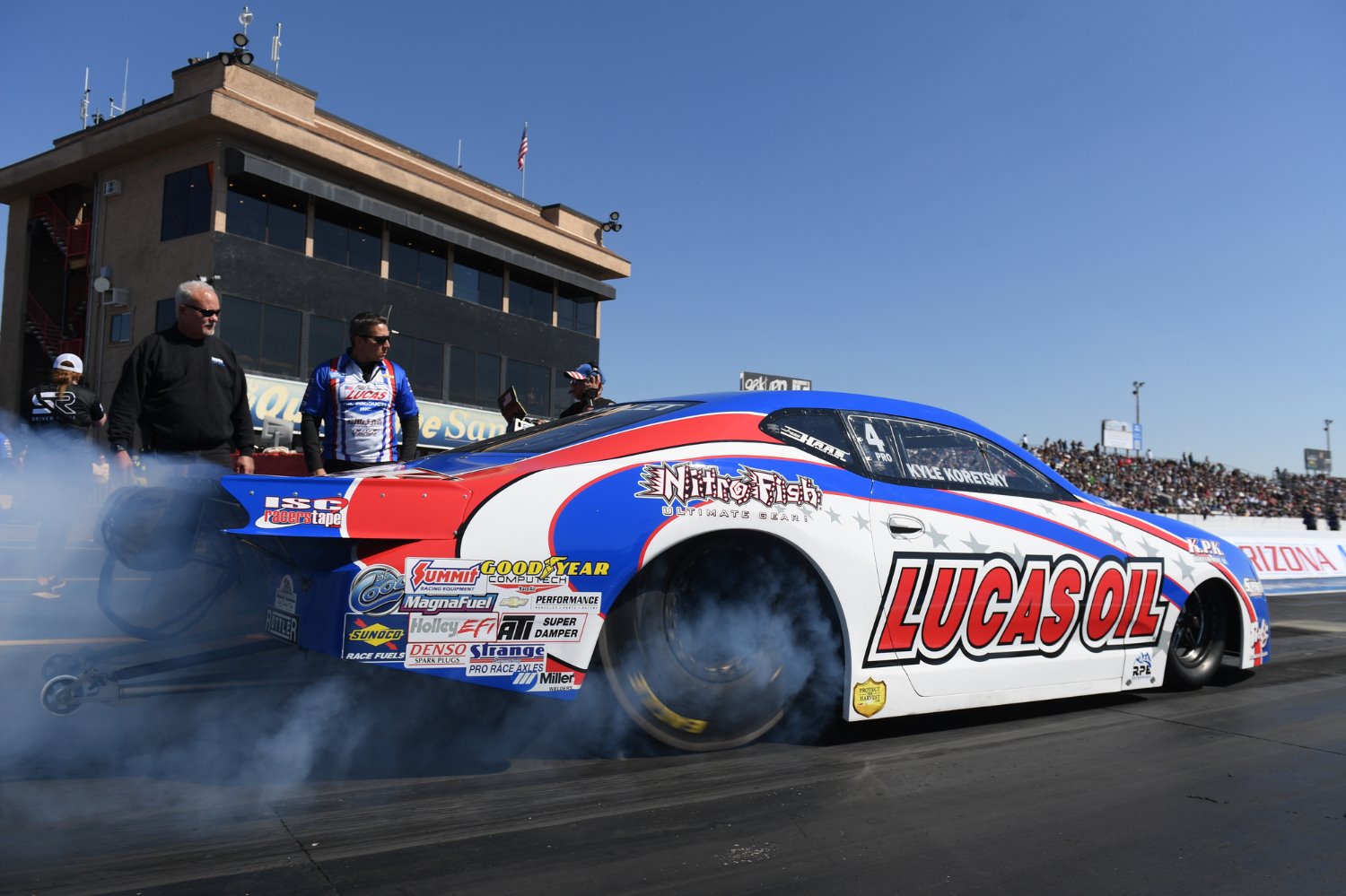 "I knew the Lucas Oil Camaro had it in it. Greg [Anderson] gave us a tune-up and the rest of the guys said, 'Hold on,' so when I was holding on and left with the wheels up and I hit every shift point perfectly," he said. "When you get out of the car and the officials give me a No. 1 [sign] it's like, whew, man, that's pretty cool.
"The KB guys in the shop worked their butt off all winter. I think we showed a good outing last weekend but had a little malfunction but you know we're gonna give [Enders' Elite Performance team] a run. That's just a little taste of it."
Enders, who improved to a 6.526 in Q3, actually ended up third as her teammate, Aaron Stanfield, also passed the four-time champ with a 6.521 in his Janac Brothers Camaro.
Troy Coughlin Jr., who for the second straight event flirted with a DNQ, got in on his final pass, a 6.535, to grab the No. 4 spot. Deric Kramer (6.536), Chris McGaha (6.539), world champ Greg Anderson (6.541), and rookie Camrie Caruso (6.547) round out the top eight.
Dallas Glenn, who finished Friday in the No. 7 spot with a 6.571, had to sit out Saturday's first session after a pit-area accident sent him to the hospital for five stitches on his right foot. While his fate was unknown, the RAD Torque team reportedly discussed putting crew chief and former national-event-winning Pro Stock driver Dave Connolly in the car, which would have prevented Glenn from getting back into it, but Glenn returned from the hospital, proclaimed himself ready to race, got the approval of NHRA's medical team, and suited up for the final qualifying session, where he cut a perfect .000 reaction time and ran 6.55 that slotted him 10th and, unfortunately for the KB Racing crew, aligns him against Anderson in round one.
Pro Stock rookie John Cerbone survived a frantic session of bumping to end up in the field's final spot with a 6.591 while Pomona semifinalist Fernando Cuadra Jr. just missed with a 6.592.