NHRA: Hight, Salinas, Stanfield take Arizona Nationals wins
Robert Hight won his second straight Funny Car title of the season while Mike Salinas (Top Fuel) and Aaron Stanfield (Pro Stock) scored their first wins of the new season to close out an amazing weekend of racing at the NHRA Arizona Nationals.
Hight remained perfect through the first eight rounds of the season, backing up his Winternationals score with four straight 3.8-second blasts from his Jimmy Prock-tuned Auto Club Camaro. Hight ripped off his best pass of the event, a 3.831, to earn his 55th career win and deny fellow three-time world champ Matt Hagan the chance to present new team owner Tony Stewart with his first NHRA Wally.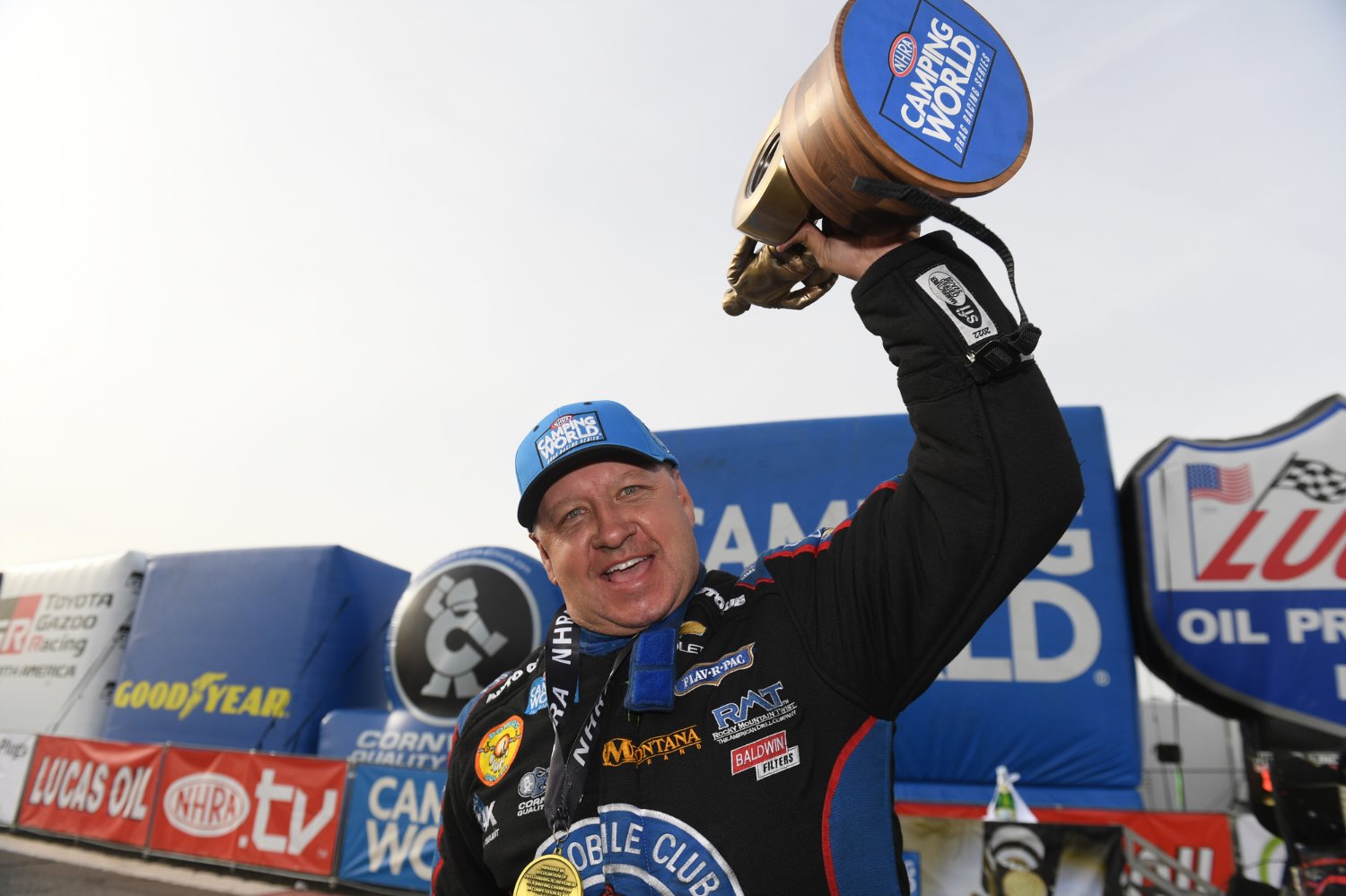 For the first time in his career, Robert Hight and the Auto Club Chevy team have started the season with back-to-back victories as they worked their way to the 55th win of Hight's career, his second at the Arizona Nationals. The three-time championship team started the day in the No.2 qualifying position racing Paul Lee. Hight would handle his Chevrolet to a 3.864-second pass at 329.42 mph while Lee would smoke the tires for a 9.484 setting Hight up to run against long-time rival Bob Tasca III.
The Jimmy Prock and Chris Cunningham led Auto Club team would rally to 3.855-second pass at 330.55 mph to send Tasca's 3.922 at 332.84 packing. With the win, Hight would have a semifinals battle against boss and 16-time champion John Force. Hight would keep it consistent, taking his Auto Club Funny Car to a 3.847-second pass at 326.63 mph while Force would struggle keeping traction to run 7.231 at 86.59.
In the finals it would be John Force Racing versus Tony Stewart Racing (TSR) as Hight lined up with Matt Hagan. Hight would deliver another on par run at 3.837-seconds and 330.39 mph to deny TSR their first team win. Hagan would have a 4.045-second pass at 267.00 mph after shutting off near the 600-foot mark.
"This is amazing. You have no idea what it's like to win one race. I still feel that the Funny Car class is the toughest class out here. From top to bottom, it's stacked and any given weekend, anyone could step up and win. So, to go and win two in a row in this day and age, that is amazing," Hight said. "And if you look back to this strong string of runs that we're on: five in a row at Auto Club Raceway in the .80s, come her and have seven runs in the .80s, that's pretty impressive what Jimmy and Chris and the whole Auto Club team came up with over the winter. Even yesterday when the track was 107° and we went up there and ran .84, you don't surprise Jimmy very often, and that run surprised him, and it surprised me too. I'm very fortunate to drive this thing right now. It's what you dream about and it's not going to get any easier from here on out. You've got big battles – last weekend with Capps, this weekend with Hagan, and you're going to see a lot of these battles all year long. We just hope we're up for it."
The turnaround continued for John Force and the BlueDEF PLATINUM Chevy as they pedaled their way to a 4.250-second pass at 211.93 mph to better Jeff Arend's 5.950 at 116.09. In the second round, Force would catch reigning world champion Ron Capps on the starting line. Force's 3.902 at 329.42 with a .052 reaction time would better Capps' 3.869 at 327.74 and a .121 reaction time.
The win pitted Force against teammate and president of John Force Racing Robert Hight in the semifinals. Force would run into tire smoke for only a 7.231-second run at 86.59 in the PEAK Chevy while Hight would run 3.847 at 326.63.
"Not a bad weekend for this PEAK Chevy. Qualified decent you know, right there at No. 3," Force said. "We went some rounds and if I have to lose, well then, I'd rather it be to Robert and that Auto Club car. They're really something right now, and Brittany and Austin, they're right in it too. We'll keep on building, keep working. Danny Hood, Tim Fabrisi, they really pour themselves into this car. So, I'm looking forward to getting to Gainesville and going after it again."
Top Fuel
After losing hall of fame tuner Alan Johnson in the offseason, Salinas didn't seem to miss a beat with new crew chief Rob Flynn as he collected his fourth career win in Top Fuel, denying opponent Clay Millican the same opportunity in a tight 3.751 to 3.769 battle. Millican led early before the Scrappers dragster powered past at the top end.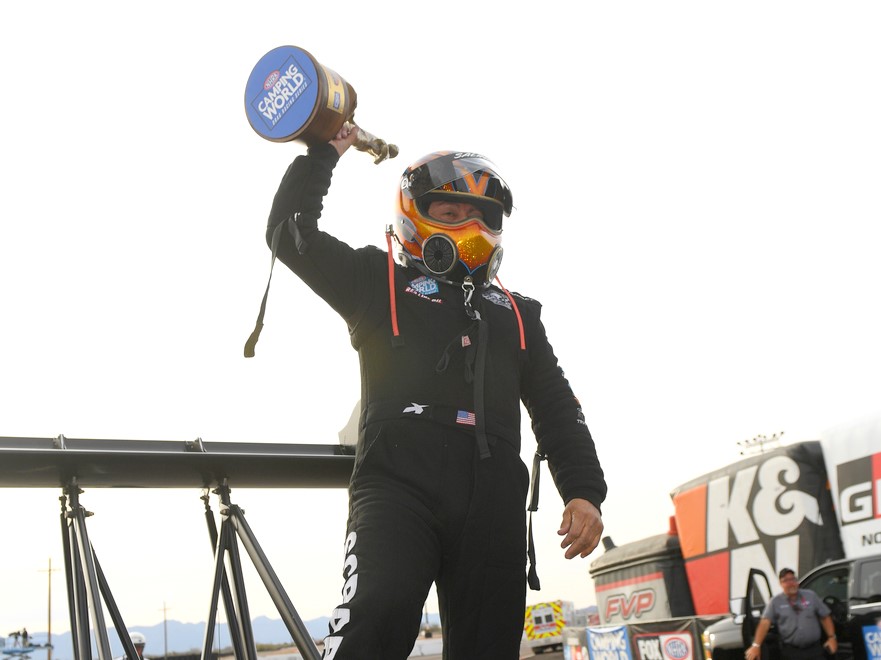 "We went we went through quite a bit to get the right synergy," said Salinas, who took over the points lead with the win. "NHRA racing, it's a tough game, and if you don't have all the parts and pieces and the people in place, you're not going to do very well.
"Rob is a brilliant man, very smart, very calm, relaxed, calculated. He told me he'll see me in the final, he knows he knows the way this car is running. You look at our runs and it was pretty crazy and I was blown away because it's running so good and not hurting anything. The bearings are like brand new steel. It's amazing."
Salinas reached his 10th career final and scored his first win since last year's fall Bristol event after a flurry of 3.6-second passes, starting with a 3,671 to beat Jim Maroney, a 3.692 to stop Shawn Langdon, and a 3.693 to beat tire-smoking Steve Torrence in the semi's, ending the Texas family's three-year reign of terror at the event, with Steve winning in 2020 and 2018 and his father, Billy, winning in 2019. (The race was not contested here in 2021.)
The final round was Millican's 19th and his first since back-to-back runner-ups in Topeka and Brainerd last summer. After a tough start in qualifying where he ranked just 13th, Millican's Mike Kloeber-tuned Parts Plus dragster rolled to passes of 3.768, 3.752, and 3.693 to defeat Tripp Tatum, Tony Schumacher, and Josh Hart.
Pro Stock
Stanfield rebounded from the disappointment of losing the Winternationals final to teammate Erica Enders due to an electrical glitch to score his fifth win in the category, beating another teammate, Troy Coughlin Jr., in the final. After a near-even start, Stanfield pulled away for the win, 6.526 to 6.539, to take over the points lead from Enders. In between the two races, he and wife Joleigh became parents for the first time with new arrival Oakleigh, making it a very special two weeks.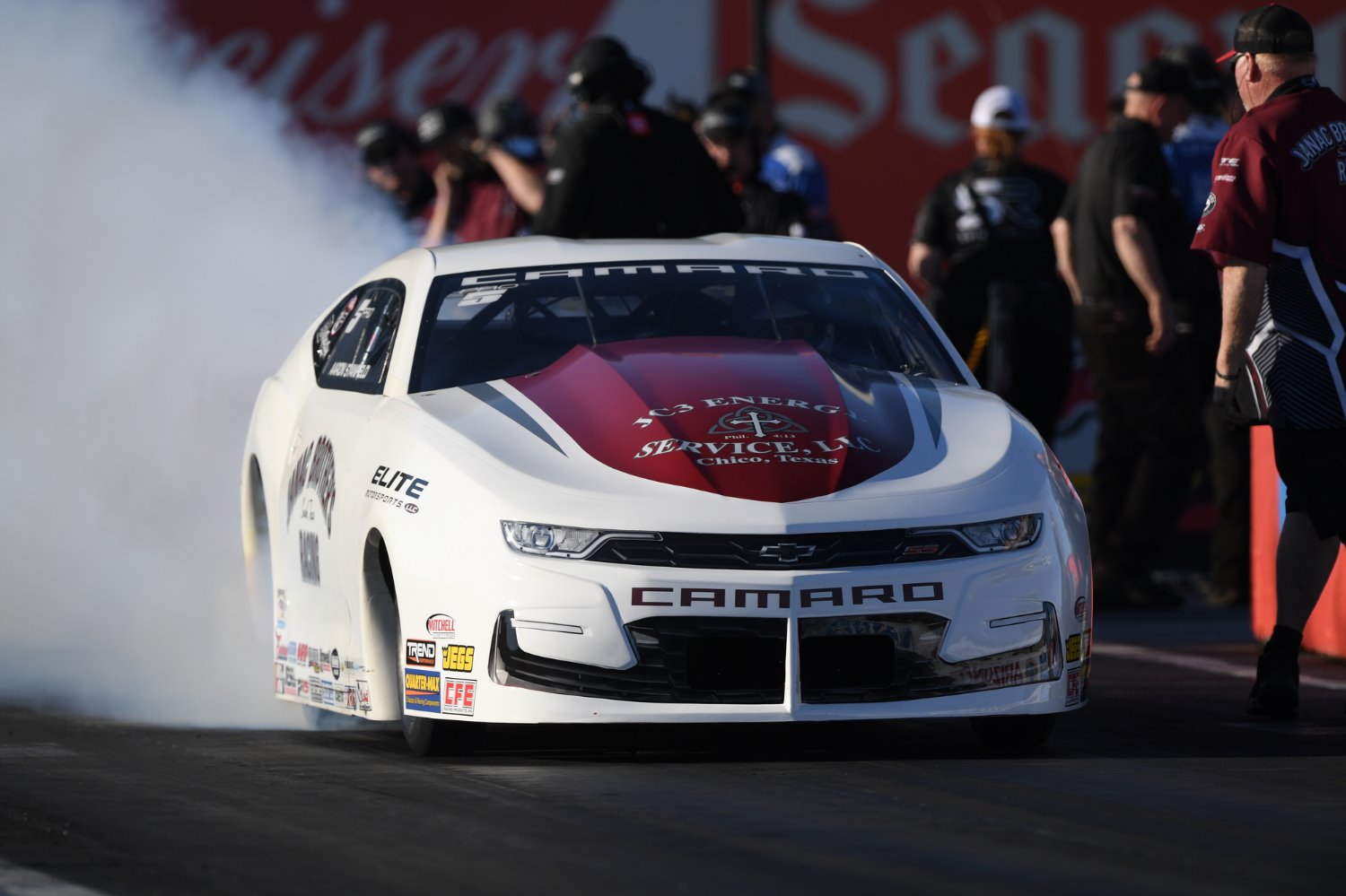 "I don't think you can write it any better than that," Stanfield said. "My wife sent me a picture today of Oakleigh with her little onesie on that said 'Daddy's No. 1 fan,' so definitely a lot of emotions and a lot of good memories crammed into a couple of weeks.
"I had a really good hot rod or all weekend and she bailed me out a couple of times today. It definitely wasn't my best day behind the wheel, but they say when it's your day, and today I guess I did just good enough as a driver to win. I can't thank the Elite guys enough for giving me a bad-to-the-bone hot rod."
Stanfield, the two-time reigning NHRA Factory Stock Showdown champ and 18-time Sportsman-class winner, reached his 24th career final and his eighth in Pro Stock from the No. 2 qualifying spot, opening raceday with a sizzling 6.503, the best run in 18 months in the class, to best Alan Prusiensky, and followed with passes of 6.534 and 6.538 to defeat world champ Greg Anderson and Mason McGaha.
Coughlin, like Stanfield a winner in multiple Sportsman classes, was gunning for his first Pro Stock win and the ninth of his career after working his way past Matt Hartford, Deric Kramer, and low qualifier Kyle Koretsky to reach his third Pro Stock final.