F2: Daruvala fastest for PREMA on Day 1 of pre-season testing in Sakhir
PREMA were a familiar name at the top of the timesheets on Day 1 of pre-season testing at Sakhir, as Jehan Daruvala set the fastest lap time ahead of Trident's Calan Williams and Dennis Hauger.
Daruvala featured in the top four in both sessions, but set his quickest time on a cooler track in the afternoon, finishing five tenths faster than Williams with a lap of 1:42.074.
Carlin's Liam Lawson had gone quickest in the morning session, ahead of MP Motorsport's Felipe Drugovich.
MORNING
Formula 2 made its long-awaited return to action at testing in Sakhir, with DAMS' Ayumu Iwasa leading the field out of the pits for a gentle eight-minute tour of the Bahrain International Circuit.
After the sightseeing was over, the lap times began to tumble. Carlin's Logan Sargeant emerged in first, leading Virtuosi's Marino Sato and Hitech Grand Prix's Marcus Armstrong.
There were three delays during the session as Hitech's Jüri Vips twice stopped on track, while Campos Racing's Olli Caldwell also came to a halt.
Lawson took control for Carlin around the midway point and never relinquished it, setting the quickest lap with a time of 1:44.522, ahead of Drugovich, who had returned to MP after a season with Virtuosi.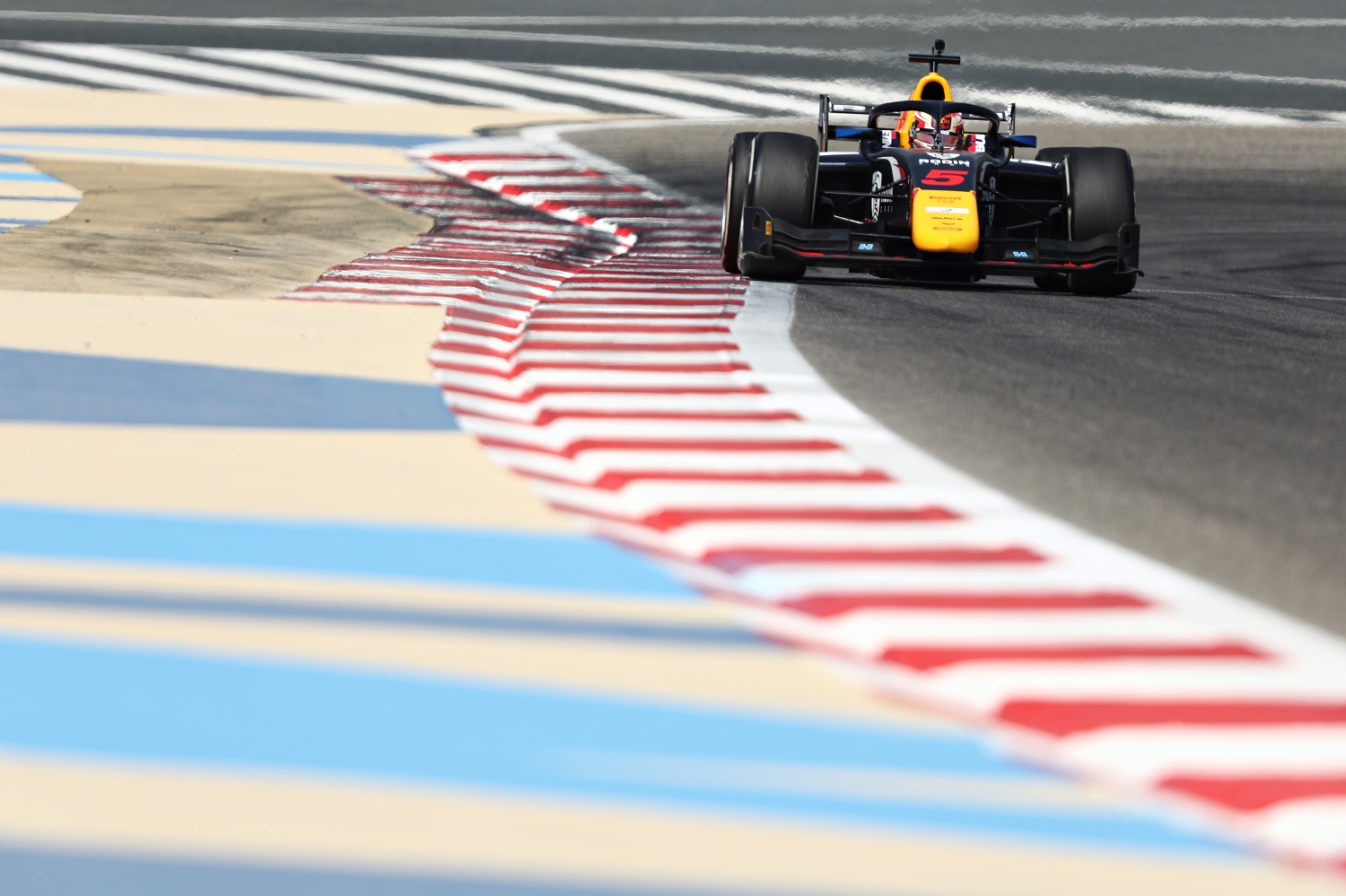 Sargeant was bumped down to third in the final standings, with Red Bull junior Daruvala in fourth. Virtuosi's Jack Doohan rounded out the top five, ahead of his teammate Sato.
Armstrong, Jake Hughes, Théo Pourchaire and Ralph Boschung completed an experienced looking top 10. Meanwhile, rookie's Iwasa and Cem Bölükbaşı posted the most laps, with 26 apiece.
AFTERNOON
Drugovich was enjoying the familiar feel of his MP machinery and returned to the front of the order at the start of the afternoon session, setting a 1:43.831 to top the table ahead of DAMS' Roy Nissany.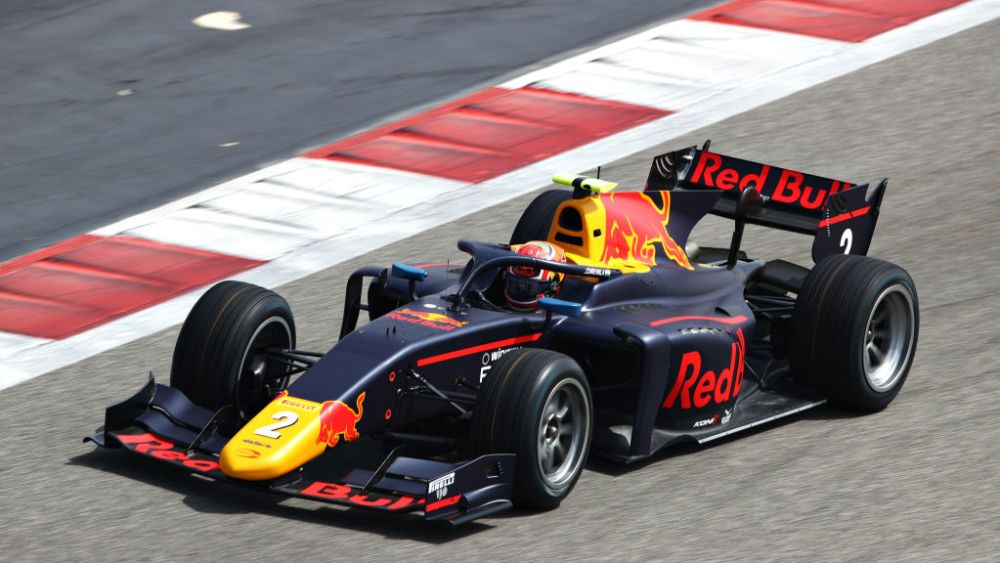 After two red flags, one each for Vips and Bölükbaşı, Lawson returned to the top of the order. The Red Bull junior's time of 1:43.498 was enough to surpass Drugovich, despite an improved effort from the Brazilian, who was less than a tenth off. Sargeant continued his promising early form for Carlin by going third.
he timesheet was given a shuffle in the second half of the session as PREMA went on a run of fast laps. Daruvala was the pick of the lot, lapping at 1:42.074 as he continued to look comfortable back in the Italian team's machinery.
Williams was the only driver to separate the two PREMA's, lapping five-tenths off Daruvala to go second, 0.012s ahead of 2021 Formula 3 champion Hauger.
Lawson had dropped to fourth at the flag, while Sargeant found the pace to jump ahead of Drugovich for fifth. Armstrong finished seventh fastest, ahead of Charouz's Enzo Fittipaldi. Vips recovered from his earlier red flag to finish ninth, as Nissany completed the top 10. Ralph Boschung was the busiest man in the afternoon session, completing 38 laps.
The second day of pre-season testing will begin at 11.45am on Wednesday.
 MORNING SESSION
| POS | DRIVER | TEAM | TIME | LAPS |
| --- | --- | --- | --- | --- |
| 1 | Liam Lawson | Carlin | 1:44.522 | 22 |
| 2 | Felipe Drugovich | MP Motorsport | 1:44.910 | 25 |
| 3 | Logan Sargeant | Carlin | 1:45.010 | 22 |
| 4 | Jehan Daruvala | PREMA Racing | 1:45.103 | 23 |
| 5 | Jack Doohan | Virtuosi Racing | 1:45.182 | 21 |
| 6 | Marino Sato | Virtuosi Racing | 1:45.204 | 23 |
| 7 | Marcus Armstrong | Hitech Grand Prix | 1:45.363 | 12 |
| 8 | Jake Hughes | Van Amersfoort Racing | 1:45.424 | 19 |
| 9 | Théo Pourchaire | ART Grand Prix | 1:45.451 | 16 |
| 10 | Ralph Boschung | Campos Racing | 1:45.522 | 20 |
| 11 | Clément Novalak | MP Motorsport | 1:45.606 | 22 |
| 12 | Enzo Fittipaldi | Charouz Racing System | 1:45.617 | 9 |
| 13 | Dennis Hauger | PREMA Racing | 1:45.783 | 21 |
| 14 | Frederik Vesti | ART Grand Prix | 1:45.824 | 21 |
| 15 | Ayumu Iwasa | DAMS | 1:45.996 | 26 |
| 16 | Olli Caldwell | Campos Racing | 1:46.002 | 16 |
| 17 | Roy Nissany | DAMS | 1:46.037 | 22 |
| 18 | Richard Verschoor | Trident | 1:46.565 | 14 |
| 19 | Amaury Cordeel | Van Amersfoort Racing | 1:46.576 | 20 |
| 20 | Cem Bölükbasi | Charouz Racing System | 1:47.425 | 26 |
| 21 | Jüri Vips | Hitech Grand Prix | 2:02.518 | 5 |
| 22 | Calan Williams | Trident | 2:05.945 | 4 |
 AFTERNOON SESSION
| POS | DRIVER | TEAM | TIME | LAPS |
| --- | --- | --- | --- | --- |
| 1 | Jehan Daruvala | PREMA Racing | 1:42.074 | 25 |
| 2 | Calan Williams | Trident | 1:42.590 | 31 |
| 3 | Dennis Hauger | PREMA Racing | 1:42.590 | 25 |
| 4 | Liam Lawson | Carlin | 1:43.478 | 31 |
| 5 | Logan Sargeant | Carlin | 1:43.483 | 31 |
| 6 | Felipe Drugovich | MP Motorsport | 1:43.590 | 31 |
| 7 | Marcus Armstrong | Hitech Grand Prix | 1:43.590 | 37 |
| 8 | Enzo Fittipaldi | Charouz Racing System | 1:43.946 | 33 |
| 9 | Jüri Vips | Hitech Grand Prix | 1:43.946 | 15 |
| 10 | Roy Nissany | DAMS | 1:44.003 | 30 |
| 11 | Théo Pourchaire | ART Grand Prix | 1:44.132 | 32 |
| 12 | Ralph Boschung | Campos Racing | 1:44.156 | 38 |
| 13 | Marino Sato | Virtuosi Racing | 1:44.212 | 27 |
| 14 | Jake Hughes | Van Amersfoort Racing | 1:44.271 | 25 |
| 15 | Ayumu Iwasa | DAMS | 1:44.289 | 27 |
| 16 | Olli Caldwell | Campos Racing | 1:44.443 | 34 |
| 17 | Frederik Vesti | ART Grand Prix | 1:44.457 | 34 |
| 18 | Jack Doohan | Virtuosi Racing | 1:44.498 | 28 |
| 19 | Clément Novalak | MP Motorsport | 1:44.539 | 30 |
| 20 | Richard Verschoor | Trident | 1:44.778 | 23 |
| 21 | Amaury Cordeel | Van Amersfoort Racing | 1:45.644 | 13 |
| 22 | Cem Bölükbasi | Charouz Racing System | 1:48.637 | 10 |