Formula E: Cape Town Formula E circuit revealed for 2023 debut
The proposed racetrack for Cape Town's inaugural ABB FIA Formula E World Championship E-Prix has been revealed by Formula E and e-Movement Ltd.
Subject to approval by the FIA's World Motor Sport Council, the world's leading all-electric race cars will wind their way through the Green Point and Waterfront district, showcasing some of Cape Town's most famous locations.
One of Formula E's fastest circuits yet
The track is predicted to be one of the fastest in the series and Cape Town will join the likes of Monaco, Mexico City, Berlin, London and New York as city centers hosting an ABB FIA Formula E World Championship race.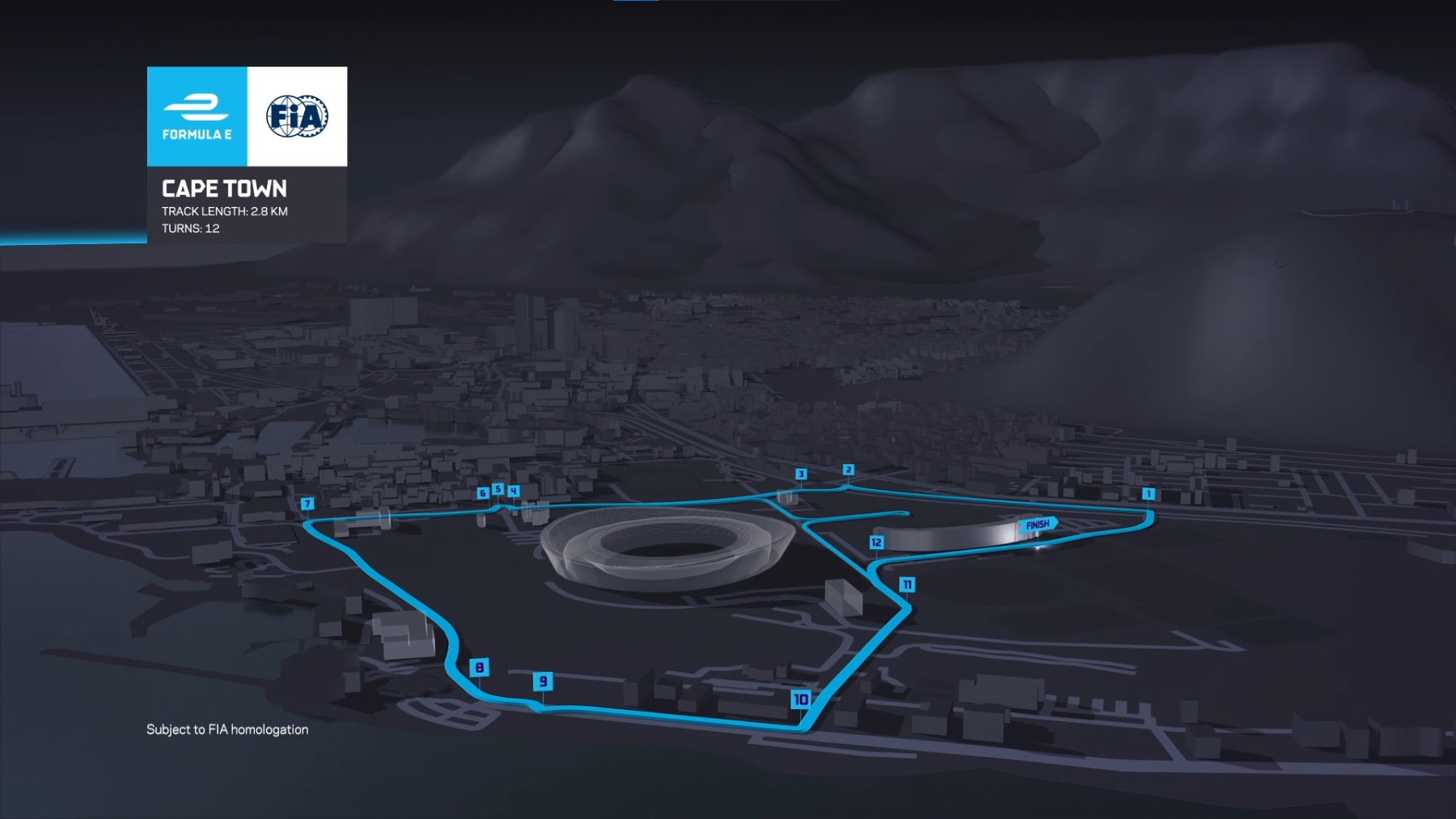 The Cape Town E-Prix will start at the Green Point precinct's Vlei Road, where the field of world-class drivers will race with Signal Hill as a backdrop. Then it's a left turn into Helen Suzman Boulevard, and another left into Granger Bay Boulevard, presenting the racers with two sharp chicanes. Drivers will then head along the ocean front on Mouille Point's Beach Road, before taking a sharp left-hander into Fritz Sonnenberg Road and a final right to reach the finish line.
Cape Town is set to become the first sub-Saharan African city to host a round of the all-electric FIA World Championship next year during the Season 9 schedule – with the full calendar and dates to be released later this year.
Alberto Longo, Co-founder and Chief Championship Officer, Formula E, said: "We've had a very positive response within our ecosystem of teams, drivers and sponsors about coming to Cape Town, so we are delighted that the City is joining our Season 9 calendar. When I first met Iain Banner [Chairman of race promoter e-Movement (Pty) Ltd] in 2019, he said that he was confident that Cape Town had the potential to be one of the top cities on our global calendar. This is my first visit to South Africa and having now seen the beauty of the Mother City, I feel confident that he is right."
Iain Banner, Chairman, race promoter e-Movement (Pty) Ltd, said: "The public has been crying out for an open-wheel, street-circuit race and we are now answering those cries. With Table Mountain as the backdrop and Robben Island in the foreground, I have no doubt the ABB FIA Formula E World Championship will garner substantial support in Cape Town and throughout South Africa."
The centerpiece of South Africa's innovation hub
e-Movement (Pty) Ltd has secured the rights to the event for five years, starting in 2023. Bringing the ABB FIA Formula E World Championship to the country is part of a broader vision to accelerate the transformation of the Western Cape and South Africa into an innovation hub that can drive the renewable energy and mobility transition across the continent and make sure it remains relevant and positioned to thrive over the next 50 years.
"We believe that hosting the ABB FIA Formula E World Championship in Cape Town will showcase Africa as a role player in the transition to a greener future, and will position the city and the Western Cape as the pioneering renewable energy hub of South Africa," said Banner.
Because of its role as host city, the City of Cape Town has committed to track upgrades to the precinct that will allow the race to take place annually. Construction begins in April and is set to be completed by December 2022.
The E-Prix will be the focal point of E-Fest, a week-long showcase of sustainability, e-mobility and renewable energy solutions. E-Fest will incorporate an Investor Summit, which will bring together people and organizations to financially support the transition to a green economy, and an e-Mobility Festival, which will showcase e-Mobility solutions and their role in building a green economy.
Premier of the Western Cape Alan Winde said: "I am so pleased that the Western Cape will be hosting the Formula E and E-Fest, showcasing our province as the Green Economy Hub of Africa. This event will also be a perfect opportunity to showcase our destination as an attractive place for tourism and investment, as we focus on growing our economy and creating an enabling environment for the private sector to create jobs. I wish the organizers all the best!"
"I would like to thank Alberto Longo and his team for placing their confidence in us and for having worked so closely with us over the past two years. To the Executive Mayor and his team, thank you for everything you have done to make the race possible on the streets of Cape Town. Finally, thank you to Premier Alan Winde for always believing in our vision and providing the support you do from the Western Cape Government," concluded Banner.