NASCAR: Bell nips Larson for Cup pole in Vegas
Christopher Bell won the Busch Light Pole Award in Saturday's qualifying for the NASCAR Cup Series at Las Vegas Motor Speedway.
Bell posted a final lap of 182.673 mph on the 1.5-mile track, winning the top starting spot for his No. 20 Joe Gibbs Racing Toyota team in Sunday's Pennzoil 400 (3:30 p.m. ET, FOX). He'll start first with the first pole of his Cup Series career.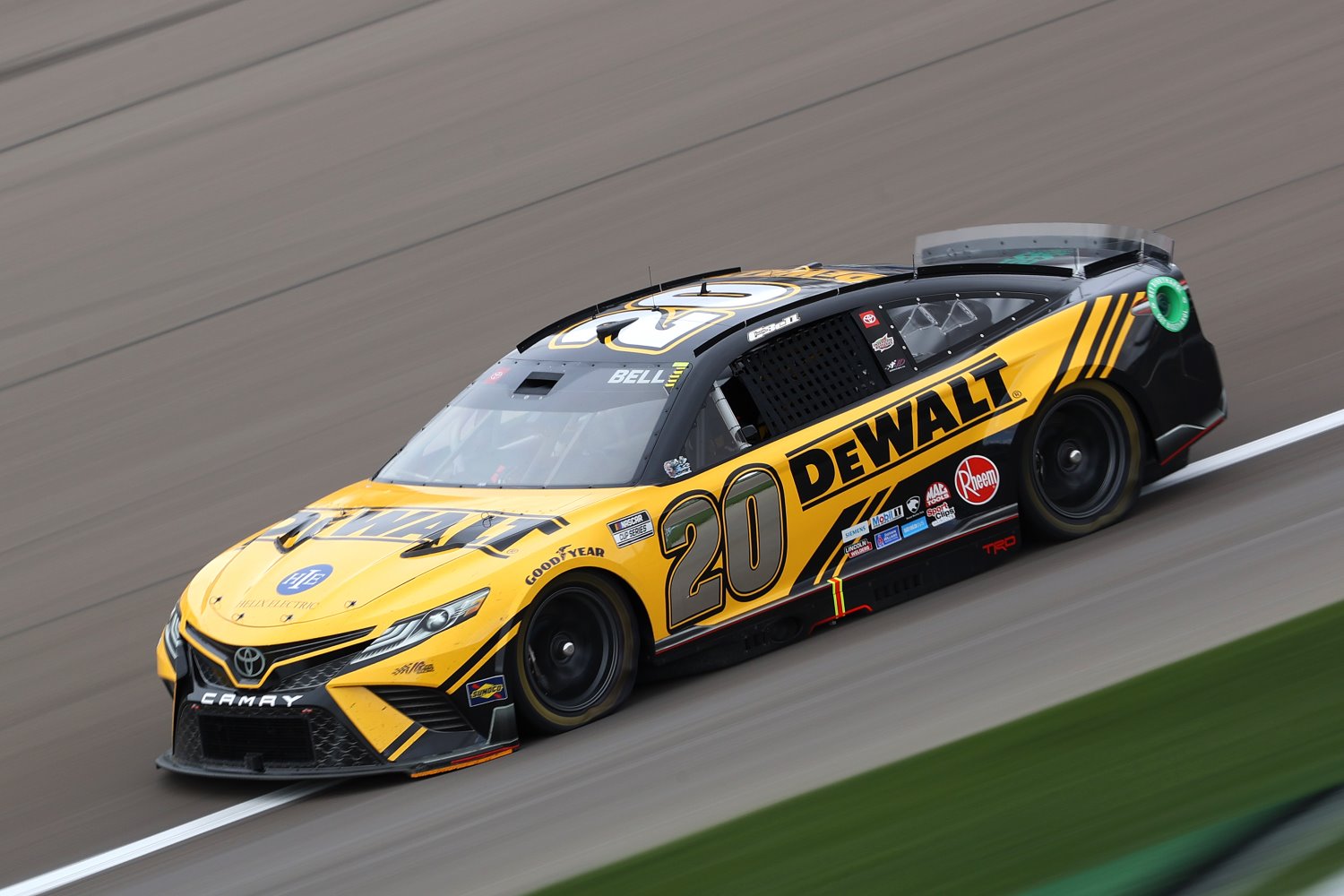 That's pretty cool,'' said Bell, who is the second driver (also Austin Cindric at Auto Club Speedway) to score his first career pole position in 2022. "I feel really good about our DeWalt Camry. I knew our first run out (in practice) we were going to be pretty competitive.''
Asked if the pole-win surprised him, Bell said, "Not really. All season our Camrys have had speed.''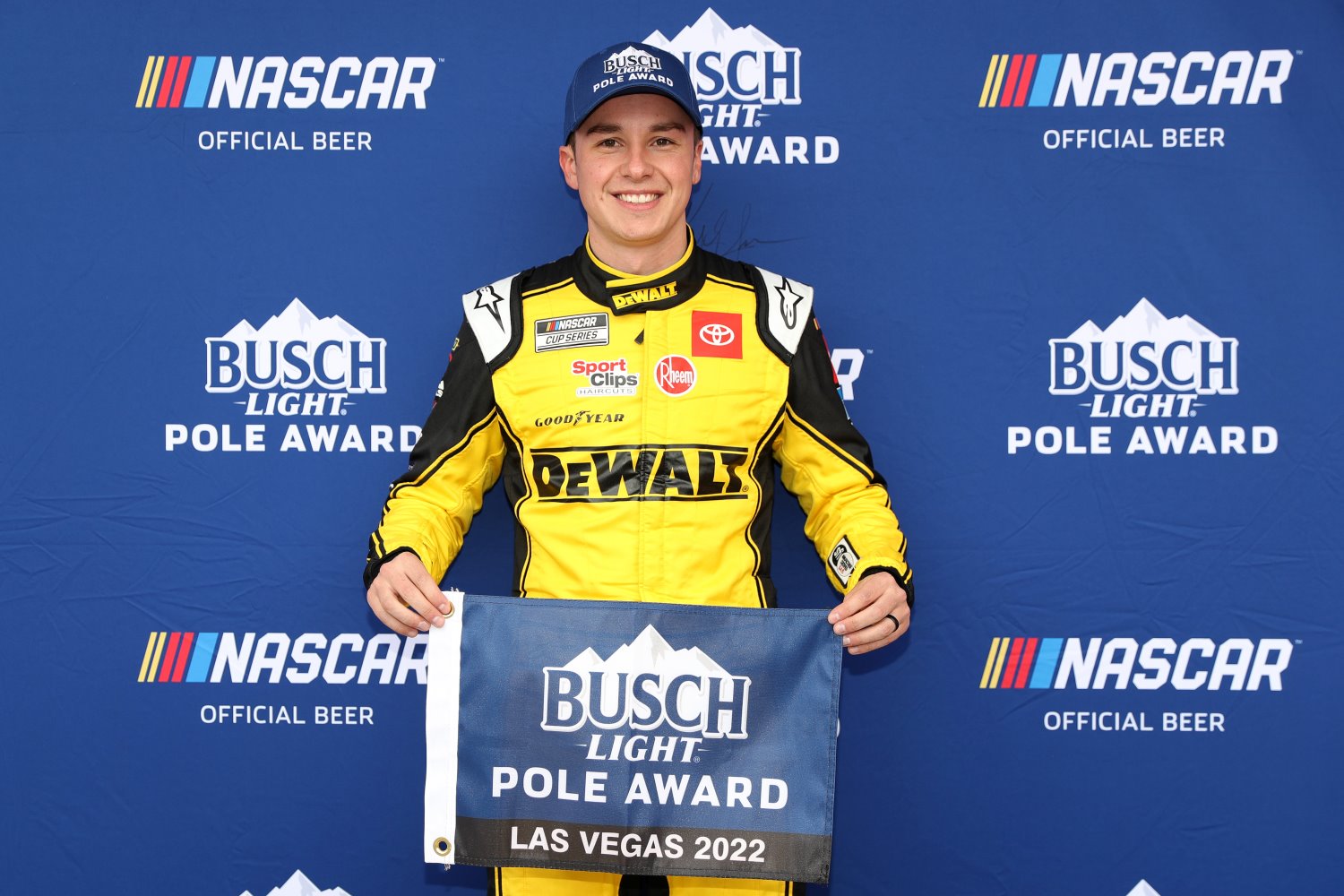 Now the talented 27-year old Oklahoman is hoping that speed translates into a better finish. He's had tough luck in the season's opening two races. He crashed out in the Daytona 500 and finished 24th and last weekend at California's Auto Club Speedway, he had engine problems and finished 36th.
"You never know and nothing's guaranteed,'' Bell said. "But we've had a lot of speed and we've had promise and hopefully we start putting it together.
Defending race winner Kyle Larson was second-fastest at 182.014 mph in the No. 5 Hendrick Motorsports Chevrolet. Bell and Larson, both open wheel dirt drivers, were the only two drivers to top 182mph.
Daytona 500 winner Austin Cindric was third, with Chase Briscoe and Chase Elliott completing the top five in the last round of qualifying.
Cindric's Team Penkse teammate Joey Logano, Chevy driver Tyler Reddick, Bell's teammate Denny Hamlin, Ricky Stenhouse Jr. and Richard Childress Racing's Austin Dillon completed the Top 10 on Sunday's grid.
It was another early go-round for the 2022 qualifying format, with the 37-car field initially split into two groups for single-car runs. The five fastest from each early session formed a 10-car final group that battled it out for the pole position.
Bell was the top qualifier (181.482 mph) in Group A, and Larson led the speed charts with a 182.352-mph lap in Group B.
Las Vegas native and 2009 race winner Kyle Busch brought out a yellow flag less than 10 minutes into Saturday's 35-minute practice session. A tire went down and his No. 18 Joe Gibbs Racing Toyota slammed hard into the wall. The car was carried to the garage on a wrecker with significant damage and the crew pulled out a back-up car for Busch to use in Sunday's race.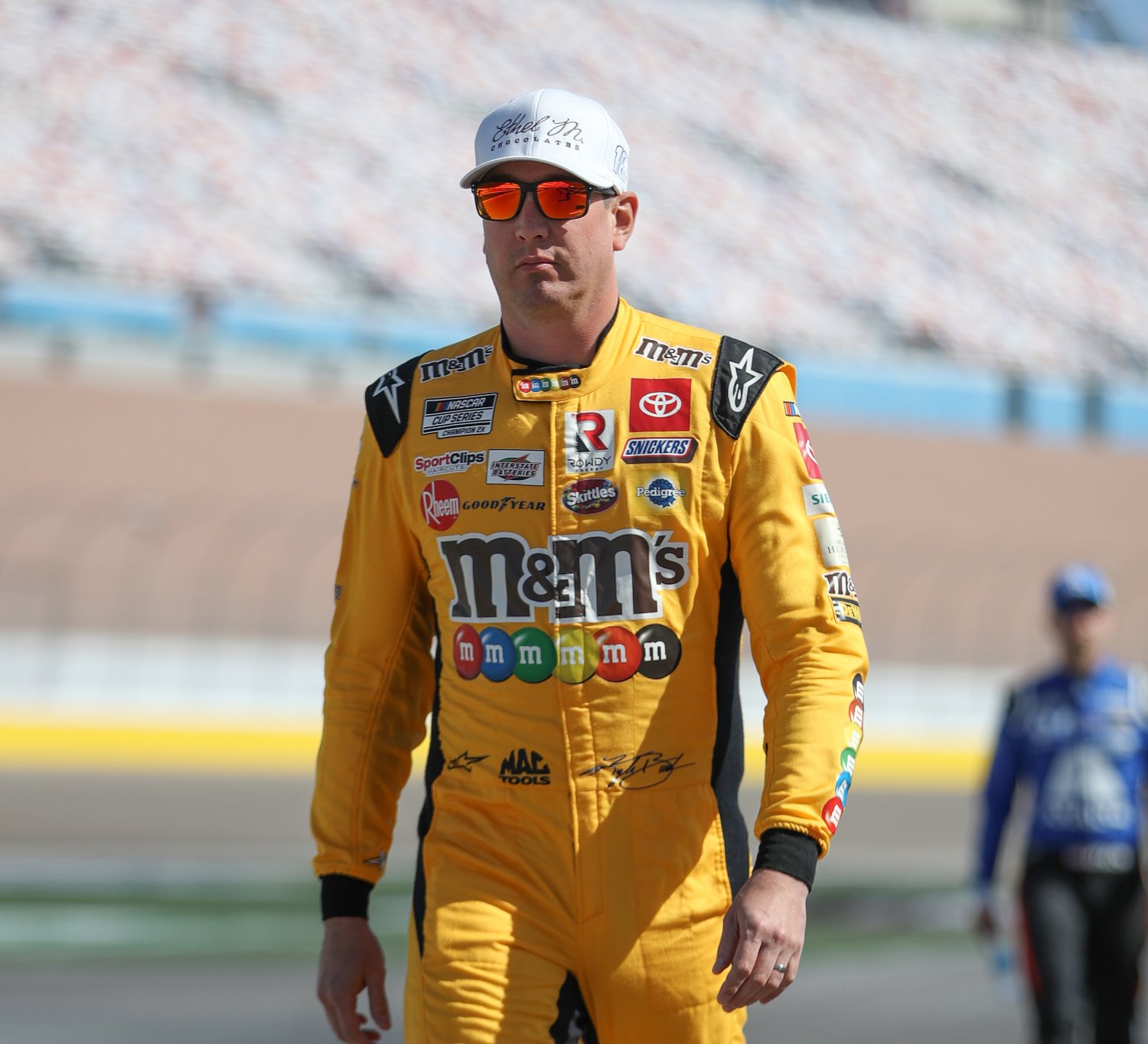 The new car was completely silver with no paint scheme or number – in fact it had Denny Hamlin's name on the rear window – and was not ready for a qualifying run. So Busch will start from the rear of the grid on Sunday. The team said the car had originally been sent to the West Coast Swing of races to provide various back-up parts.
Kyle Larson Gave these quotes after qualifying
FOR THE PAST THREE WEEKS, YOU'VE BEEN THE FAVORITE TO WIN THE RACE. DOES THAT EVER WEIGH ON YOU?
"I like being the favorite. That means you've done a good job. But I don't pay too much attention to it. I don't really think that matters a whole lot because odds makers don't really know as much as all the teams and drivers do, as far as what cars are stuff are good at each track. But either way, it's good. It's good to qualify on the front row here at Las Vegas (Motor Speedway) and hopefully we can have another solid run; execute a great race and try and fight for another win."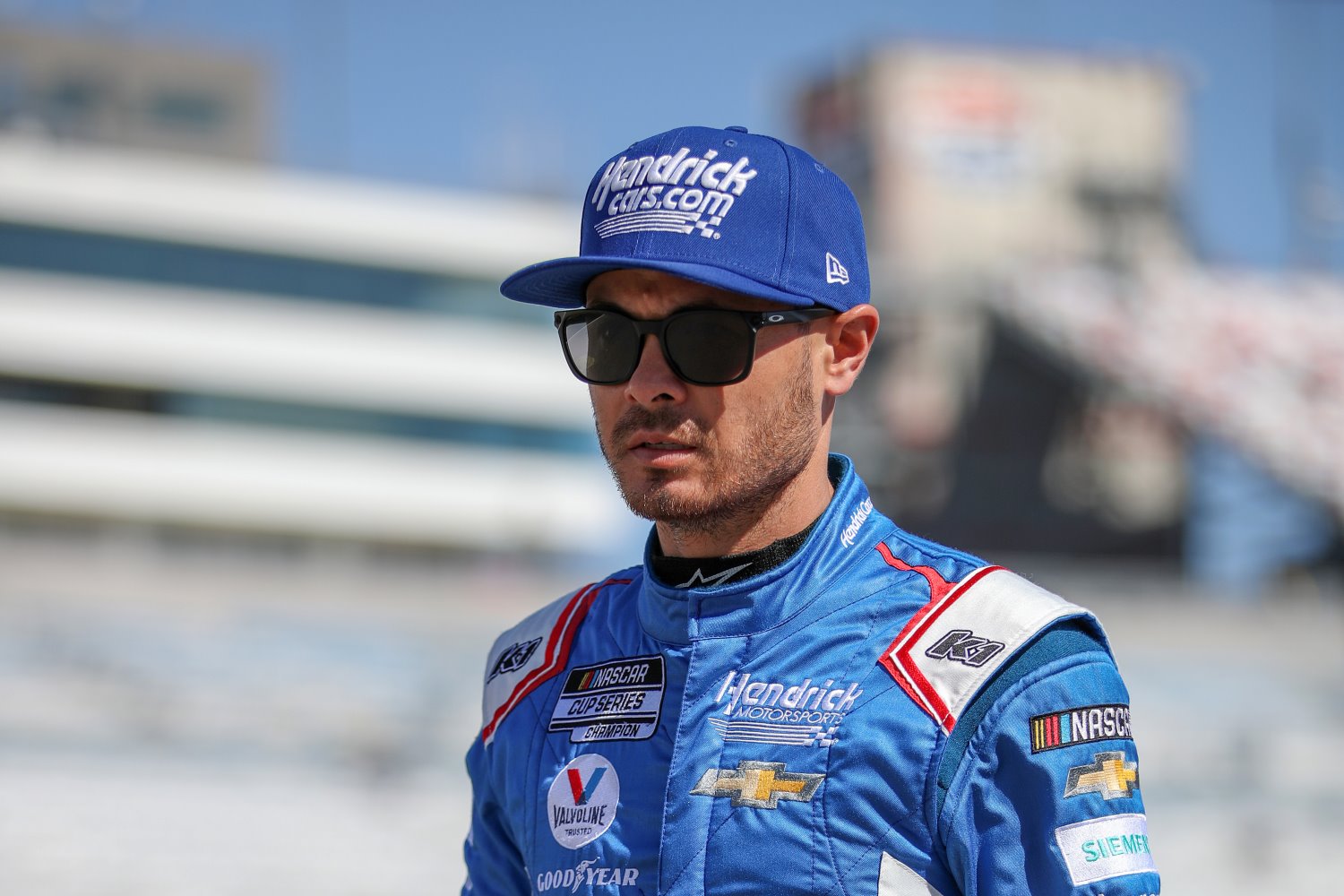 SOME TRACKS THAT YOU GUYS RACE AT, PEOPLE HAVE GREAT STARTING POSITIONS AND THEY ACT LIKE IT'S NOT REALLY SUCH A BIG DEAL BECAUSE OF HOW THE RACE PLAYS OUT. IS THAT A BIGGER DEAL HERE AT LAS VEGAS, TO HAVE THE ABILITY TO START UP FRONT?
"I think it's important at every race track; probably more important than I used to think. Last year, we got to run up front a lot. We had great pit stops and executed races very well to maintain that track position; where I maybe didn't have that in the past. Having well-executed races and maintaining that, you get a sense for how much easier the races go by. You're doing a lot less fighting and putting yourself in hairy situations and stuff like that. Starting up front is just the beginning to that. Like last week, we had to go from the rear and it was a fight to get to about the middle portions of the second stage to where we could then try and maintain that. We had one hiccup on pit road and lost some spots again. But yeah, starting the race up front is, in my opinion, definitely really important."
WHEN YOU CAME IN EARLIER, YOU SAID YOU WERE GOING TO CATCHUP WITH CHASE (ELLIOTT) LATER. HAS THAT HAPPENED YET?
"Yeah, I got to talk to him and we got to go over what happened from each of our vantage points. It was good to have a conversation and good to hopefully move along from it. It went well; honestly better than I anticipated. He's a great teammate and I'm going to do my part to be a great teammate each and every week. Hopefully we never have any incidents happen again like what happened last week."
DID YOU FIND THAT HE WAS UNDERSTANDING?
"Yeah, I felt like he was. I was encouraged by that. Like I said, he's always been a great teammate. We're both young and we're both going to be fighting for wins together. So, hopefully nothing like that happens again."
BEFORE THE DAYTONA 500, YOU PREDICTED A BIG YEAR FOR TYLER REDDICK AND HE'S LOOKED PRETTY GOOD SO FAR. WHY DID YOU THINK THAT?
"I think it was just a combination of a lot of things. I've grown up with Tyler (Reddick). I've known Tyler since he was like five. I've always seen his talent and I feel like – yes, the testing was a big part of it. But the way the rules packages have gone with a little more horsepower and less downforce, I feel like that's going to suite him very well. And it's proven to be that way, so far. I think it's just a combination of a lot of things. But yeah, he was by far the fast car last week. He was around me a lot in practice today and I felt like he was really good again. I would look to him to be strong again tomorrow. Speaking of odds makers and stuff, I'm sure there are probably going to be a lot of people putting some money on him."
REPEAT WINNERS DON'T HAPPEN OFTEN HERE. WHAT DO YOU THINK IT'S GOING TO TAKE TO REPEAT YOUR WIN HERE FROM LAST YEAR?
"Well, I don't know. I feel like I'm not really technically repeating anything because I lost the second time we came to Las Vegas (Motor Speedway) last year. I don't know – it's just like any other race. I think the repeat thing doesn't matter. You have to have a fast car, execute a good race; both you and your team. It's hard to go back-to-back each week, back-to-back each time. I think our team is strong enough to hopefully do it."
DID THE WIND PLAY A FACTOR?
"I don't know. I felt like in (turns) three and four, with the wind blowing that direction, the first run I made it was a little inconsistent for me to get to the bottom. But once I just kind of calmed down my entry and slowed down a little bit more, I was able to hit my marks better. It's just something you have to adjust to as a driver.
"I was behind Kyle (Busch) when he crashed and that was crazy. It turned around backwards so fast. I don't know if the wind had anything to do with that, something broke, he hit a seam or what. It was wild."
IT WAS A TIRE THAT WENT DOWN. HIS LEFT REAR.
"OK, that makes sense because it turned around backwards so fast and it had me nervous for a little while."
Qualifying Results
| | | | | | | | | | |
| --- | --- | --- | --- | --- | --- | --- | --- | --- | --- |
| Rnd No. | Rnd | Pos | No. | Driver | Team | Time | Speed | Behind | Gap |
| 2 | 2 | 1 | 20 | Christopher Bell | DeWalt Toyota | 29.561 | 182.673 | 0.000 | 0.000 |
| 2 | 2 | 2 | 5 | Kyle Larson | HendrickCars.com Chevrolet | 29.668 | 182.014 | 0.107 | 0.107 |
| 2 | 2 | 3 | 2 | Austin Cindric # | Discount Tire Ford | 29.704 | 181.794 | 0.143 | 0.036 |
| 2 | 2 | 4 | 14 | Chase Briscoe | Mahindra Tractors Ford | 29.714 | 181.733 | 0.153 | 0.010 |
| 2 | 2 | 5 | 9 | Chase Elliott | NAPA Auto Parts Chevrolet | 29.716 | 181.720 | 0.155 | 0.002 |
| 2 | 2 | 6 | 22 | Joey Logano | Pennzoil Ford | 29.777 | 181.348 | 0.216 | 0.061 |
| 2 | 2 | 7 | 8 | Tyler Reddick | BetMGM Chevrolet | 29.801 | 181.202 | 0.240 | 0.024 |
| 2 | 2 | 8 | 11 | Denny Hamlin | FedEx Freight Toyota | 29.802 | 181.196 | 0.241 | 0.001 |
| 2 | 2 | 9 | 47 | Ricky Stenhouse Jr. | SunnyD Chevrolet | 30.04 | 179.76 | 0.479 | 0.238 |
| 2 | 2 | 10 | 3 | Austin Dillon | BREZTRI Chevrolet | 30.046 | 179.724 | 0.485 | 0.006 |
| 1 | 1A | 1 | 20 | Christopher Bell | DeWalt Toyota | 29.755 | 181.482 | 0.000 | 0.000 |
| 1 | 1A | 2 | 8 | Tyler Reddick | BetMGM Chevrolet | 29.77 | 181.391 | 0.015 | 0.015 |
| 1 | 1A | 3 | 9 | Chase Elliott | NAPA Auto Parts Chevrolet | 29.802 | 181.196 | 0.047 | 0.032 |
| 1 | 1A | 4 | 3 | Austin Dillon | BREZTRI Chevrolet | 29.845 | 180.935 | 0.09 | 0.043 |
| 1 | 1A | 5 | 47 | Ricky Stenhouse Jr. | SunnyD Chevrolet | 29.925 | 180.451 | 0.170 | 0.080 |
| 1 | 1A | 6 | 24 | William Byron | Axalta Chevrolet | 29.996 | 180.024 | 0.241 | 0.071 |
| 1 | 1A | 7 | 10 | Aric Almirola | Mobil 1 Ford | 30.214 | 178.725 | 0.459 | 0.218 |
| 1 | 1A | 8 | 99 | Daniel Suarez | CommScope Chevrolet | 30.219 | 178.696 | 0.464 | 0.005 |
| 1 | 1A | 9 | 43 | Erik Jones | FOCUSfactor Chevrolet | 30.249 | 178.518 | 0.494 | 0.030 |
| 1 | 1A | 10 | 41 | Cole Custer | HaasTooling.com Ford | 30.357 | 177.883 | 0.602 | 0.108 |
| 1 | 1A | 11 | 4 | Kevin Harvick | Rheem Smurfit Kappa Ford | 30.368 | 177.819 | 0.613 | 0.011 |
| 1 | 1A | 12 | 17 | Chris Buescher | Wyndham Rewards Ford | 30.528 | 176.887 | 0.773 | 0.160 |
| 1 | 1A | 13 | 31 | Justin Haley | LeafFilter Gutter Protection Chevrolet | 30.53 | 176.875 | 0.775 | 0.002 |
| 1 | 1A | 14 | 38 | Todd Gilliland # | Frontline Enterprises Inc. Ford | 30.686 | 175.976 | 0.931 | 0.156 |
| 1 | 1A | 15 | 45 | Kurt Busch | Monster Energy Toyota | 30.713 | 175.821 | 0.958 | 0.027 |
| 1 | 1A | 16 | 42 | Ty Dillon | Goettl Air Conditioning Chevrolet | 30.777 | 175.456 | 1.022 | 0.064 |
| 1 | 1A | 17 | 51 | Cody Ware | Nurtec ODT Ford | 31.195 | 173.105 | 1.440 | 0.418 |
| 1 | 1A | 18 | 78 | BJ McLeod | Filtertime Ford | 32.006 | 168.718 | 2.251 | 0.811 |
| 1 | 1B | 1 | 5 | Kyle Larson | HendrickCars.com Chevrolet | 29.613 | 182.352 | 0.000 | 0.000 |
| 1 | 1B | 2 | 14 | Chase Briscoe | Mahindra Tractors Ford | 29.795 | 181.238 | 0.182 | 0.182 |
| 1 | 1B | 3 | 2 | Austin Cindric # | Discount Tire Ford | 29.799 | 181.214 | 0.186 | 0.004 |
| 1 | 1B | 4 | 11 | Denny Hamlin | FedEx Freight Toyota | 29.801 | 181.202 | 0.188 | 0.002 |
| 1 | 1B | 5 | 22 | Joey Logano | Pennzoil Ford | 29.827 | 181.044 | 0.214 | 0.026 |
| 1 | 1B | 6 | 12 | Ryan Blaney | Menards/Pennzoil Ford | 29.843 | 180.947 | 0.230 | 0.016 |
| 1 | 1B | 7 | 19 | Martin Truex Jr. | Bass Pro Shops Toyota | 29.884 | 180.699 | 0.271 | 0.041 |
| 1 | 1B | 8 | 48 | Alex Bowman | Ally Chevrolet | 29.958 | 180.252 | 0.345 | 0.074 |
| 1 | 1B | 9 | 6 | Brad Keselowski | Fastenal Ford | 30.031 | 179.814 | 0.418 | 0.073 |
| 1 | 1B | 10 | 16 | Daniel Hemric(i) | South Point Chevrolet | 30.1 | 179.402 | 0.487 | 0.069 |
| 1 | 1B | 11 | 23 | Bubba Wallace | Dr Pepper Cream Soda Toyota | 30.147 | 179.122 | 0.534 | 0.047 |
| 1 | 1B | 12 | 1 | Ross Chastain | ACM Awards Chevrolet | 30.159 | 179.051 | 0.546 | 0.012 |
| 1 | 1B | 13 | 21 | Harrison Burton # | Motorcraft/Quick Lane Ford | 30.196 | 178.832 | 0.583 | 0.037 |
| 1 | 1B | 14 | 34 | Michael McDowell | Stage Front Ford | 30.232 | 178.619 | 0.619 | 0.036 |
| 1 | 1B | 15 | 44 | * Greg Biffle | Florida A&M University Chevrolet | 30.467 | 177.241 | 0.854 | 0.235 |
| 1 | 1B | 16 | 7 | Corey LaJoie | Schluter Systems Chevrolet | 30.628 | 176.309 | 1.015 | 0.161 |
| 1 | 1B | 17 | 77 | Josh Bilicki(i) | Ziegler Auto Group Chevrolet | 31.402 | 171.964 | 1.789 | 0.774 |
| 1 | 1B | 18 | 15 | Garrett Smithley | Trophy Tractor Ford | 32.413 | 166.6 | 2.800 | 1.011 |
| 1 | 1B | 19 | 18 | Kyle Busch | Ethel M Chocolates Toyota | 0 | 0 | 29.613 | 32.413 |