NASCAR: Kyle Busch calls Bowman's win in Vegas Bulls—!
(Update)
Last week at Las Vegas Motor Speedway, the hometown hero Kyle Busch was leading the race when a yellow came out forcing a two-lap shootout to decide the trophy.
Alex Bowman and two of his Hendrick Motorsports teammates opted for two tires on the quick final pit stop while Busch's No. 18 Joe Gibbs Racing team took four tires – putting Bowman on the front row for the restart and Busch behind him on the second row. Bowman went on to win while Busch – who finished fourth – expressed his displeasure on the team radio after the checkered flag with some salty language.
Multiple outlets published Busch's angry reaction inside the car, although he was very sportsmanlike when speaking to the national television audience minutes later. Busch, who led 41 laps was frustrated that – "again" – Bowman won a race by leading only a handful of laps (16) and being at the right place at the right time.
"You go home with a trophy either way, right,'' said Bowman, a Tucson native that considers Phoenix his home race. "I think we've dominated races that we've lost and that sucks. Here (at Phoenix) in 2016. A couple races at Charlotte that we've led a ton of laps and not won at the end. I think for me, collecting a trophy is really all that matters.''
Bowman said Saturday he took the Busch fallout in stride, even selling t-shirts with the Busch quote about him, "all luck, no talent" and donating the money raised to an animal shelter – one of Bowman's longtime favored causes.
Earlier this week, Busch texted Bowman and the two talked it out.
"He texted me Monday night,'' Bowman said. "I appreciate him texting me, but I don't think he needed to. I understand why he was mad. We all know Kyle – he's super passionate, fiery and gets lit up sometimes. They lost the race and he was mad about it, so I get that.
"But I do appreciate him texting me. We've always raced each other with respect. He's one of the guys that I feel like I race better with than most. So, appreciative of that. We've never had any issues before and I don't even that that was an issue. It was just an opportunity to make a t-shirt and raise some money for animals.''
---
March 8, 2022
Alex Bowman's win at the Penzoil 400 at Las Vegas Motor Speedway on Sunday was not without complete luck from the perspective of Kyle Busch.
With two-and-a-half laps to go, it appeared that Busch was well positioned to cross the finish line first. But a crash between Erik Jones and Bubba Wallace brought out a caution flag, giving the field—including Bowman—an opportunity to get new tires. Bowman got out of the pits ahead of Busch by taking just two tires to Busch's four.
Busch ended up coming in fourth place, and after the race he had some choice words that were picked up over his team's radio.
"Same f—ing guy who backs into every f—ing win that he ever f—ing gets, backs into another f—ing win," Busch said, per NASCAR.
It appears Busch feels Bowman is a complete wanker.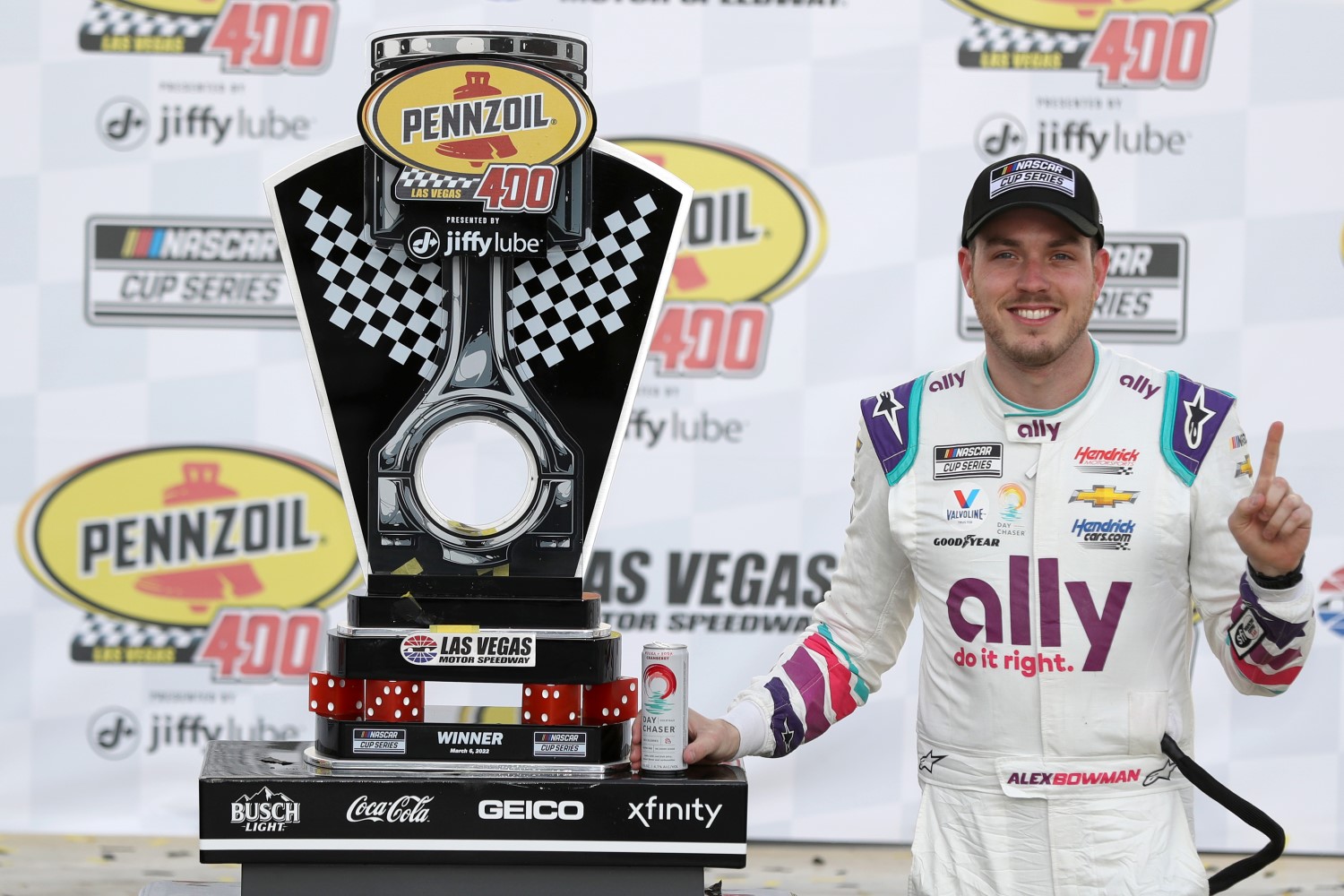 Reigning Cup champion Kyle Larson takes the points lead after Sunday's race. He has 113 points. He's followed by Martin Truex (107 points), Joey Logano (104), former points leader Austin Cindric (103) and Kyle Busch (102). See full point standings on AR1.com's standings page.