F1 Testing Day 1: Gasly straps on soft Pirellis to go fastest
(Update)
This article was updated below with additional photos and quotes.
---
March 10, 2022
Pierre Gasly strapped on a set of Pirelli's soft compound for 2022, the C5 compound, on his #10 AlphaTauri Honda and turned a lap of 1m33.902s late in the day on Day 1 of preseason F1 testing in Bahrain.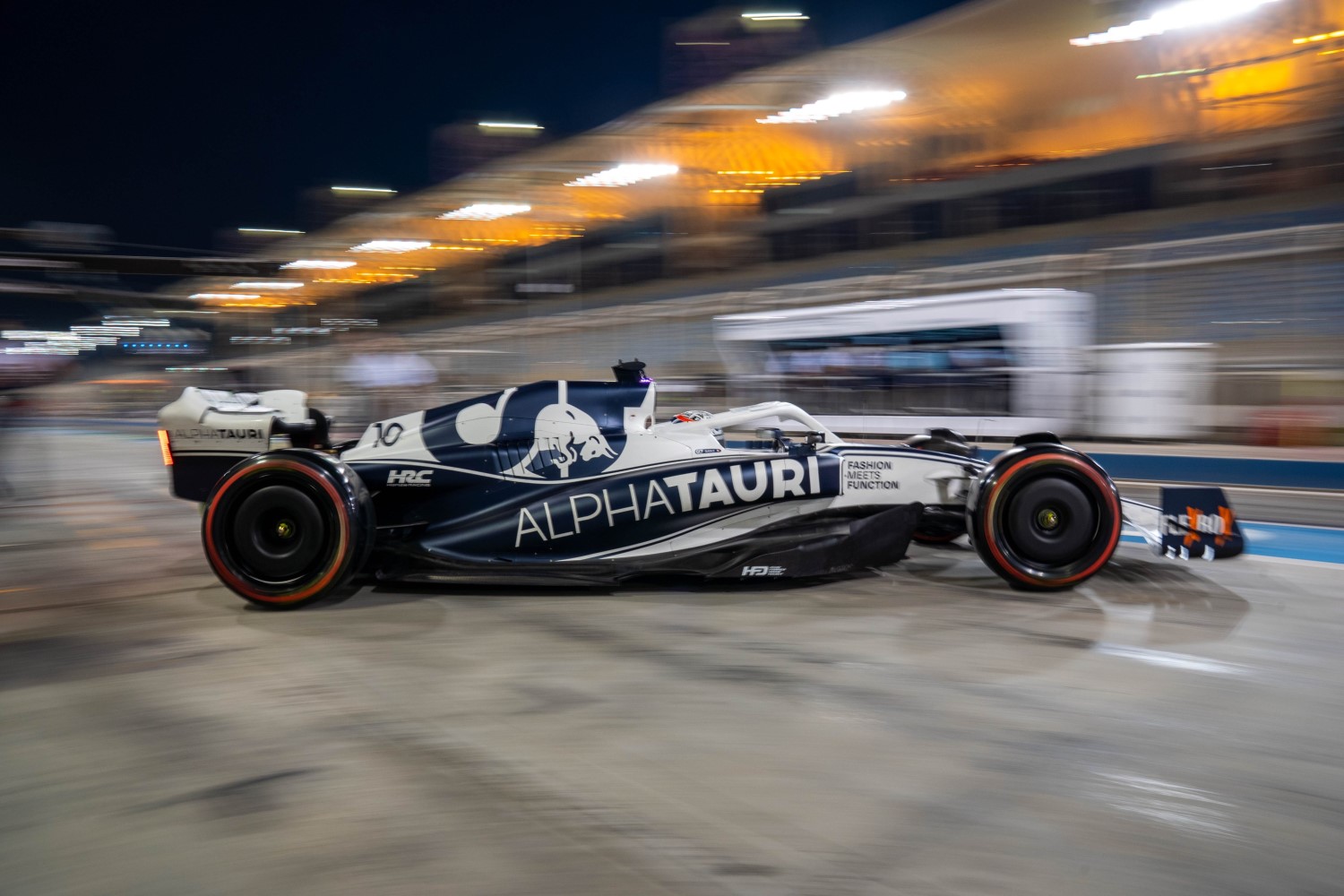 Carlos Sainz Jr. showed the strength of the Ferrari with the 2nd best time, on the medium C3 tires.
That time was  faster (0.457s), as expected,  than the quick time set by Gasly on the soft C5s.
3rd quick time was Charles Leclerc in the #16 Ferrari set on the medium C3 tires early in the day.
Lance Stroll and Alex Albon rounded out the top-5.
The session ended 8 minutes early when Sergio Perez beached his Red Bull in Turn 8.
"Much hubbub about Mercedes today, but we're still yet to see any eye-catching performance from their new design, maybe they are just keeping their cards close to their chest for now," said TV announcer Jolyon Palmer.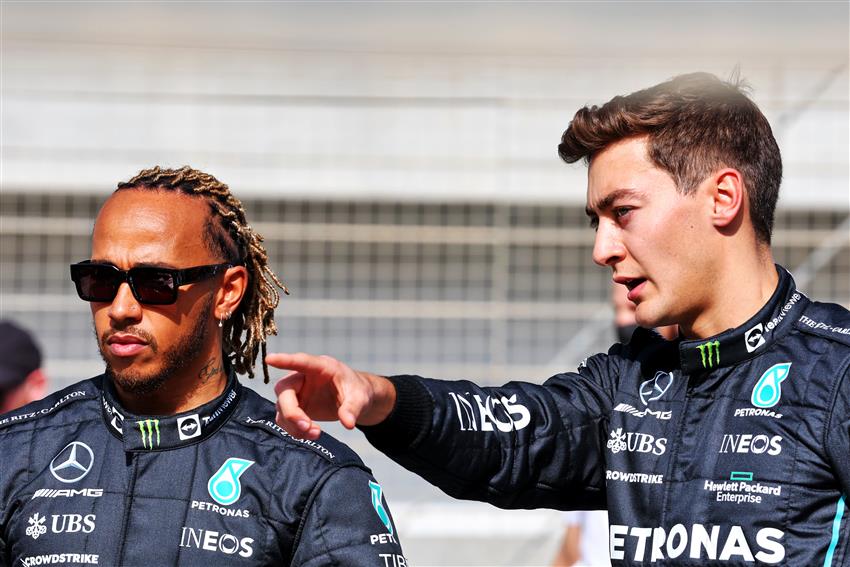 "Gasly topped the times with a glory run, but Ferrari still look the pick to me. The Leclerc time from this morning still stands out as impressive, on a C3 tire, in hotter temps before the track was rubbered in."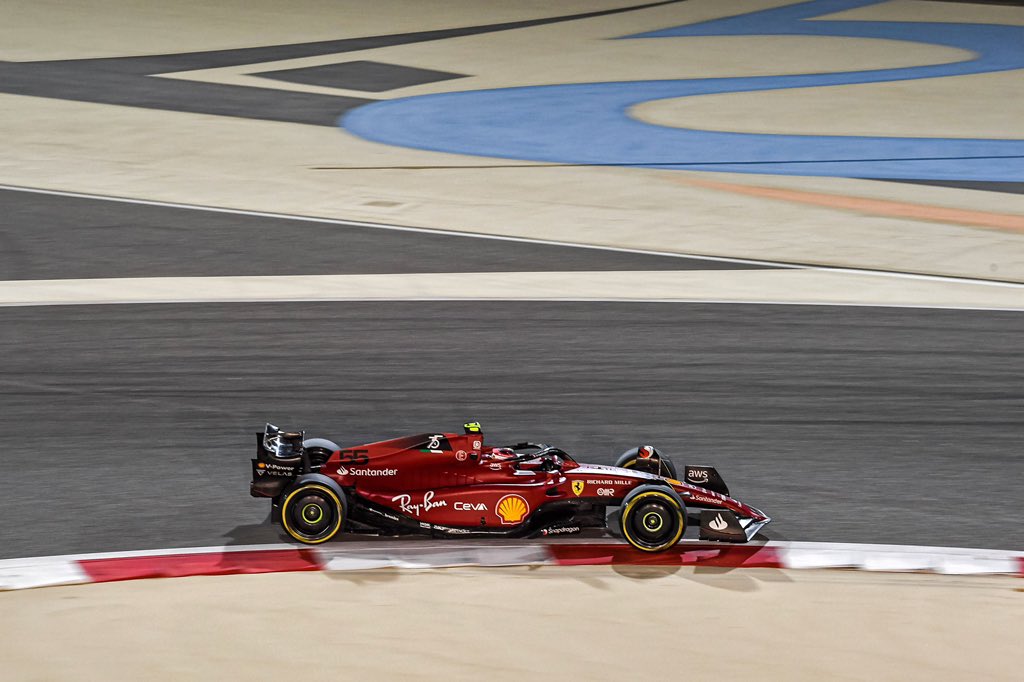 Ferrari drivers ended up second and third – neither of those times set on the softest compound tires either. Add in 116 laps between Leclerc and Sainz, despite not running for the best part of an hour in the hottest part of the day, and it is easy to see why they have impressed many in the paddock.
Red Bull might not have set the timing screens alight, but they looked to be focussed on data gathering and longer run pace – and with 138 laps for Perez today, it seems they achieved their goals. Bar that late, slow spin, the Mexican had had a very solid day out there.
Select Quotes
Pierre Gasly
"It's good to be finishing the day in P1. But we're always asked at tests how we're doing, and I think we've got to focus mainly on ourselves and our performance, not at the timing screens as, at the moment, it doesn't mean much until we get to Quali next week. Of course, it's always nice to be top of the rankings, but at the end of the day I know we've got some stuff to work on, so we can get more out of the car. Overall, it's been a good day. There are lots of positives with this car but as a racing driver we always focus on the negatives, so we'll be using the next two days of testing to really get to grips with this car and work to feel more comfortable in it. I'll be working hard with the engineers tomorrow while Yuki takes over the driving of the car. There are new things to discover with this car every time you go out on track, so we have to make the most of every session and learn as much as we can before the first race here next week."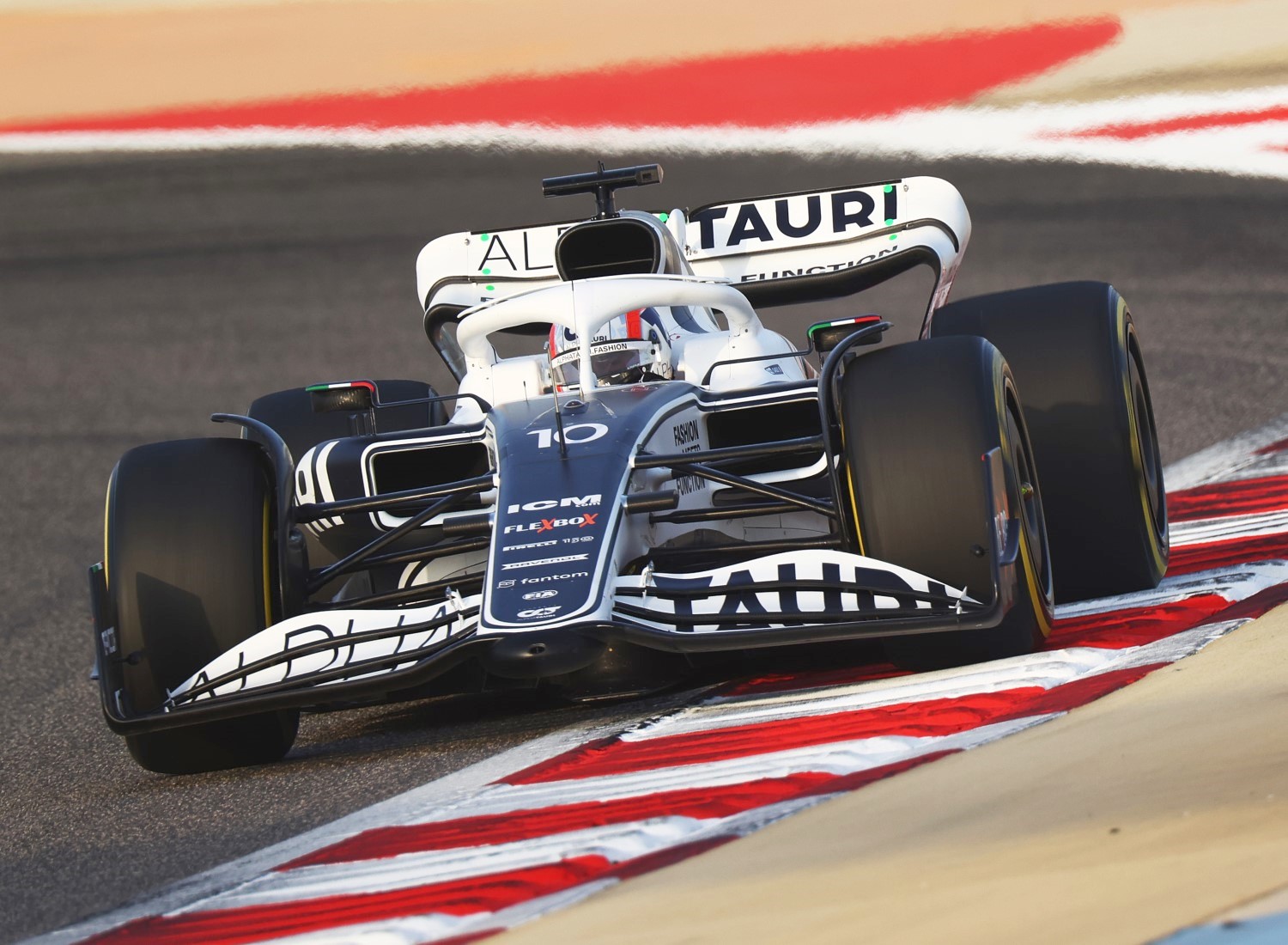 Andrew Shovlin, Mercedes Trackside Engineering Director:
Compared to Barcelona it's been harder to get the car well-balanced around the lap here. We do seem to have made a bit of progress through the day but it's always difficult to judge accurately here as the falling temperature tends to flatter everything you do later in the day. We've got quite a lot of work still to do regarding validation of the update kit and will continue the data collection program over the next few days so it's a bit early to say whether everything is working as expected. There is certainly more to find in getting the balance right between slow and high-speed corners, and there's also a bit too much tire overheating. So, plenty to keep us busy for the next two days but we are on a steep learning curve with the new car and tires – we'll analyze what we have from today and hopefully make a step forward for tomorrow.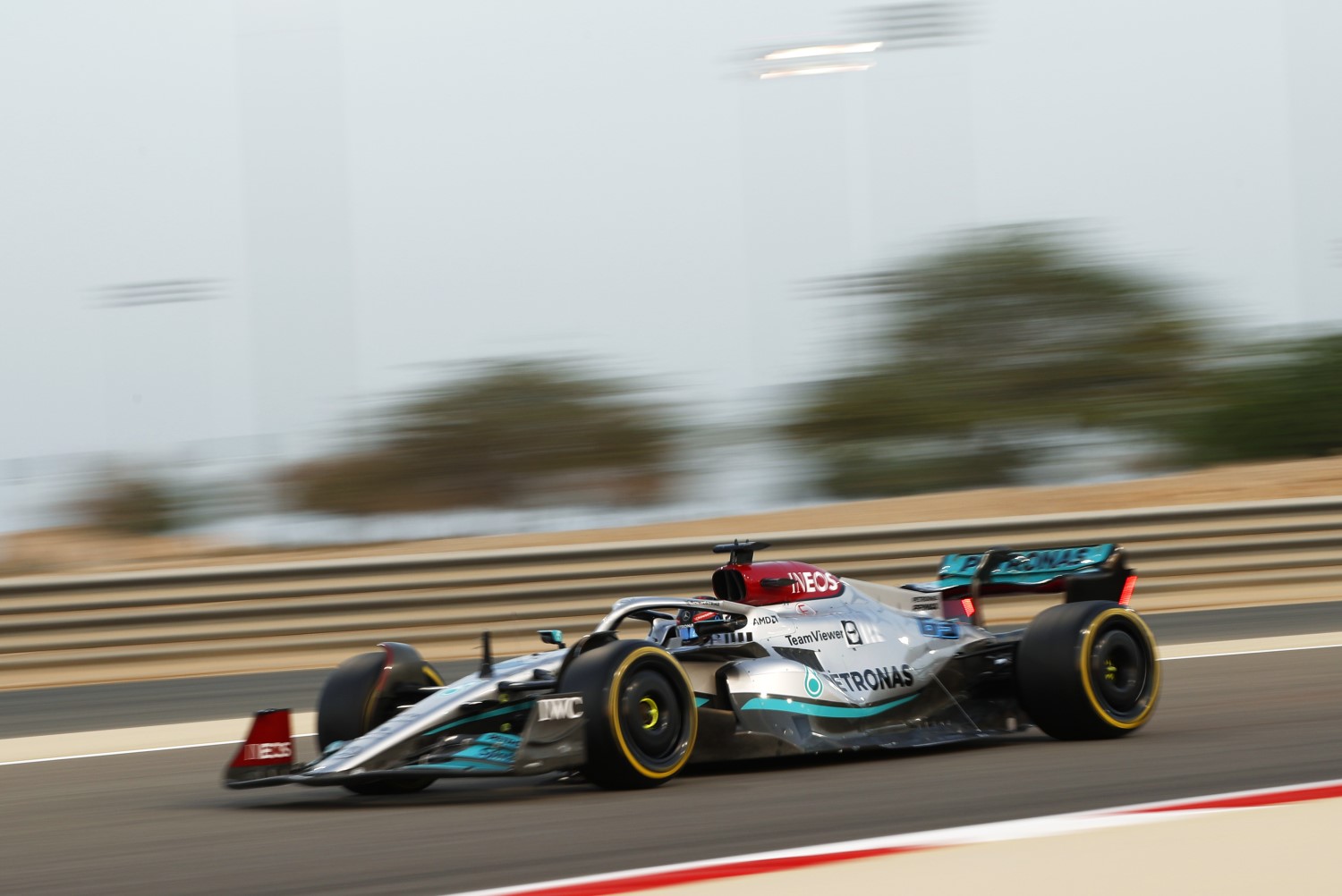 Zhou Guanyu (Car 24): "Today was definitely a step forward from Barcelona. We were able to do a good number of laps, which was a way to build up familiarity with the car. Every time you step into the cockpit you get a little more confident so a day like today was really good. Of course, there's still a lot of work to do and we need to understand the car better: we will try a few things, in different conditions, in the next few sessions but we can be happy about the work we have done today."
Valtteri Bottas (Car 77): "It was a good day in the car, getting a lot of laps under our belt and following our run plan until the red flag at the very end of the session. With this mileage, I was able to first get a proper feel for the car and then focus on some set-up work, finding how the car responds, what it needs. It's nice to feel and see the progress throughout the day: the team did a good job since Barcelona, it was a good recovery after a challenging start but we are heading in the right direction."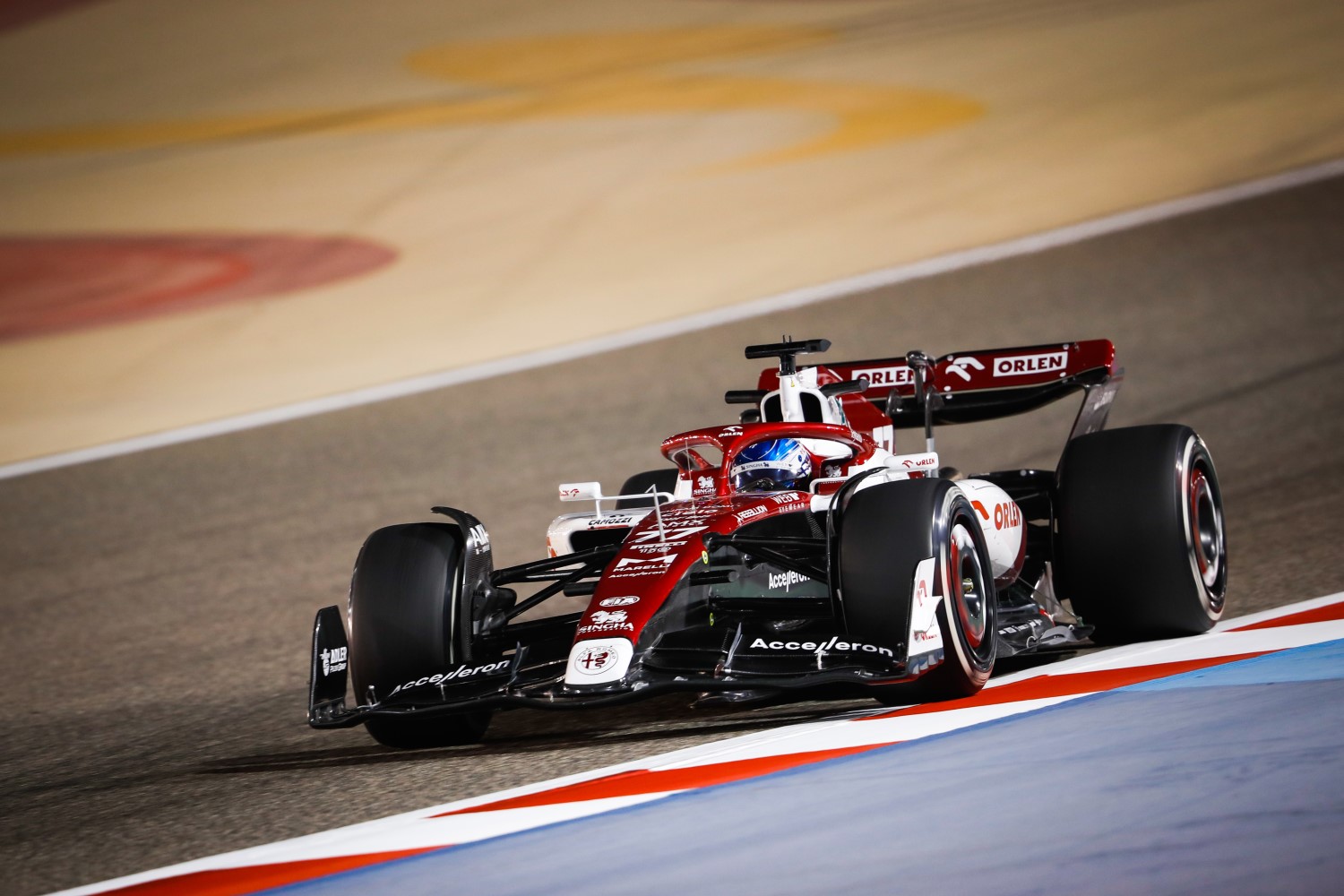 Sergio Perez
"It was a very productive day, we did plenty of laps and gathered a lot of information. It was good to get a read on the car on a different track with higher temperatures. It's obviously very different here compared to Barcelona. Bahrain is one of the roughest circuits on the calendar so you are naturally more rear biased. In general, we had a good pace and we have plenty of information to go through, there is so much to learn at the moment. Towards the end of the day, after the safety car I had cold tires and just lost it and unfortunately went into the gravel. It ended the session early so hopefully everyone can have a nice rest now!"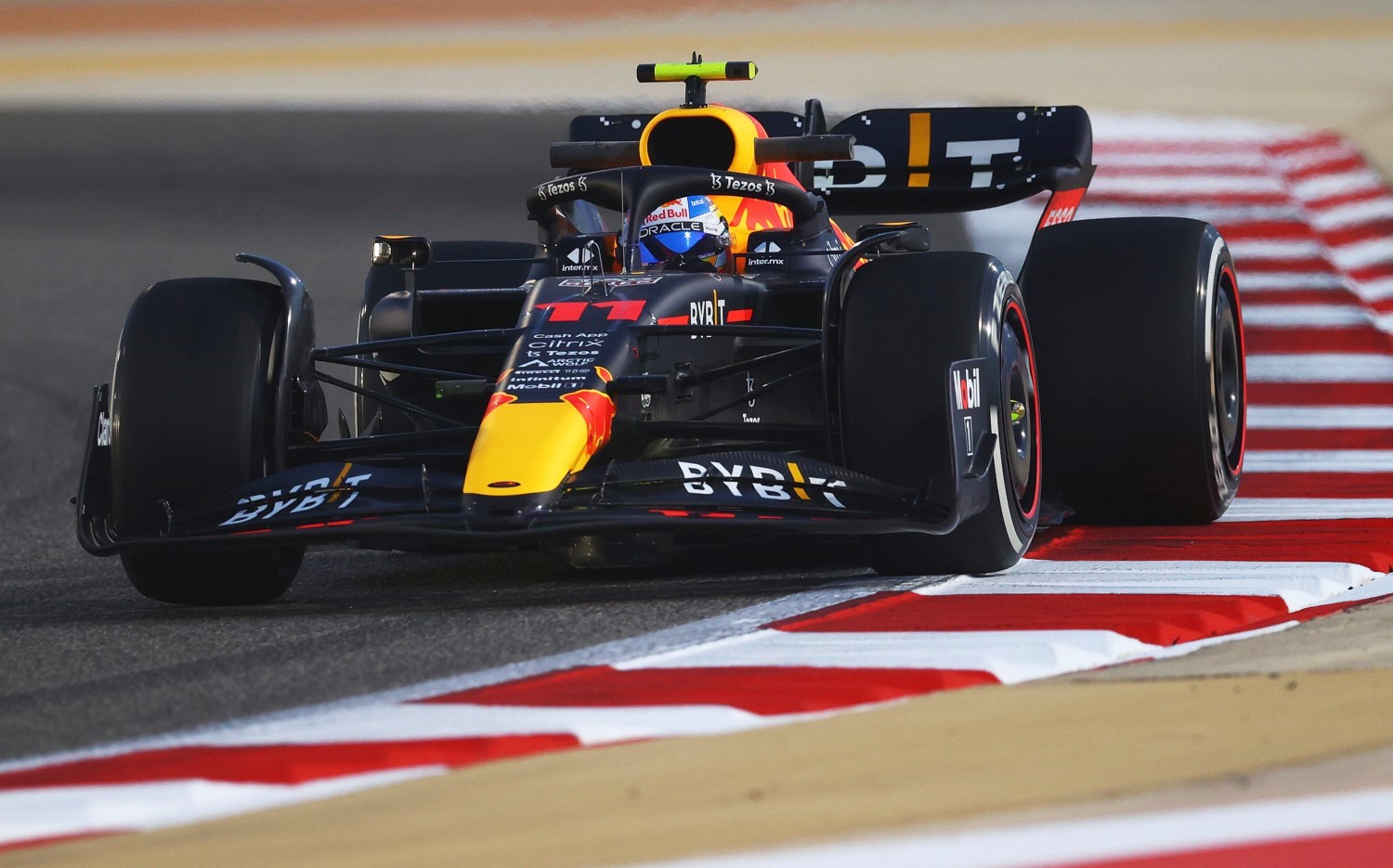 Day 1 Times
| | | | | | | | |
| --- | --- | --- | --- | --- | --- | --- | --- |
| Pos | Driver | Team | Time | Behind | Session | Tires | Laps |
| 1 | Pierre Gasly | AlphaTauri | 1m33.902s | +0.000s | PM | C5 | 103 |
| 2 | Carlos Sainz Jr. | Ferrari | 1m34.359s | +0.457s | PM | C3 | 52 |
| 3 | Charles Leclerc | Ferrari | 1m34.531s | +0.629s | AM | C3 | 64 |
| 4 | Lance Stroll | Aston Martin | 1m34.736s | +0.834s | PM | C5 | 50 |
| 5 | Alex Albon | Williams | 1m35.070s | +1.168s | PM | C4 | 104 |
| 6 | Lando Norris | McLaren | 1m35.356s | +1.454s | PM | C2 | 50 |
| 7 | Valtteri Bottas | Alfa Romeo | 1m35.495s | +1.593s | PM | C3 | 66 |
| 8 | Sebastian Vettel | Aston Martin | 1m35.706s | +1.804s | AM | C3 | 39 |
| 9 | George Russell | Mercedes | 1m35.941s | +2.039s | PM | C3 | 60 |
| 10 | Sergio Perez | Red Bull | 1m35.977s | +2.075s | PM | C2 | 138 |
| 11 | Lewis Hamilton | Mercedes | 1m36.365s | +2.463s | AM | C3 | 62 |
| 12 | Fernando Alonso | Alpine | 1m36.745s | +2.843s | PM | C3 | 24 |
| 13 | Esteban Ocon | Alpine | 1m36.768s | +2.866s | AM | C2 | 42 |
| 14 | Guanyu Zhou | Alfa Romeo | 1m37.164s | +3.262s | AM | C3 | 54 |
| 15 | Pietro Fittipaldi | Haas | 1m38.527s | +3.520s | PM | *C2 | 47 |
*Prototype Tire