F1 Testing Day 2: Magnussen beats Sainz Jr. to put Haas on top in Bahrain
(Update)
Hold the front page! Kevin Magnussen (shown above) has gone quickest overall with a 1m33.207s on a late low fuel run in cooler conditions.
Allowed extra running because they missed the Thursday morning session due to freight delays, Magnussen finished his extra hour for Haas with the top time of the day, a 1m33.207s, with 60 laps to his name this afternoon. Not a bad way to make your F1 comeback.
It is only testing after all and if Magnussen and Haas remain P1 for the Bahrain GP next weekend, well, we are in for one heck of a season.
Revised Day 2 Final Bahrain Test Times
| | | | | | |
| --- | --- | --- | --- | --- | --- |
| Pos | Driver | Team | Time | Tire | Laps |
| 1 | Magnussen | Haas | 1m33.207s | C4 | 60 |
| 2 | Sainz Jr. | Ferrari | 1m33.532s | C4 | 60 |
| 3 | Verstappen | Red Bull | 1m34.011s | C4 | 86 |
| 4 | Stroll | Aston Martin | 1m34.064s | C4 | 70 |
| 5 | Hamilton | Mercedes | 1m34.141s | C5 | 47 |
| 6 | Ocon | Alpine | 1m34.276s | C4 | 111 |
| 7 | Leclerc | Ferrari | 1m34.366s | C3 | 54 |
| 8 | Norris | McLaren | 1m34.609s | C3 | 60 |
| 9 | Vettel | Aston Martin | 1m36.020s | C3 | 46 |
| 10 | Tsunoda | AlphaTauri | 1m36.802s | C3 | 120 |
| 11 | Bottas | Alfa Romeo | 1m36.987s | C2 | 25 |
| 12 | Schumacher | Haas | 1m37.846s | C2 | 23 |
| 13 | Russell | Mercedes | 1m38.585s | *C2 | 67 |
| 14 | Latifi | Williams | 1m39.845s | *C2 | 12 |
| 15 | Zhou | Alfa Romeo | 1m41.805s | C2 | 48 |
*Prototype Tires
---
March 11, 2022
Carlos Sainz Jr. turned a lap of 1m33.532s in the afternoon session of Day 2 of Preseason F1 testing in Bahrain to lead all drivers. However, don't let these times fool you as the Mercedes team is sandbagging and run their engine at minimum HP, some 13kph slower down the straight than the Ferrari……despite their 'trick' low drag sidepod design.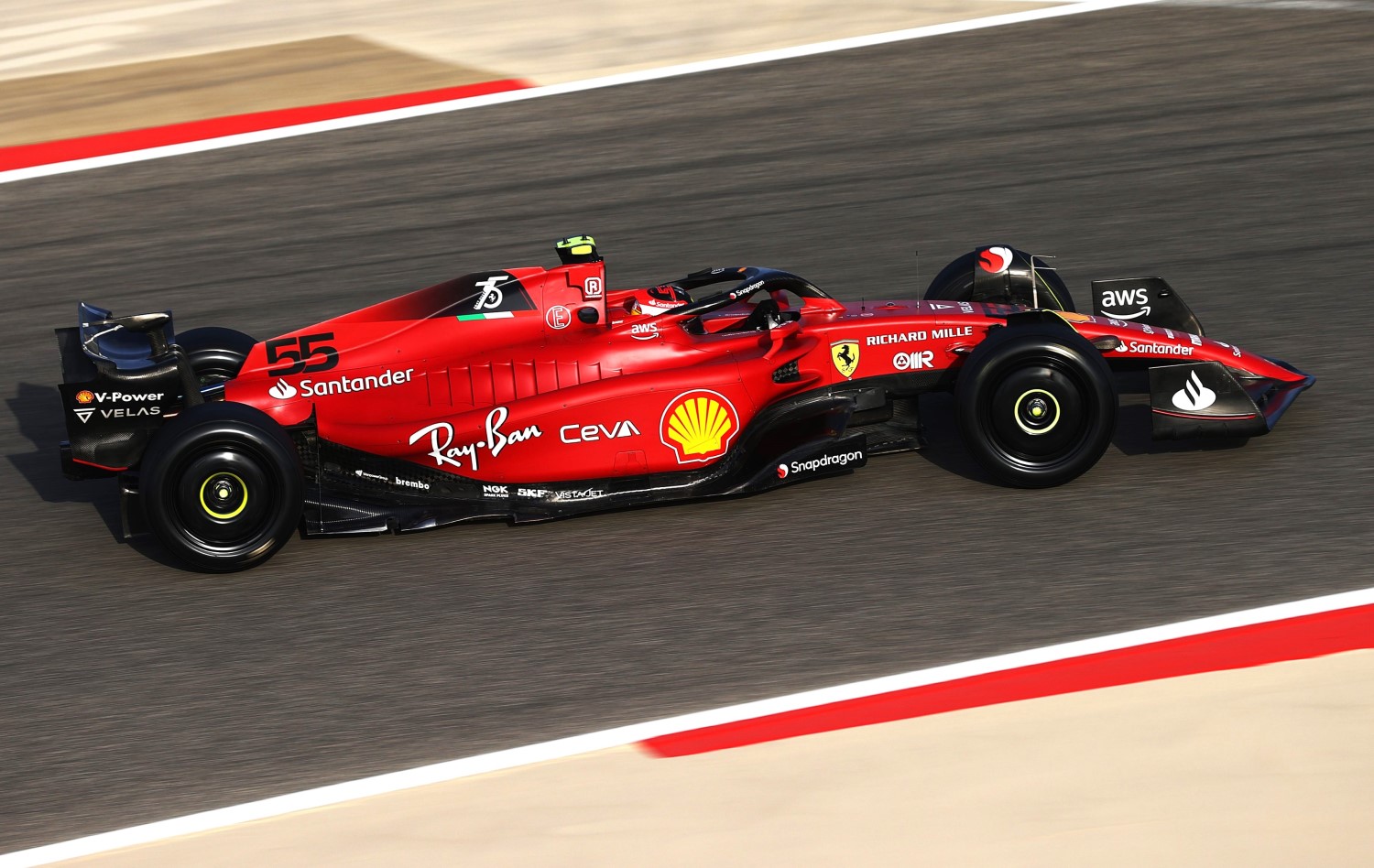 Just wait until they turn their engine up!
Sainz Jr, 2nd quick driver Max Verstappen, and 3rd quick Lance Stroll were all on the soft C4 tires when they turned their fastest lap.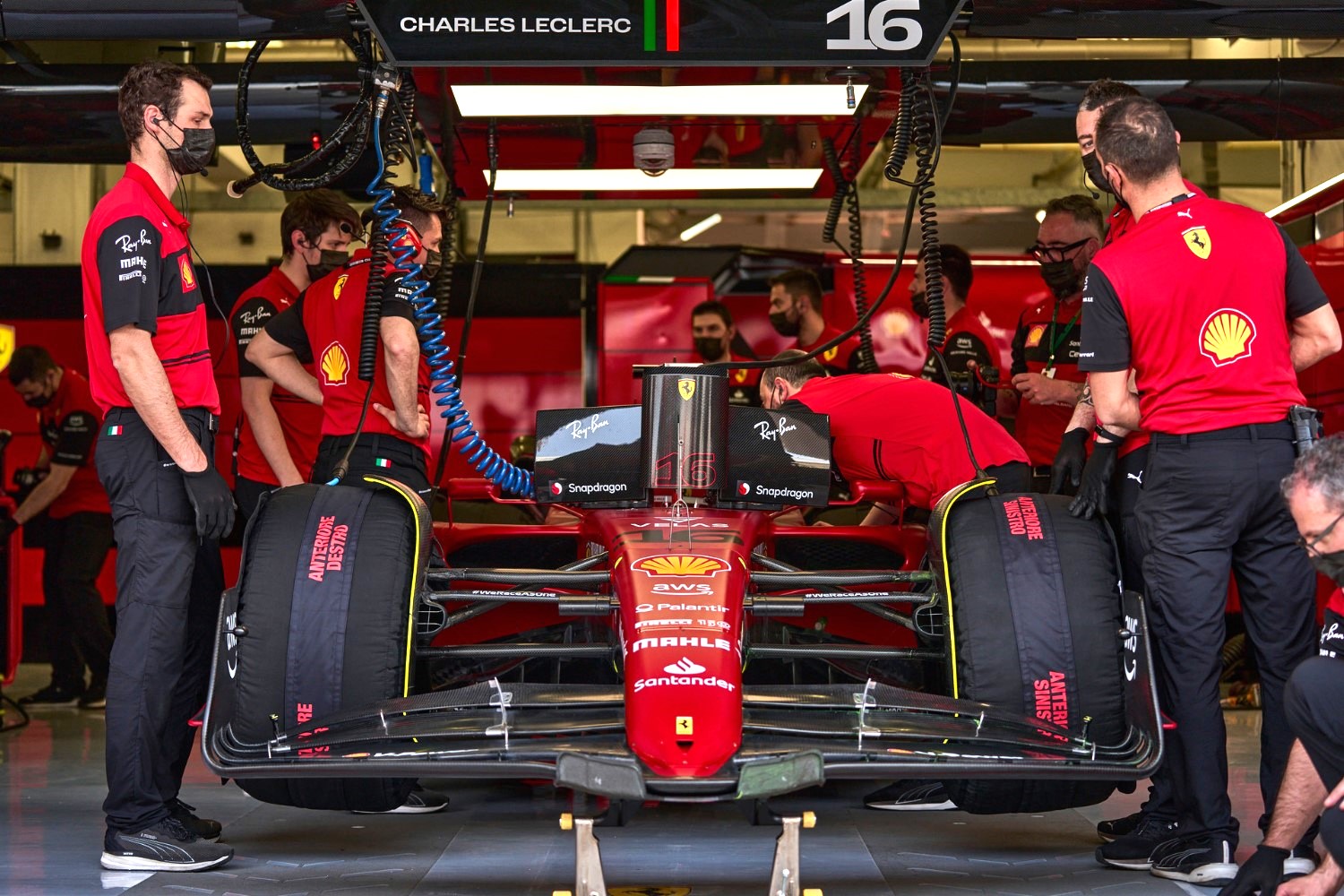 Lewis Hamilton rounded out the top-5 on the softest C5 tires, but he was not trying hard at all.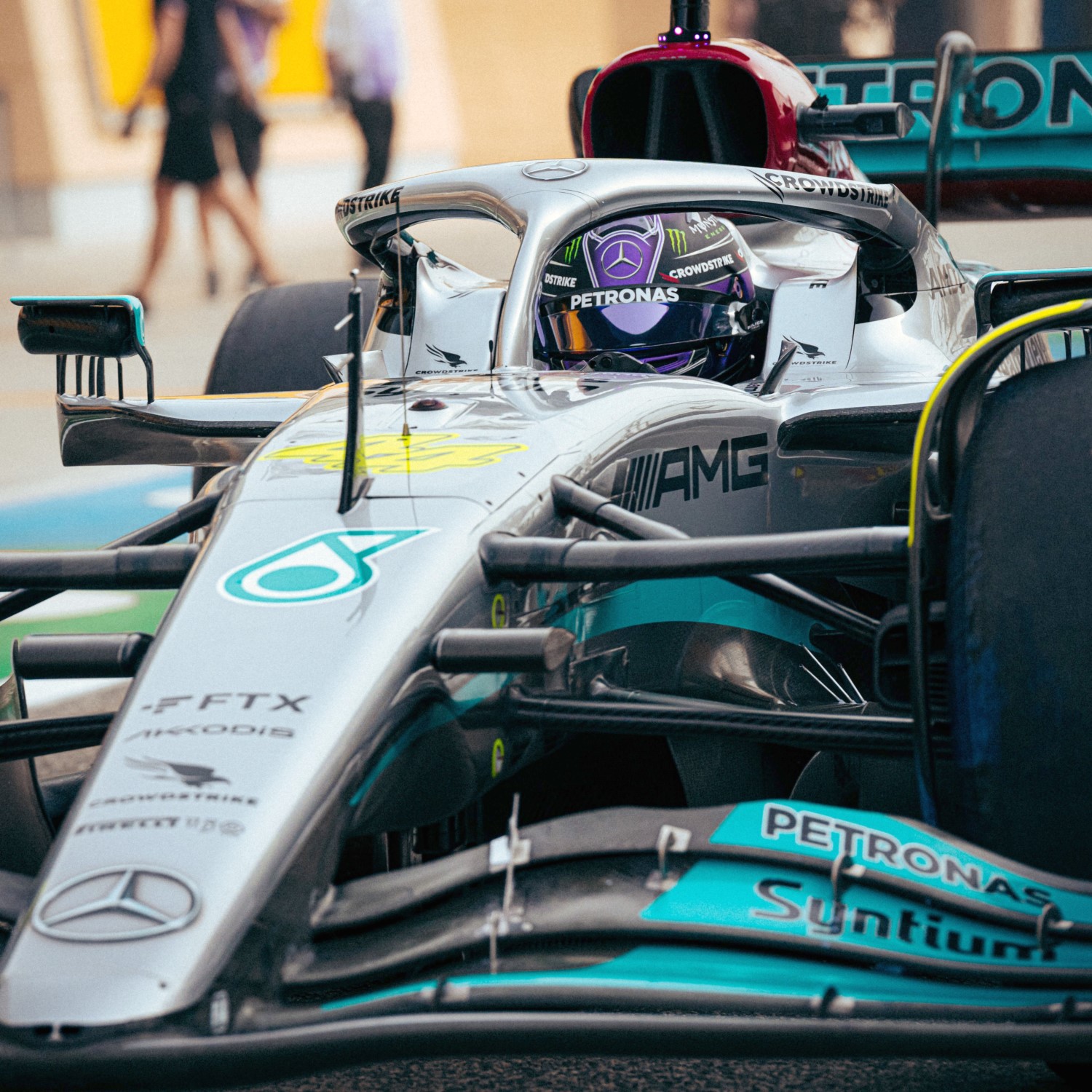 Yuki Tsunoda topped the individual lap count with 120.  Esteban Ocon managed 111 despite a short period in the pits after stopping out on track, on a stop-start day that saw five 'incident-caused' red flags across the eight hours of running.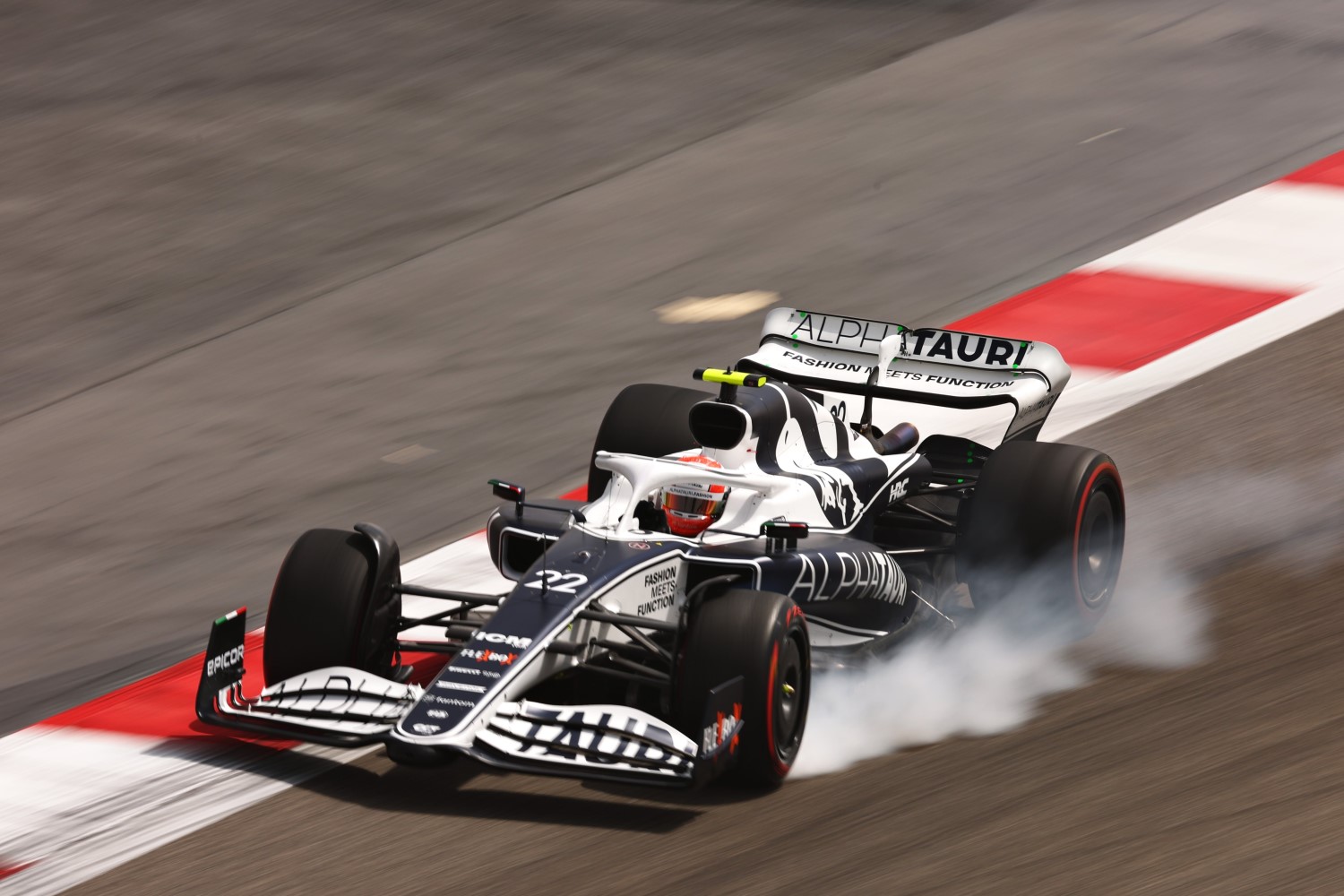 Just one more day to go and then that'll be it for preseason testing!
Select Quotes
Charles Leclerc #16
"Another session with a lot of tests completed this morning. We are learning a lot about our car as well as the tires, which are still relatively new to us. The balance seems to be good and I feel comfortable so far, but we have to keep in mind that the time sheets don't mean anything and there is still a lot more to come from our competitors.  What is positive is that we have been consistent and have had no issues so far. We will keep working to learn as much as we can on our final day tomorrow".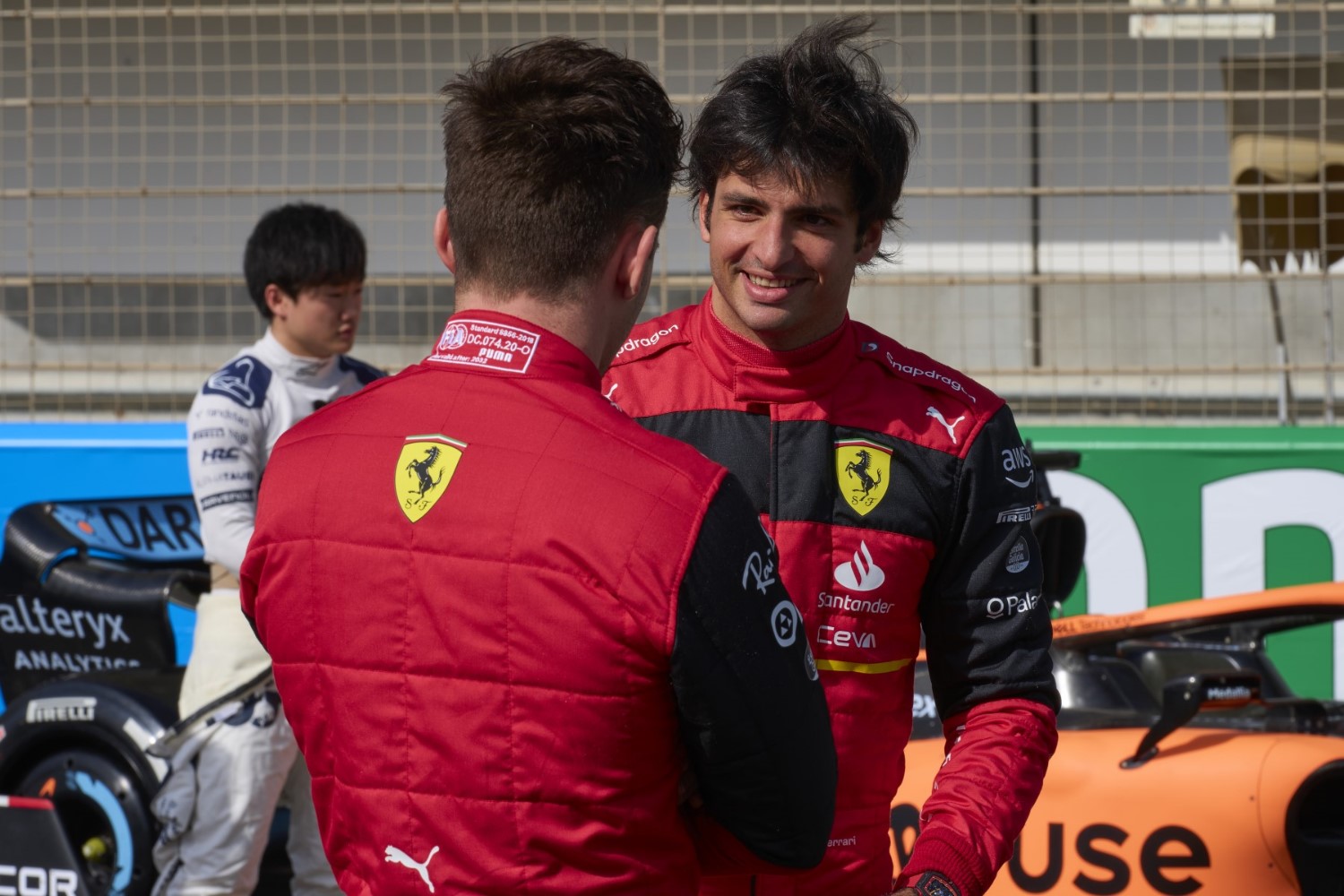 Carlos Sainz #55
"A bit of a strange afternoon with track conditions changing a lot from run to run, especially the strong wind which made it difficult to be consistent on the short runs and to get a good understanding of each compound and how they compared to one another.
We will analyze everything tonight and prepare a good run plan for tomorrow, as there are quite a few things I still want to test on the last day. In general, another positive day for the team."
Max Verstappen
And though the frequent stoppages left Max Verstappen with a total of 86 laps, the Dutch driver was pleased with the progress made during the course of his day: "I think we did as good a job as we could today, it was very warm and there were quite a few red flags. It was quite a good day, all pretty standard, and we put quite a good amount of laps on the car. We won't really use these tire compounds for the race, so again, it's not really representative. It was fun to have a little battle with Carlos, I think he was on a long run with more fuel, and I was on a shorter run and once I caught him he started using DRS, I think he wanted to race as well. So far, the car is pretty good, but there are always areas to work on."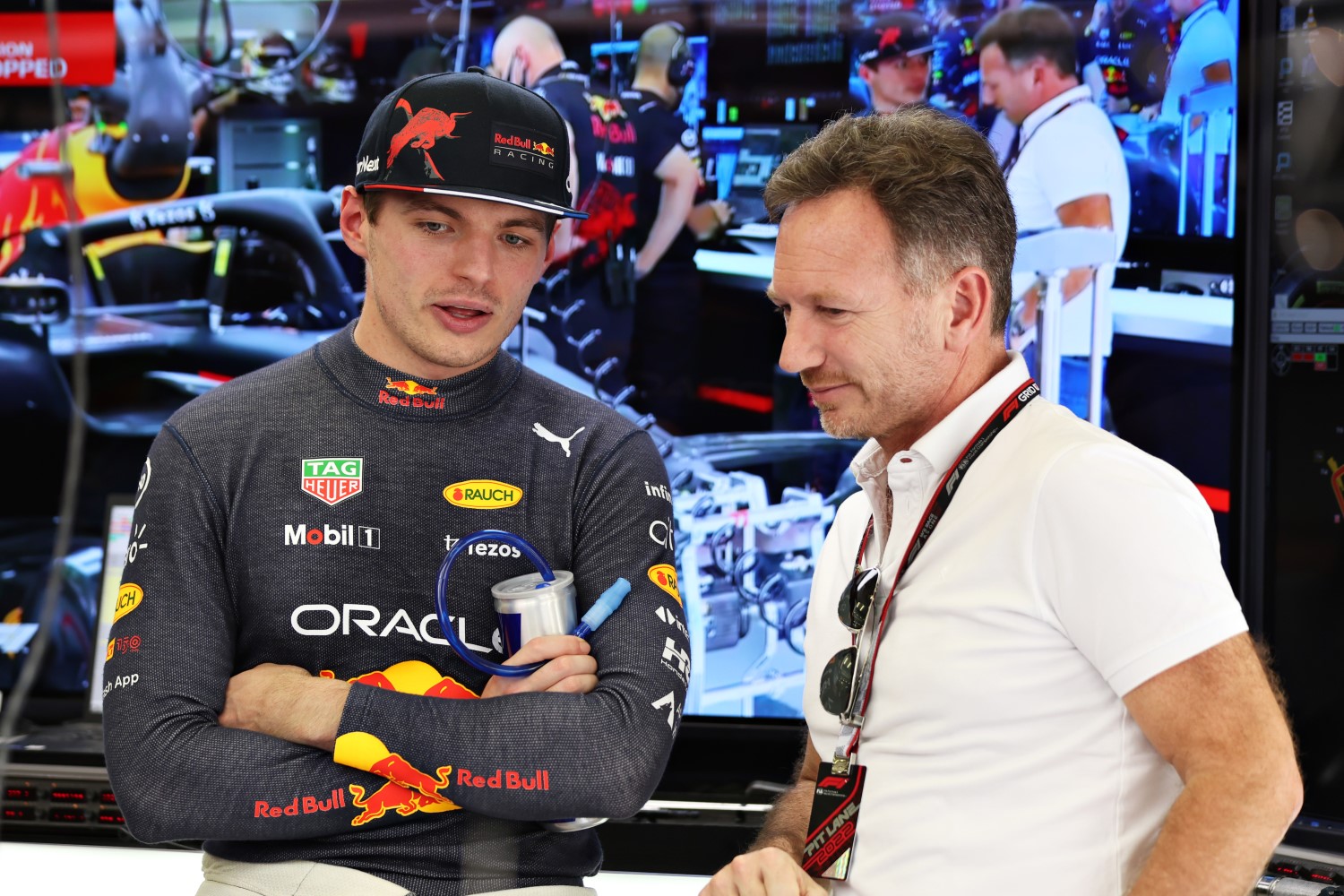 Yuki Tsunoda
"It's been a good day of running with a lot of laps and important mileage completed, allowing us to collect crucial data. We didn't focus a lot on performance runs today, we had a race simulation where we concentrated on our long-running and got to understand the car more in race conditions. It was really windy out there, with the direction changing throughout the day, so I had to learn more about driving this new car with all the different conditions we had, it was quite hard to adapt to this, but I really enjoyed it. I think overall the day has been positive, we still have some areas to work on, but I think we've got a good baseline and I'm looking forward to some more driving tomorrow. We still need to work a lot on the final day so that we can be confident going into the first race, and hopefully have a good result."
Andrew Shovlin, Mercedes Trackside Engineering Director:
A packed day with a mix of work on low and high fuel as we continue to learn about the car and tires. We're exploring a range of setup options to try and improve the bouncing – we have some directions that are able to improve this but finding the right balance between the bouncing and performance is clearly the challenge. We've got a similar program planned for tomorrow, but Lewis will do the higher fuel work and George the low fuel. We still have lots of work ahead of us but the car has been running reliably which has helped us get good mileage in and run our program.
Day 2 Final Bahrain Test Times
| | | | | | | |
| --- | --- | --- | --- | --- | --- | --- |
| Pos | Driver | Team | Time | Behind | Tire | Laps |
| 1 | Sainz Jr. | Ferrari | 1m33.532s | +0.000s | C4 | 60 |
| 2 | Verstappen | Red Bull | 1m34.011s | +0.479s | C4 | 86 |
| 3 | Stroll | Aston Martin | 1m34.064s | +0.532s | C4 | 70 |
| 4 | Hamilton | Mercedes | 1m34.141s | +0.609s | C5 | 47 |
| 5 | Ocon | Alpine | 1m34.276s | +0.744s | C4 | 111 |
| 6 | Leclerc | Ferrari | 1m34.366s | +0.834s | C3 | 54 |
| 7 | Norris | McLaren | 1m34.609s | +1.077s | C3 | 60 |
| 8 | Vettel | Aston Martin | 1m36.020s | +2.488s | C3 | 46 |
| 9 | Magnussen | Haas | 1m36.505s | +2.973s | C3 | 39 |
| 10 | Tsunoda | AlphaTauri | 1m36.802s | +3.270s | C3 | 120 |
| 11 | Bottas | Alfa Romeo | 1m36.987s | +3.455s | C2 | 25 |
| 12 | Schumacher | Haas | 1m37.846s | +4.314s | C2 | 23 |
| 13 | Russell | Mercedes | 1m38.585s | +5.053s | *C2 | 67 |
| 14 | Latifi | Williams | 1m39.845s | +6.313s | *C2 | 12 |
| 15 | Zhou | Alfa Romeo | 1m41.805s | +6.452s | C2 | 48 |
*Prototype Tires