WEC: Entries for tenth FIA WEC season-opener in Sebring announced
The entry list for the 1000 Miles of Sebring on March 16-18 – the opening round of the 2022 FIA World Endurance Championship – features a grid fit to begin the celebrations of the series' tenth anniversary year with a 36 car field. Appropriately, the season will begin at the scene of the very first event in WEC history.
Leading the entry list are the elite Hypercar contenders in which the defending champions from Japan, Toyota Gazoo Racing, take on the American-flagged Glickenhaus Racing and the works Alpine squad from France. For the huge crowd in attendance at the trackside, attention will likely be focused upon local hero Ryan Briscoe, an Australian-American who will share his Glickenhaus entry with Frenchmen Olivier Pla and Romain Dumas in the 1000 mile race.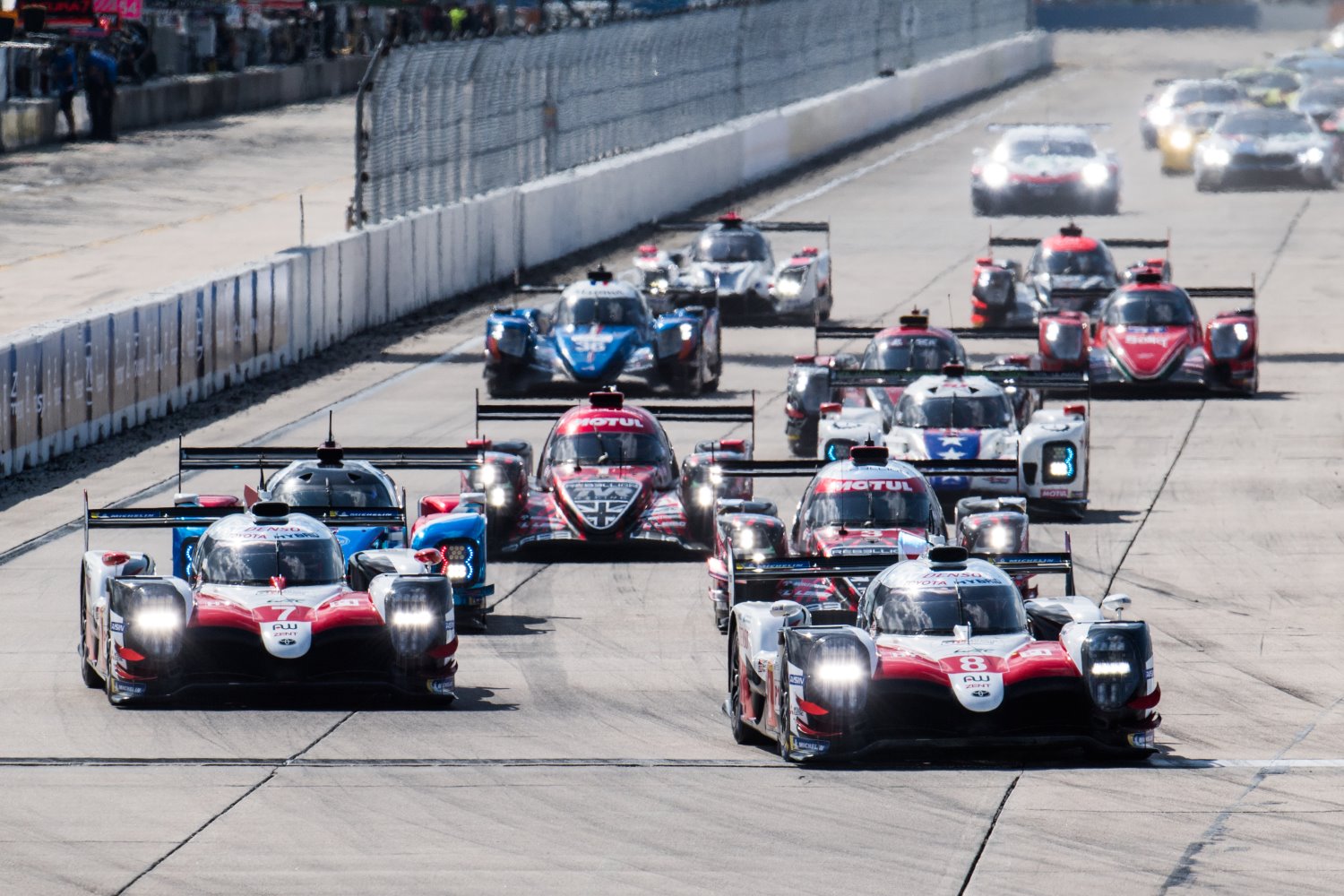 In the LMP2 category for private teams, the strength in depth of teams and drivers will be joined by Algarve Pro Racing on a race-by-race basis throughout 2022, starting at the 1000 Miles of Sebring. The team will be joined on the grid this year by another newcomer to the WEC: America's celebrated Penske Racing.
Sebring will also mark the debut of all-American brand Corvette Racing as a full-time WEC competitor, chasing the World GT Manufacturers' Championship in the LMGTE Pro category for production-based sports cars. The No. 64 Chevrolet Corvette C8.R will be driven by American ace Tommy Milner, sharing his car with Englishman Nick Tandy as they prepare to go head-to-head with the perennial favorites from Ferrari and Porsche.
Meanwhile, in the LMGTE Am class where both professional and amateur drivers share the cars, the winners from the WEC's most recent Sebring event, Dempsey-Proton Racing, will field two cars. The No. 77 and 88 Porsche 911 RSR entries have close ties to the USA due to the co-ownership of celebrated actor and 2014 Le Mans podium finisher Patrick Dempsey. Unfortunately, the British Gulf Racing team Porsche will not be present at the opening round in the LMGTE Am class.
The action begins with the Prologue pre-season launch and test event at Sebring on March 12/13. Official WEC track action starts on Wednesday 16 March, with the 1000 Miles of Sebring beginning at midday local time on Friday 18 March.
1000 Mile of Sebring Preliminary Entry List
No.

HYPERCAR

NAT

T

CARS

MISC

DRIVER 1

DRIVER 2

DRIVER 3

4

7

TOYOTA GAZOO RACING

JPN

M

Toyota GR010 – Hybrid

Hybrid

Mike Conway (GBR)

P

Kamui Kobayashi (JPN)

P

Jose Maria Lopez (ARG)

P

8

TOYOTA GAZOO RACING

JPN

M

Toyota GR010 – Hybrid

Hybrid

Sébastien Buemi (CHE)

P

Brendon Hartley (NZL)

P

Ryo Hirakawa (JPN)

P

36

ALPINE ELF TEAM

FRA

M

Alpine A480 – Gibson

André Negrão (BRA)

G

Nicolas Lapierre (FRA)

P

Matthieu Vaxiviere (FRA)

G

708

GLICKENHAUS RACING

USA

M

Glickenhaus 007 LMH

Olivier Pla (FRA)

P

Romain Dumas (FRA)

P

Ryan Briscoe (USA)

P

No.

LMP2

NAT

T

CARS

MISC

DRIVER 1

DRIVER 2

DRIVER 3

15

1

RICHARD MILLE RACING TEAM

FRA

G

Oreca 07 – Gibson

Lilou Wadoux (FRA)

S

Sébastien Ogier (FRA)

P

Charles Milesi (FRA)

G

5

TEAM PENSKE

USA

G

Oreca 07 – Gibson

Dane Cameron (USA)

G

Emmanuel Collard (FRA)

S

Felipe Nasr (BRA)

P

9

PREMA ORLEN TEAM

ITA

G

Oreca 07 – Gibson

Robert Kubica (POL)

P

Louis Deletraz (CHE)

G

Lorenzo Colombo (ITA)

S

10

VECTOR SPORT

GBR

G

Oreca 07 – Gibson

Nico Müller (CHE)

P

Ryan Cullen (GBR)

S

Mike Rockenfeller (DEU)

P

22

UNITED AUTOSPORTS USA

USA

G

Oreca 07 – Gibson

Philip Hanson (GBR)

G

Filipe Albuquerque (PRT)

P

William Owen (USA)

S

23

UNITED AUTOSPORTS USA

USA

G

Oreca 07 – Gibson

Paul di Resta (GBR)°

P

Oliver Jarvis (GBR)

P

Joshua Pierson (USA)

S

28

JOTA

GBR

G

Oreca 07 – Gibson

Oliver Rasmussen (DNK)

S

Edward Jones (GBR)

G

Jonathan Aberdein (ZAF)

G

31

WRT

BEL

G

Oreca 07 – Gibson

Sean Gelael (IDN)

S

Robin Frijns (NLD)

P

René Rast (DEU)

P

34

INTER EUROPOL COMPETITION

POL

G

Oreca 07 – Gibson

Jakub Smiechowski (POL)

S

Alex Brundle (GBR)

G

Esteban Gutierrez (MEX)

P

35

ULTIMATE

FRA

G

Oreca 07 – Gibson

Pro/Am

Jean-Baptiste Lahaye (FRA)

S

Matthieu Lahaye (FRA)

S

François Heriau (FRA)

B

38

JOTA

GBR

G

Oreca 07 – Gibson

Roberto Gonzalez (MEX)

S

Antonio Felix da Costa (PRT)

P

William Stevens (GBR)

P

41

REALTEAM BY WRT

CHE

G

Oreca 07 – Gibson

Rui Andrade (PRT)

S

Ferdinand Habsburg-Lothringen (AUT)

G

Norman Nato (FRA)

G

44

ARC BRATISLAVA

SVK

G

Oreca 07 – Gibson

Pro/Am

Miroslav Konopka (SVK)

B

Mathias Beche (CHE)

G

Tijmen van der Helm (NLD)

S

45

ALGARVE PRO RACING

PRT

G

Oreca 07 – Gibson

Pro/Am

Steven Thomas (USA)

B

James Allen (AUS)

G

Rene Binder (AUT)

S

83

AF CORSE

ITA

G

Oreca 07 – Gibson

Pro/Am

François Perrodo (FRA)

B

Nicklas Nielsen (DNK)

G

Alessio Rovera (ITA)

G

No.

LMGTE Pro

NAT

T

CARS

MISC

DRIVER 1

DRIVER 2

DRIVER 3

5

51

AF CORSE

ITA

M

Ferrari 488 GTE EVO

Alessandro Pier Guidi (ITA)

P

James Calado (GBR)

P

–

52

AF CORSE

ITA

M

Ferrari 488 GTE EVO

Miguel Molina (ESP)

P

Antonio Fuoco (ITA)

P

–

64

CORVETTE RACING

USA

M

Chevrolet Corvette C8.R

Tommy Milner (USA)

P

Nick Tandy (GBR)

P

–

91

PORSCHE GT TEAM

DEU

M

Porsche 911 RSR – 19

Gianmaria Bruni (ITA)

P

Richard Lietz (AUT)

P

–

92

PORSCHE GT TEAM

DEU

M

Porsche 911 RSR – 19

Michael Christensen (DNK)

P

Kevin Estre (FRA)

P

–

No.

LMGTE Am

NAT

T

CARS

MISC

DRIVER 1

DRIVER 2

DRIVER 3

12

21

AF CORSE

ITA

M

Ferrari 488 GTE EVO

Simon Mann (USA)

S

Christoph Ulrich (CHE)

B

Toni Vilander (FIN)

P

33

TF SPORT

GBR

M

Aston Martin Vantage AMR

Ben Keating (USA)

B

Florian Latorre (FRA)

S

Marco Sorensen (DNK)

P

46

TEAM PROJECT 1

DEU

M

Porsche 911 RSR – 19

Matteo Cairoli (ITA)

G

Mikkel Pedersen (DNK)

S

TBA

B

54

AF CORSE

ITA

M

Ferrari 488 GTE EVO

Thomas Flohr (CHE)

B

Francesco Castellacci (ITA)

S

Nicholas Cassidy (NZL)

G

56

TEAM PROJECT 1

DEU

M

Porsche 911 RSR – 19

Brendan Iribe (USA)

B

Olliver Millroy (GBR)

S

Ben Barnicoat (GBR)

P

60

IRON LYNX

ITA

M

Ferrari 488 GTE EVO

Claudio Schiavoni (ITA)

B

Matteo Cressoni (ITA)

S

Giancarlo Fisichella (ITA)

P

71

SPIRIT OF RACE

CHE

M

Ferrari 488 GTE EVO

Franck Dezoteux (FRA)

B

Pierre Ragues (FRA)

S

Gabriel Aubry (FRA)

G

77

DEMPSEY-PROTON RACING

DEU

M

Porsche 911 RSR – 19

Christian Ried (DEU)

B

Sebastian Priaulx (FRA)

S

Harry Tincknell (GBR)

P

85

IRON DAMES

ITA

M

Ferrari 488 GTE EVO

Rahel Frey (CHE)

G

Michelle Gatting (DNK)

S

Sarah Bovy (BEL)

B

88

DEMPSEY-PROTON RACING

DEU

M

Porsche 911 RSR – 19

Fred Poordad (USA)

B

Patrick Lindsey (USA)°

S

Julien Andlauer (FRA)°

G

98

NORTHWEST AMR

CAN

M

Aston Martin Vantage AMR

Paul Dalla Lana (CAN)

B

TBA

Nicki Thiim (DNK)

P

777

D' STATION RACING

JPN

M

Aston Martin Vantage AMR

Satoshi Hoshino (JPN)

B

Tomonobu Fujii (JPN)

G

Charles Fagg (GBR)

S

Total Entries = 36