F1 Testing Final Day: Verstappen closes out preseason testing fastest
(Update)
Hold the presses.  With the Haas Team being given 1 hour of extra running tonight, Mick Schumacher running in cooler temperatures with C4 tires, has turned the 2nd fastest lap, 1/2- second slower than Verstappen, but faster than Leclerc's Ferrari.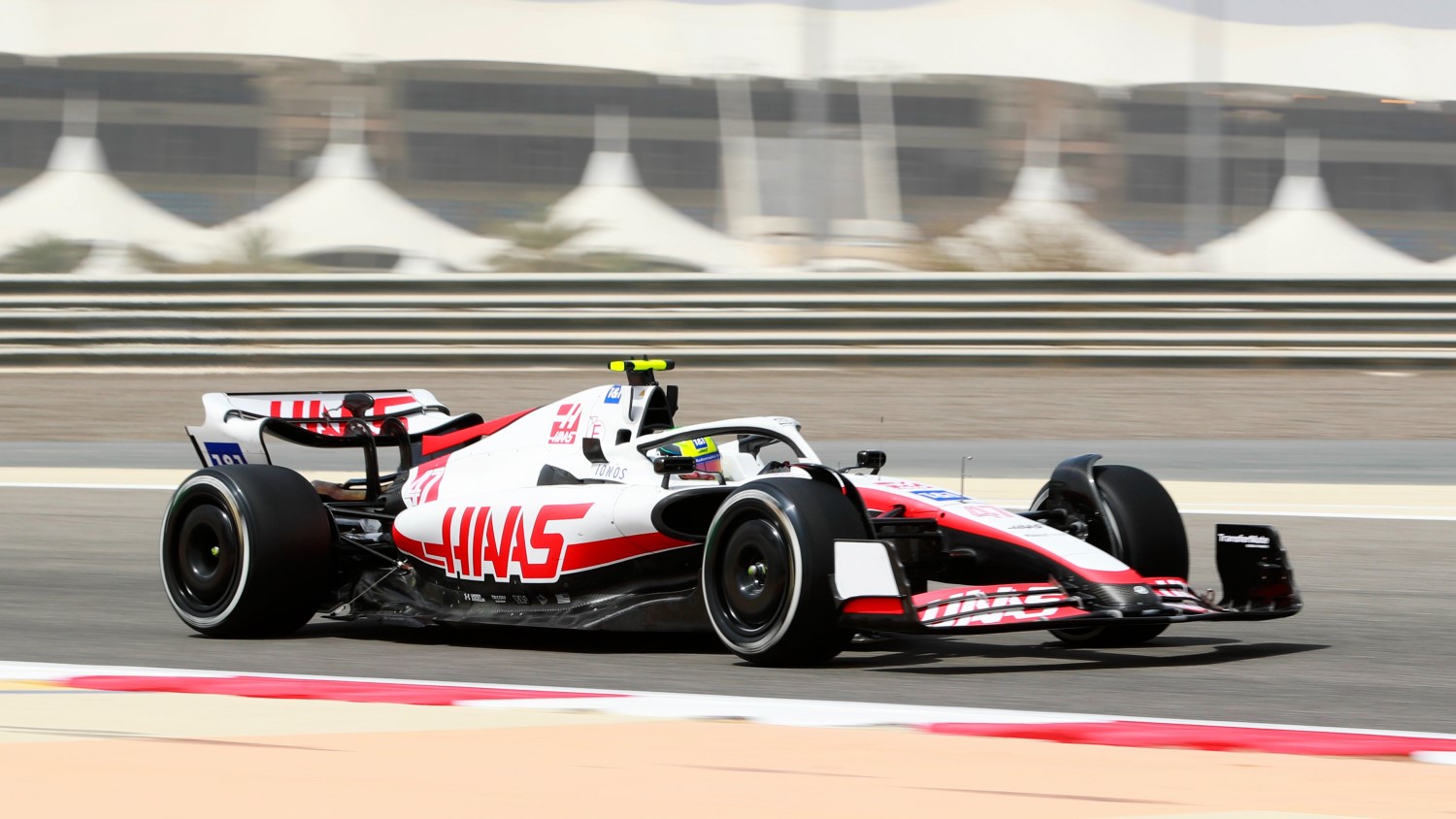 His time of 1m32.241s was 0.521s behind the Dutchman.
Revised Final Day Test Times
| | | | | | | |
| --- | --- | --- | --- | --- | --- | --- |
| Pos | Driver | Team | Time | Behind | Tire | Laps |
| 1 | Verstappen | Red Bull | 1m31.720s | +0.000s | C5 | 53 |
| 2 | Schumacher | Haas | 1m32.241s | +0.521s | C4 | 85* |
| 3 | Leclerc | Ferrari | 1m32.415s | +0.695s | C4 | 51 |
| 4 | Alonso | Alpine | 1m32.698s | +0.978s | C4 | 122 |
| 5 | Russell | Mercedes | 1m32.759s | +1.039s | C5 | 71 |
| 6 | Bottas | Alfa Romeo | 1m32.985s | +1.265s | C3 | 68 |
| 7 | Tsunoda | AlphaTauri | 1m33.002s | +1.282s | C5 | 57 |
| 8 | Perez | Red Bull | 1m33.105s | +1.385s | C4 | 43 |
| 9 | Norris | McLaren | 1m33.191s | +1.471s | C2 | 90 |
| 10 | Vettel | Aston Martin | 1m33.821s | +2.101s | C4 | 81 |
| 11 | Zhou | Alfa Romeo | 1m33.959s | +2.239s | C4 | 82 |
| 12 | Gasly | AlphaTauri | 1m34.865s | +3.145s | C4 | 91 |
| 13 | Sainz | Ferrari | 1m34.905s | +3.185s | C5 | 68 |
| 14 | Albon | Williams | 1m35.171s | +3.451s | C3 | 18 |
| 15 | Latifi | Williams | 1m35.634s | +3.914s | C3 | 124 |
| 16 | Stroll | Aston Martin | 1m36.029s | +4.309s | C3 | 53 |
| 17 | Hamilton | Mercedes | 1m36.217s | +4.497s | C5 | 78 |
| 18 | Magnussen | Haas | 1m38.616s | +6.896s | C2 | 38 |
*Time set in cooler temps – Team given 2 hours extra time of running
Select Quotes
Max Verstappen
"The main focus today was testing the tires we are going to use next week. The car felt alright, and we completed the program we set out to do, so that's always positive. No one gives full beans or goes to qualifying spec at testing, so we can't read too much into the timing screens. The new parts we tested today worked well which is what we always hope for."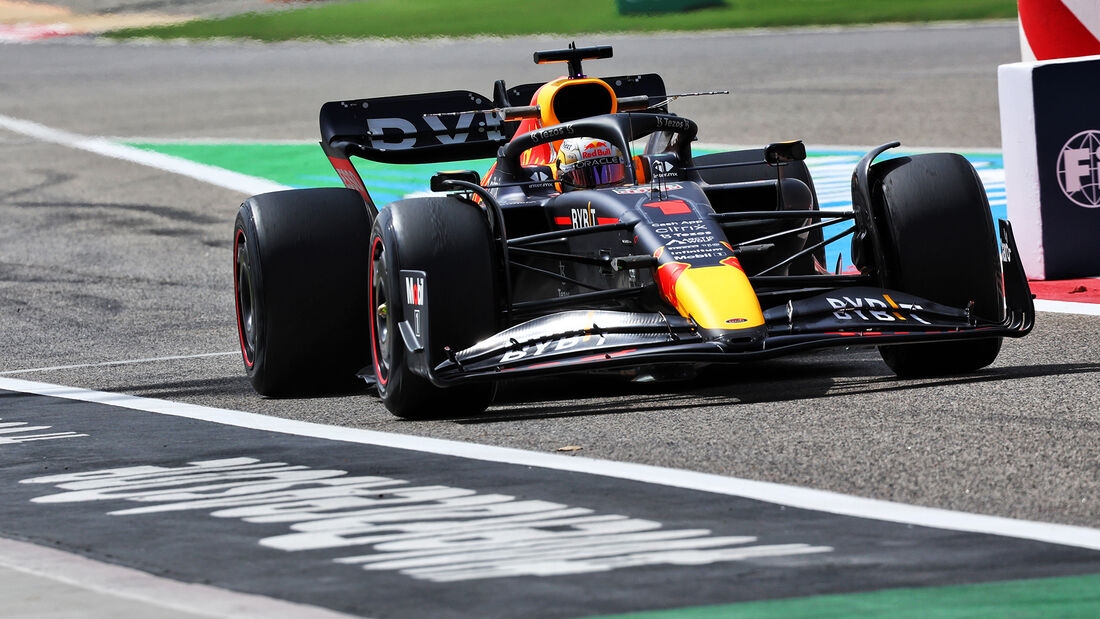 Sergio Perez
"This morning was good. We have definitely learned a lot throughout this testing period and I think there is still so much to learn. There are lots of areas for improvement to arrive at the best performance package possible. Generally, we had a positive day and now I'm just looking forward to the race next weekend."
Red Bull Head of Race Engineering Guillaume Rocquelin
"The lap times are irrelevant. Today was more about putting together the lessons we have learned over the past few days. It was about going through the process of running different compounds so that the drivers are happy and that we have a platform to work from for next week. There were some slight differences in the tire allocation between Max and Checo, but generally the idea was the same, to establish a good baseline with which we can start the race weekend and I think we achieved that."
Lewis Hamilton:
We have some hurdles to overcome and obviously next week we'll get a much better showing of our pace. I'm sure everyone can figure out that we are not the quickest at the moment. There is potential within our car to get us there, but we've just got to learn to be able to extract it and fix some of the problems, which is what we're working flat-out on. I think everyone struggled out on this bumpy track, and we come out of testing knowing that we still have a lot of work to do. There's a confidence within the team that we can always work through whatever problem we're facing and that's what we'll do. I have all the faith in the men and women back at the factories to get on top of our issues. One thing is for certain, we'll be bringing our fighting spirit to the first race next weekend!
George Russell:
It's been a productive few days and very intriguing at the same time, with so much to learn about these 2022 cars and tires. We got through our program with few reliability issues so great from that perspective. We were trying to get every last bit of performance out of the car and push the limits and when you're doing that, you're bouncing around a lot! It's not the most comfortable but I don't really care about comfort as long as the performance is there. At the moment, we seem a step behind our rivals and we have a lot of work to do between now and next week to better understand the car. There's a lot of potential in the W13 and I believe our guys are going to get to the bottom of it, we just need to find a way to unlock our performance. The bouncing is affecting our ability to put the car in the right window and the team are working incredibly hard to find solutions for this. This is a long game and I do believe our performance is there, we've just got to find it.
Andrew Shovlin, Trackside Engineering Director:
We've had a busy day here, but that's always the case on the last day of testing. The program was similar to yesterday but with Lewis doing the race work in the morning and George doing lower fuel and softer tires in the afternoon. Both sessions have been quite instructive, we've made a bit of progress with the bouncing which in turn has made the car less of a handful on the limit, and it also feels like we've made a step in the right direction with setup today. There's still a lot of pace to come if we can make further gains on the bouncing and get the car more settled. We've got a lot of good data so hopefully we can gain a bit more understanding of the issues in the next few days.
From a reliability point of view, the chassis and power unit have run without issue which is encouraging to see and testament to a lot of good work in Brackley and Brixworth. Judging the car from a performance point of view is less easy, we struggled to get the first laps out of the harder tires but on softer rubber it's coming more easily, and we look to be in better shape. It feels like we need to find a bit of pace if we want to be fighting for the win at the first race, but we're learning and developing at a good rate, so we'll just focus on those aspects and see where we stand in seven days' time.
Lance Stroll
"We have learned a lot across the test, and every session with the car has been useful in progressing it further. Bahrain is a great circuit for testing the limits of the car in low- and high-speed corners, so it is positive that we were able to complete the program as planned. It was quite windy at times, and that affected the cars on track. One of the big things around here is discovering how late you can brake, so those tail- and headwinds have quite an impact, as we discovered. All-in-all, it has been a productive test and there is a lot of data to go over to make sure we're in the best possible position for the start of the season. The learning curve has been much greater this year, and I am enjoying working closely with the team to make improvements."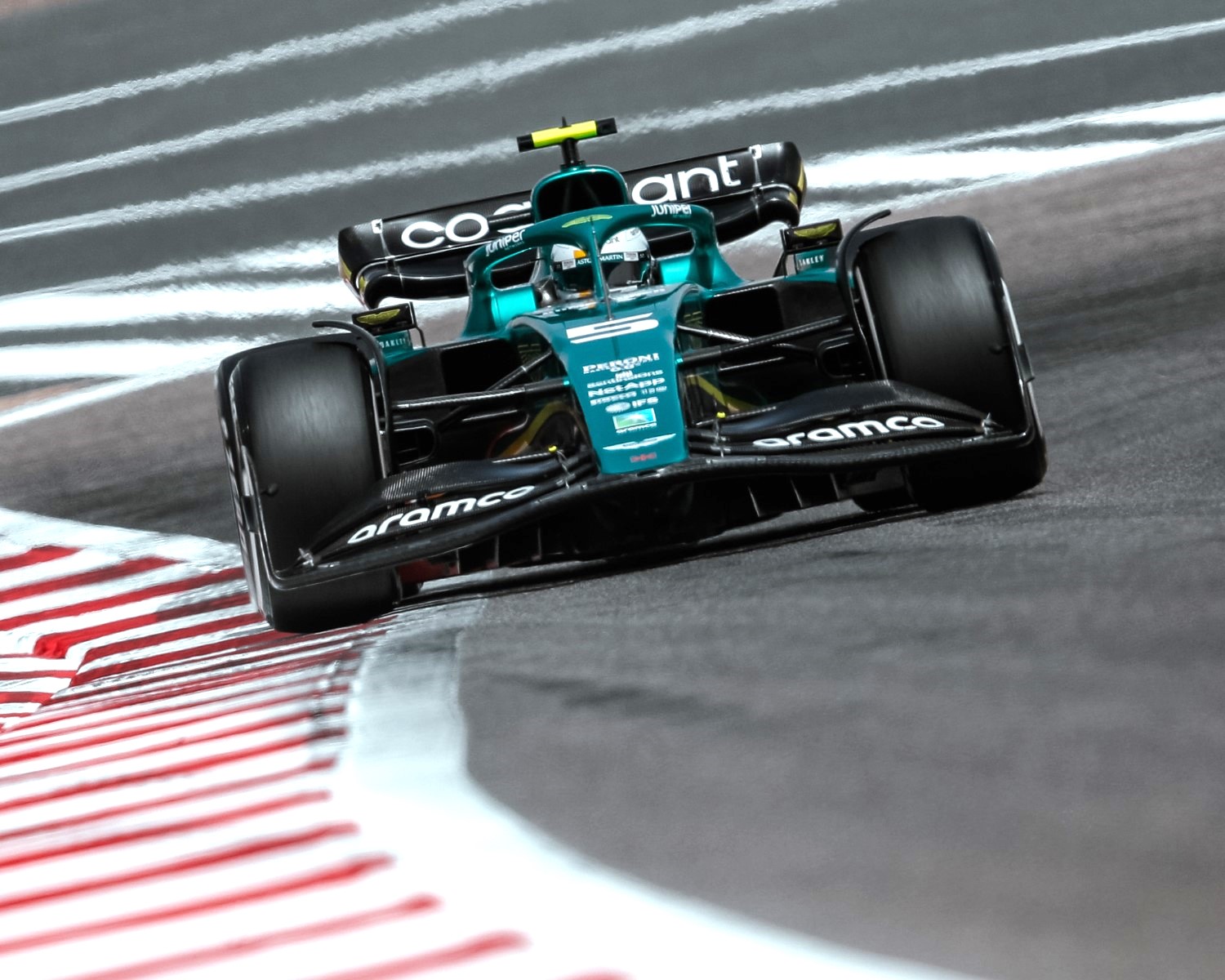 Sebastian Vettel 
"We ran through our program and completed a lot of laps this afternoon, which capped a positive three days of testing in Bahrain. Lap times are largely irrelevant, so our focus has been on increasing our understanding of the AMR22. I am happy with the progress we have made, and we know it is going to be a long season of constantly trying to find further improvements. These cars are very different; you definitely notice the increased weight and it makes the cars a bit 'lazier' to drive. Everyone is coming across similar challenges and that's part of the game. I think reading into lap-times is even more difficult this year but, behind the usual leading teams, it is a tight pack, so I expect fierce competition. Nobody really knows where they stand yet, and this coming week will be important in making sure we hit the ground running in Bahrain."
Mike Krack, Aston Martin Team Principal
"It has been a positive test for us with only a few minor disruptions, which is to be expected in testing. We were able to achieve significant mileage, as well as complete some representative running in dusk conditions, which will prove beneficial for next weekend's Grand Prix. The Bahrain circuit gives the car a good workout because the temperatures are high and the degradation of the track stresses the tires, too. We were also able to work through the program as planned, including the trial of new parts and the evaluation of balance and set-up, which is exactly why we go testing. It has also been great to be trackside with the team for the first time to understand how everything operates. I am looking forward to building that relationship through the season ahead. With such a big regulation change, it is going to be a very exciting challenge to keep improving the AMR22, and it is one that we are all relishing."
Zhou Guanyu (Car 24)
"It feels good to finish pre-season testing with a strong day: I feel we made another step forward. It's nice to see constant progress from the team every day and to be able to get some proper short and long runs on a day when it all came together. I had my busiest day in the car and I was also able to go through the procedures that we'll use during next week's race weekend: there's a lot for me to take in tonight, but I can be satisfied with the work we have done in pre-season. The team did a great job making me feel at ease and giving me the tools to prepare properly. I feel I am fully ready for the start of the season."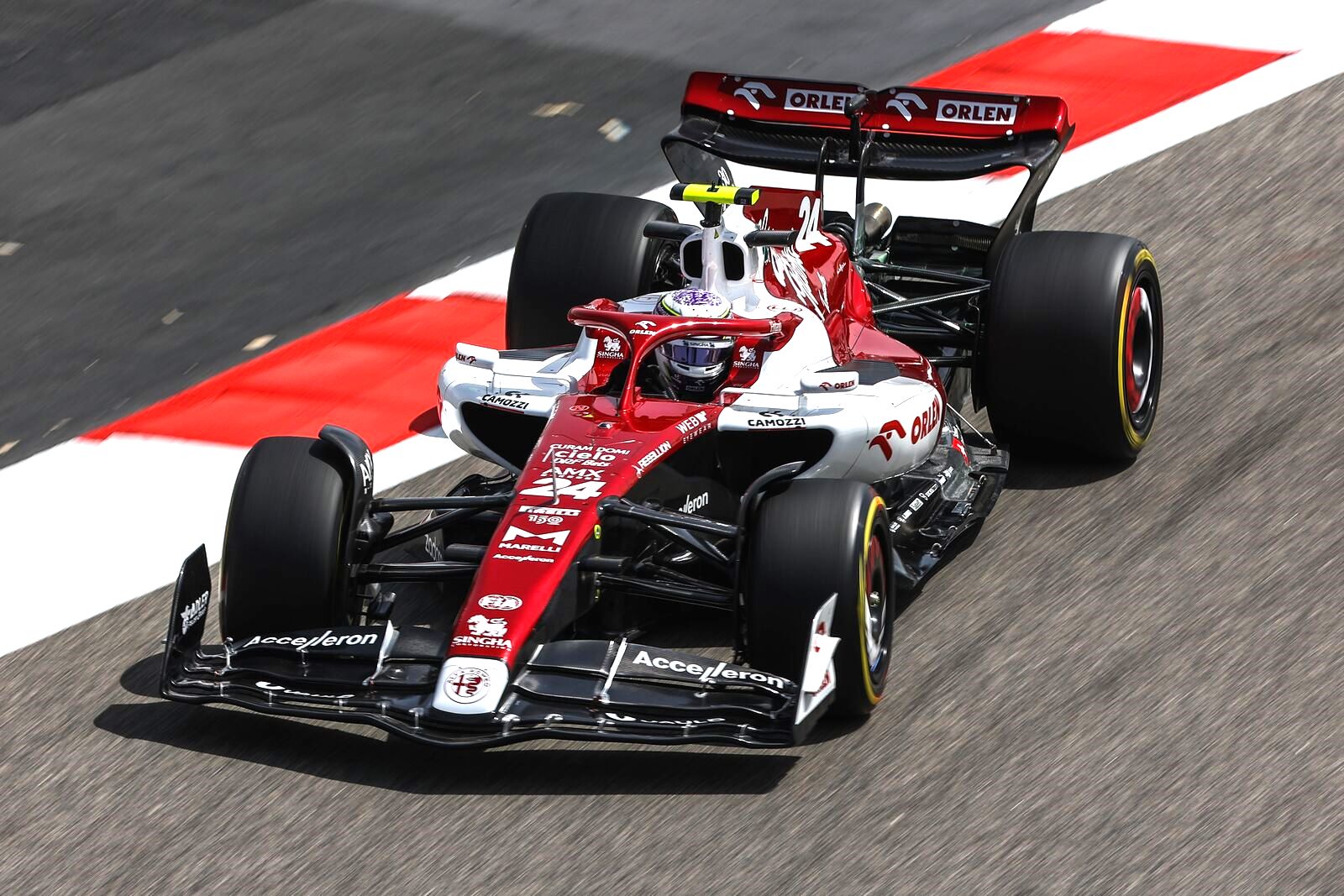 Valtteri Bottas (Car 77)
"A very positive day until the issue that stopped us at the end of the day. We definitely learned a lot more here in Bahrain than in Barcelona: there are still a few little issues to be solved, but I can really say that the car's potential is there and, by the end of the day, I was really starting to enjoy it. We need to make sure we address all issues and make sure they don't happen again, but I am confident we will take the next few days to do so. Looking at our performance, we learned a lot about our car, and we will keep learning next week. I am ready, we as a team are ready, and I can't wait to race."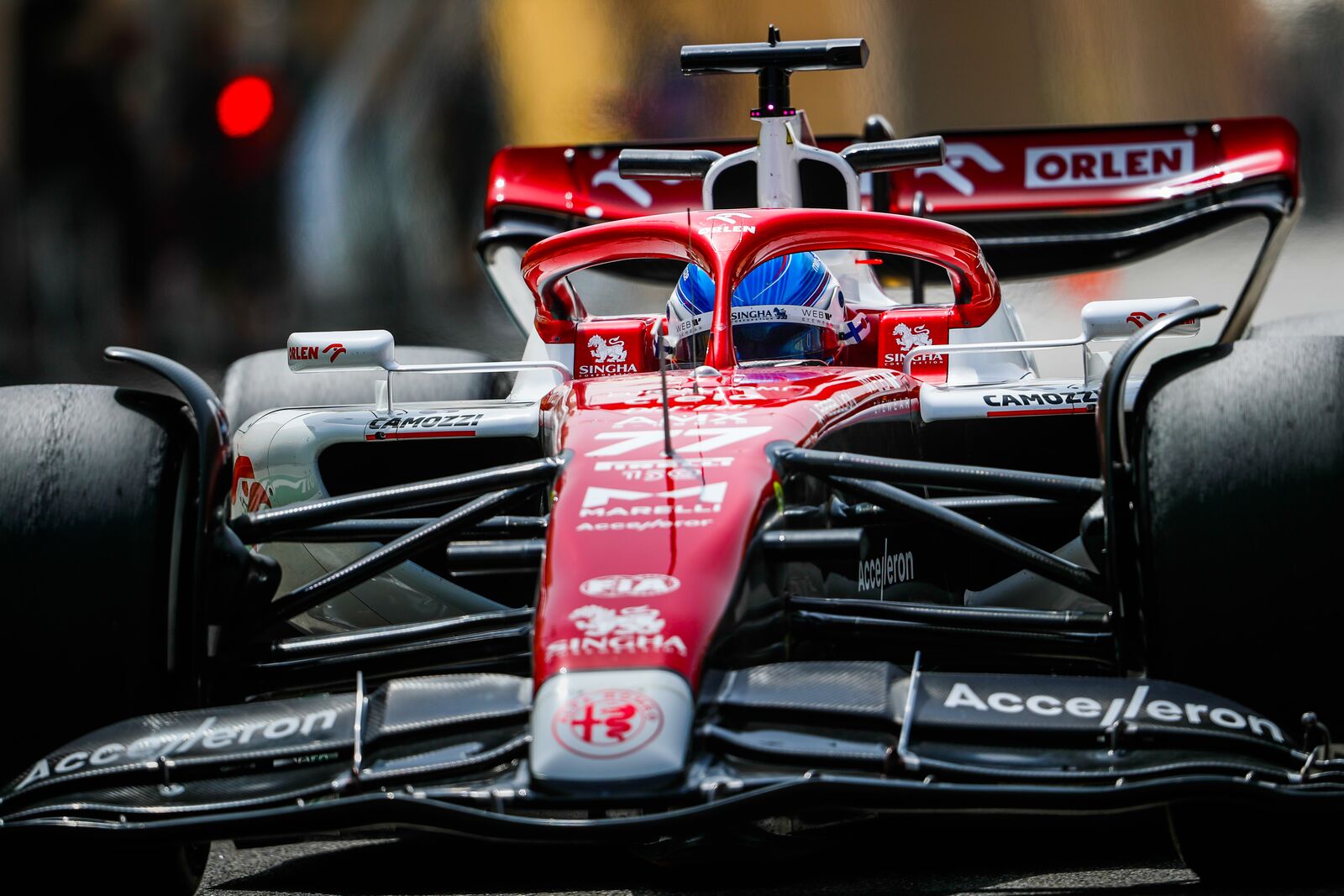 Dave Robson, Williams Head of Vehicle Performance:
The conditions throughout the test were warm and breezy, with the wind changing direction late on day two. With the change of wind direction came a drop in temperature, which gave us an opportunity to test the car and the tires in a useful range of conditions.
Inevitably, the test was extremely busy and after the damage done to the car early on day two, we had to make a few changes to the plan. Although frustrating to lose a lot of track time, we exposed an issue which we have now been able to fix, and we were able to complete 142 trouble free laps on the final day.
We have a lot to work through over the next few days before we run the cars again here in Bahrain, but we are in a good position as we head into the 2022 race season.
Nicholas Latifi:
It was obviously not a fully ideal test, specifically with the issue we had on day two, but I think the team did a great job of coming together to make the most of day three. There was a lot of good teamwork from both the day and night crew to get the car repaired and all the engineers pulled together to put us in the best position to maximize day three. We did a lot of good work, learned a lot and did a lot of laps. That was good for me to try to make up the lost mileage from yesterday and now there's a lot of data to go over to see how we can be in the best shape possible for the first race next week.
Alex Albon
Pre-season testing is now finished and next time we're out on track it will finally be a race weekend! We got some good mileage in over the course of the test and I feel like we've ticked all our boxes, despite losing some time on Friday. In terms of the car's performance, I think there's some more to come from us and I'm excited to keep pushing next weekend and throughout the course of the season to get the most out of the FW44. Overall, it's been a positive and incredibly valuable test and the team have done a great job, especially in some challenging circumstances.
Pierre Gasly
"It's good to be back to the nice weather here in Bahrain. We've had a pretty smooth test from our side, we completed all the program that we had planned for the three days here. We had a lot of question marks coming here and we've already managed to get some answers to these. I think we still need to sit down for a few days and review all the data we've collected, to try and put the puzzle together, so we can get the best possible car for next weekend. Obviously, it's a new car so there are lots of things to learn, I would say there are still areas that we need to improve for the season but that's part of the game when you have such a big change in F1. We have a rough idea of where we might be in the midfield, but we still don't know where we'll be until next week. It was great having the battle out there with Lewis today, we overtook each other a few times. Following definitely felt like an improvement to the previous car so that's a big positive for the upcoming season, racing should be quite fun this year."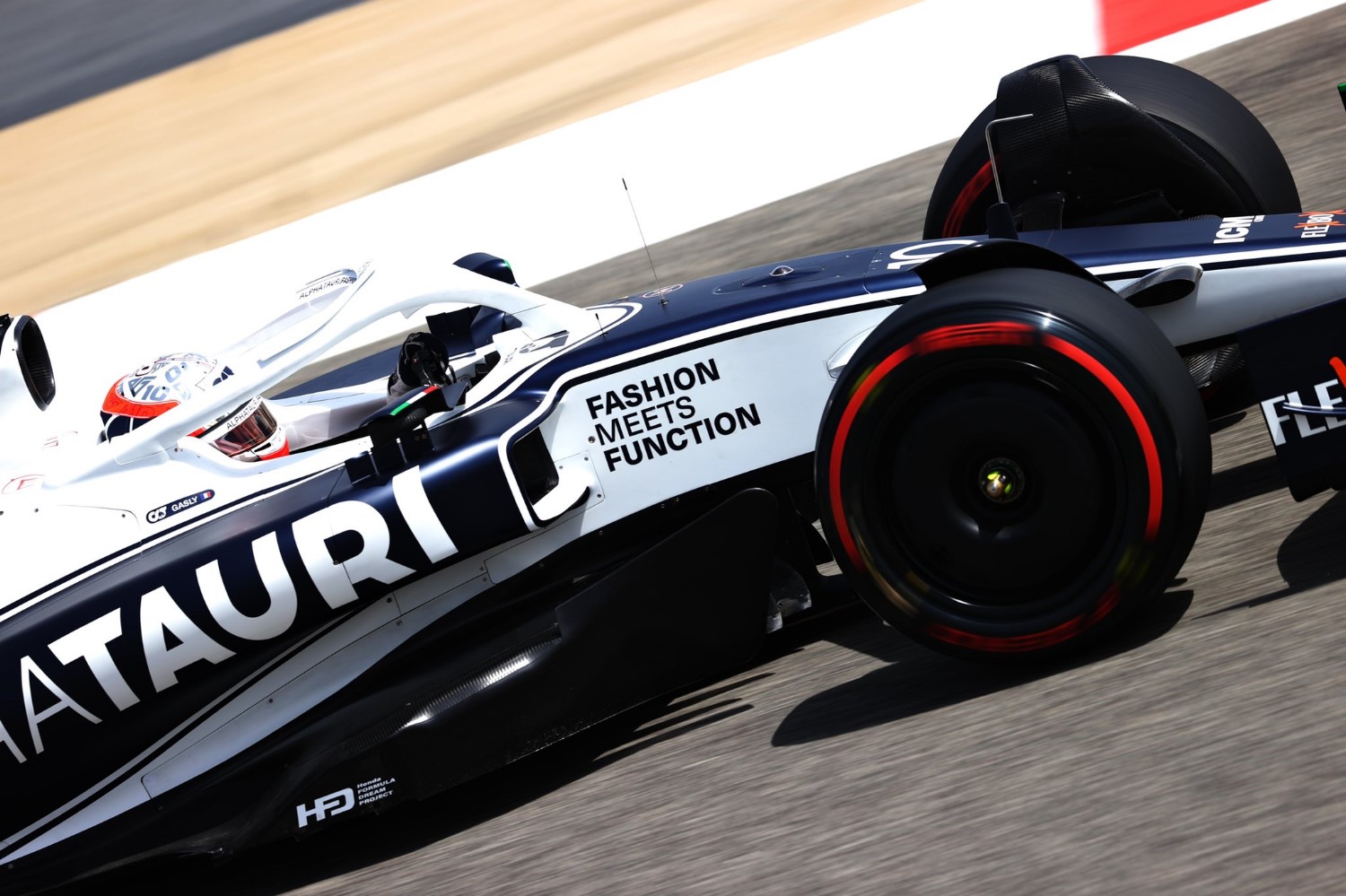 Yuki Tsunoda
"We've made good progress as a team this week, I'm happy with how this test has gone, and we've gathered a lot of important data. However, I'm not happy with how my lap went today on the C5 tire, I think there was lots more potential there but unfortunately, I just couldn't put it together. There are still lots of things to improve myself, and the car, but I think overall it's been a good few days of testing. I haven't driven too much around other cars, but from what I've felt so far I think the dirty air is reduced a lot compared to last year, so it's already easier to follow and I've enjoyed it. I've got a good level of confidence heading into the first race next week. It's a bit different to last year, as I've got more experience, and have focussed more on developing the car with the team. We don't know exactly what position we're in at the moment, but we've got a couple of days to work before Bahrain. We've got a good team and we'll keep focussed ahead of the first race."
---
March 12, 2022
Max Verstappen strapped on a set of the softest C5 Pirelli tires and turned the fastest lap of 1m31.720s to top preseason F1 testing in Bahrain Saturday.
Verstappen's 1m31.720s is the fastest time from the official testing over the three days and will have Red Bull feeling pretty pleased. He ends up 0.695s faster than Ferrari's Charles Leclerc, who also set his best time on softs but earlier in the evening, with Fernando Alonso 3rd for Alpine and George Russell 4th for Mercedes.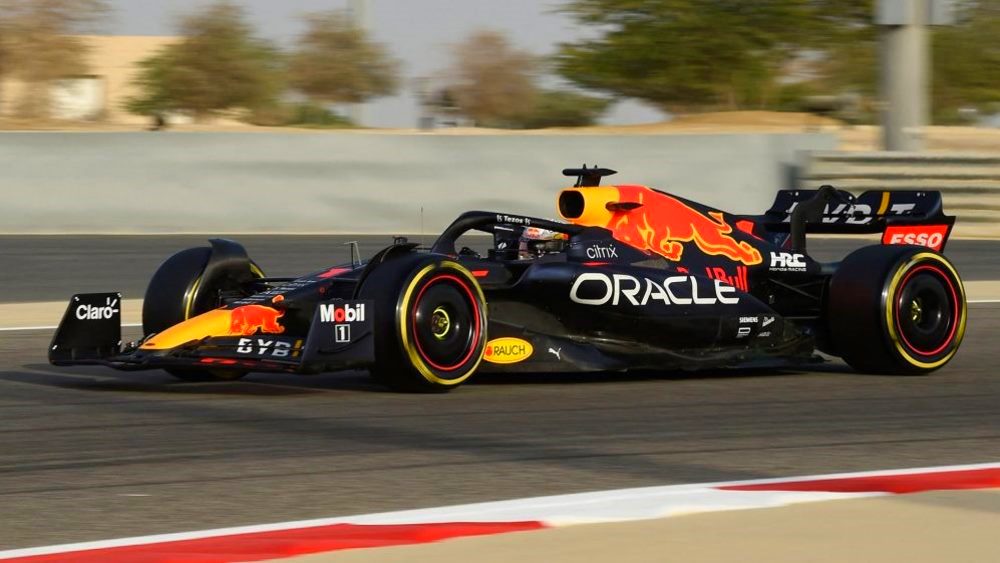 For reference, that 1m31.720s lap compares with a pole time of 1m28.997s from last year – also set by Verstappen. We don't know exactly what fuel load Red Bull was running, but it's comfortably the quickest of the test so far, with Verstappen the only man who has ducked under the 1m32s barrier.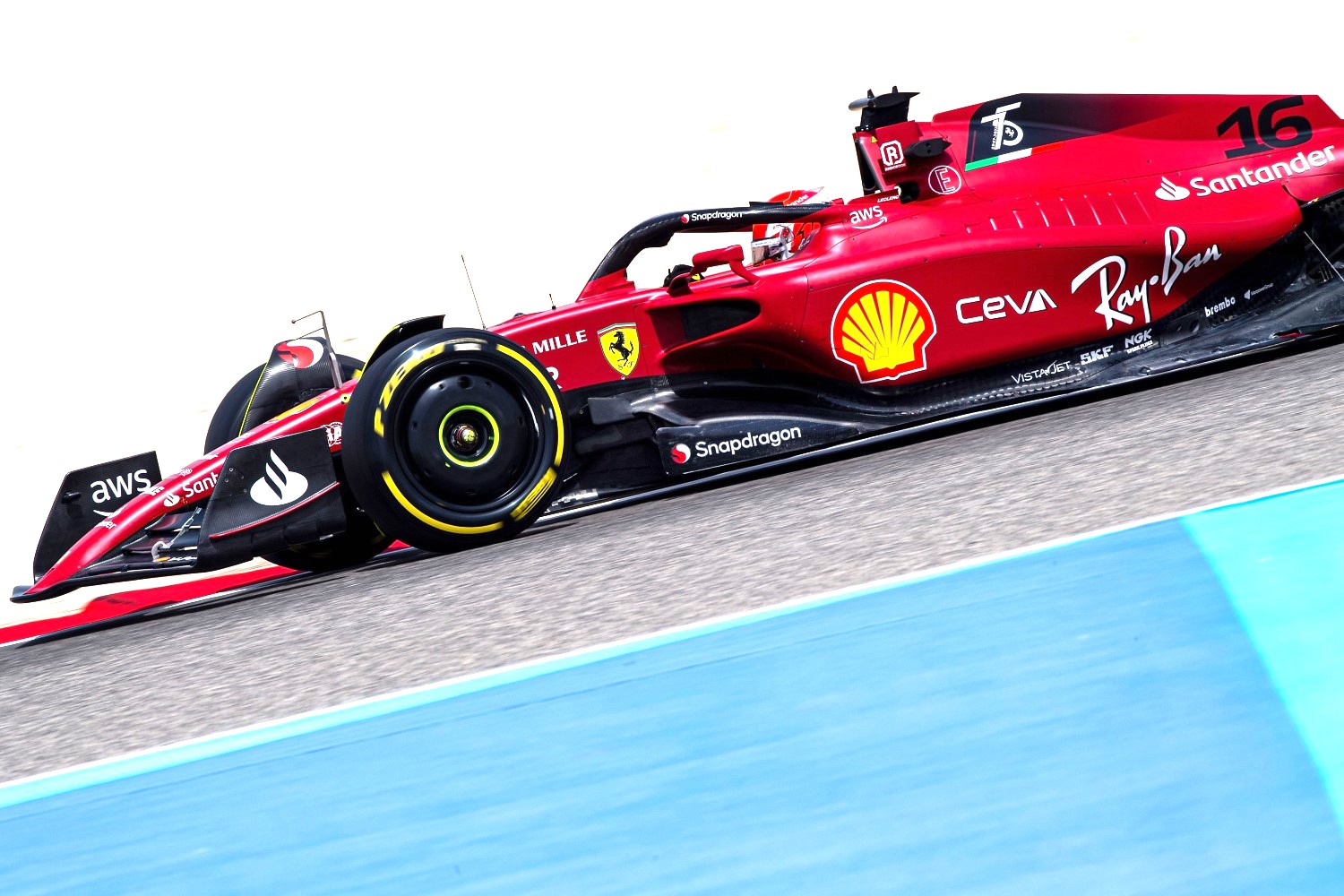 Behind Russell, Valtteri Bottas was fifth for Alfa Romeo. The Finn used C3 Pirelli tyres to set a best time of 1:32.985 but his running early when he stopped outside the Turn 8 due to a gearbox issue.
AlphaTauri's Yuki Tsunoda took fifth place as the Italian squad closed out a solid test phase. The Japanese driver, who completed 57 laps, finished two hundredths of a second behind Bottas, while team-mate Pierre Gasly logged 91 laps on the team's final day.
After setting the fastest lap of the morning, Sergio Pérez was left with seventh place at the close of running, five hundredths of a second ahead of Haas's Mick Schumacher, who briefly brought out the red flags in the afternoon after he spun.
Lando Norris ended the day in ninth place for McLaren and after taking over from Lance Stroll at Aston Martin, Sebastian Vettel finished with the day's 10th quickest time.
While the session and test is over for nine teams and most drivers, Haas still have two hours in which to run if they wish with Schumacher, after they missed Thursday morning. Freight delays out of their control meant their car couldn't be built in time, so the FIA granted them permission to make up those four missed hours.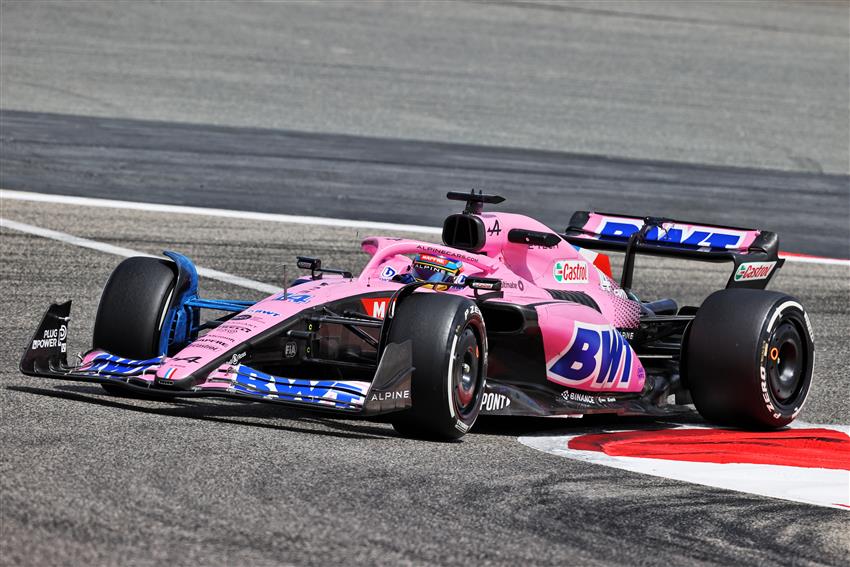 So Red Bull have impressed, and so have Ferrari. Everyone seems agreed on that.
Mercedes are an unknown quantity, but Hamilton hasn't seemed as happy and relaxed in the paddock as some of his colleagues.  But rest assured, Mercedes is sandbagging.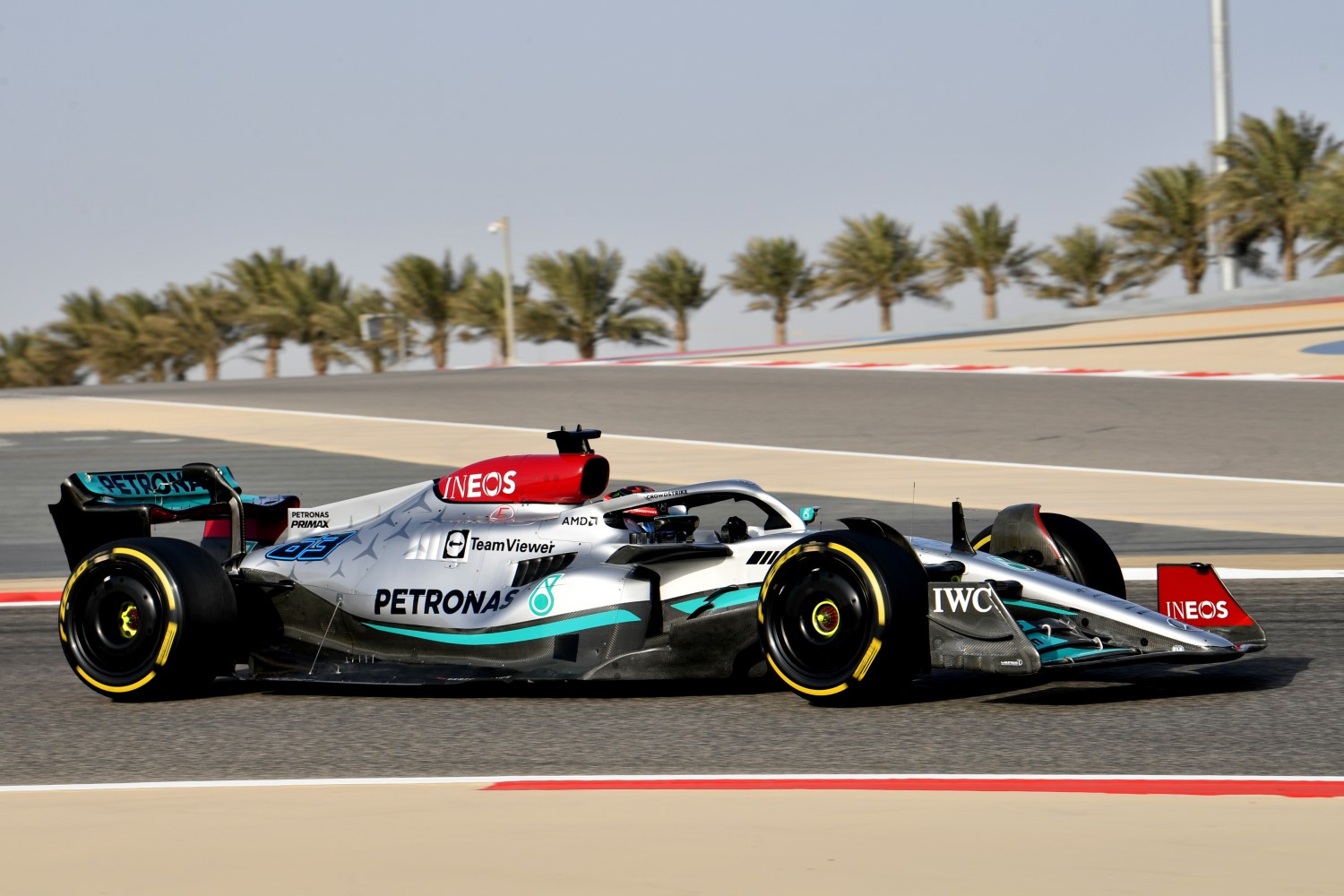 McLaren are also a question mark, but more due to reliability than pace.
Ricciardo couldn't take part, but McLaren are hoping he'll be well enough for next weekend. There won't be much rest for the teams either, with frantic development set to take place behind the scenes over the next few days.
Meanwhile, McLaren F1 has announced they will test IndyCar driver Colton Herta
Bahrain Day 3 Final Times (Haas gets 2 extra hours)
| | | | | | | |
| --- | --- | --- | --- | --- | --- | --- |
| Pos | Driver | Team | Time | Behind | Tires | Laps |
| 1 | Verstappen | Red Bull | 1m31.720s | +0.000s | C5 | 53 |
| 2 | Leclerc | Ferrari | 1m32.415s | +0.695 | C4 | 51 |
| 3 | Alonso | Alpine | 1m32.698s | +0.978 | C4 | 122 |
| 4 | Russell | Mercedes | 1m32.759s | +1.039 | C5 | 71 |
| 5 | Bottas | Alfa Romeo | 1m32.985s | +1.265 | C3 | 68 |
| 6 | Tsunoda | AlphaTauri | 1m33.002s | +1.282 | C5 | 57 |
| 7 | Perez | Red Bull | 1m33.105s | +1.385 | C4 | 43 |
| 8 | Schumacher | Haas | 1m33.151s | +1.431 | C3 | 57 |
| 9 | Norris | McLaren | 1m33.191s | +1.471 | C2 | 90 |
| 10 | Vettel | Aston Martin | 1m33.821s | +2.101 | C4 | 81 |
| 11 | Zhou | Alfa Romeo | 1m33.959s | +2.239 | C4 | 82 |
| 12 | Gasly | AlphaTauri | 1m34.865s | +3.145 | C4 | 91 |
| 13 | Sainz | Ferrari | 1m34.905s | +3.185 | C5 | 68 |
| 14 | Albon | Williams | 1m35.171s | +3.451 | C3 | 18 |
| 15 | Latifi | Williams | 1m35.634s | +3.914 | C3 | 124 |
| 16 | Stroll | Aston Martin | 1m36.029s | +4.309 | C3 | 53 |
| 17 | Hamilton | Mercedes | 1m36.217s | +4.497 | C5 | 78 |
| 18 | Magnussen | Haas | 1m38.616s | +6.896 | C2 | 38 |