NHRA: Tatum, Hight, and Stanfield lead chilly Gatornationals qualifying
Tripp Tatum, Robert Hight, and Aaron Stanfield are the low qualifiers after Saturday's one-shot qualifying at the Amalie Motor Oil NHRA Gatornationals. Matt Smith is the top seed in Pro Stock Motorcycle, where the field was set according to 2021 points.
Persistent rain, which has flooded the Gainesville area since Thursday, finally relented in the late morning hours, and the NHRA Safety Safari presented by Simpson spent hours meticulously bringing the fabled racetrack back into racing shape and diehard fans who turned out despite cold and windy conditions were rewarded with track-record passes and great competition.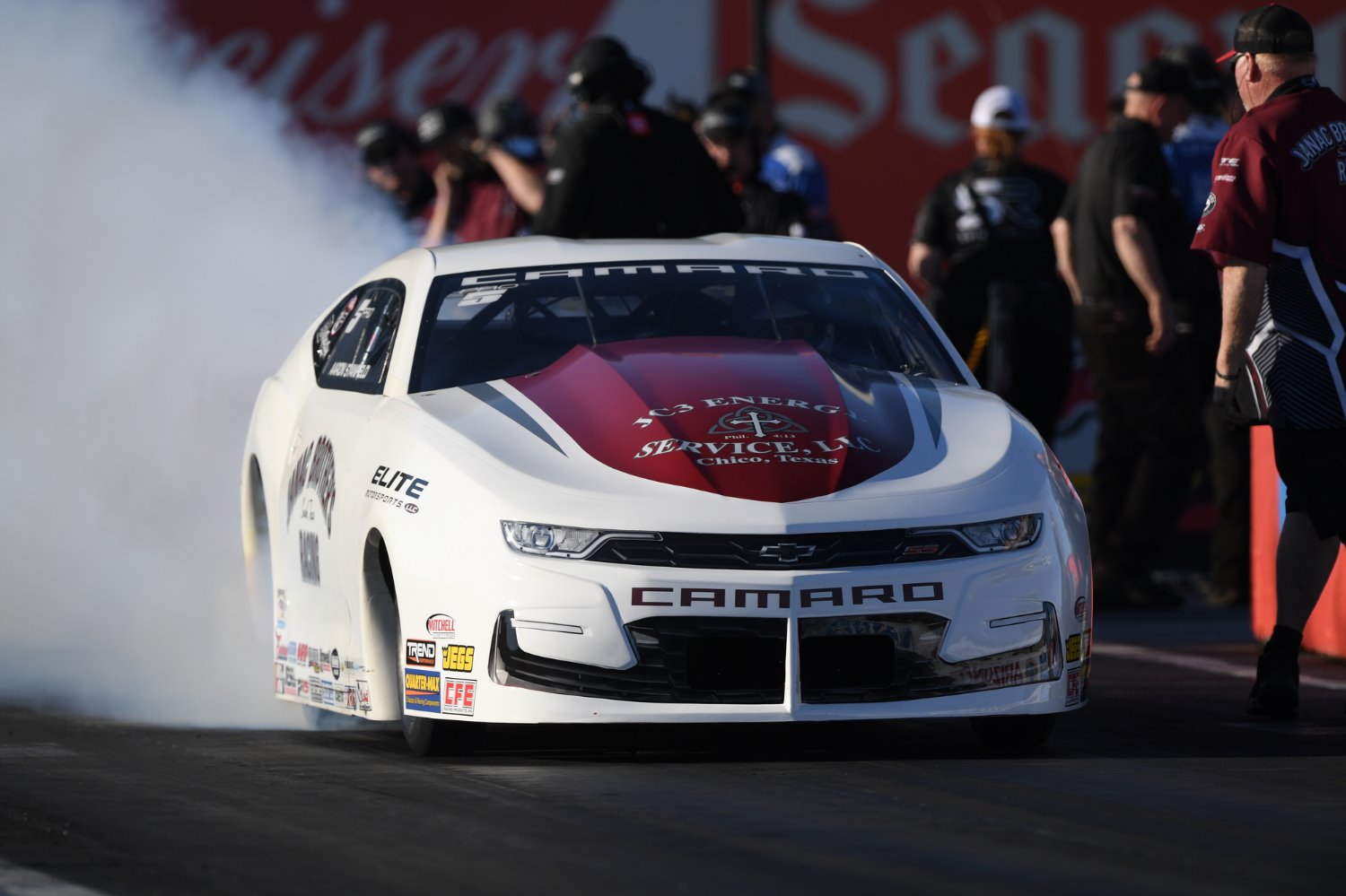 Tatum, who has less than 60 runs under his belts in Top Fuel and scored his first career round win at this event in 2017, was the surprise low qualifier in Top Fuel with a 3.674 that broke Brittany Force's three-year-old mark of 3.680.
"This is not even close to sinking in yet. It's just a whirlwind," said Tatum, whose car is tuned by Bobby Lagana Jr., of the world championship Steve Torrence Capco Contractors team. "We were just talking about slowing it down, just to get down the racetrack, conditions being as they are, and not really knowing the racetrack. And, the Safety Safari, doing what they did, was just amazing. I mean, the racetrack ended up being far better than we thought it would be.
"As soon as I left the starting line, I'm like, 'This thing's kind of running good,' and it went right down there. This thing was trying to run pretty good at the end of last year, too, so [the Capco team] are very methodical about what they do and how they do it, just peck at it a little bit, learn, and then go from there."
Force shattered the other end of the track record with a dizzying speed of 337.75, the third-fastest run in history, clocked on a 3.684 [ass during her first-round winning run in the Pep Boys NHRA Top Fuel All-Star Callout event that seeds her No. 2 heading into Sunday's eliminations.
World champ Torrence sits third with a 3.697 and Mike Salinas fourth with a 3.709, also both recorded in winning runs in the Callout event.
Doug Kalitta, who wasted a 3.718 in the Callout with a first-round red-light, nonetheless carried that number to the qualifying sheets for the No. 5 spot. Justin Ashley (3.722), Spencer Massey (3.735 in Pat Dakin's dragster), and Austin Prock (3.761) round out the top eight.
The one-shot qualifying made for some tough moments for perennial qualifiers Antron Brown, Leah Pruett, and Shawn Langdon, who also struggled in their first-round Callout losses and failed to qualify for the Gatornationals field.
Hight's position atop the Funny Car field is probably no surprise to anyone who's watched his Jimmy Prock-tuned Auto Club Camaro win the season's first two events and run in the 3.8-second range on 13 of 14 passes. Hight and co. made it 14 out of 15 with a 3.831 that was just shy of his own 3.828 track record.
"Honestly, I wasn't expecting to be No. 1," said Hight. "I talked to Jimmy before the run; he came back to the tow vehicle and told me [the track] was good out there, but he said, 'We backed this thing down, we just need to make a good run so that we have a solid baseline for tomorrow.' When they told me it ran .83 — and it shook really bad and almost didn't make it — I was surprised.
"Good job by the Auto Club team but, really, who deserves an attaboy is NHRA. If you'd seen that racetrack this morning, it was bald after all the rain that's fallen on this thing for the last three or four days, and to get this thing to where you could run a Funny Car 3.83. Pretty amazing, so good job to them."
Tim Wilkerson and Cruz Pedregon qualified second and third with matching 3.891 passes, but Wilkerson's superior speed – 328.22 to 327.35 – gave him the higher spot.
Matt Hagan (3.898), Alexis DeJoria (3.907), Blake Alexander (3.918), Bob Tasca III (4.057), and Chad Green (4.075) round out the top eight.
The setting sun and rapidly cooling temperatures gave Pro Stock crew chiefs an added obstacle to overcome but for the sport's best teams, that wasn't an issue. Incoming points leader Aaron Stanfield drove to the top spot with a 6.468, which is not only the best run of the season so far but also the quickest Pro Stock run since fuel injection was introduced in 2015. Stanfield opened the season with a runner-up finish in Pomona and won the most recent event in Gainesville.
"Wow. It's been a while since Pro Stock cars ran that fast," said Stanfield, who is also the No. 4 qualifier in the Constant Aviation Factory Stock Showdown. "We have great weather, but the track is a little tricky so I'm sure the crew chiefs were a little worried. I'm pumped up for the Janac Bros. [team owners] and JC3 Energy."
With just one shot to qualify, Stanfield will be paired against Sweden's Stefan Ernryd, who is making his NHRA debut in Alan Prusiensky's Dodge Dart. Ernryd ran a 6.98 at just 188.86 to land on the bump spot.
Stanfield was joined in the 6.4 zone by Kyle Koretsky, who wheeled his Lucas Oil Products/Nitro Fish Camaro to a career-best 6.482. Koretsky also has top speed of the event to this point at 212.06 mph. Four-time world champ Erica Enders was third quickest with a 6.510 in her Melling/Elite Camaro. In order to make the quick half of the field, a Pro Stock driver needed to run 6.524 or quicker.
One notable non-qualifier is Chris McGaha, who shook the tires in his Harlow Sammons Camaro. McGaha hasn't missed a Pro Stock field since the fall Las Vegas event in 2013.
The official season debut of the Pro Stock Motorcycle class will have to wait until tomorrow as cold temperatures prevented NHRA's two-wheel racers from participating in Saturday's lone qualifying session. The 16 bike field will be set by points from the 2021 season and with just 16 bikes on the grounds, there will be no non-qualifiers. Reigning champion Matt Smith is the low qualifier and will have lane choice against Lance Bonham in round one.
The field for the NHRA Pro Mod series will also be set by last year's points as they were also not able to run due to cold temperatures.